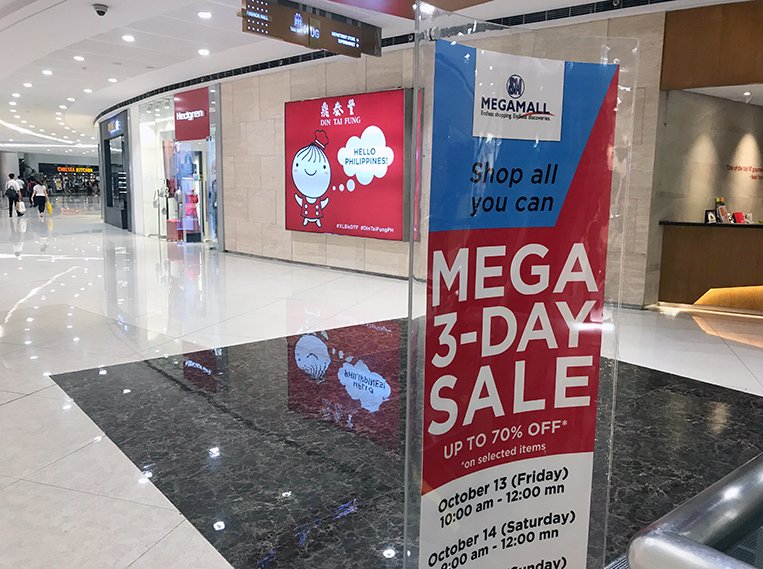 People are suckers for anything with the words "sale" and "discount." It's why department stores always post them on their display windows.
Up to 60% off!
Buy one, take one!
Three-day weekend sale!
Ah yes…the great weekend sale. That marketing phrase with the hypnotic effect on shoppers and non-shoppers alike. And it's not just any other weekend. It's always the payday weekend! You know, when your spending power is at its peak and your mindset is at its most carefree.
Mall owners know you can't ignore it. There's always that one item you've been wanting to purchase, and you're hoping it will be significantly more affordable this weekend. By all means, drive your car through the eye of the traffic congestion and waste time and fuel for the chance to save P300 on that item you won't use after all. Just be sure to also set aside emergency money for when your blood pressure shoots up from the stress of having to find a parking slot.
It's okay. You have a right to fall for the mall-wide payday weekend scam sale. You're a consumer—it's your money you're frittering away. It's your car that's idling and overheating out there. It's your man-hours you're misusing. Splurge in every sense of the word.
What I don't understand is why the authorities—the ones responsible for traffic management, specifically—allow themselves to get tricked, too. Here, take a look at this MMDA tweet last Friday (ignore the US time stamp), the first day of Robinsons Galleria's and SM Megamall's weekend sale.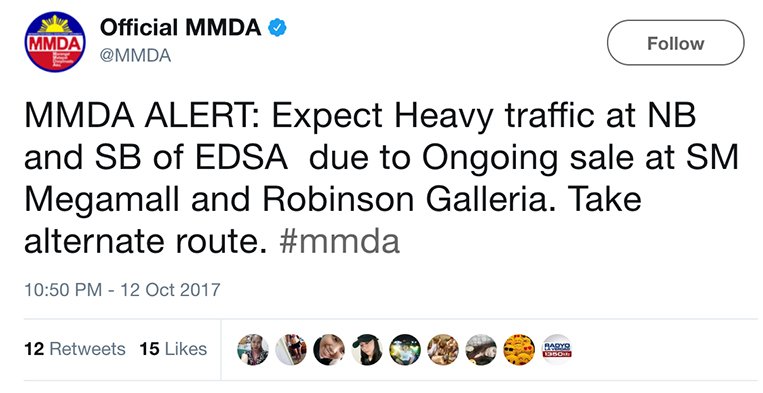 We deciphered the tweet and found the hidden message. Here's what the MMDA's social media manager was really saying:
Our traffic problem is the worst it has ever been, so we're doing all we can to help ease the congestion. But anyway, there are these two giant malls that are currently tricking their gullible customers into buying stuff they don't really need, in the process making EDSA even more clogged than it already is, but we're fine with it. We'll just be the ones to adjust—and so will you. #bigbusiness
Incidentally, this same past weekend, I saw a big LED billboard on C5 announcing SM Megamall's weekend sale. Think about it. The grand scheme is to funnel every car on every major thoroughfare into Henry Sy's coffers. Never mind what Waze is frantically telling us: Let's just all drive to Galleria and Megamall BECAUSE IT'S THE EFFING THREE-DAY WEEKEND SALE.
No wonder my news feed last Friday was full of rants from friends who got trapped on EDSA or on one of the peripheral roads around it. Friends who actually had a life and far better things to do than squeeze their way through a crammed mall just to rummage through the discount bins for pointless objects.
In the US, malls and outlet stores are situated away from vehicular traffic. And they have expansive (and free) parking lots. In the Philippines, malls are constructed at chokepoints, exactly where human and car traffic is densest. City government officials that issue permits to super malls being built in extremely crowded locations ought to get sued.
Don't get me wrong. I'm not a hater of malls and shopping. I'm a proud holder of an SM Advantage Card, and malling (or window-shopping) is one of my favorite diversions. But paralyzing an entire metropolis that is already suffering from horrendous gridlock just to unload aging merchandise is just insensitive. And flat-out shameless.
This Sunday evening—with a little over three hours still remaining from the weekend sale event—I drove my car to EDSA only to face this…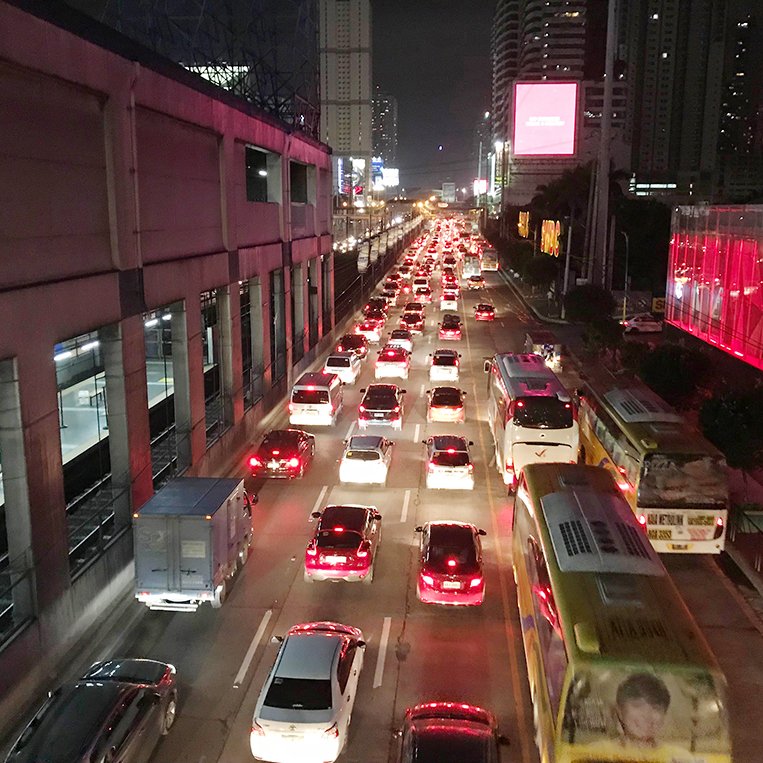 That's the northbound half of EDSA, just before the Shaw Boulevard tunnel leading to Megamall territory. The shot was taken at 8:45 tonight, a Sunday. SUNDAY.
I don't know if the money you think you're "saving" on markdowns is worth the time we all are losing. Somebody put a stop to this madness.