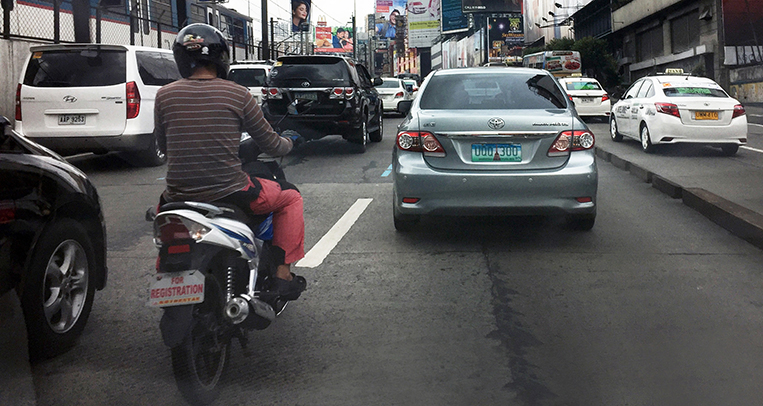 The Metropolitan Manila Development Authority has just issued a press release concerning increased enforcement of yellow and motorcycle lanes along EDSA. You can read the whole text below:
Starting next week, the MMDA will intensify the enforcement of yellow and motorcycle lanes along EDSA.
MMDA assistant general manager for planning Jojo Garcia announced that starting Monday, November 20, public utility vehicles such as buses, UV Express and jeepneys will not be allowed to go outside the yellow lane. Private vehicles, meanwhile, can enter the yellow lane 100m before exit.
Garcia further explained that the first lane from the sidewalk will only serve as a loading/unloading zone, while the second lane will be for provincial and point-to-point (P2P) buses. Loading and unloading on the second lane will be strictly forbidden.
"MMDA chairman Danilo Lim is committed to prioritizing and easing the burden of the riding public, that's why we need to fully enforce the traffic laws," Garcia said.
Meanwhile, the agency will also conduct a two-day dry run for the implementation of motorcycle lanes or blue lanes along EDSA on November 20-21. Stricter enforcement will be implemented on the following day, November 22.
According to Garcia, motorcycle riders can overtake to the leftmost lane to "efficiently practice motorcycle mobility."
"We're doing this for the safety of our motorcycle riders," Garcia pointed out. "Hindi niyo alam na sa pagsingit-singit ay marami ang naaaksidente. Iniiwasan lang natin iyan. Walang kalaban-laban ang motorsiklo kapag binangga iyan."
MMDA traffic constables will also carry placards to easily guide motorists. Violators will be apprehended via the no-contact apprehension policy to avoid obstructions. They will be fined P500 per violation.
Lim, for his part, is hopeful that the modified guidelines will eventually cause smoother traffic flow along EDSA. "The agency's target is to remove the image of EDSA as a parking lot, and instead [for it to] be a free-flowing road," the chairman added.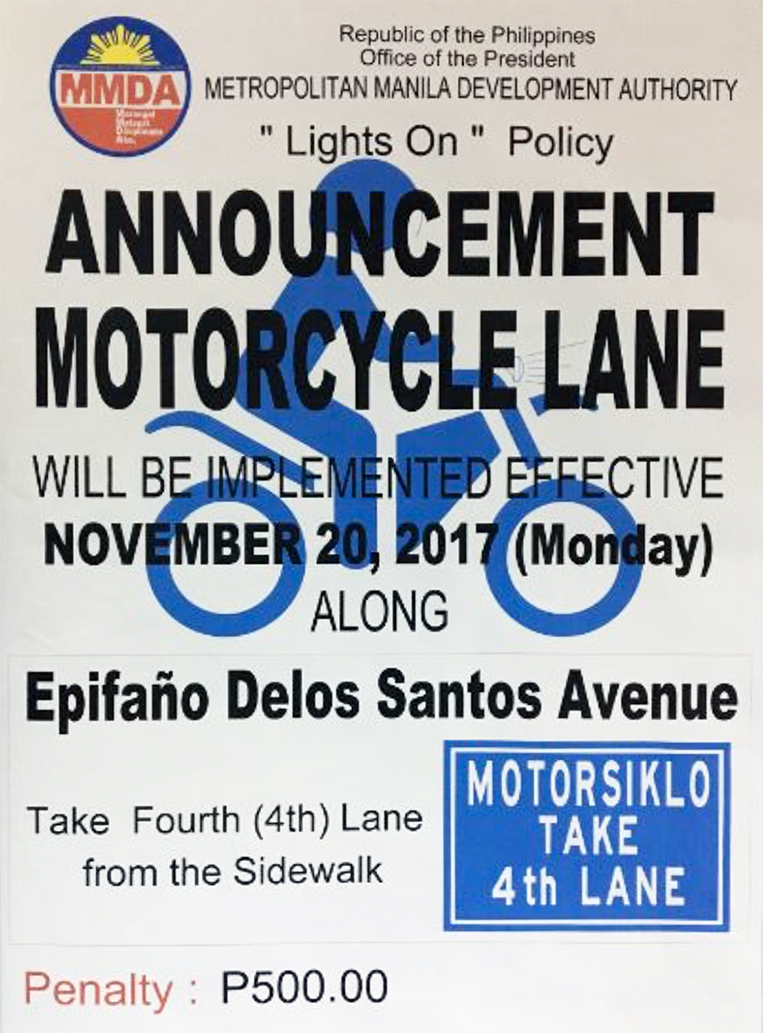 Haven't we seen this one before? In the vernacular: Hindi ba parang napanood na natin ito?
Going by the comments left on the post on the agency's Facebook page, the initiative is being met with skepticism to say the least. Feedback ranges from motorists asking the agency to prevent cars from using the motorcycle lane, to the usual question about how this is supposed to be enforced properly. In any case, consider yourself warned that driving on EDSA isn't getting any easier anytime soon.