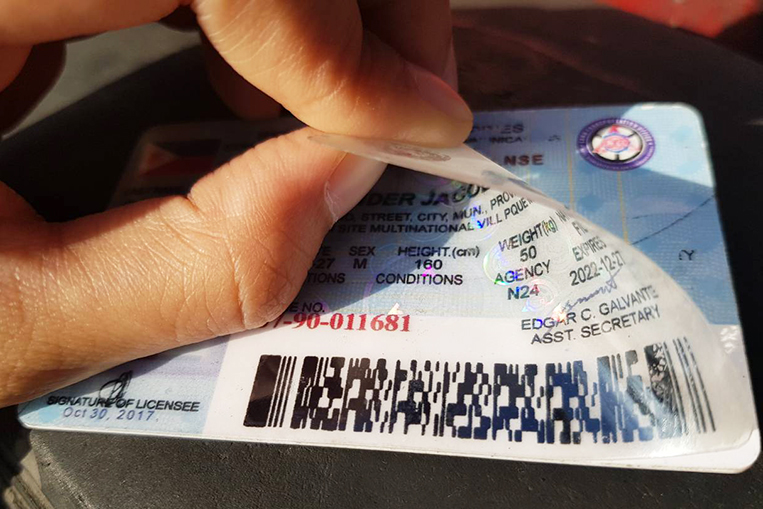 I remember writing an article in 2014 about a colleague who managed to obtain a fake but very real-looking driver's license from Quiapo for a mere P450. It looked so good he called it "Class A." It even had holograms of the Land Transportation Office logo. In fact, fake licenses appear so much like the real thing that the joke is that the LTO should just tap counterfeiters as official license card suppliers.
Anyway, the Department of Transportation today shared with the media the above photo of a fake driver's license supposedly confiscated from a jeepney driver, who apparently admitted that the license was fraudulent. According to the DOTr statement, the driver's real license had expired in 2009 but the bogus card indicated an expiry date of 2022.
I'm curious: How many fake licenses are out there? Not only among public-utility vehicle drivers but also among private motorists. As my above-mentioned colleague told me, the temptation to get a fake license is great. Imagine paying just P500 (or whatever the going rate these days is) and you get what is essentially one free pass for any traffic violation you wish to commit. No wonder PUV drivers drive the way they do. Even if they get flagged down, they'll just surrender their counterfeit license (presumably with a made-up name printed on it).
And now I wonder: How come the authorities can't fix this problem? I think it's pretty funny that they stumble upon one fake license and they feel so triumphant they get the urge to announce it to the world. Safe to assume holders of these counterfeit cards are all silently laughing as they read this.
Imagine paying just P500 and you get what is essentially one free pass for any traffic violation you wish to commit
Our dear DOTr officials, while I admire your zeal in showing us that you're doing your job, I'd prefer real solutions. In this case, the real solution is actually raiding the places where counterfeiters produce these fake licenses and putting warm bodies in jail. If PUV drivers know where they are, you surely do as well. Otherwise, there's my explanation for why these pirates are running rings around you.
Publicizing a single confiscated fake license won't stop the epidemic. For one, the penalty for possessing a fake license is laughably light: Based on Joint Administrative Order No. 2014-01 released in 2014 by the then Department of Transportation and Communications, the fine for carrying a fake driver's license is a measly P3,000, plus a one-year driving suspension. I don't know if this is harsh enough to ever be taken seriously.
We have to get at the sources. Until the DOTr sends us news about its operatives finally raiding the not-so-secret lairs of license counterfeiters, I won't be impressed. But wait, what if someone in high places is taking a cut from the fake cards? Something to look into, Secretary Arthur Tugade?