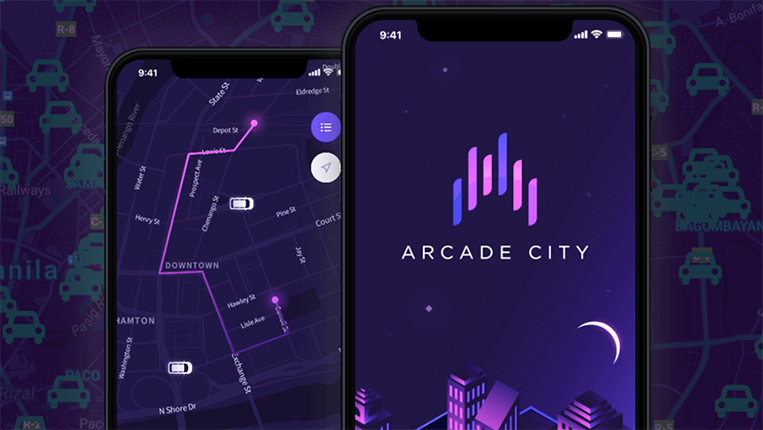 We first wrote about decentralized ride-hailing app provider Arcade City back in November, when the American start-up was scooping up riders from forcibly closed transport company Angkas. Now it seems the disruptive driving platform is planning to step things up a gear with the launch of its newest app, very much to the consternation of the Land Transportation Franchising and Regulatory Board.
In a blog post, Arcade City announced the launch of its latest app version, which is scheduled to become available for Android and iOS devices from April 16 onward. While the company is openly aiming to take the place of fellow American people-mover Uber after the latter's exit from Southeast Asia, the way the two technology-driven transport service providers operate is quite different. Uber and the now quasi-monopolist Grab are traditional firms with a head office, staff and a set way to control their apps and all the drivers and riders who use them.
Arcade City, on the other hand, calls itself decentralized and self-governing, meaning that while founder and CEO Christopher David may be the one pushing the button that launches the new application, he claims that what drivers and passengers do with it after is largely outside of his control. Drivers organize themselves into so-called guilds that form peer-to-peer networks essentially owned by the users themselves. This approach makes it reasonably difficult for regulators like the LTFRB to take action on, but it doesn't stop them from trying.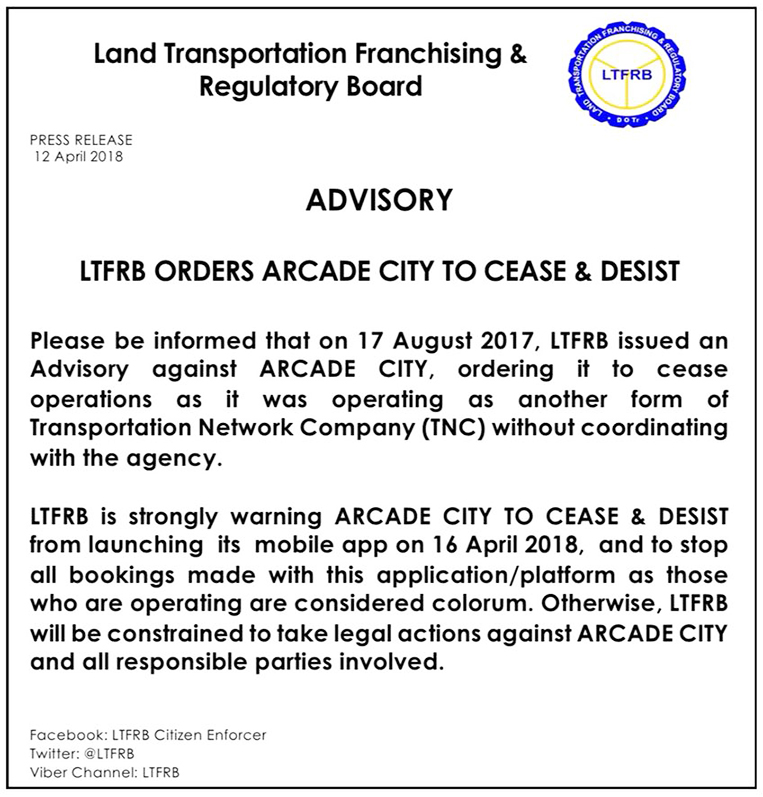 The first time the LTFRB issued a cease-and-desist order against Arcade City was in August 2017, but with no physical office or any formal employees in the country, this step seemed to have little effect and activities of the company only subsided due to the old app not being able to cope with the number of users who tried to find transportation relief through it. The new app promises to be more stable when it goes live in Cambodia, Indonesia, Malaysia, Myanmar, Singapore, Thailand, Vietnam and the Philippines on Monday, leading our local regulator to repeat the cease-and-desist order. In a post on the LTFRB Facebook page, the government agency is strongly warning Arcade City to refrain from launching the new version of its mobile application, and from operating as a transportation network company in general.
The new app promises to be more stable when it goes live in Cambodia, Indonesia, Malaysia, Myanmar, Singapore, Thailand, Vietnam and the Philippines
Arcade City itself will probably not be stopped from rolling out the new app by LTFRB's threat, but that doesn't mean the US-based ride-sharing platform is being deliberately disrespectful toward any government agencies in the Philippines. Speaking to VISOR earlier today, David made it clear that there is a huge demand for the service in the country, and that he hopes users will essentially create their own TNCs with the platform when the improved version goes live on Monday. This means that it would be local users of the app who could—or should—approach the LTFRB about its use, and not the company itself, as it will be those driver guilds that essentially are forming their own mini-Ubers and micro-Grabs.
David also mentioned that he is curious to see how the LTFRB will take to the peer-to-peer aspects of the platform, as it means that the regulator won't be dealing with one or two large corporations like it did with the big players until now, but potentially with a huge number of groups and individuals who all want to act as their own ride-sharing providers. He also admitted that everyone is still learning how to do things in this environment, as the idea of a decentralized transportation network is relatively new.
As usual, only time will tell if Arcade City can fill the void left by Uber, and although it looks like the platform has the potential to cut out the middleman while still providing much-needed transportation services in Metro Manila and beyond, it also seems that there is much ground left to cover before it can do so legally and with sensible safeguards in place. For now, we can only hope that Arcade City and the LTFRB can start a dialogue.