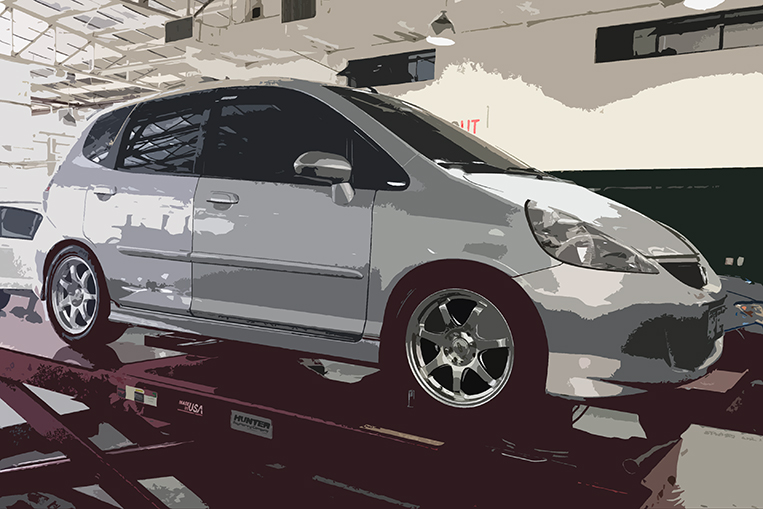 I'm a Honda fan mainly for two things. First, I've owned a 2004 Honda Jazz for more than a decade, and this car has given me nothing but motoring joy. Second is that Honda's after-sales service has been top-notch, at least in my experience. Part of this service is being proactive when it comes to product recalls—offering free and efficient repair and parts replacement whenever there's a global advisory that alerts the company to potentially fatal risks in the use of its vehicles.
And so, Honda Cars Philippines has just issued such an announcement. It reads:
Honda Cars Philippines, Inc. (HCPI), Honda's automobile business unit in the Philippines, urges customers to take part in the voluntary safety recall of select models of the City, the Jazz, the Civic, the CR-V, the Accord and the Pilot sold in the Philippines from 2001 to 2015 due to a suspected defect in the airbag inflator of the driver-side airbag. The campaign is Honda's proactive effort to continuously ensure the safety of the owners of the affected vehicles and to avoid any unfortunate circumstances in the future. To date, no accidents or injuries have been reported related to this concern in the Philippines.
This recall, if I'm not mistaken, is still about the faulty Takata airbags that have resulted in the deaths of Honda car owners in other countries, particularly in the United States. If an airbag's inflator is defective, it could send shrapnel or sharp metal fragments flying right in your face in the event of a frontal collision. The issue is not to be taken lightly.
To repeat, the possibly affected Honda vehicles are:
Accord – 2001 to 2015
City – 2001 to 2015
Civic – 2001 to 2015
CR-V – 2001 to 2015
Jazz – 2001 to 2015
Pilot – 2001 to 2015
If you own one of the six Honda models mentioned above, you owe it to yourself and your family to check if your unit might be affected. How? Go to this web page and enter your car's Vehicle Identification Number (a 17-character code that is also the same as the chassis number). You may get the VIN from your vehicle's registration or service documents.
Which is exactly what I did. Lo and behold…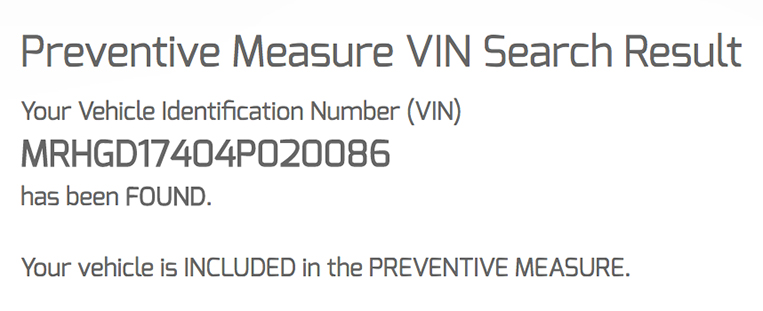 Yep, McKing, my beloved hatchback, is affected. So I've been driving an extremely adorable car that could actually perform a reverse Xander Ford transformation on my face (not that there's much to ruin anyway). What do I do now? Heed Honda's advice, of course.
The voluntary safety recall campaign for select models is free of charge and will only take about one hour at any of the 37 authorized Honda car dealerships and three authorized service outlets nationwide. HCPI aims to repair more than 199,000 possibly affected vehicles in the Philippines. Customers are encouraged to immediately schedule an appointment at any dealership. Honda dealers are open from 9am to 6pm, Monday to Saturday, and are most willing to accommodate all affected customers.
Again, if you own any of the above-mentioned Honda models purchased within the indicated period, waste no time in verifying if it is an affected unit. There are three ways to do so:
Go to hondaphil.com/services/vin-search and search your car's VIN (chassis number);
Call Honda's dedicated hotline numbers—1-800-1000-HONDA (46632) or (02) 857-7240—between 8am and 5pm, Monday to Friday; or
E-mail Honda Cars Philippines at

[email protected]

.
Check now. Or notify relatives or friends who own Honda vehicles. This simple act could save a life or two.