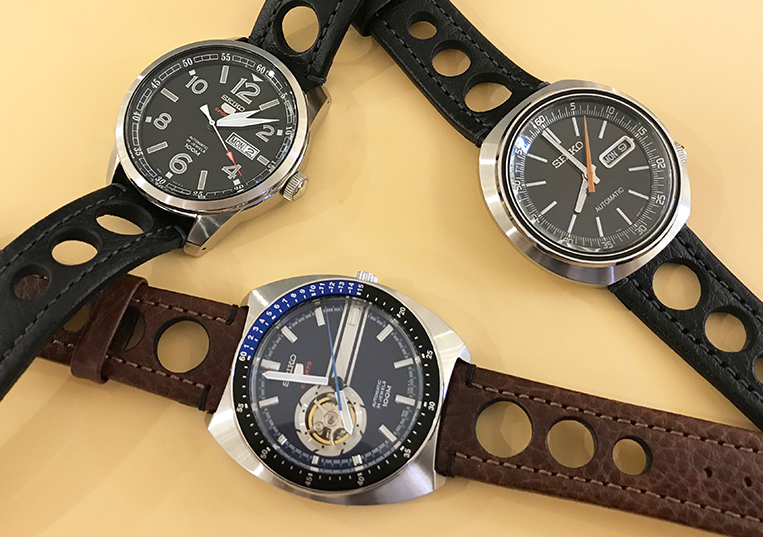 As I've been saying over and over, cars and watches go together. Speed-related activities require the precise measurement of time, so it's no coincidence that petrolheads also happen to be horological fans. The world of watchmaking is well aware of this natural connection, which explains the abundance of models designed to complement a sports car's cockpit.
But what if, like me, you can't afford a Rolex Daytona or a TAG Heuer Monaco or an Omega Speedmaster, but you still want your wrist to rock something that won't look out of place in a racetrack paddock? No problem: Get a cheap automatic watch and give it a matching rally strap.
In my case, I go almost exclusively for low-end Seiko models. They're extremely affordable (the ones you see here each cost anywhere from P5,500 to P6,900) and of commendable quality (I haven't had the misfortune of getting an inaccurate piece). There was that one Seiko 5 I once got with a defective day-date complication, but I was able to return it.
Rally straps, meanwhile, are the most common motoring-inspired bands used for timepieces. They prominently feature either small perforations or huge holes bored into them. I get mine from Hirsch (the Austrian brand's stall at Estancia Mall in Capitol Commons is accessible and friendly). A Hirsch rally strap has three big holes on either side, and is priced at P2,150 regardless of the color or the lug width.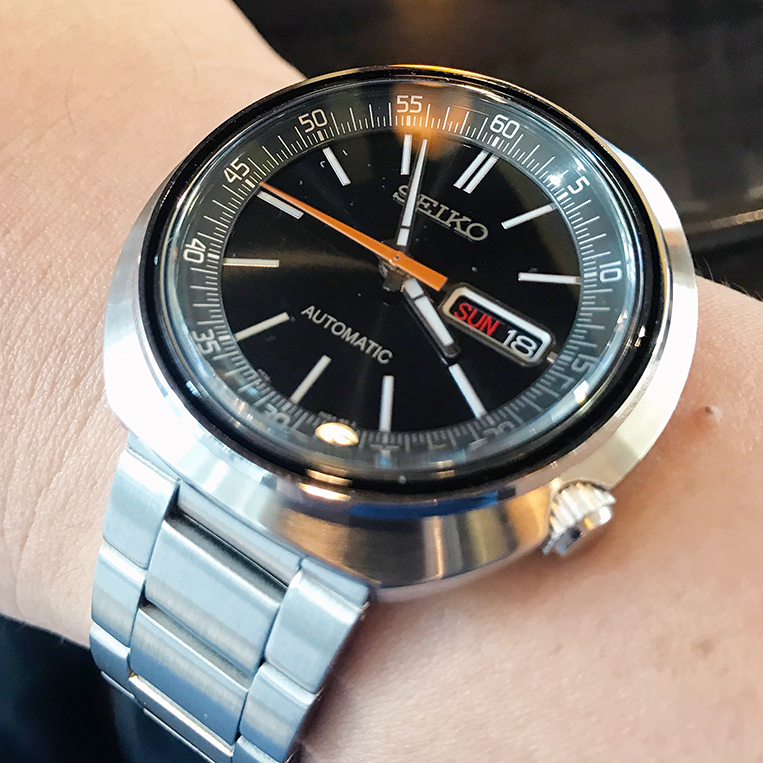 Straps are like aftermarket wheels—they're the easiest (and often inexpensive) way to alter the appearance and the overall vibe of your timepiece. You won't believe how a simple strap change can improve your watch's aesthetics. It's like buying another watch altogether.
See the above Seiko Recraft example (reference number SRPC11)? It's a nice piece for a driver's watch because it has all the classic elements to it: a retro UFO case shape, a gauge-like dial and a snazzy orange seconds hand. The stock steel bracelet that came with it was okay, but looked a little dorky.
Check out the cosmetic makeover you can give it with a black rally strap.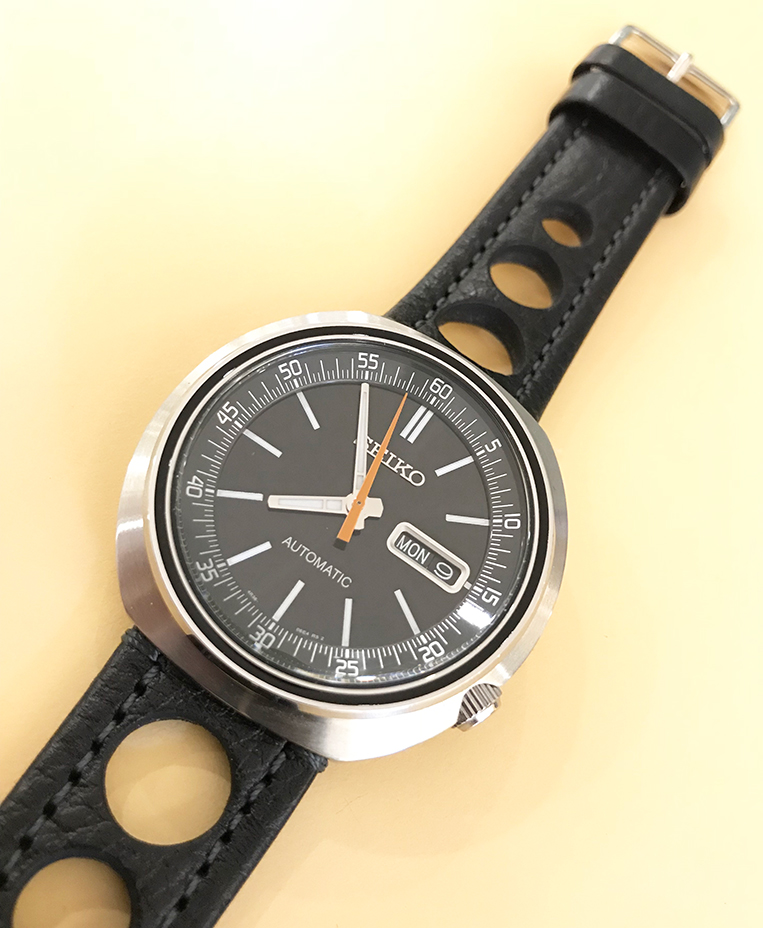 The great thing about a rally strap is that it goes well with almost any case style and dial design—it doesn't have to be a purpose-built driver's watch. That said, I wouldn't put a rally strap on a diver's watch or a dress watch for pretty obvious reasons. Then again, to each his own.
This next piece, an otherwise lowly Seiko 5 (reference number SRP619), isn't exactly meant for motoring pursuits, but note how a rally strap succeeds in making it look like it is.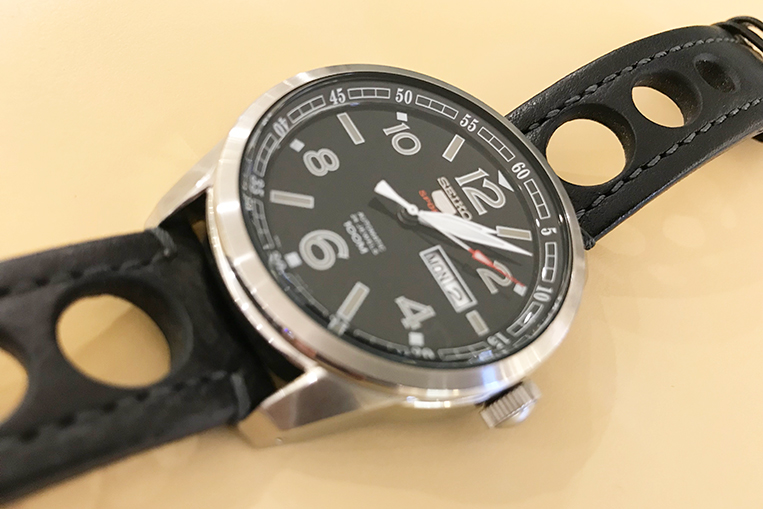 And here's another value-for-money Seiko 5 model (reference number SSA327) that's just begging for a rally-strap modification. The case, the fixed bezel and the dial are reminiscent of those Speed-Timers from the past, and the "open heart" feature actually resembles a brake disc. This also came with a steel bracelet, which already looked like a winner on its own. But a dark-brown rally strap can't be beat in bringing the watch to life.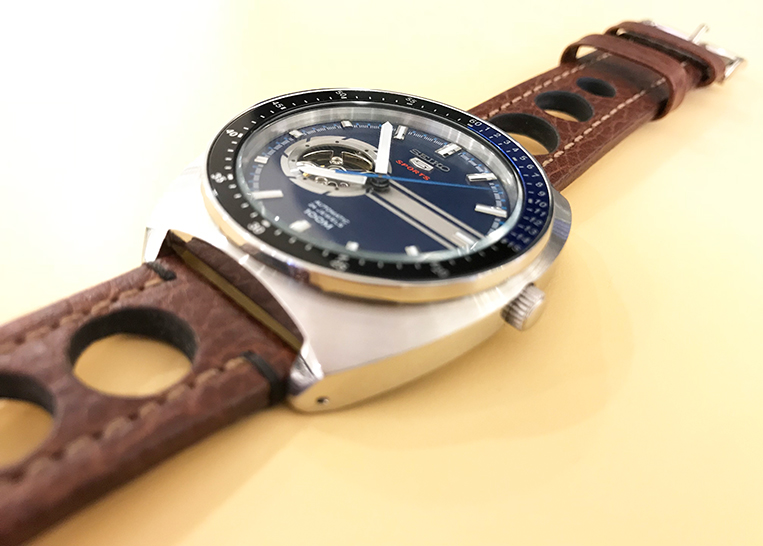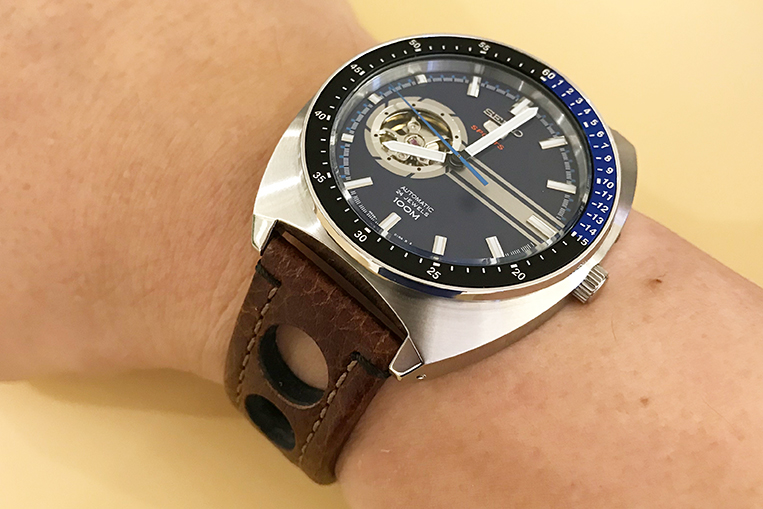 The next time you get the itch to spend a fortune on a big-name chronograph just to look the motoring part, consider settling for a low-cost piece from a well-respected brand like Seiko, and then sprucing it up with a rally strap. The hunt (for both the timepiece and the band) can be just as fun as a hot lap in a potent coupe.