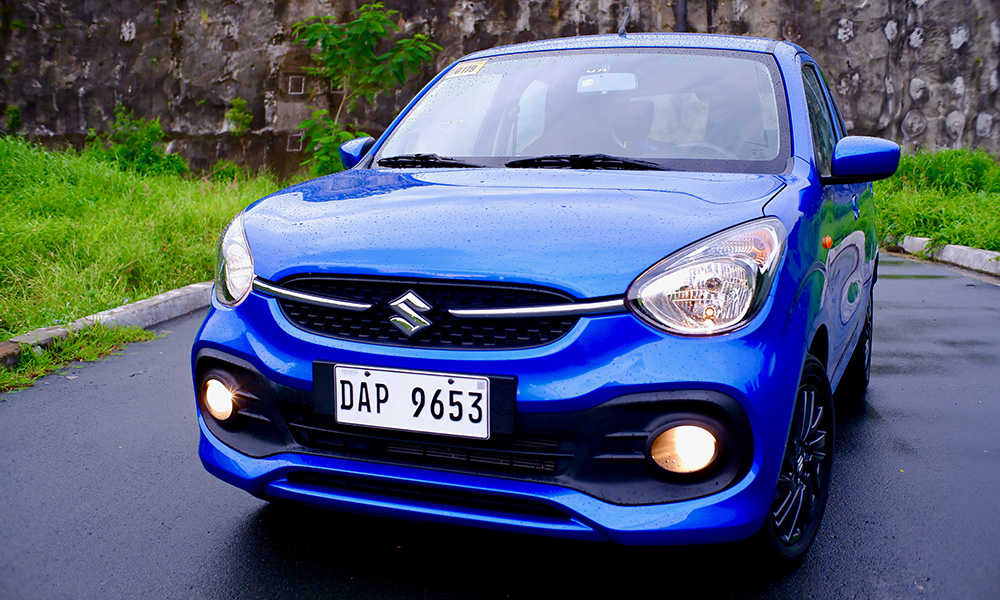 I love an underdog. Whether it's about Rocky or the war in Ukraine, we're predisposed to root for the little guy. And while the latter is giving the Russians a bloody nose these days, the conflict has also opened our eyes to the realities of oil dependency.
Gas will always be a major part of the household budget, and the less we depend on it, the more we can spend on other things. Hence the newfound popularity of thrifty small cars. They get you from point A to B with as little fuel consumed as possible, and the new crop is doing better to make you feel like you're not in the cheap seats anymore.
Similarly, Suzuki is a bantamweight compared to a Japanese industry heavyweight like Toyota. Still, that hasn't stopped the automaker from making competent small vehicles like the Jimny and this, the Celerio.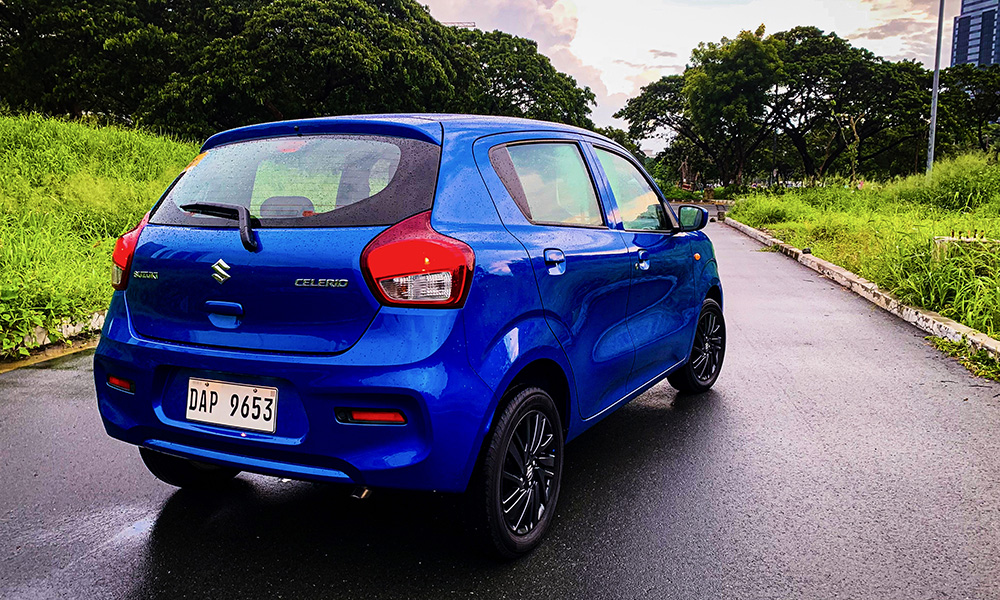 At P754,000, it isn't as inexpensive as it used to be, but it does include a remarkable array of features for the money. A perky three-cylinder engine with an automated manual gearbox, hill-hold assist, dual airbags, ABS, stability control, 15-inch wheels shod by Continental rubber, smartphone integration, all wrapped in a reasonably cute—if forgettable—body that should be fun to dress up with a few tasteful mods.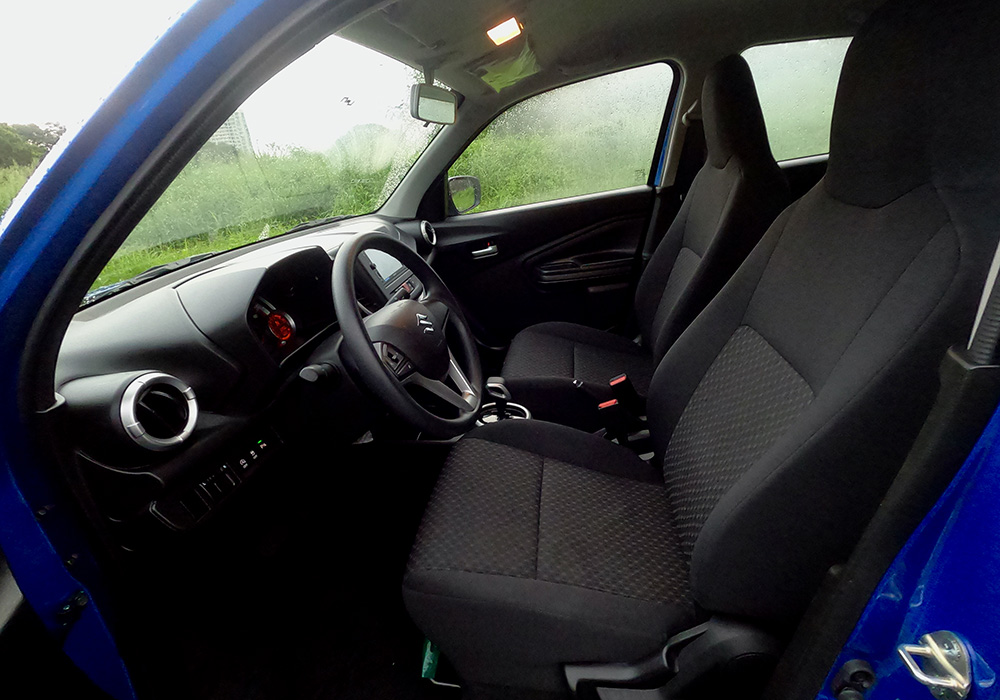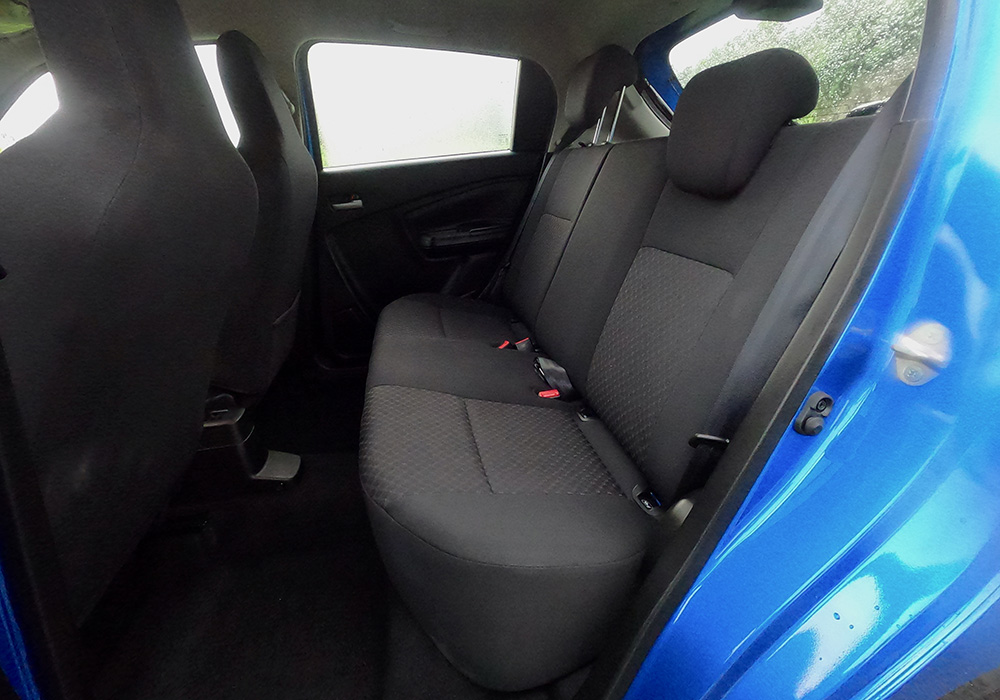 Its subcompact dimensions make it easy to shoehorn in and out of tight parking spots, and clever interior design has made it acceptably roomy for four adults (although it is officially a five-seater). Suzuki opted for space-saving door armrests, scalloping out the panels for more breathing room.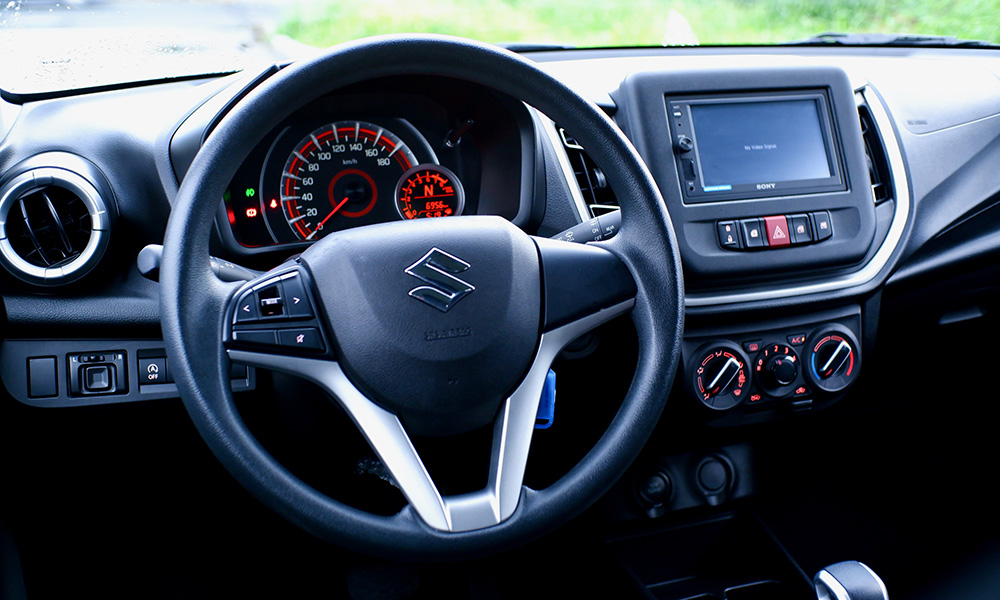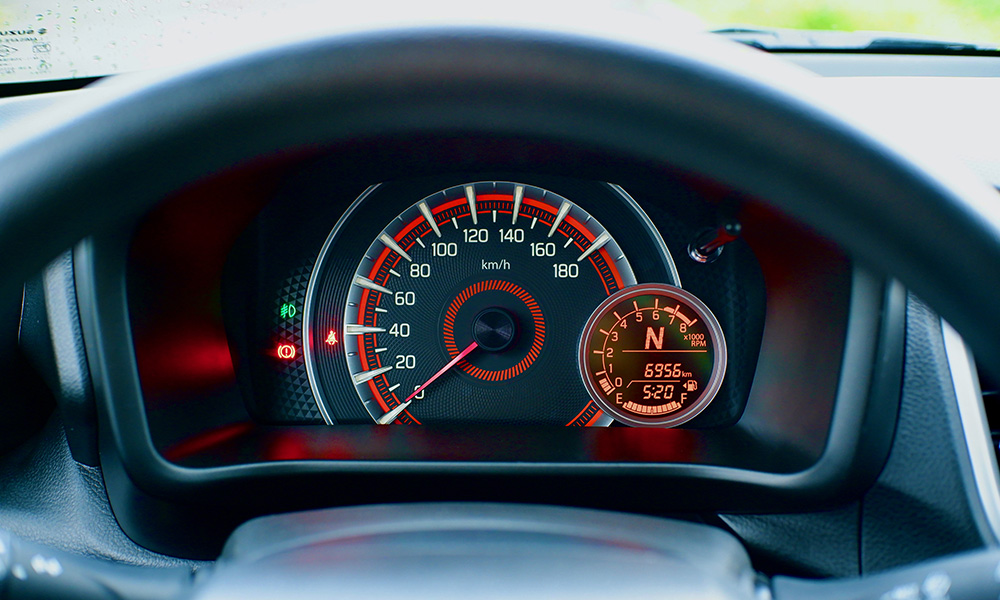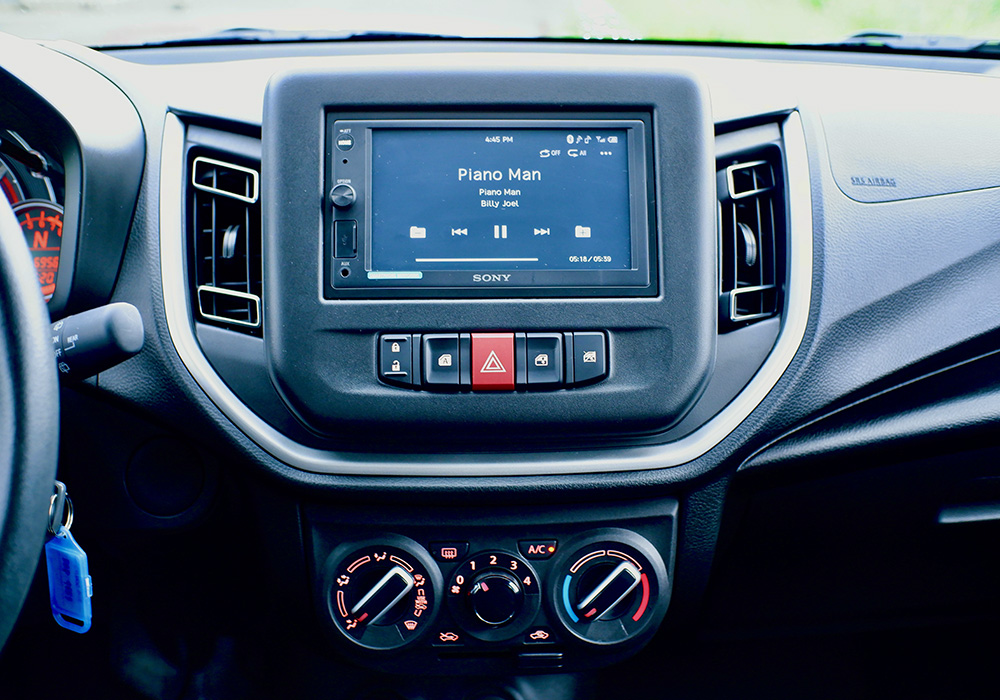 The front window and lock switches have then been moved to the center stack, while the rear window switches are placed behind the transmission tunnel. The swoopy dashboard does a nice job of looking futuristic and uses soft-touch materials for a higher-end look and feel. The steering wheel is a pleasure to hold with its contoured surface, too.
I love the space-efficient design of the instrument panel with its large speedometer. At first, I thought I didn't have a tachometer, then I realized that it's a small semicircle above the fuel gauge. Sort of like a big bike's, except the tach takes center stage on the latter.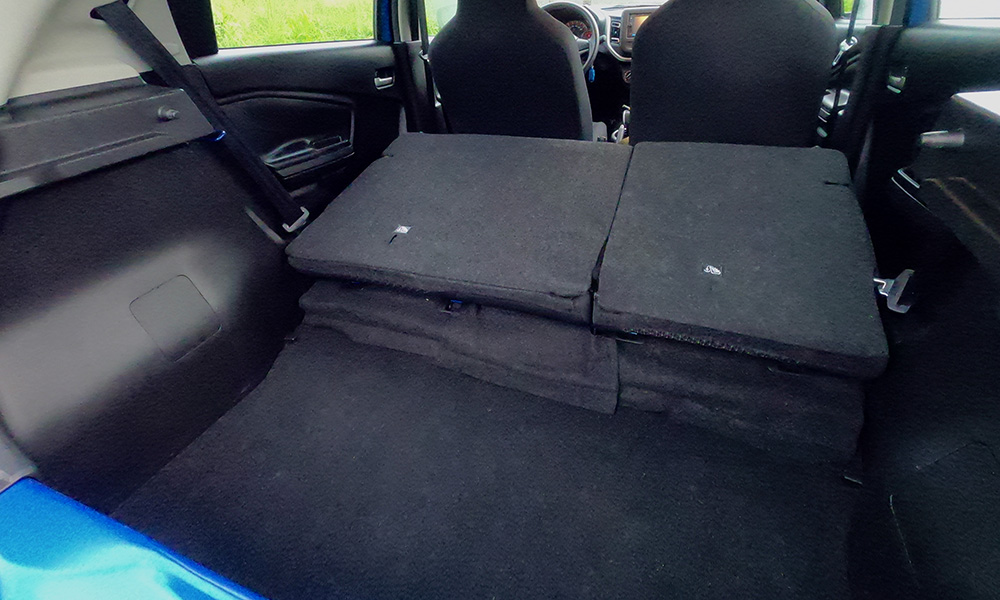 At the back, the split-folding rear seats help to maximize cargo volume, making it ideal as a single or two-person runabout. Overall, it's a cabin with feel-good vibes—practical yet cheerful at the same time.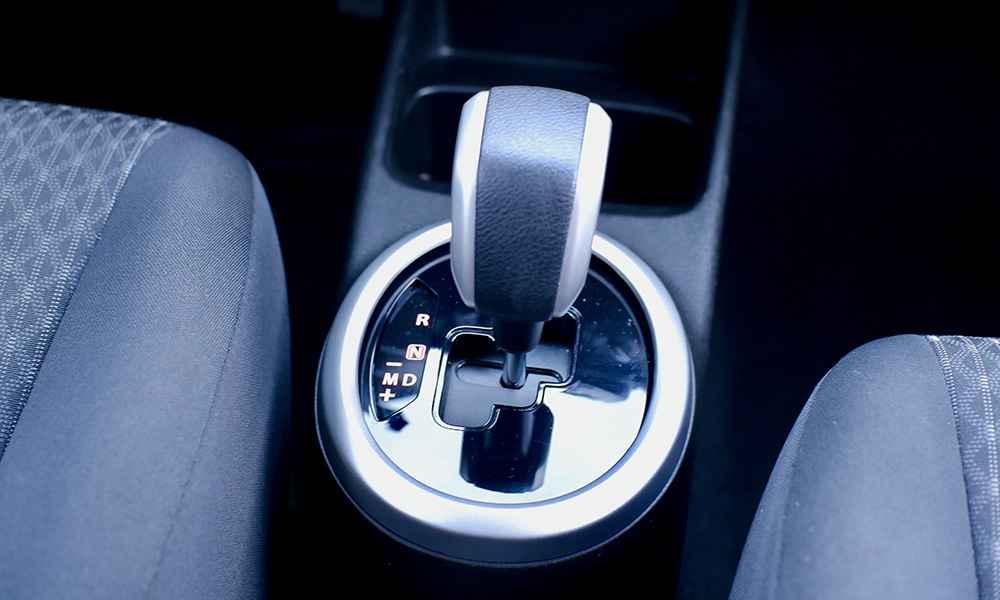 The Automatic Gear Shift transmission is a mixed bag. Rather than using a CVT or torque converter system, it uses hydraulic actuators to change gears and manage the clutch. In theory, it gives you the simplicity of a manual transmission without having to actually change gears yourself. And it's something we first saw in Formula 1 race cars many years ago.
In practice, particularly at low speeds, it's like a novice driver is still trying to figure out how to work a manual down there. For example, it will slip the clutch and try to move up to a higher gear as soon as possible. But in stop-and-go traffic, where it's just easier to stay in first gear or neutral, there's a distinct hunting for gears as the computer tries to figure out what's going on. On steep ramps, there's a moment's hesitation as it drops down to first and applies clutch slip to gradually pour on the power.
Basically, it's mimicking what a human driver would do with a regular manual, just clumsier. At highway speeds, things get better as the clutch engagement doesn't feel as intrusive. For best results, I just put it in the manual mode so I could lock into the gear that I wanted, without having to work a clutch pedal. Bottom line, it'll take some getting adjustment on your part if you've gotten used to traditional automatics.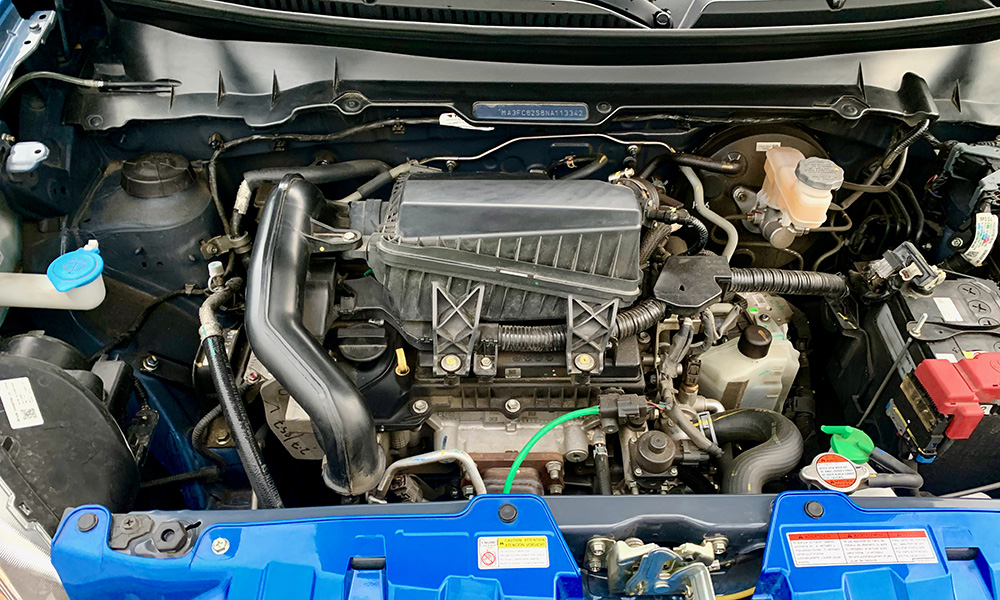 To further improve fuel efficiency, it also has an engine automatic start/stop. This used to be a feature exclusive to higher-end automobiles and a few motorcycles, and it's nice to see the technology trickling down. Unfortunately, there seemed to be a glitch in our unit as it stalled the engine at a stoplight and refused to start for several minutes. About a dozen attempts to restart (and a dozen minutes of anxiety) finally got us going again. Suzuki promised to look into the matter, but this should serve as a caution for having so much tech in today's cars (more things to potentially go wrong, in other words).
That unfortunate incident aside, the 1.0-liter DualJet motor has heart. It has variable valve timing, a modern four-valve/cylinder head, and two injectors placed near the inlet valves for optimized combustion. It's already sipping gas with such a small displacement (you could probably fit the engine in a suitcase), but the DualJet system enhances the atomization. Without even trying any fuel-saving tricks, I was seeing 13-15km/L in city driving. And Suzuki has done a great job of quelling the vibration inherent in an unbalanced, three-banger format, too. Floor it and all you will hear is a muffled growl as the revs climb, minus the boom and the clatter common to the type.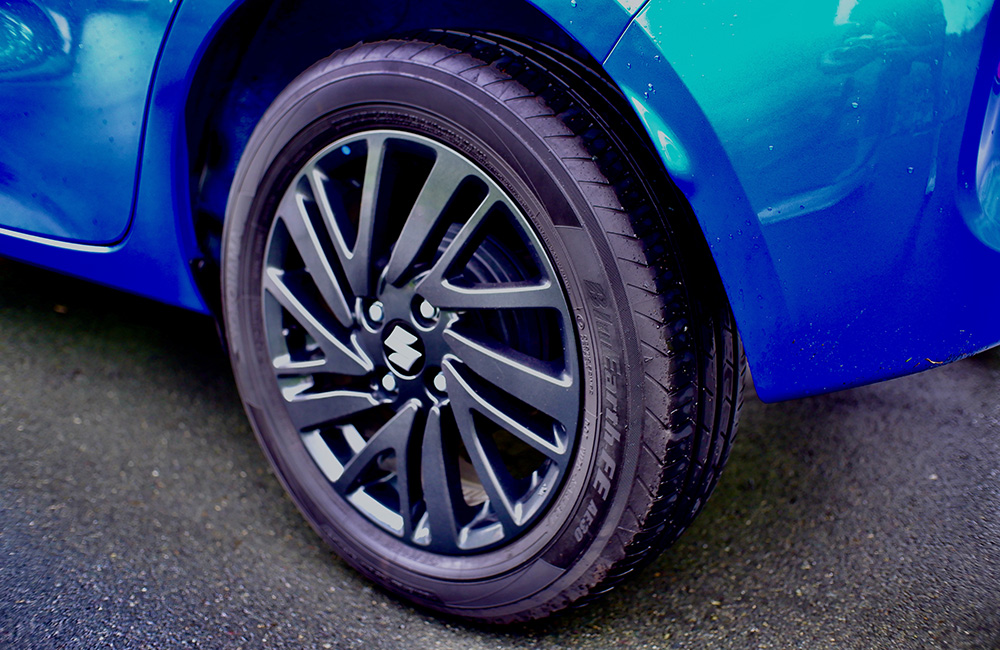 It has enough juice for cruising at the speed limit and a little more, but of course, it's no hot hatch. The suspension is pillowy, and the body roll is pronounced, precluding you from trying anything too sporty. The stock Continentals are nicely quiet, complementing the adequate soundproofing of the cabin. It's not big-car quiet, but close enough to make you comfortable for long rides.
Limitations aside, I can't help but still like this little car. It's unpretentious, it's cheap to run, and it goes the extra mile to make you relaxed and safe inside—no mean feat for an econocar. It's far from being the last automobile you'll ever want, but while you're on the way to bigger and better things, it'll do the job without calling attention to itself. Underdogs like the Celerio don't always get the limelight, but they may just surprise you every now and then.
SUZUKI CELERIO
| | |
| --- | --- |
| Engine | 1.0-liter three-cylinder engine |
| Transmission | Five-speed automated manual |
| Power | 67hp @ 5,600rpm |
| Torque | 89Nm @ 3,600rpm |
| Dimensions | 3,695mm x 1,655mm x 1,555mm |
| Drive layout | FWD |
| Seating | 5 |
| Price | P754,000 |
| Upside | A cheerful character and a loaded spec sheet. |
| Downside | A transmission that can feel clumsy. |