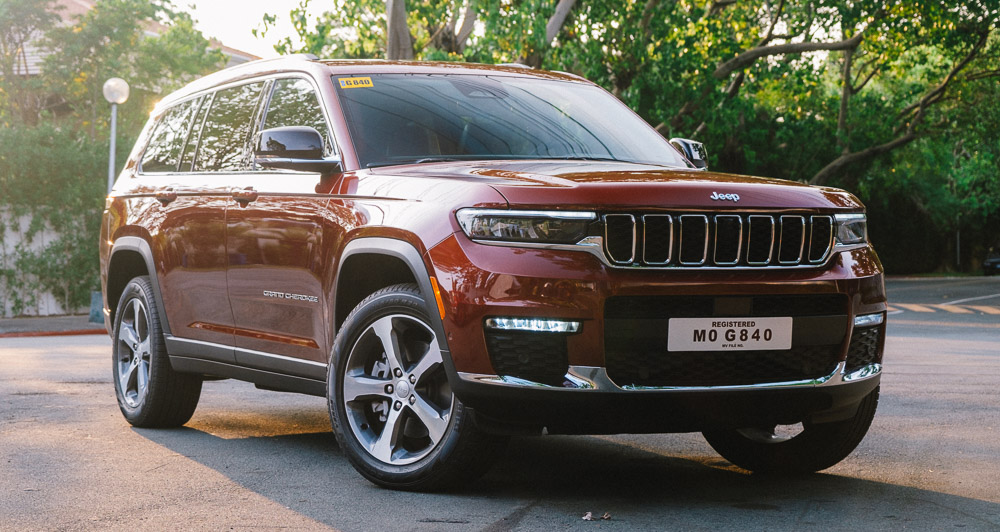 For a good while, most people have known Jeep for its Wrangler and Gladiator because these two are (literally and figuratively) the face of the brand. It does have other options, but none are truly premium enough to be considered a flagship.
Fans will be quick to point out that the Grand Cherokee did exist in the lineup back then, but the five-seater crossover was discontinued in the latter half of the 2010s.
The marque is finally back on our shores in long-wheelbase form after a grand reintroduction last March where it smashed through a glass pane, which is a homage to its introduction during the 1992 Detroit Auto Show.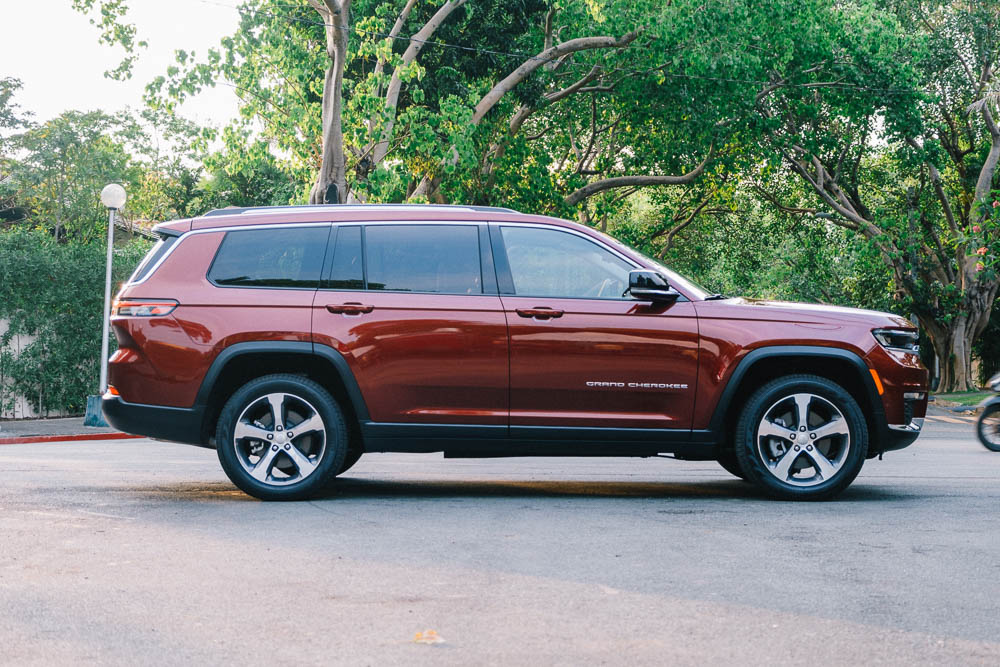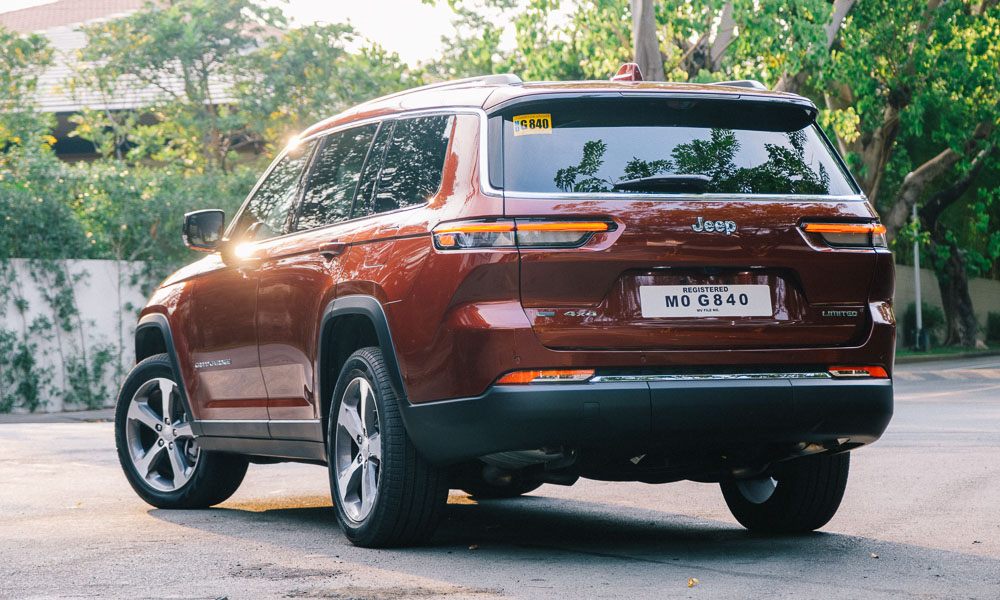 The 'L' stands for long, obviously. At 5.2m long and 1.9m wide, driving this through narrow streets is a very nerve-racking affair, especially within narrow condominium parking. This car is made for private villages and suburbia, but this isn't a soccer mom's three-row SUV.
In our streets, the sight of a vehicle of this stature would instinctively tell others to get out of the way, but the Grand Cherokee manages to look elegant with enough off-road flair to distinguish you from the Suburbans and the Escalades found in political convoys, as long as you don't get it in black.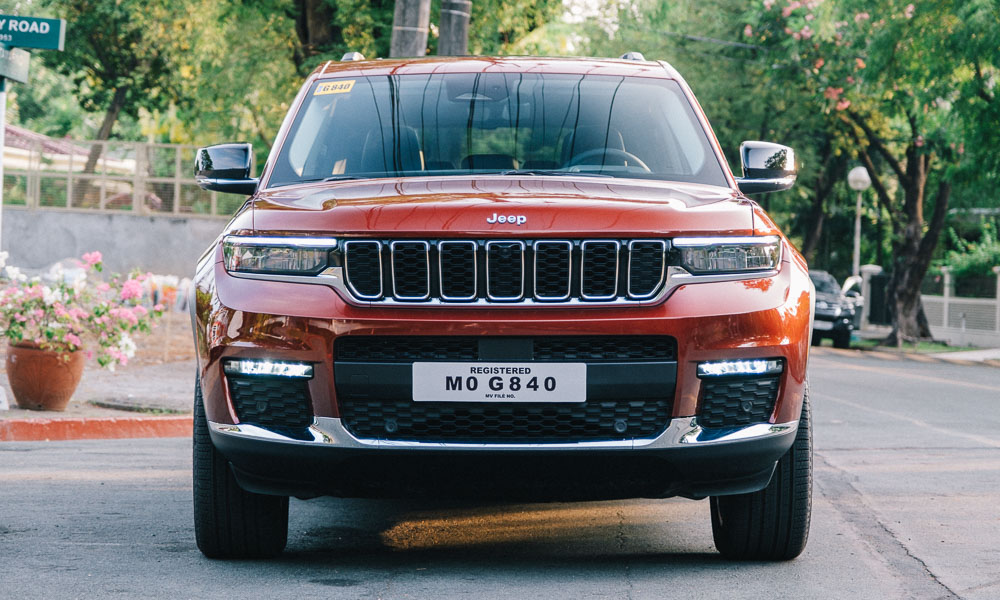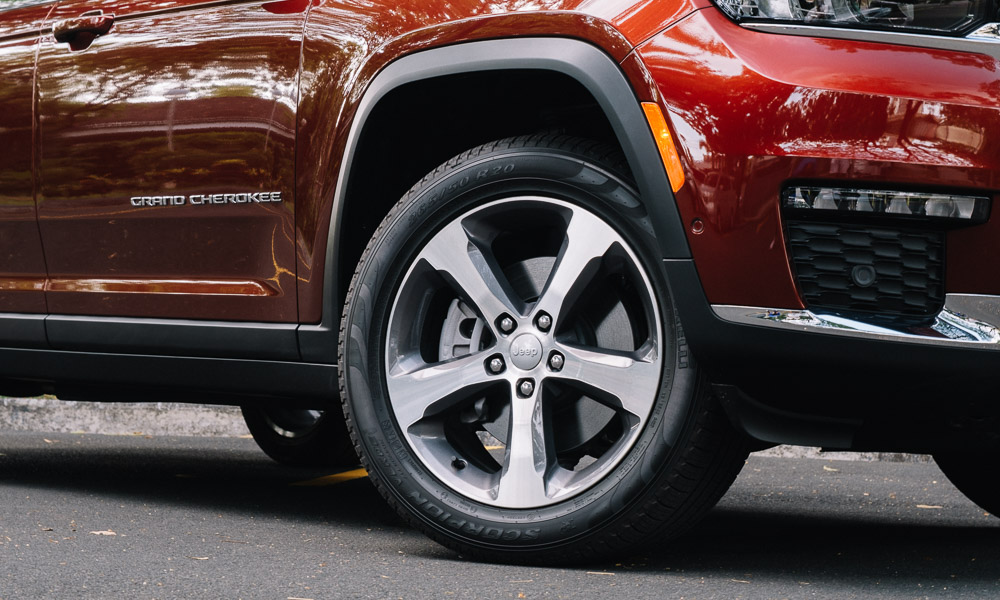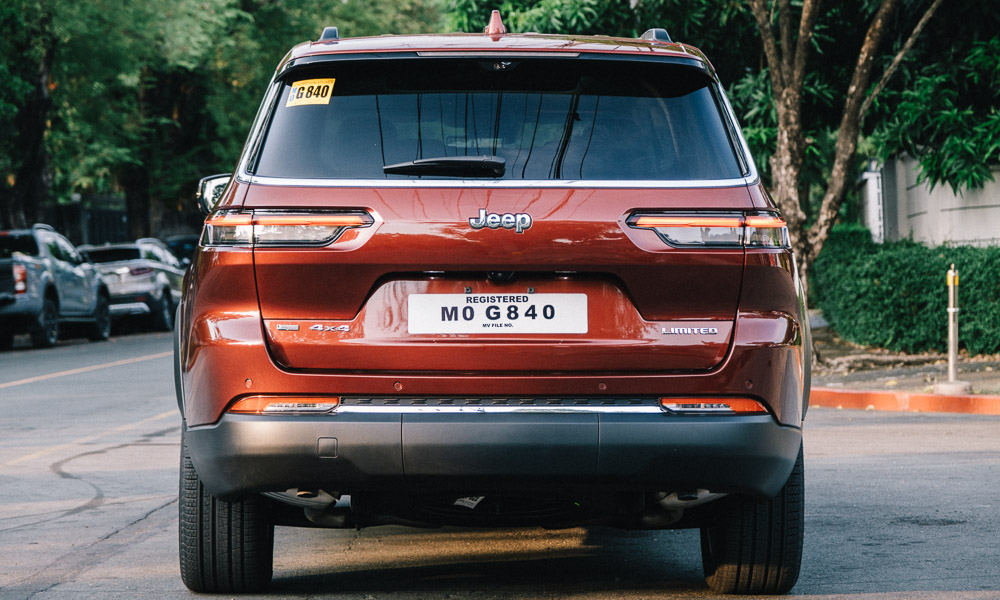 The slim (and bright) LED lighting, the sleek seven-slot grille, and the right amount of plastic cladding and chrome brightwork make this look like something a car-loving father would be proud to own. In fact, my favorite design touch would have to be that unbroken chrome strip that starts from the side mirrors, meeting together at the rear window.
The five-spoke, 20-inch wheels are shod by 265/50 Pirelli Scorpion rubber. Oddly, the full-size spare has an 18-inch wheel, so if you don't mind the mismatched look, consider it as a more capable temporary backup.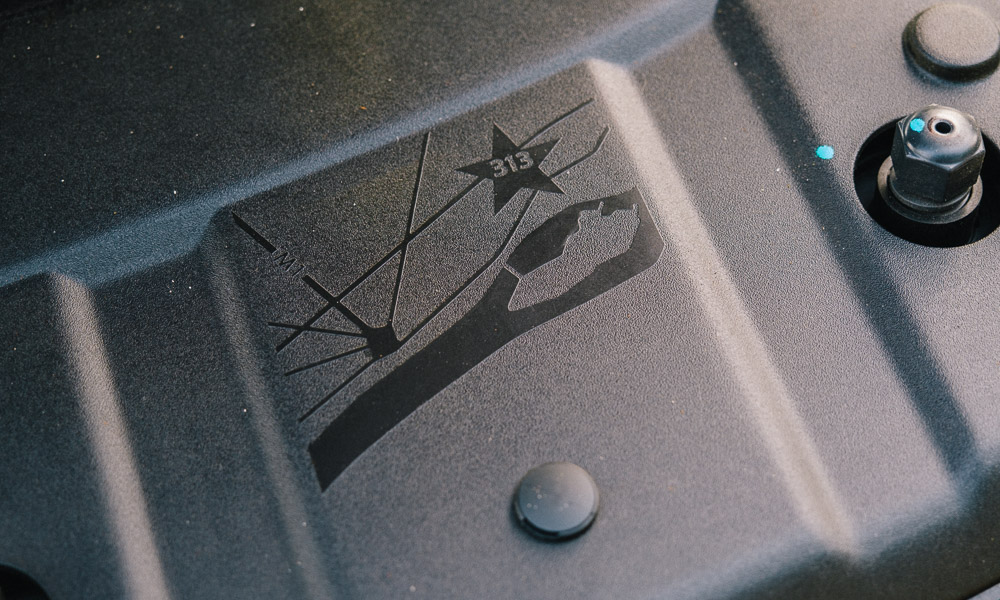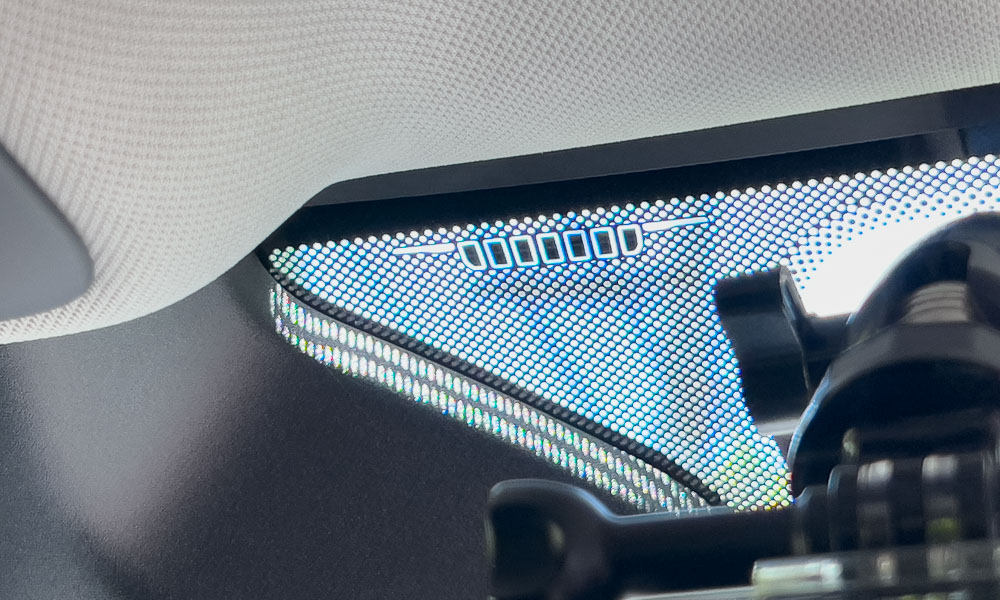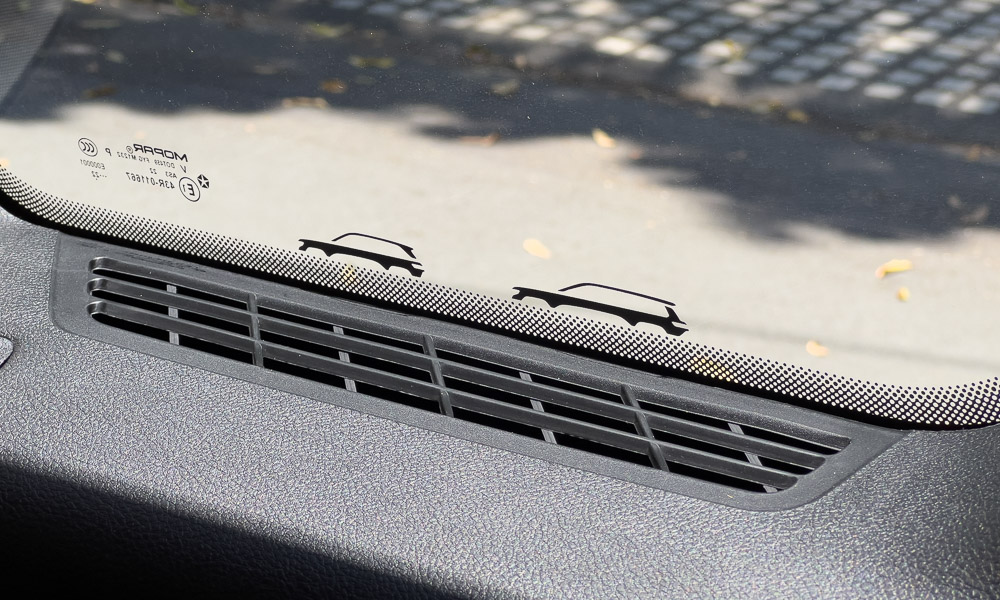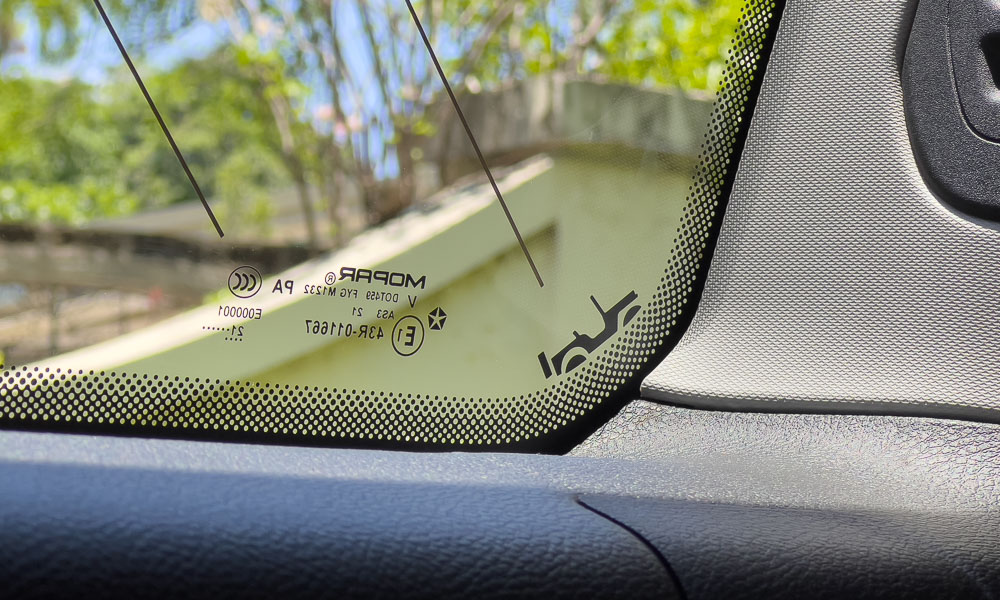 Now, this isn't some soulless seven-seater. It still retains all of the hidden Jeep (and FCA!) easter eggs, and the satisfying click and thump of the doors, the hood, and the trunk latch. It's full of personality, and I love how the automaker has that small attention to detail.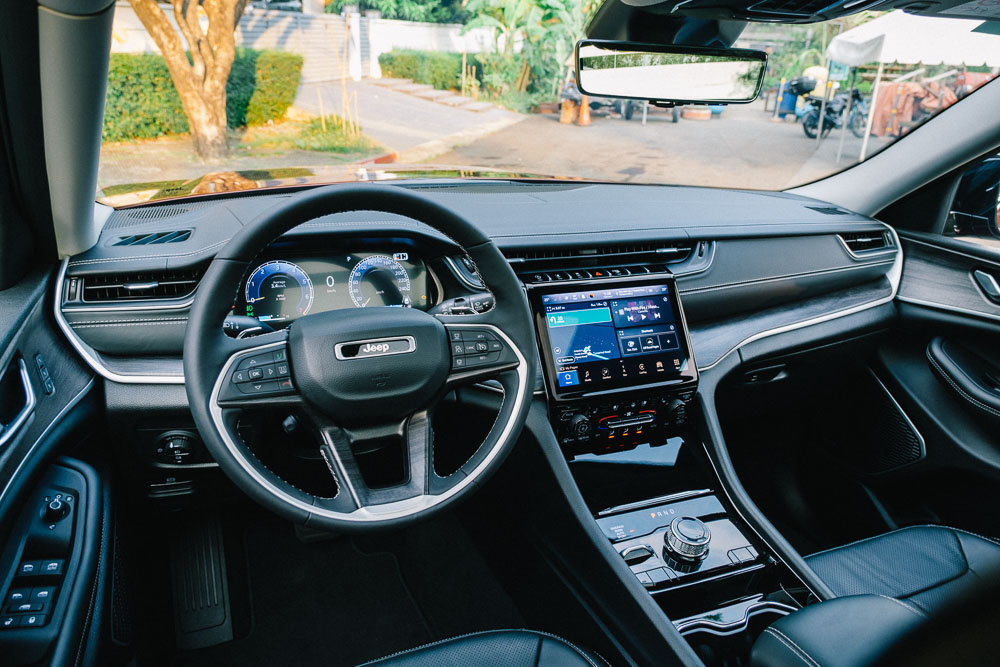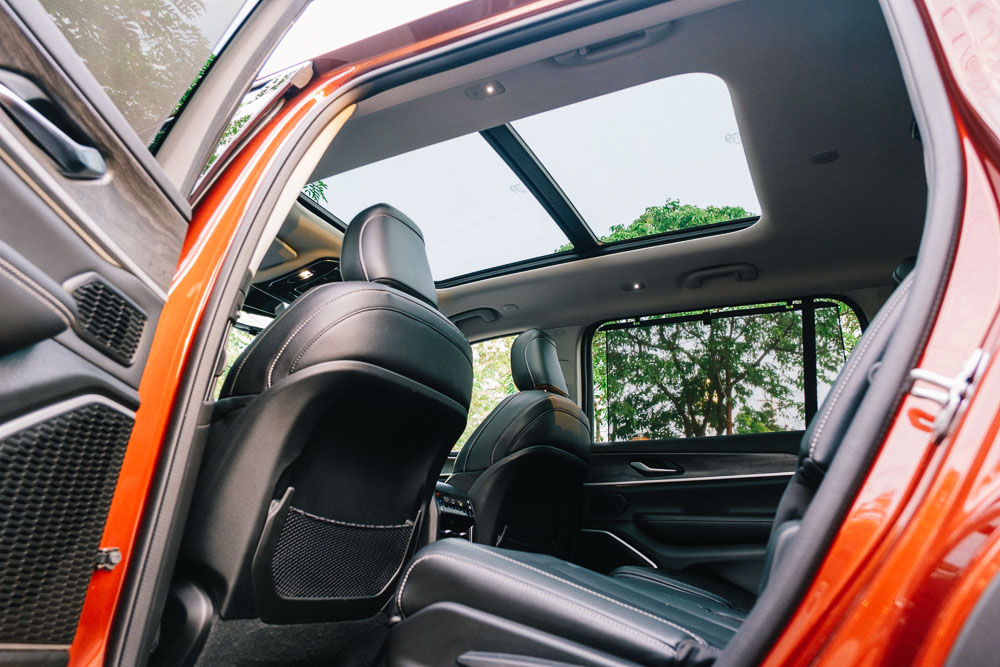 It isn't a Grand Cherokee if it doesn't have everything but the kitchen sink in terms of luxuries and features.
Luxury amenities include black Capri Leather upholstery; soft white ambient lighting; panoramic sunroof; three-zone climate control; power-adjustable, memory, and heated/ventilated front seats; and power-adjustable steering wheel and second-row bench that are heated.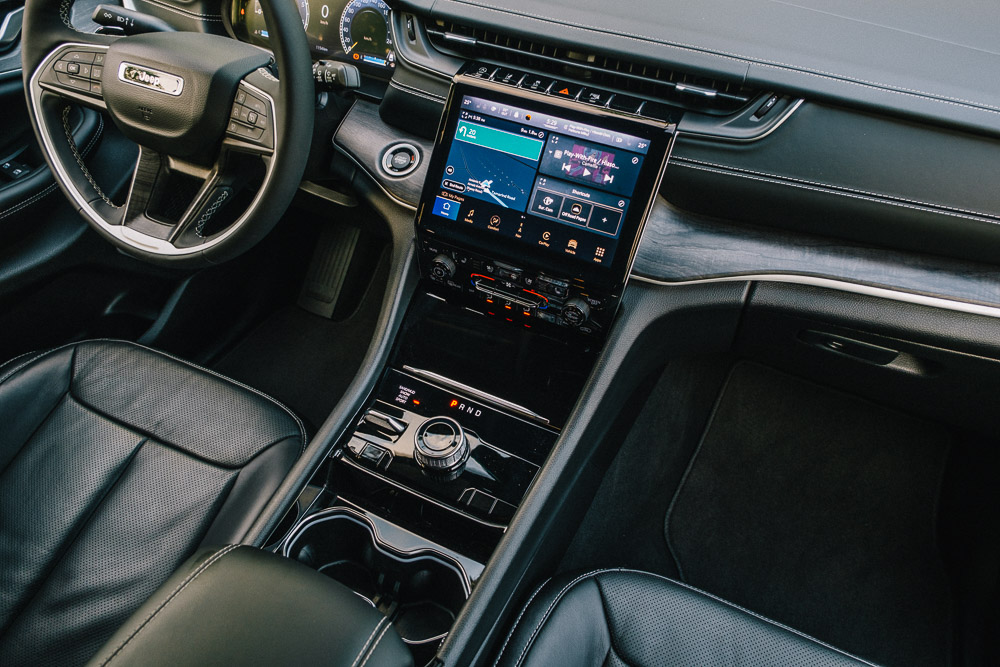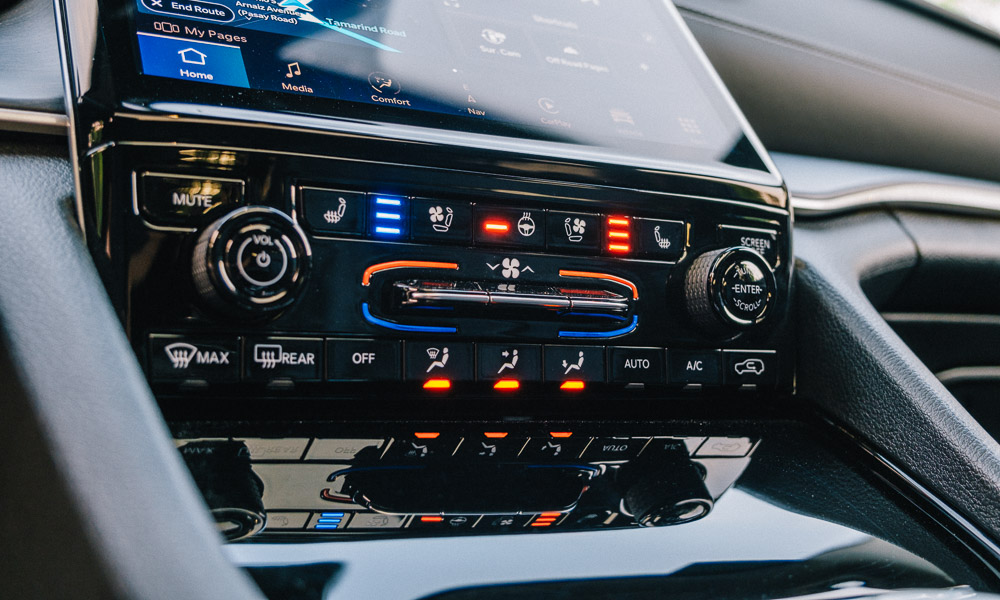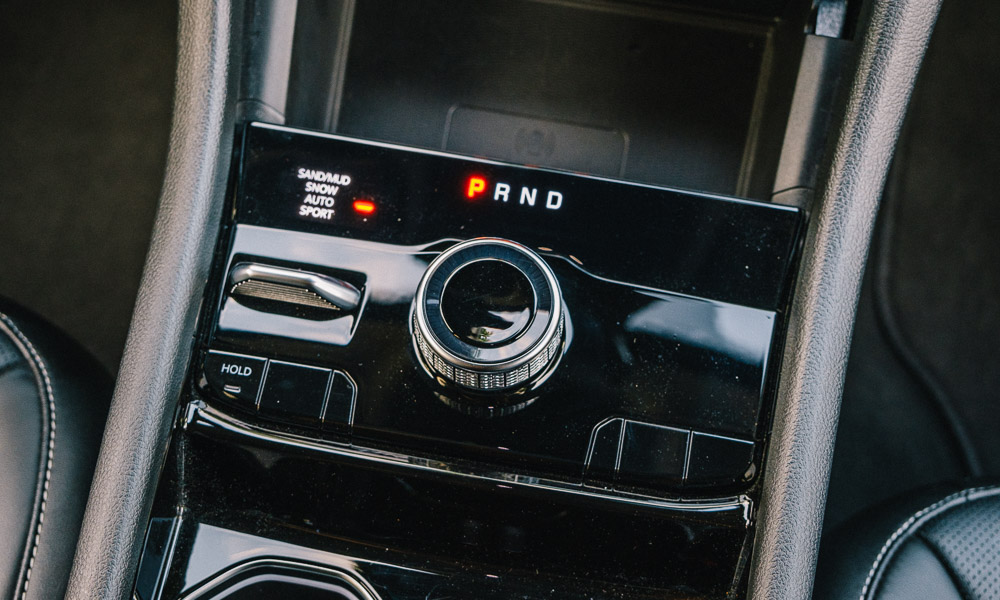 Apart from the rotary-style shifter, the interior is full of intuitive physical controls, which are a trademark of Jeep vehicles. Annoyingly, all of the switchgear is surrounded by an abundance of piano-black trim, which will get scratched and be full of fingerprints. On this tester, it was near-impossible to keep that center console dust-free.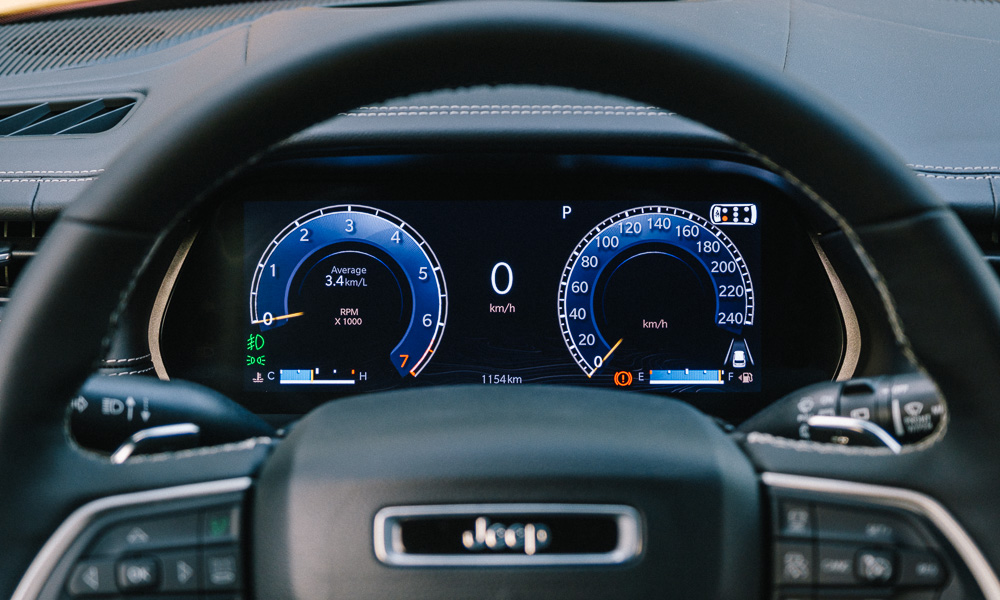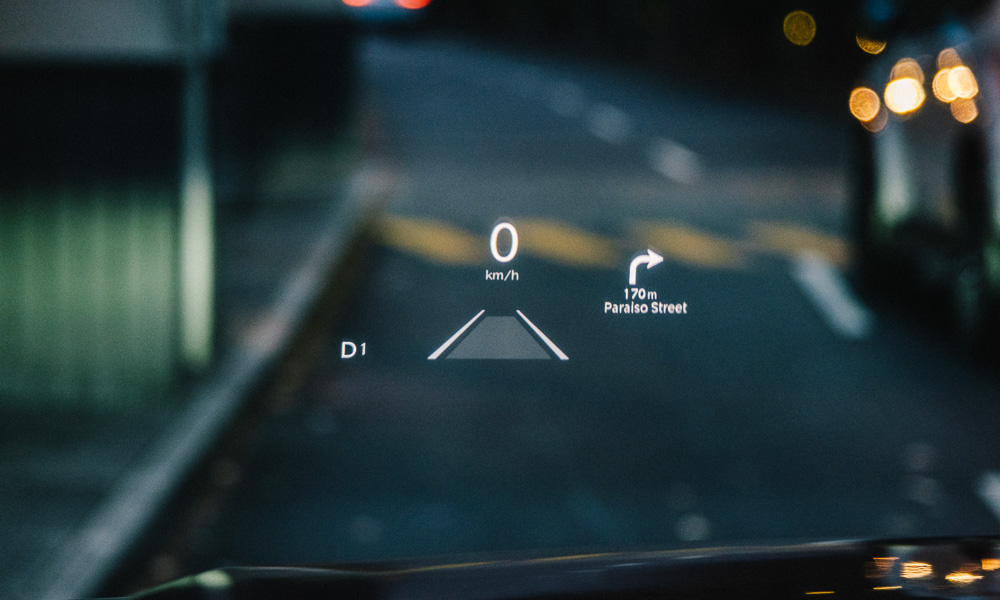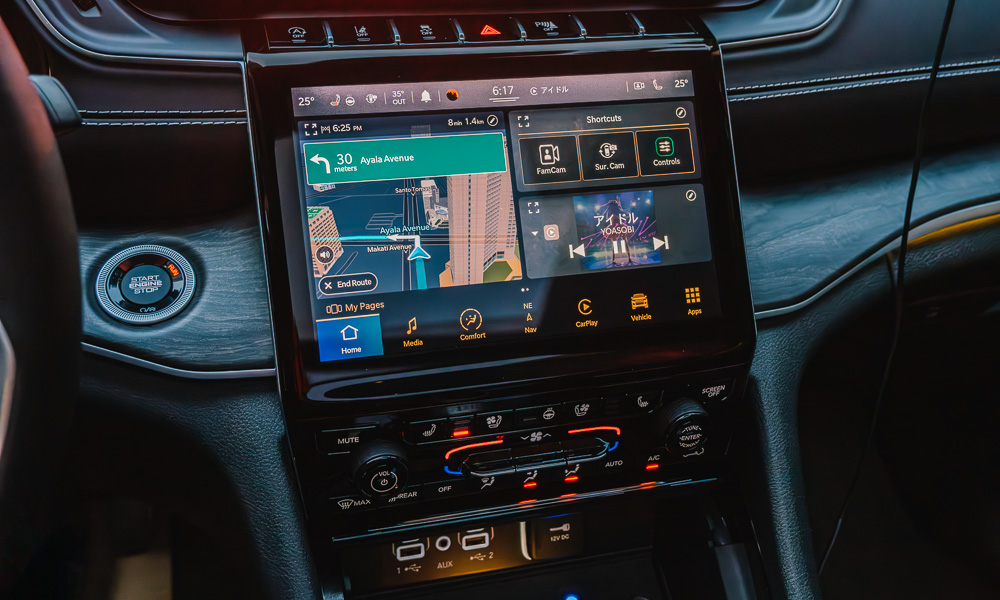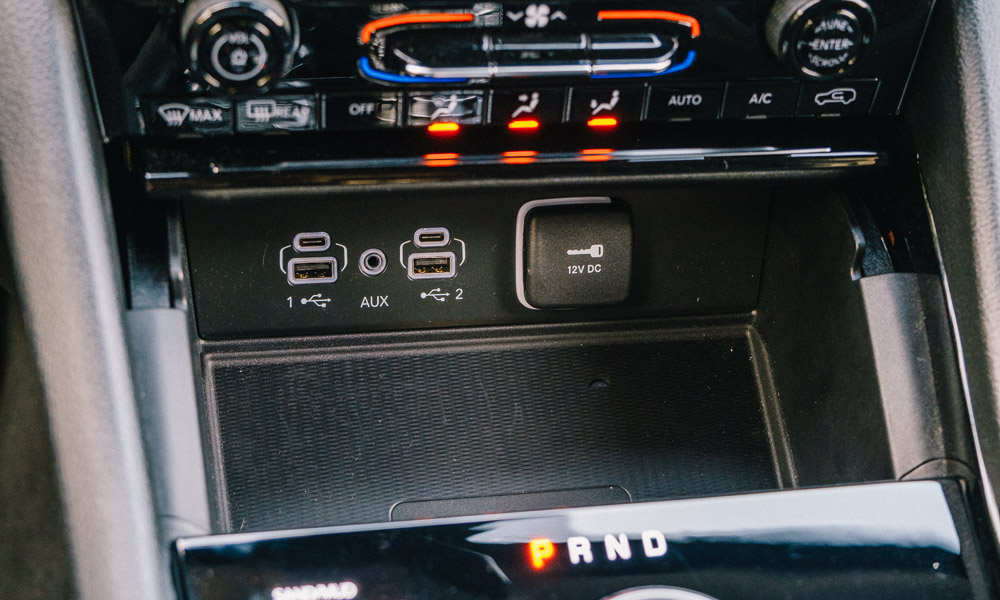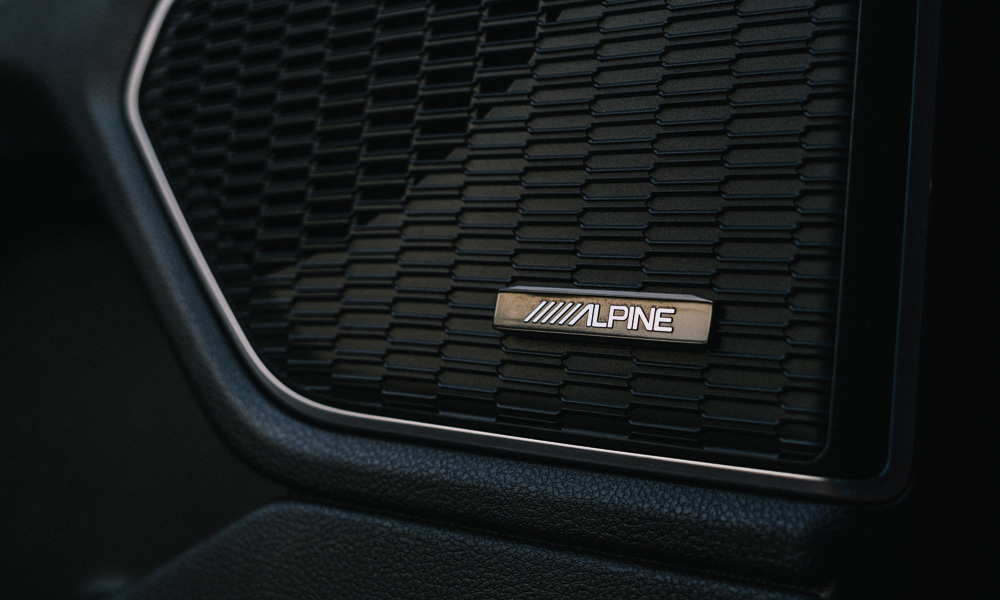 Meanwhile, the grocery list of tech features starts off with a 10.25-inch digital instrument cluster, a large heads-up display, and a 10.1-inch central touchscreen running Uconnect 5.
The Android Automotive-based OS has decent built-in navigation, and even comes with over-the-air updates for system upgrades. Most will just use the wireless Apple CarPlay and Android Auto integration, made great by the nine-speaker Alpine sound system with a subwoofer.
Of course, it has multiple charging options, which include USB-A, USB-C, multiple 12V outlets, and wireless charging.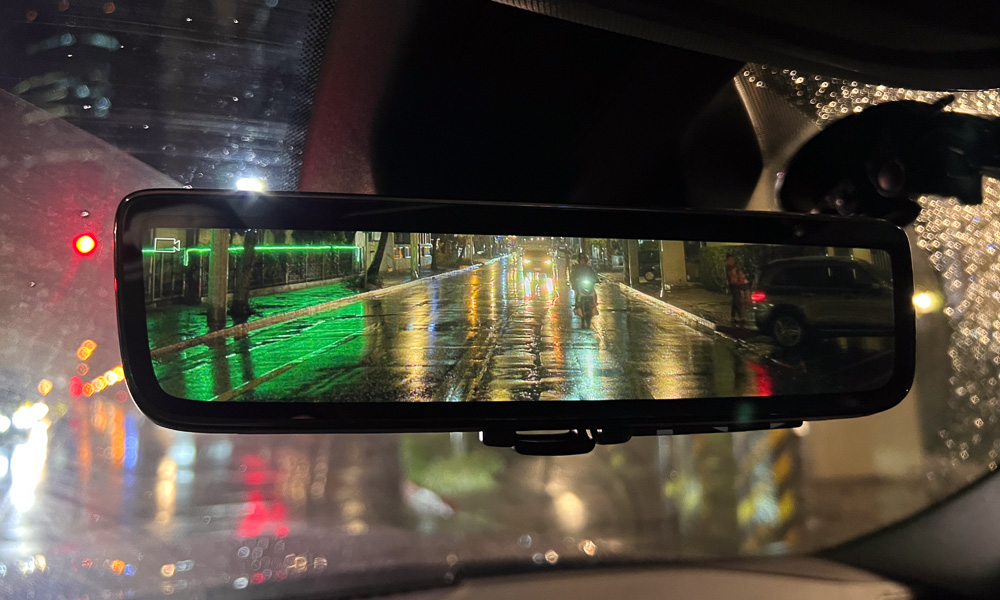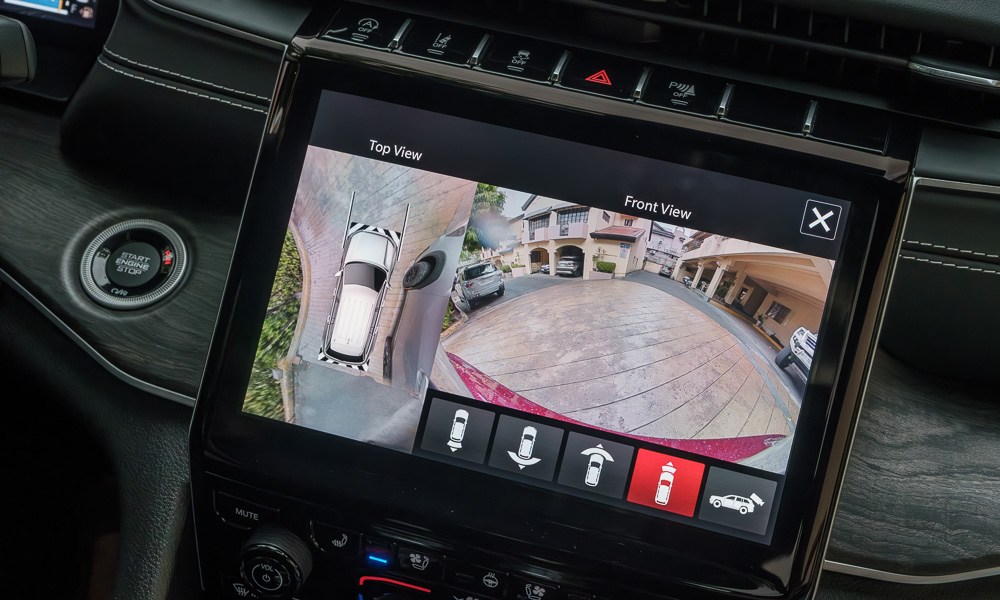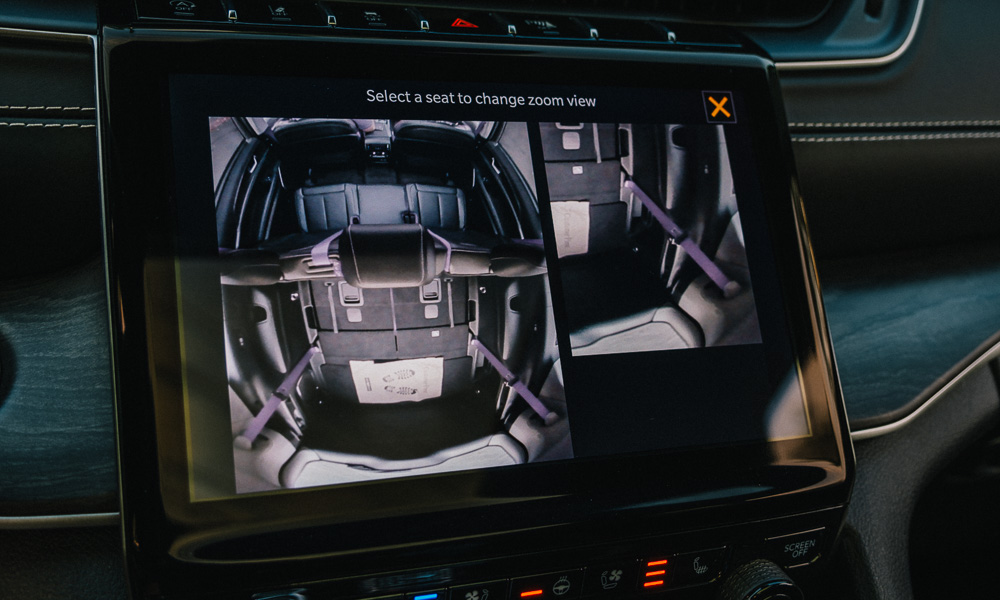 While space is not an issue up front, it feels more like you are sitting in the vehicle, rather than the sitting-on feeling that you get from its body-on-frame siblings. Plus, visibility can become an issue, especially with all three rows up.
This is why there are three different ways to see around the car. Aside from the 360° camera, there is a digital rearview mirror that will allow you to see behind yourself when you've got a fully loaded cabin. And for busy parents, the FamCam is a feature that allows you to peer into the second and third rows without any issue—perfect for keeping an eye on troublesome tots and reckless teens.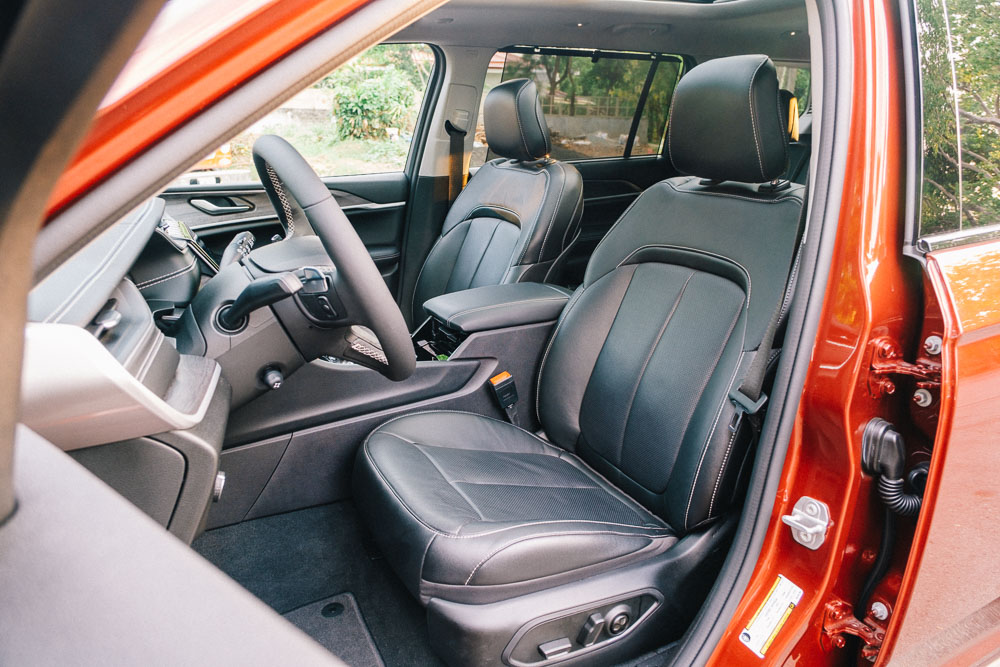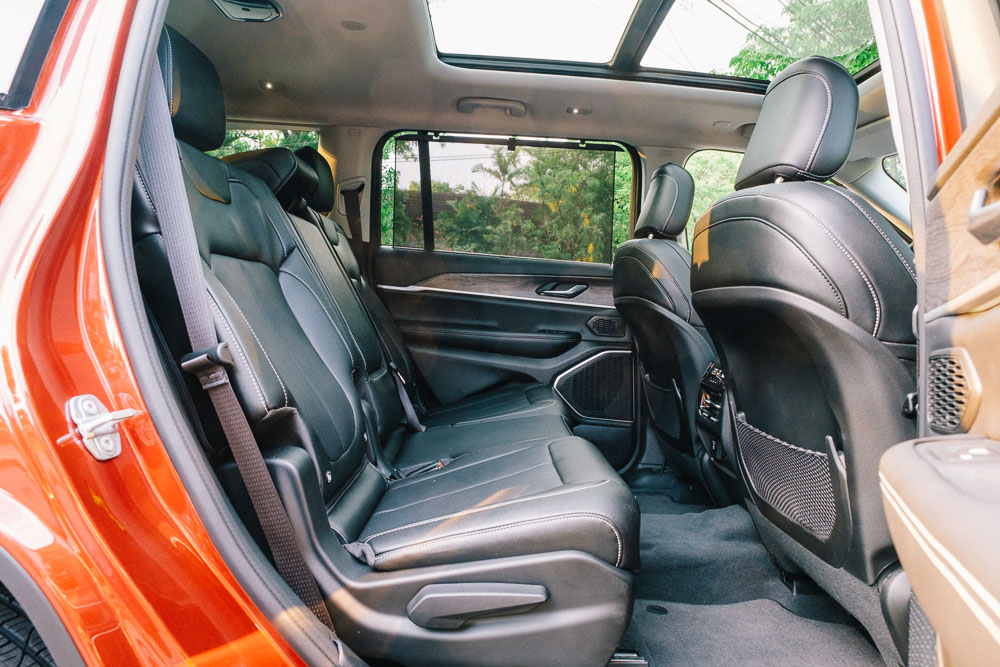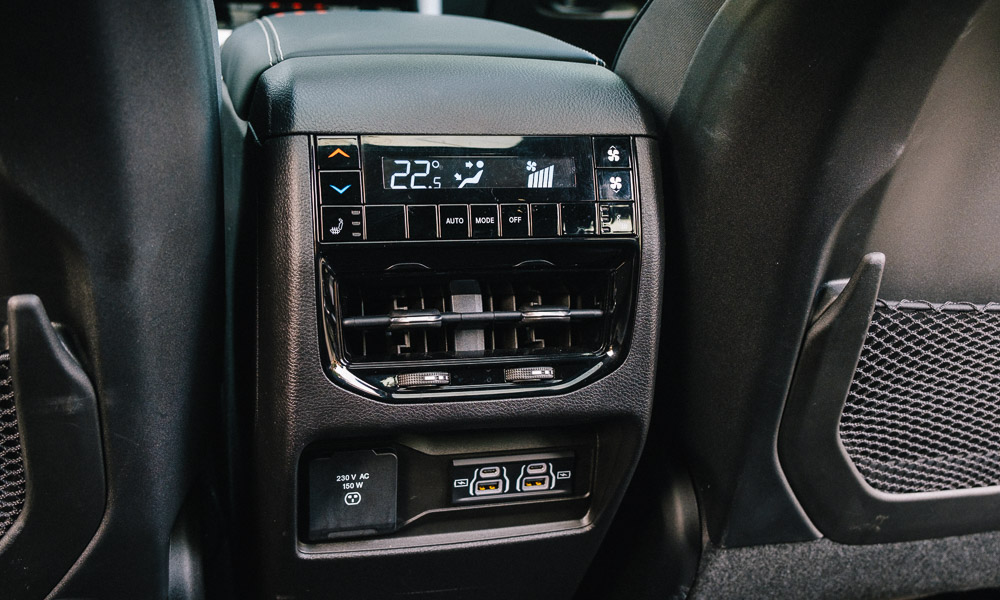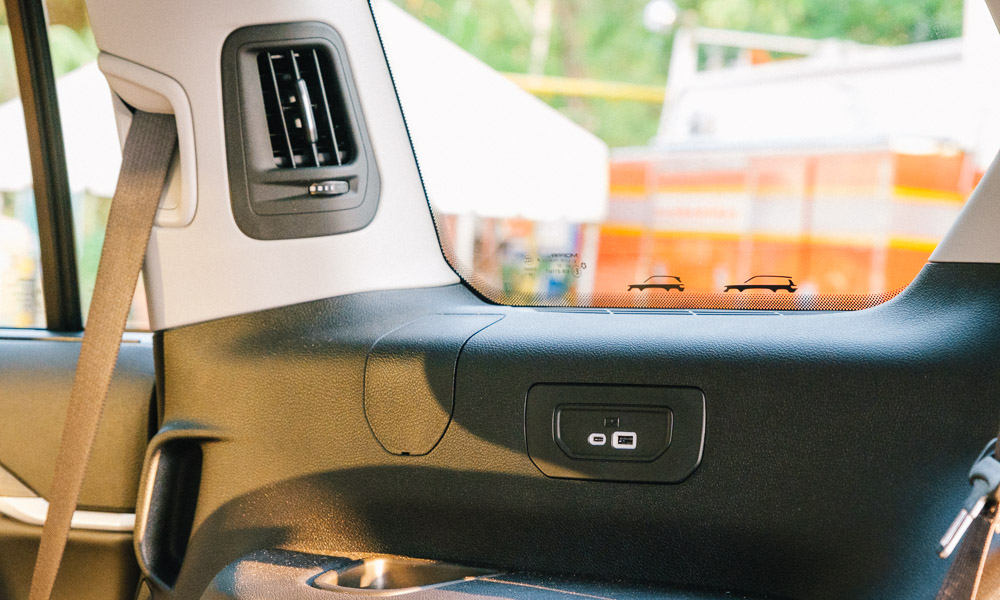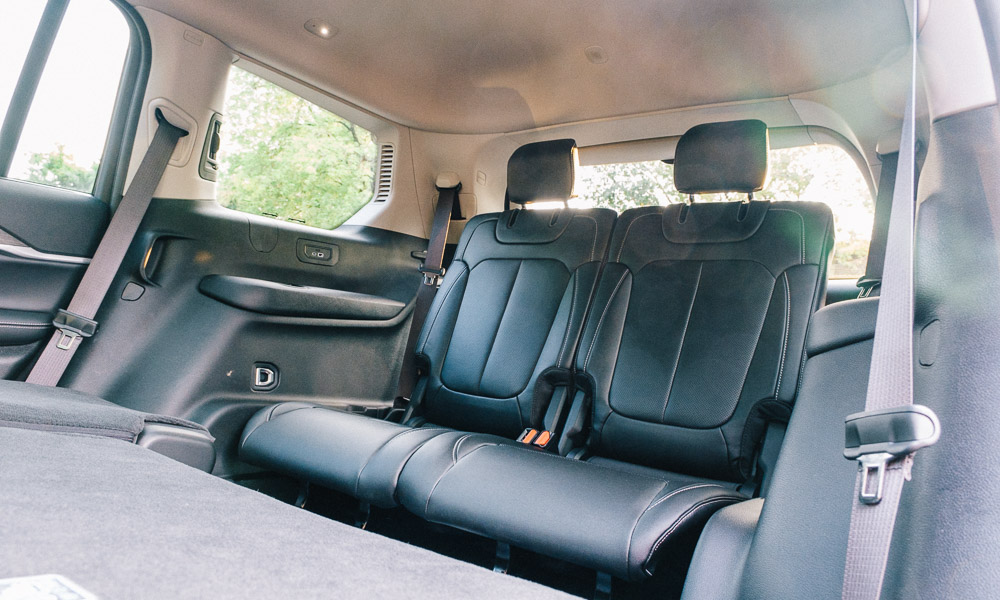 And while the Grand Cherokee L is offered with the option for two captain's seats in other markets, we get a spacious, full three-pax rear bench seat complete with Isofix anchors.
That doesn't make it any less luxurious, though, as second-row occupants have a dedicated climate control zone, rear-seat window shades, and a 230V power outlet. Even the third row also has dedicated charge points, air vents, and lighting, so they aren't shortchanged.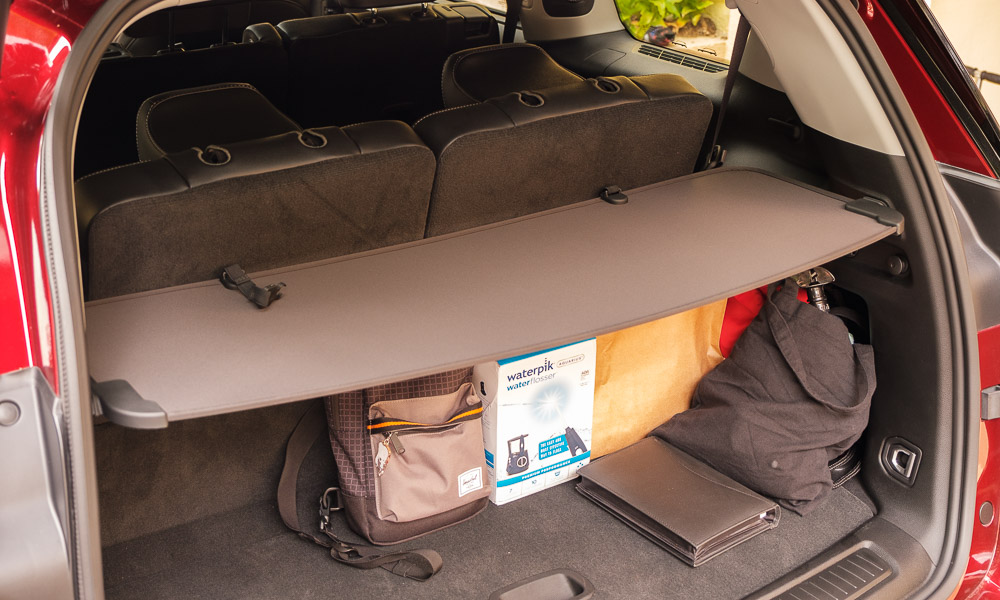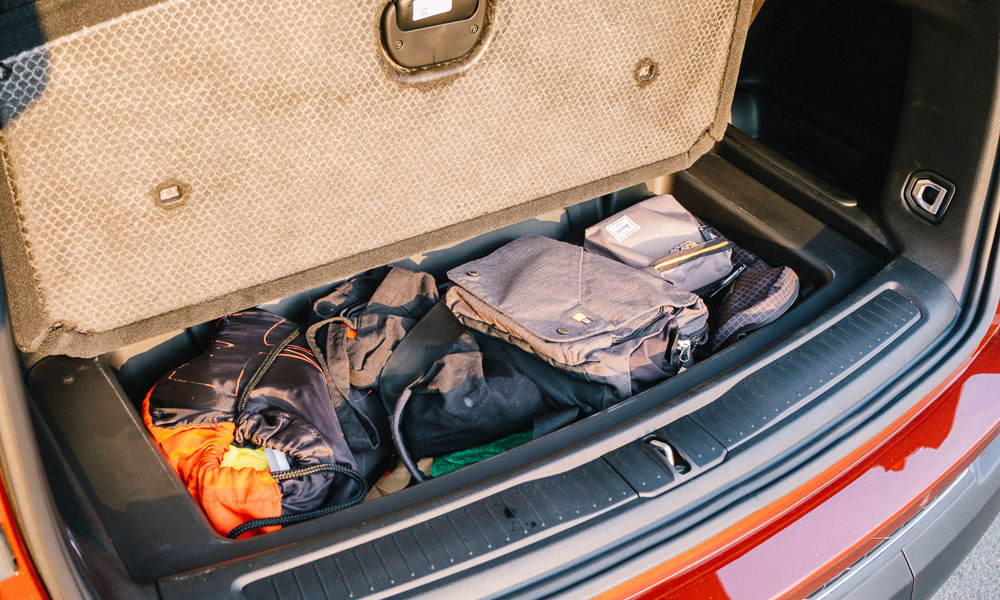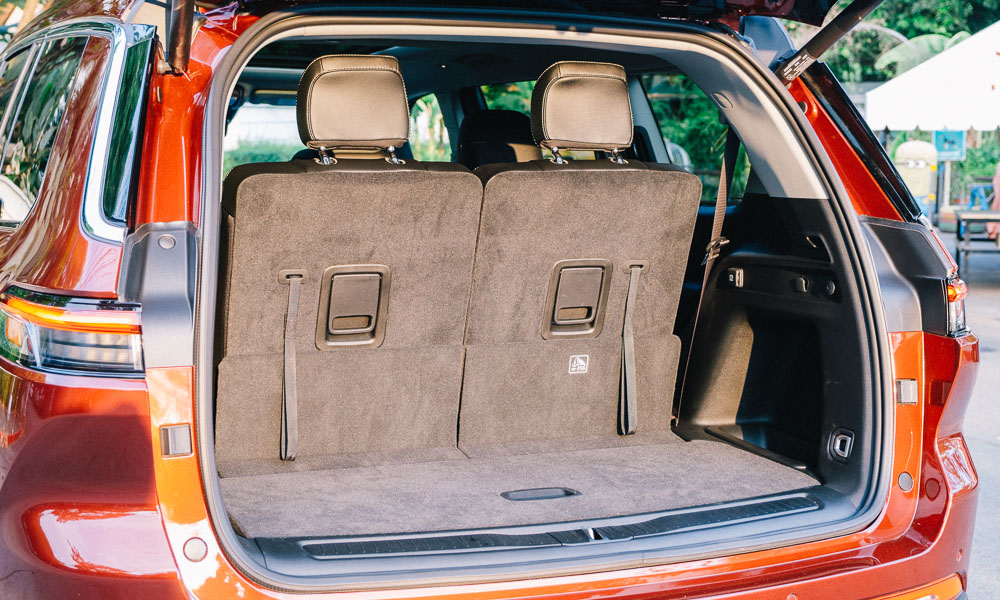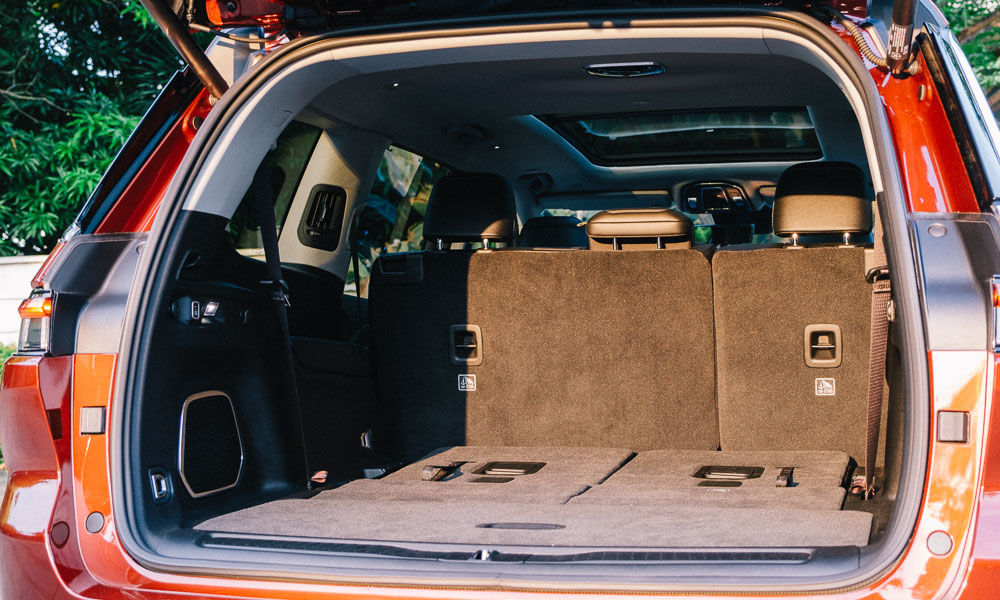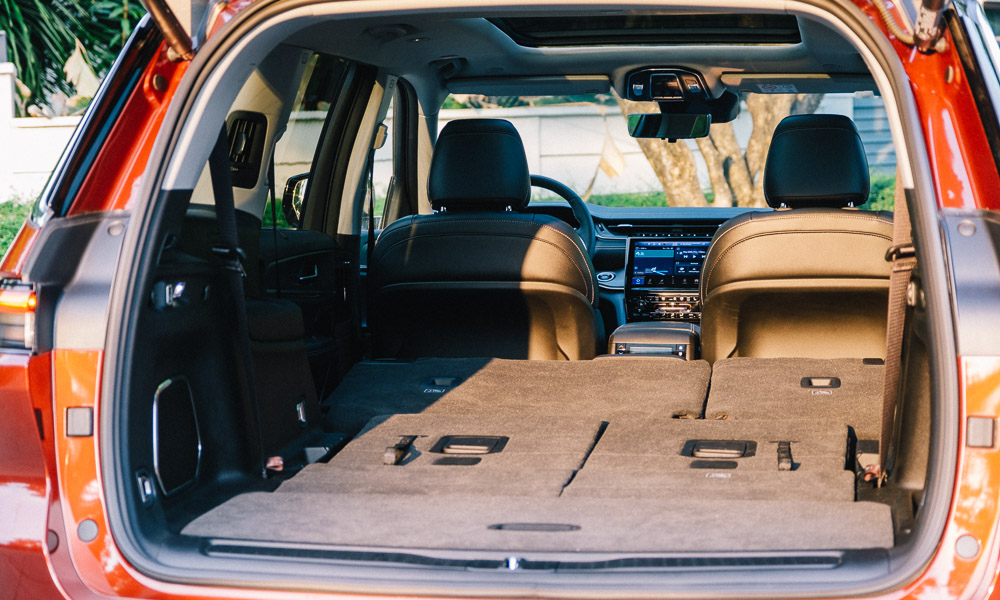 The vehicle has a respectable 487L of space behind the third row with extra storage underneath, but that can expand up to 1,328L with the third row down, or 2,395L with both rows folded down. And there's a foldable cargo cover, too, a rarity for three-row SUVs.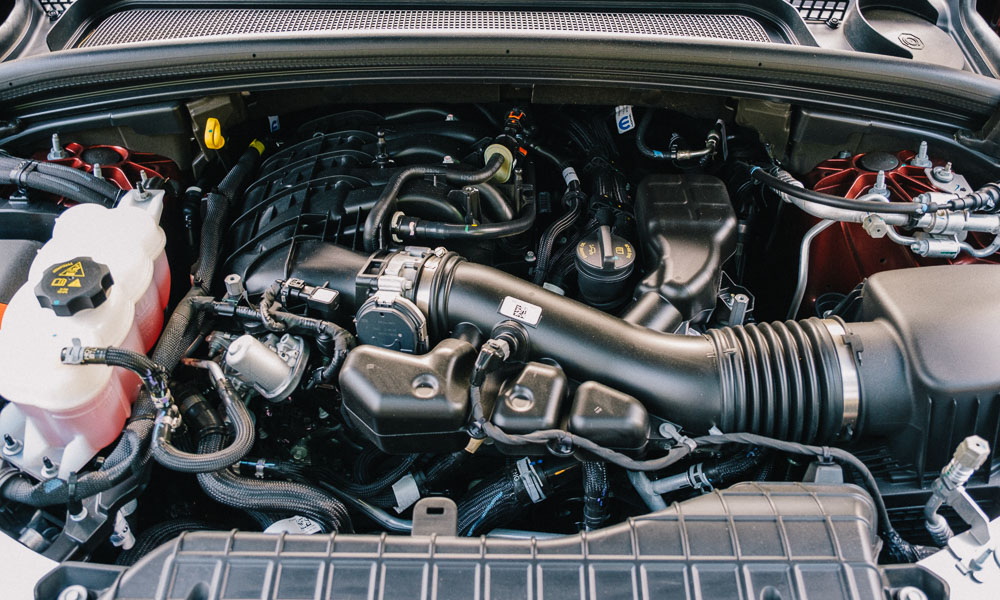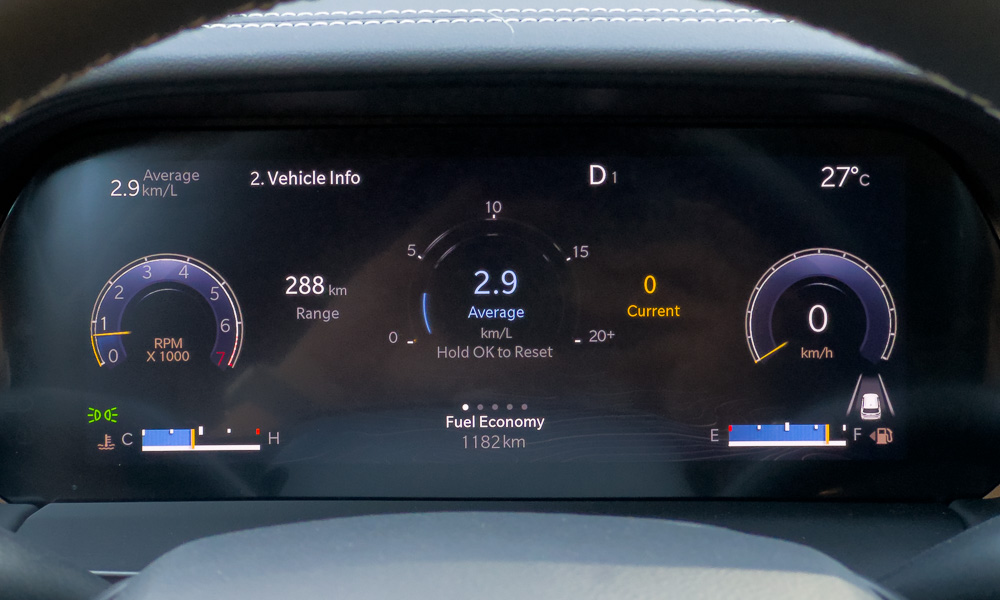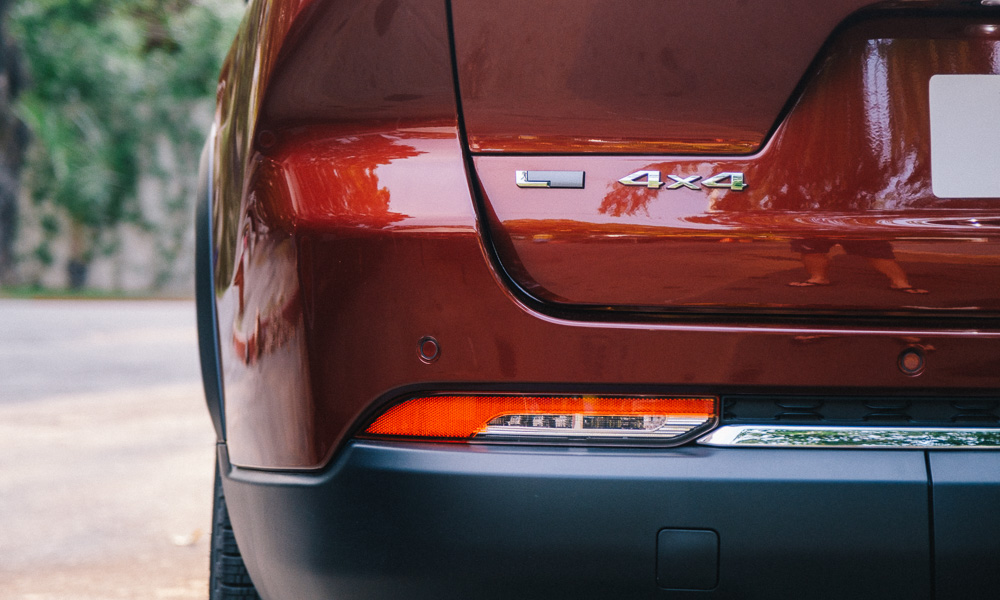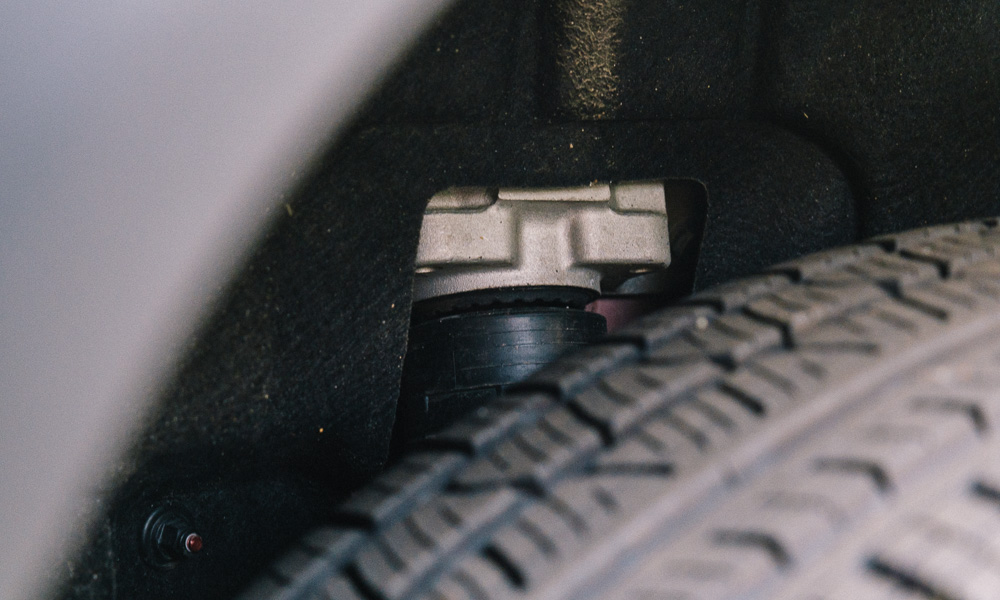 The 3.6-liter Pentastar V6 makes another appearance here. Despite being naturally aspirated, it punches out a respectable 282hp and 344Nm, and an eight-speed automatic sends it to all four wheels all the time. Even without forced induction, this engine lunges the 2,128kg vehicle forward with ease.
The downside? It drinks fuel with a painfully hilarious reading of 2.9km/L from crawling in rush-hour traffic (improving to 4.3km/L in moving traffic). On the open road, I managed at least 10km/L, but having to power all four wheels all the time is one of the biggest factors to its horrible fuel economy.
You will feel this vehicle's mass as you go around corners. It has a good suspension system that's capable of tackling light trails (as a Jeep should), so the pockmarked roads of Metro Manila are no challenge for it, but it is a little floaty and bumpy on uneven roads like C5 and EDSA.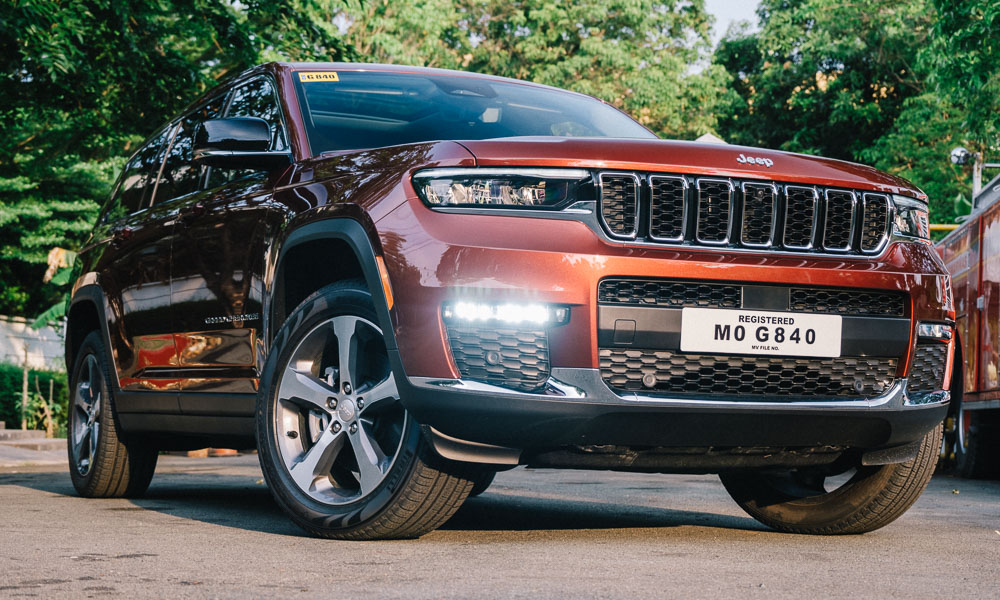 Finally, a family SUV wouldn't be complete without a suite of safety and driver-assistance systems. Apart from the usual affair of adaptive cruise control as well as automatic emergency braking for front and rear, there is a tire pressure monitor, a terrain selector mode for the 4×4 system, and a dual-battery system for the start-stop system to help eke out as much fuel economy from the thirsty V6.
But that's the thing, if you have enough cash to comfortably afford the P5.49-million asking price, you wouldn't have to worry too much about the exorbitant fuel costs. Compared to its soft-roader competitors, this Jeep has its actual off-road prowess and heritage to back it up should you decide to bring your entire family to some place like Lake Mapanuepe.
JEEP GRAND CHEROKEE L LIMITED
| | |
| --- | --- |
| Engine | 3.6-liter V6 gasoline |
| Transmission | 8-speed automatic |
| Power | 282hp @ 6,400rpm |
| Torque | 334Nm @ 4,000rpm |
| Dimensions | 5,204mm x 1,979mm x 1,816mm |
| Drive layout | 4WD |
| Seating | 7 |
| Price | P5,490,000 |
| Upside | A plush, luxury family-hauler with off-road chops. |
| Downside | It's huge and very thirsty. |