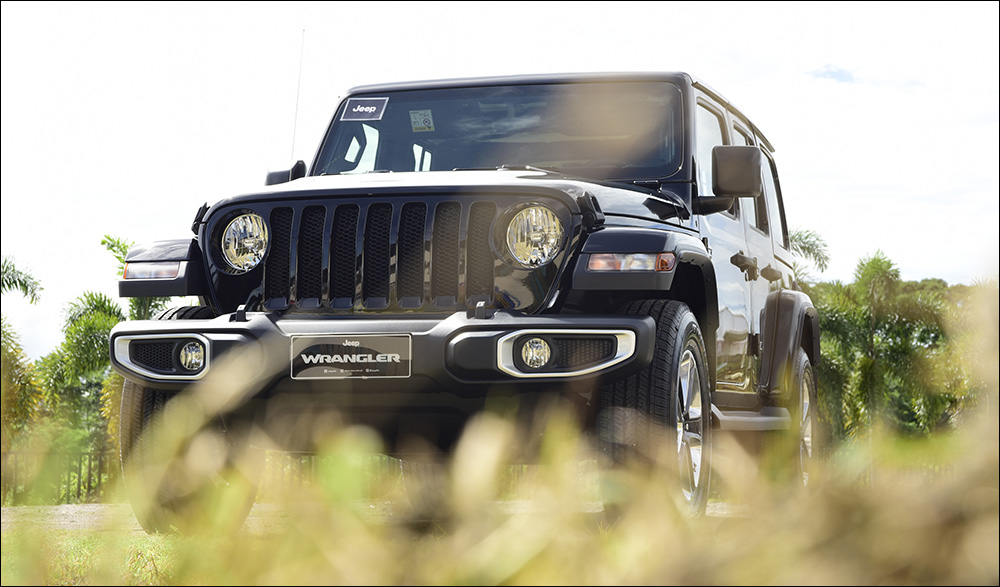 Steep and treacherous mountain passes. River crossings. Mile-long rock gardens. Normally, these kinds of terrain would make any sensible SUV turn around and head for the safety of civilization. But if you're in a Jeep Wrangler, this just means your adventure is about to begin.
This is because, out of all the SUVs available on the market right now, only the Wrangler has 80 years of fearless journeys behind it. From the very first-generation model—which gave its driver very basic, but already very capable, off-road performance—to the latest iteration, the Wrangler has always been about pushing further where others have feared to tread. And with the Wrangler Sahara now available, going off the beaten path doesn't mean setting off without the basic niceties and comforts.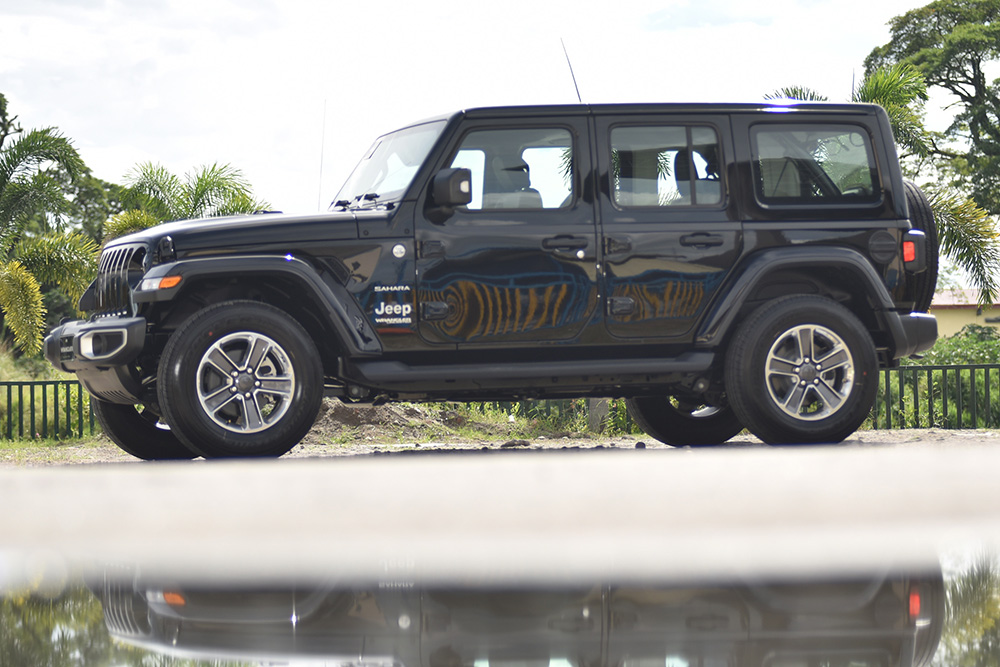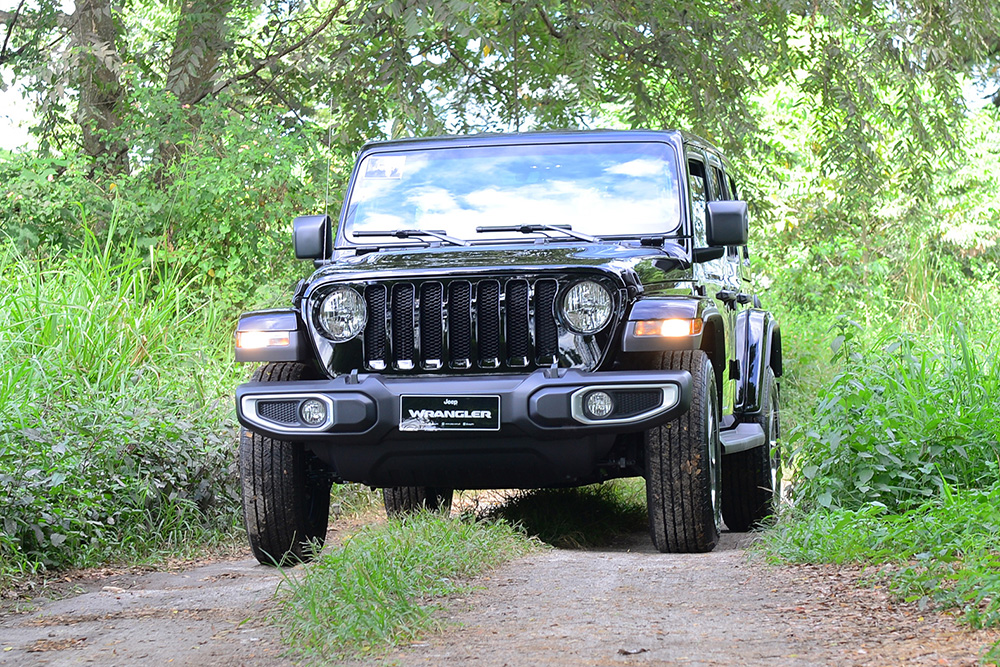 The heart of the Wrangler has always been its torque-rich powertrain. Today's generation features a 2.0-liter turbo engine with 400Nm of torque for outstanding off-road performance. It also boasts of up to 1,588kg of powerful towing capability. The Selec-Trac four-wheel-drive system delivers torque to all four wheels for maximum traction when needed. And for serious rock crawling, a super low 2.72:1 final drive helps give you utmost stability and tractability.
New to the off-roading lifestyle and intimidated by all the things you need to learn? Fear not, because the Wrangler Sahara uses technology that makes it easier for newbies to master the delicate art of off-roading, where one mistake can send your vehicle into a trench. The Wrangler Sahara features Selec-Speed Control, which manages your speed when 4-Low is engaged as you maneuver over inclines, declines and obstacles. This automatically manages engine torque and brake pressure to maintain a consistent driving speed and reduce the risk of driver error.
Of course, off-road ability is just part of the story. The Wrangler Sahara has never been as comfortable and comprehensively specced as it is now, with an impressive suite of modern conveniences to make everyday driving fun in itself. Its seats are designed to give you comfort and support for long days in the bush or on the road. All-power features and air-conditioning with automatic temperature control are standard. Also exclusive to the Wrangler Sahara is its leather-covered dashboard, a luxurious feature that shows the Wrangler isn't always about roughing it.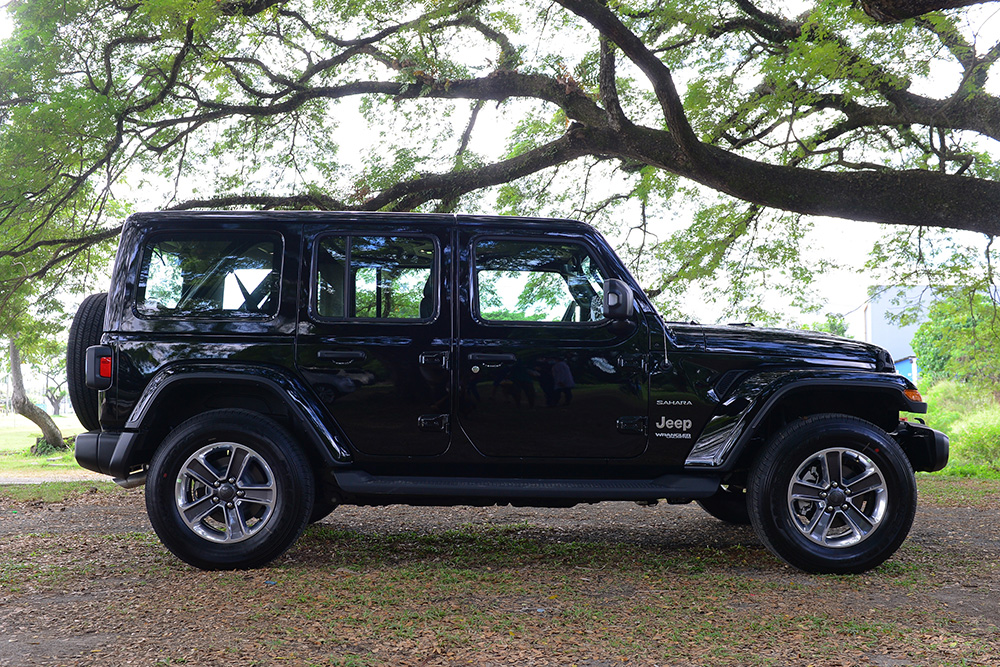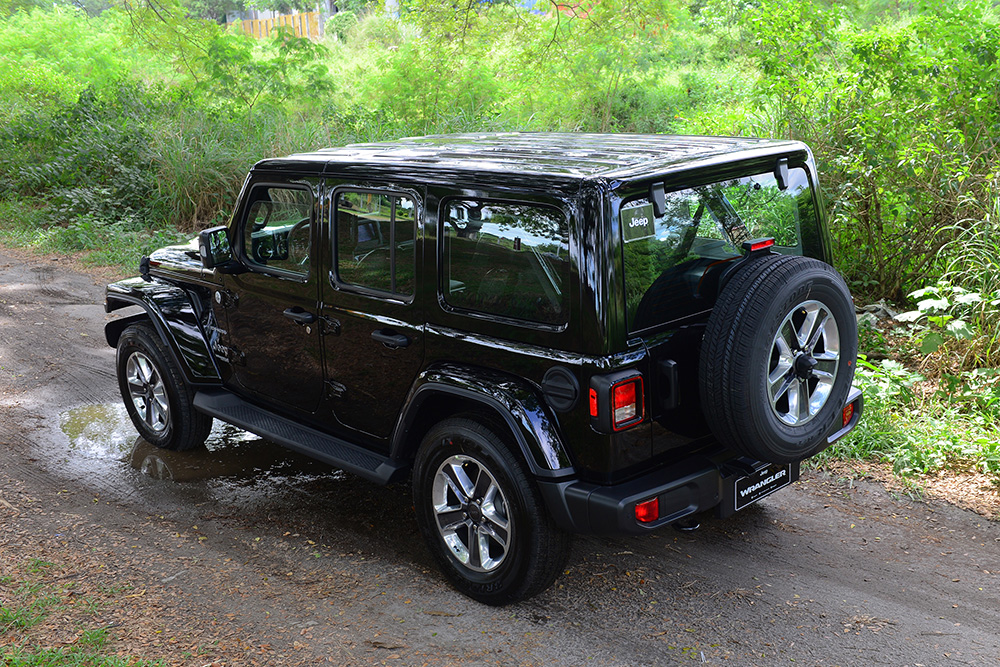 You will not mind being stuck in traffic inside this Wrangler. It will delight technophiles as it has Apple CarPlay and Android Auto easily accessible through its Uconnect system. Its nine-speaker Alpine Premium Audio System (that is complete with an overhead soundbar and an all-weather subwoofer) will certainly excite audiophiles as well. No matter what the day's mission entails—be it running errands around the city or going on a long trek to the trailhead—the Wrangler Sahara has the goods to keep your spirits high.
Going on an adventure also means having to pack all your gear, and the Wrangler Sahara offers sizable cargo volume within its cube-shaped body. The rear loading area features an available Trail Rail System that helps you organize smaller things, while the Utility Grid lets you hide sensitive items in the removable cargo floor.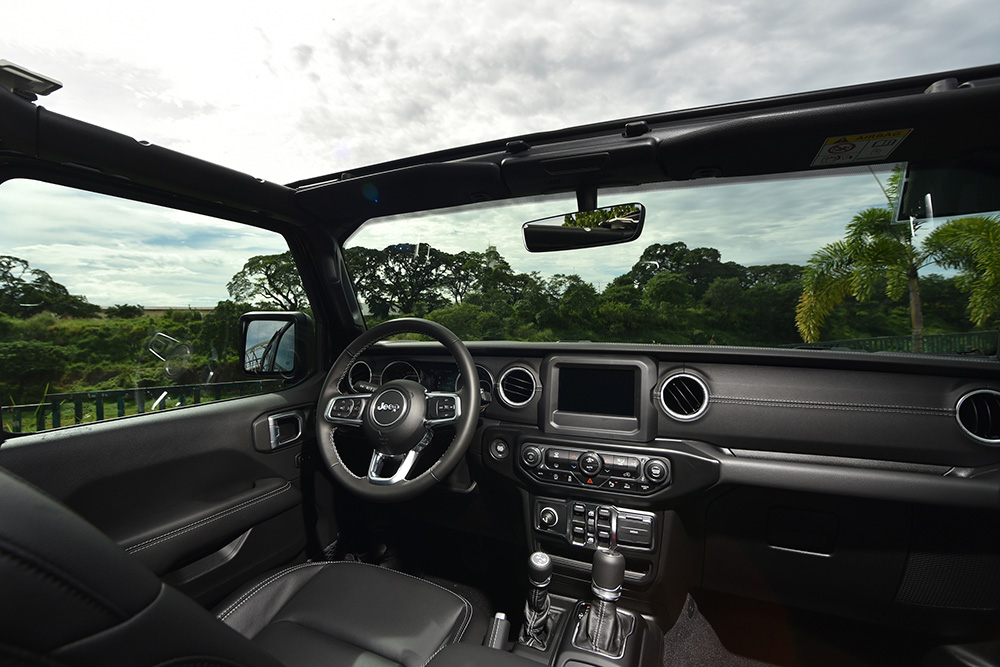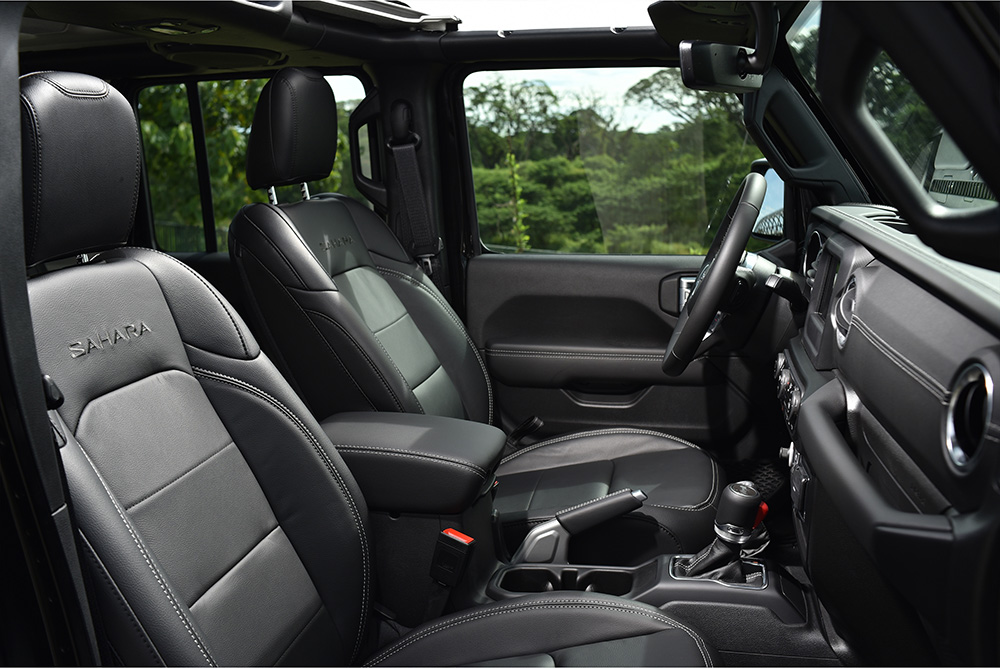 For daily use, Wrangler Sahara is just as well-equipped as any other SUV today. It comes with automatic headlamps, reverse camera, and parking sensors. You may use it just for city driving, yes, but the fact that only the Wrangler Sahara has the muscle to go wherever you want to—even the places soft-roaders fear to tread—should make you feel even more confident about taking it anywhere. After all, only the Wrangler is the certified no-bullshit "Trail Rated" vehicle around.
Finally, if you'd like your Wrangler Sahara to stand out from the rest, the Jeep catalog offers dozens of customization options ranging from wheels, floor mats, and decals, to all sorts of exterior accessories to support the overlanding lifestyle.
With this rugged beast, you define the terms of your journey as the vehicle will not hold you back. From city streets to mountain retreats, your Wrangler Sahara is the perfect partner to have. It's reliable, ready for anything, and is just a good-looking ride—the quintessential vehicle for people who aim to live life to the fullest.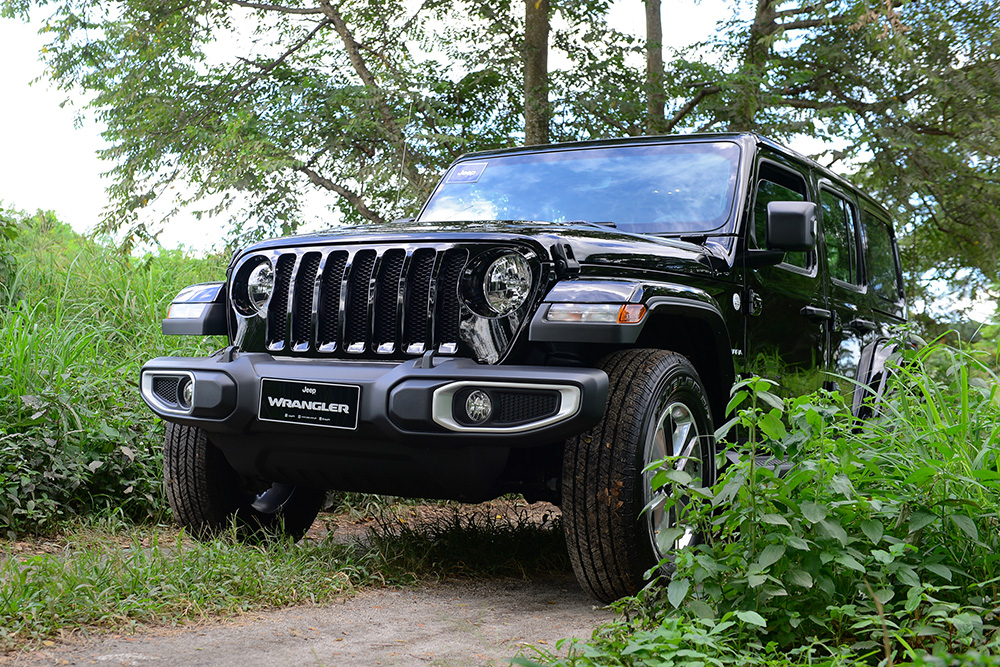 Be enveloped in a luxurious cocoon of convenience and safety while you go on a weekend of technical trails, or on a fishing trip with the family, or perhaps a night camping in the boondocks—all kinds of adventures await you with the Jeep Wrangler Sahara.
But even if you're not heading off into the wild, the Wrangler Sahara is suited for the challenges of the messy, urban jungle where its high ground clearance and long travel suspension will make short work of floods and potholes.
This SUV will help make you appreciate the beauty of nature and the great outdoors, all while inside the most luxurious and comfortable cabin. Schedule a test drive with Jeep now at www.facebook.com/jeepph, or visit the showroom to see and appreciate it in the metal. You may go and get a quote for your Wrangler Sahara, too. We're sure you'd want to.
Jeep Alabang
301 Westgate Center, Commerce Avenue, Filinvest Corporate City, Alabang, Muntinlupa City
(+632) 8461-6281; (+632) 8334-1487
Jeep Cebu
Cebu Veterans Drive, Nivel Hills, Cebu City
(+6332) 260-3333; (+63977) 825-5337
Jeep Clark
Clark Auto Zone, M.A. Roxas Highway, Clark Freeport Zone, Pampanga Clark Freeport Zone, Pampanga
(+6345) 499-5562; (+63998) 590-2658; (+63999) 223-0295
Jeep Greenhills
1008 EDSA Greenhills, San Juan City, Metro Manila
(+632) 8784-5002
Jeep Pampanga
Laus Group Corporate Center, Jose Abad Santos Avenue, San Fernando, Pampanga
(+63999) 223-0295
This branded article was produced in partnership with Jeep Philippines.