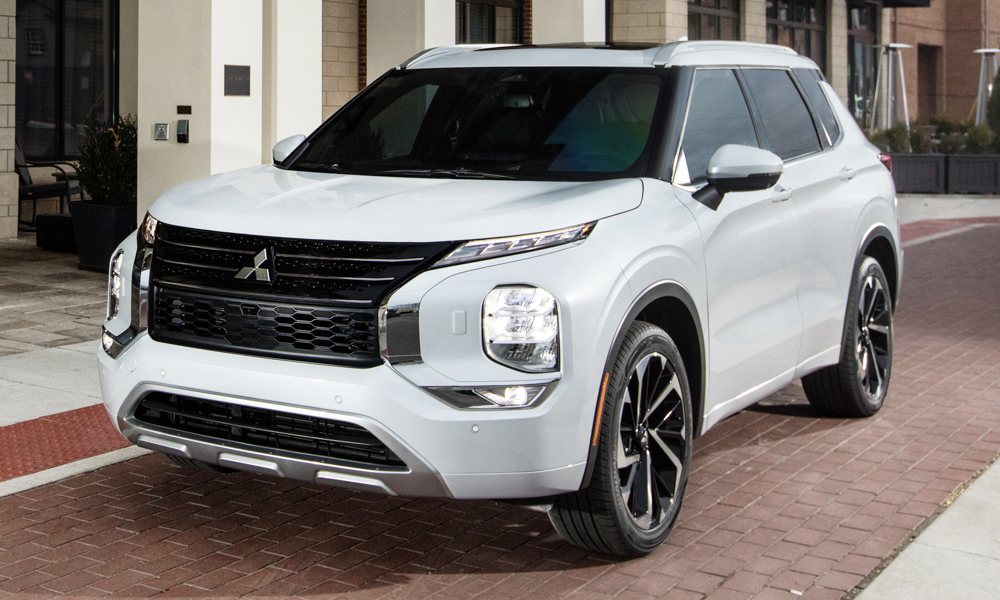 Mitsubishi has revealed the all-new Outlander on Amazon Live. This SUV undoubtedly makes an impact with its bold new styling based on the automaker's signature corporate face.
Based on the concept of "I-Fu-Do-Do," which means "authentic" and "majestic" in Japanese, the fourth-generation Outlander wears a bold front face, large-diameter wheels with overhanging fenders, and strong proportions along with updated driving systems. It uses a newly developed platform, a 2.5-liter engine with updated four-wheel-drive and Super-All Wheel Control systems, and a new drive-mode selector. The cabin features a high-quality interior with three-row seating for seven, LCD displays, and a new wireless smartphone charging function.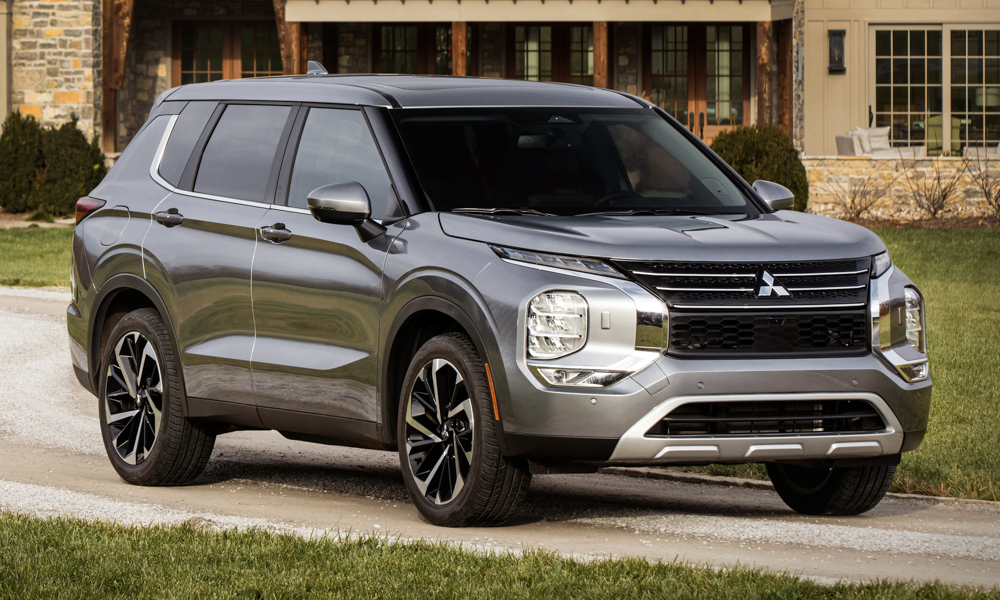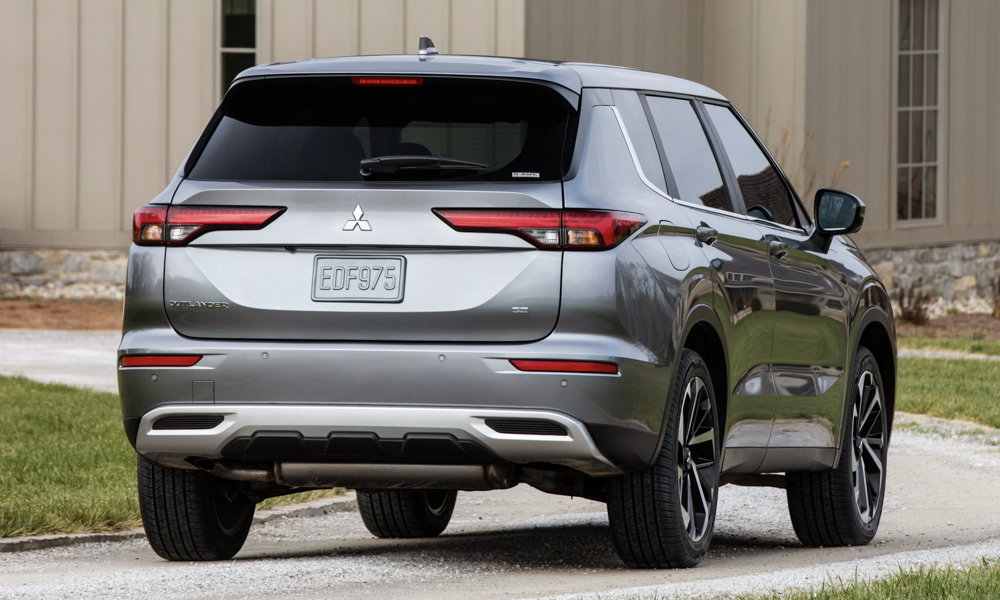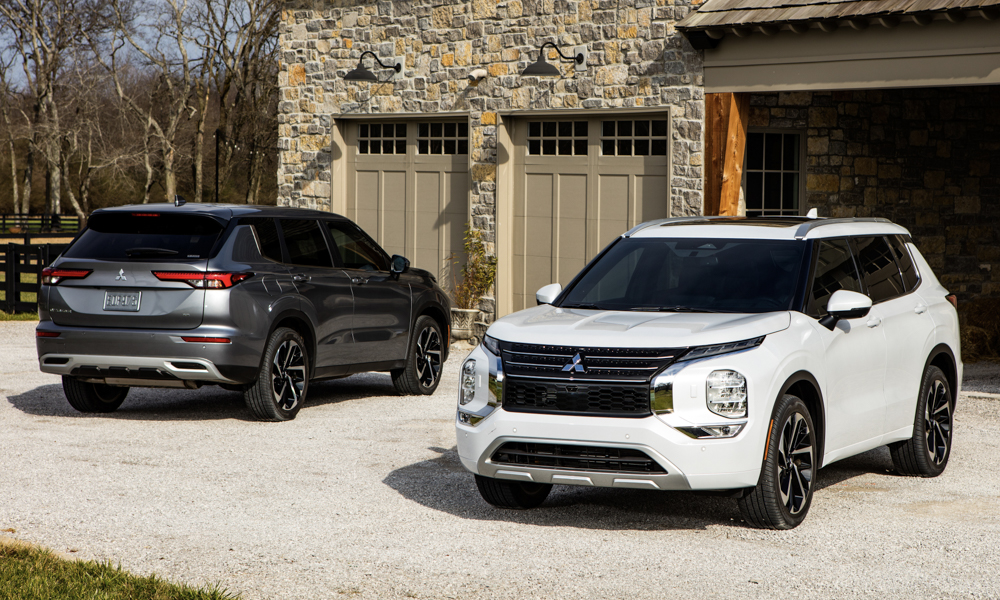 Using the design concept of "Bold Stride," the Outlander has a strong, horizontal-themed proportion from front to rear, with broad and powerful surface and character lines and sharp edges accentuated by 20-inch alloy wheels. Daytime running lights and turn signals are positioned in the upper part of the Dynamic Shield fascia, with headlights placed beneath them toward the outside for maximum illumination and to emphasize width. The rear has a hexagon motif to highlight the tailgate, inspired by the rear-mounted spare tire of the Pajero/Montero, while horizontal-themed T-shaped taillights further emphasize the wide look of the body.
A newly developed platform improves collision safety performance and increases steering stability. Ultra-high tensile-strength steel sheet with hot stamping is used around the cabin to allow for very little impact deformation while also cutting down on weight. Adopting connected cyclic structures around the engine compartment and the cabin also increased flexural and torsional rigidity compared to the previous model. The increased stiffness provides an even more rigid platform for the multilink suspension and the dual-pinion electric power steering to provide exceptional linear stability and a linear feel.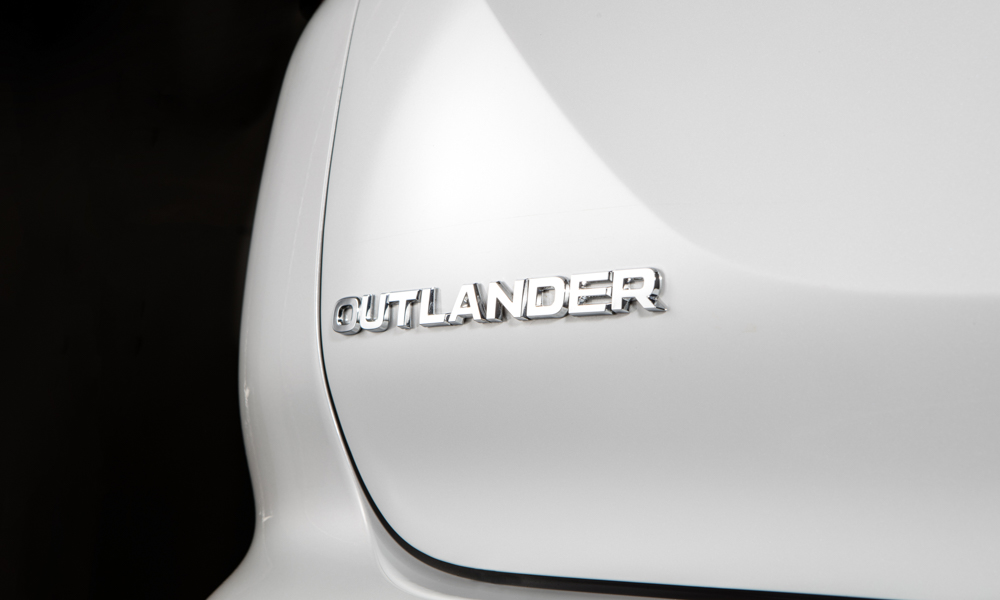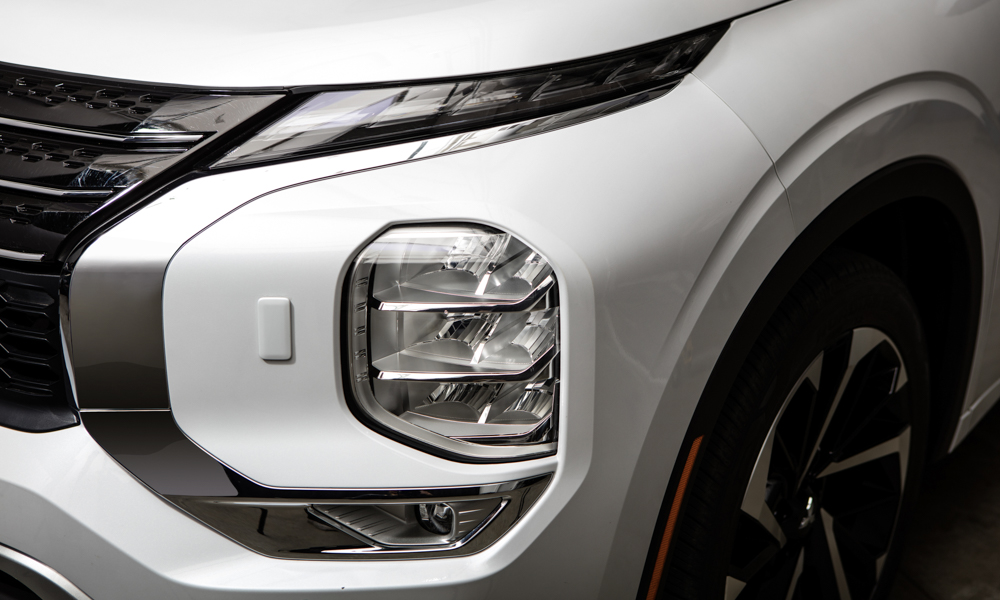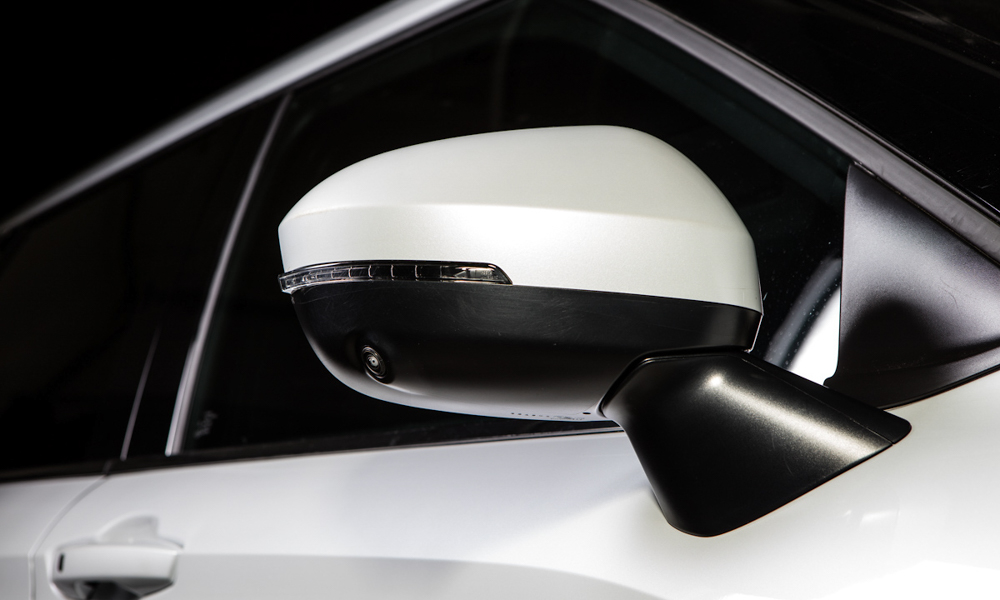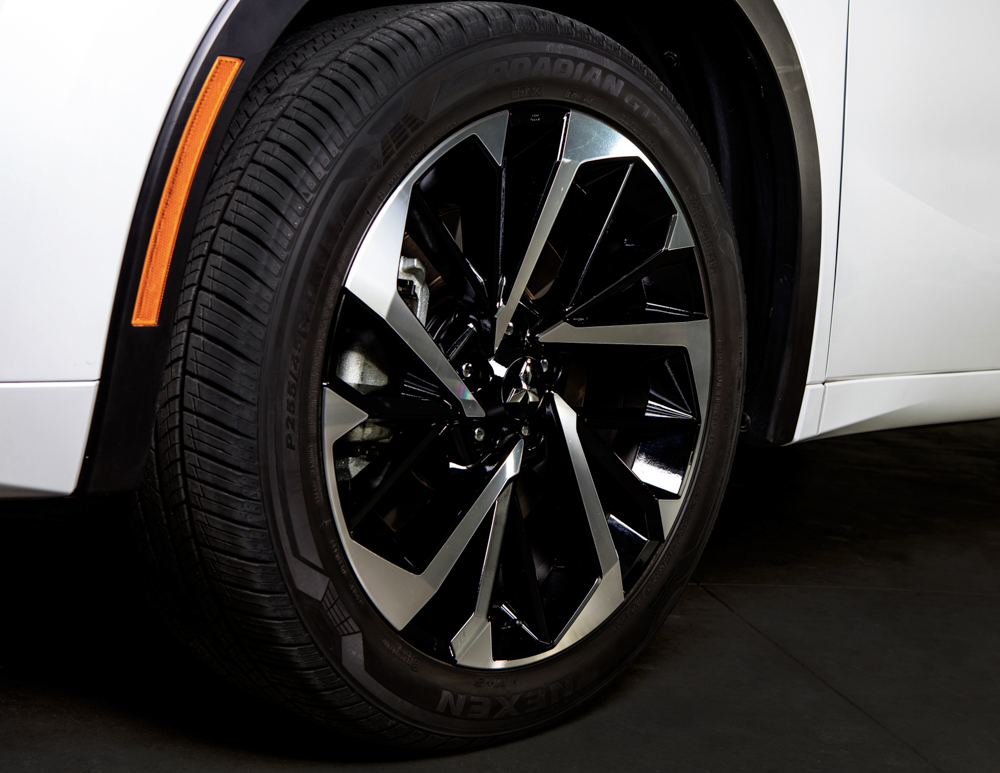 A newly developed 2.5-liter gasoline engine improves maximum output by 8.9% and fuel efficiency by 2.6% in WLTP standards over the previous model. A CVT with eight simulated ratios is used, featuring step shift control for crisp "gear" changes. The four-wheel-drive version incorporates a hydraulic clutch driven by an electric motor in the center coupling for torque distribution. The car can be held stationary in order to build up rear-wheel tractive force under severe conditions, such as when starting off uphill on frozen roads.
An improved S-AWC integrated vehicle dynamics control system is fitted to 4WD vehicles. Brake Active Yaw Control utilizes multiple sensors from steering angle, yaw rate, drive torque, brake pressure, wheel speed, and other factors to properly apportion brake torque among the front and the rear—and the left and the right—wheels for maximum traction under varying conditions. In the rear-wheel-drive version, Brake AYC is also used to work with stability control and ABS.
The 4WD Outlander has six drive modes, while the 2WD has five. A selector wheel in the center console lets the driver choose the setting, which also features an Eco mode.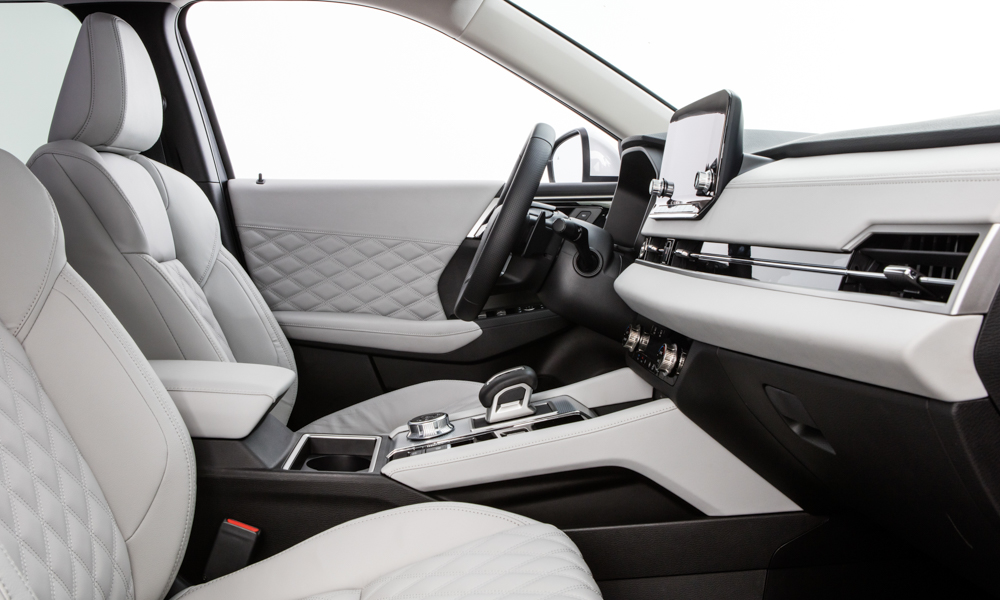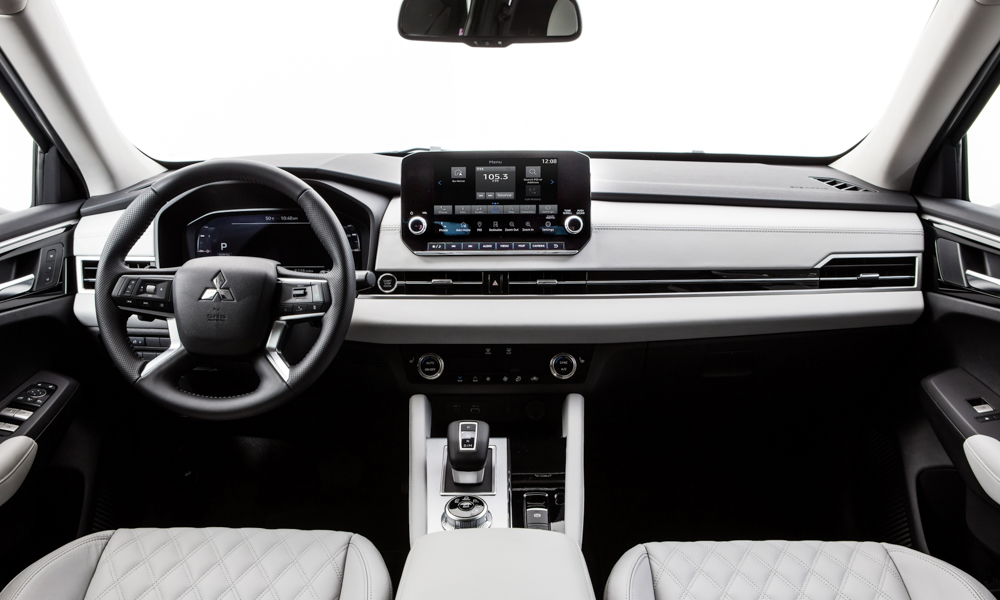 The Outlander cabin features a linear instrument panel with a powerful horizontal tone for a spacious and roomy effect. The upper part uses soft padding wrapped in leather, which is also used on the door panels for a luxurious look and feel. The front seats have a two-layer urethane structure that resists deformation for enhanced comfort. A wider body and enhanced legroom for the first- and second-row seats are noticeable improvements over the previous model. Seat heaters, three-zone auto climate control, and rear-door sunshades are available depending on the trim level.
On high-spec variants, the dashboard features a 12.3-inch fully digital driver display equipped with Mitsubishi's first full-screen, full-color liquid crystal unit. The display can also be customized to show the driver's preferred information, while another seven-inch display shows simple arrow navigation in the central display. The latter utilizes an analog look with a stereoscopic dial and needle. For other models, a smaller nine-inch screen is used for the center display that's equipped with smartphone-link Display Audio navigation system.
A 10.8-inch heads-up display is also featured. In addition to driving information and warnings, the HUD can include navigation and audio information.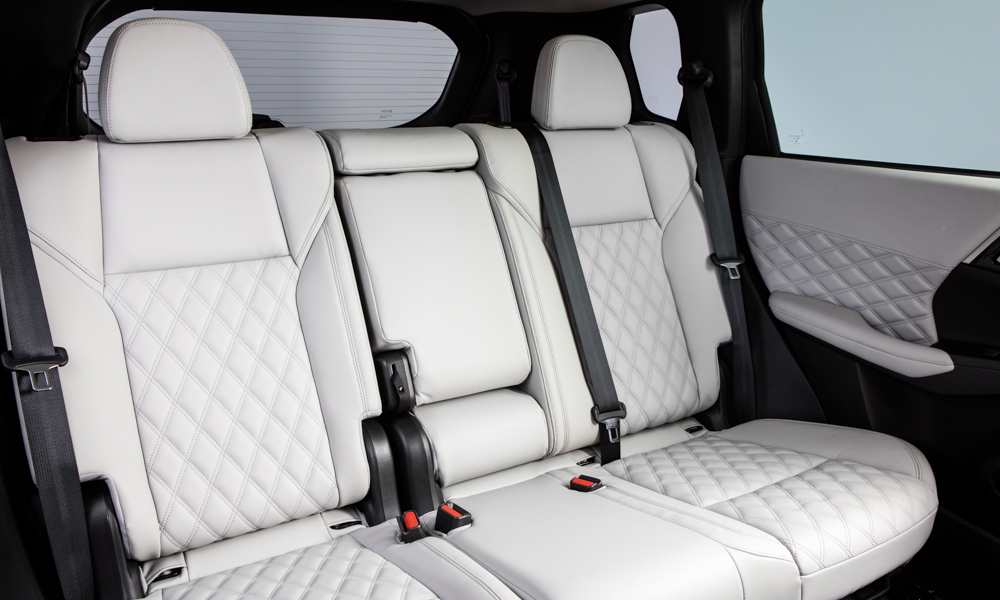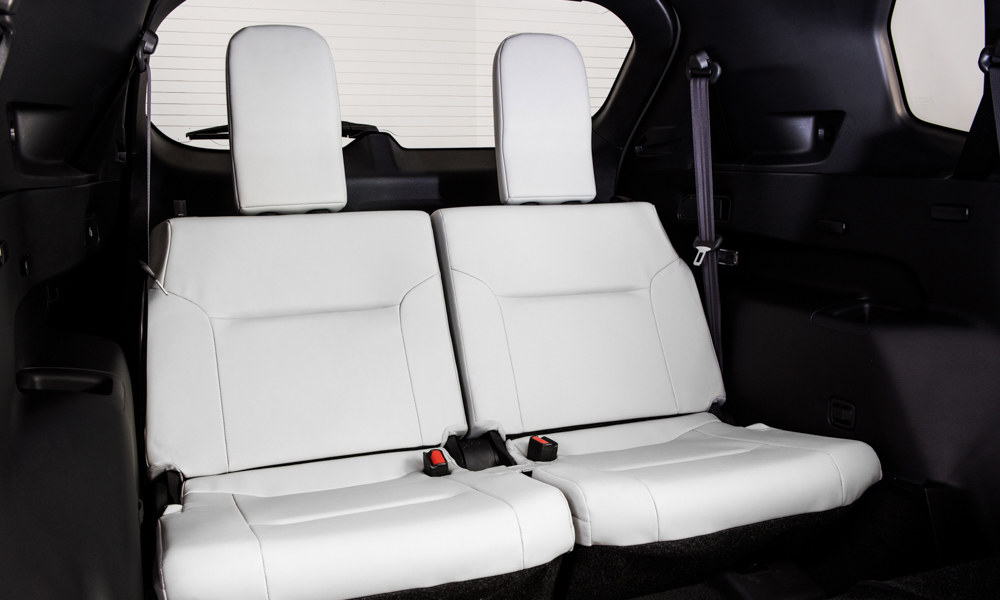 The Outlander's three-row, seven-seat layout can be configured in several ways, with the second-row seats having a sliding and reclining function (and being able to split into three). Bose provides the sound system with a 10-speaker setup, including door woofers and dual subwoofers. A center console tray has a 15W wireless-charging pad, while Type A and C charging docks are provided on the front and the back of the center console.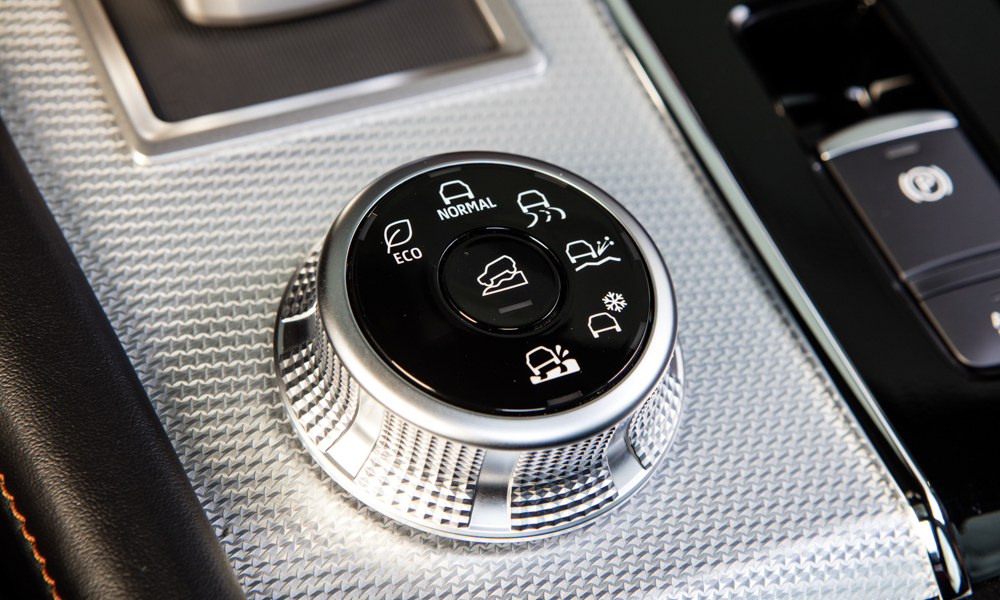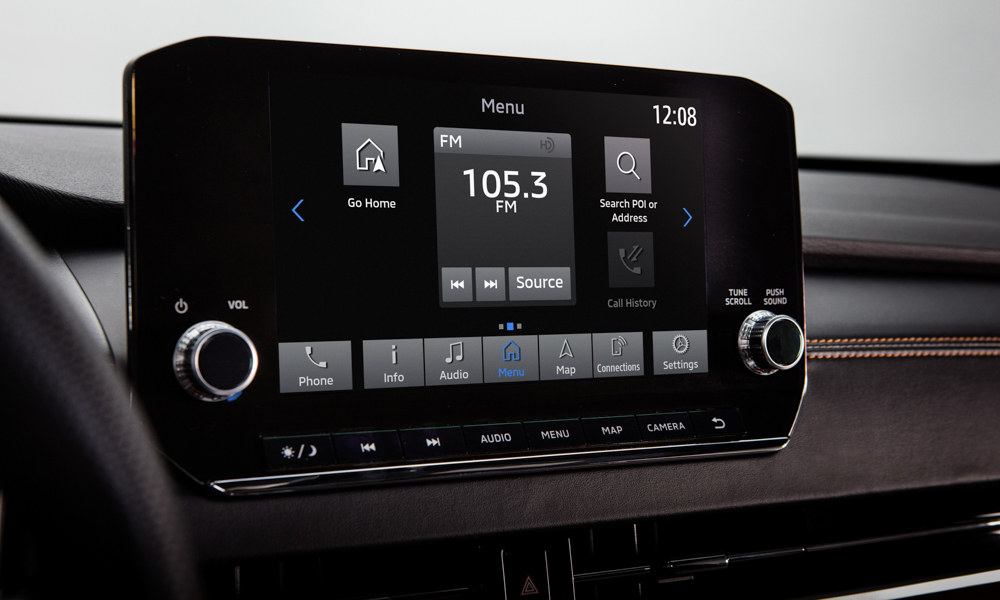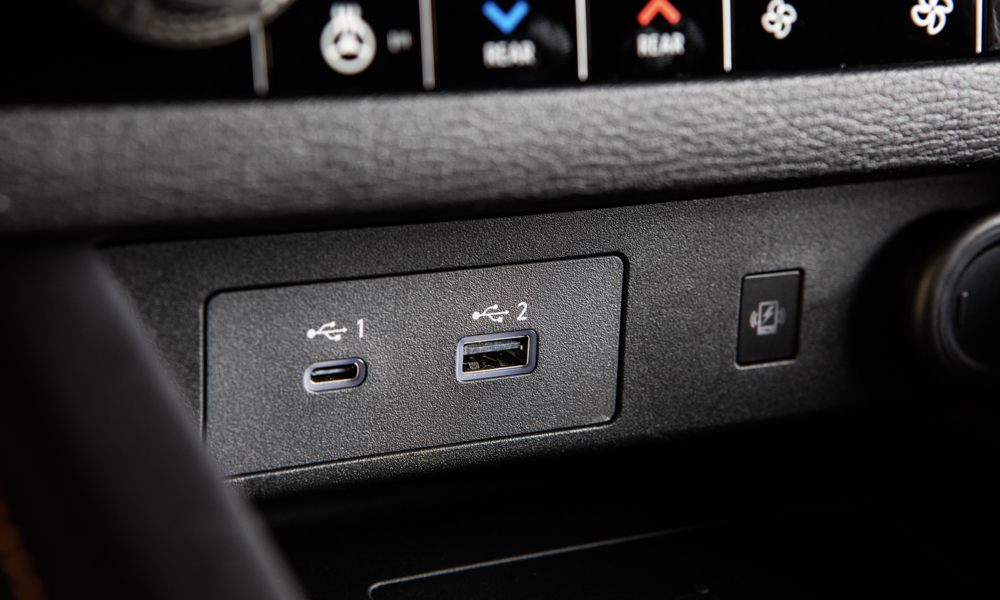 Advanced driver aids and safety features include Mi-Pilot Assist, which integrates adaptive cruise control, and lane-keep assist that maintains the distance between vehicles and keeps the car in the center of the lane. Vehicles equipped with the navigation link system can read road signs to automatically adjust the set speed, as well as utilize map information to adjust speed appropriately for curves and forks in the road. A total of 11 airbags are installed, including a front center airbag and side airbags for the second-row passengers. In case of a side collision, the front center airbag deploys between the driver and the front passenger.
Mitsubishi Connect is a car support system that can request aid from a call center in case of a vehicle breakdown or accident, and will automatically report when an airbag is deployed. It will also report if the vehicle is stolen and give position updates as well. A linked smartphone can also be used to display the car's parked position or flash its lights to show where it is located. It can also be used to start the engine and turn on the air-conditioning, as well as remotely unlock the doors. The user can also receive notifications when the vehicle is driven outside of a set time period, above a set speed, or outside a boundary.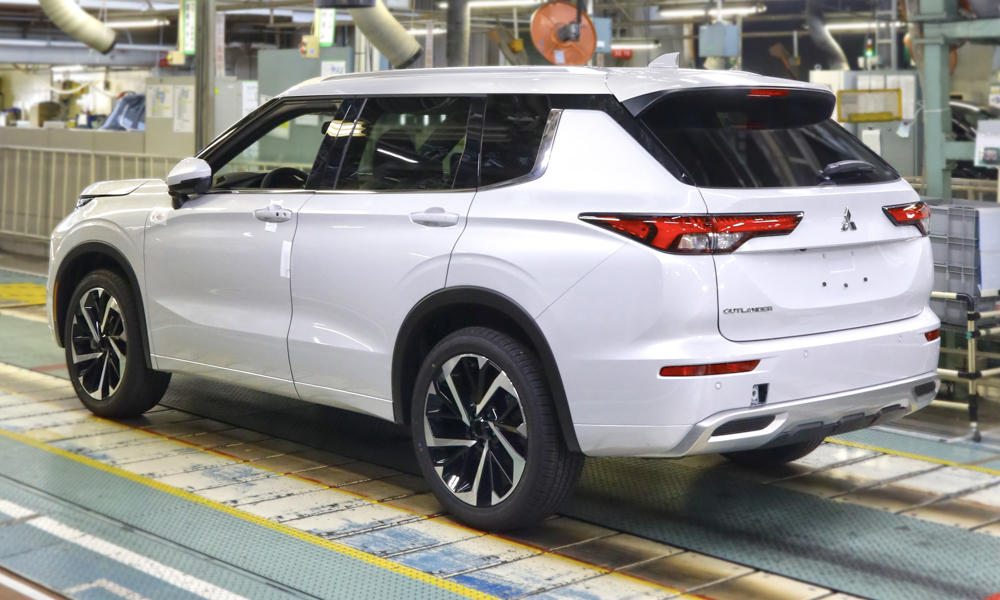 The all-new Mitsubishi Outlander is set to be made available first to North American buyers by April 2021, with other global markets to follow.