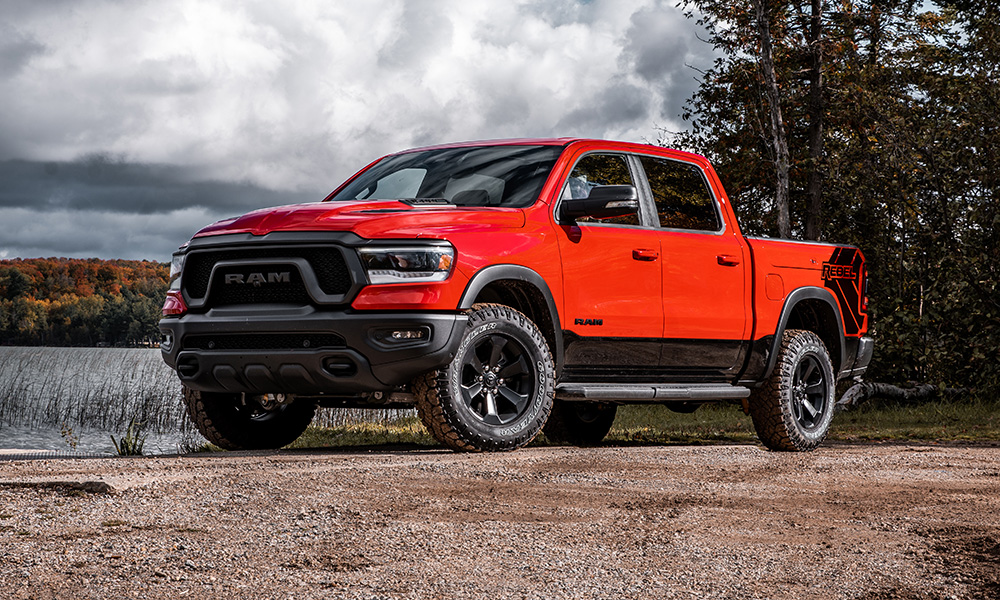 I am strong.
I am fearless.
I am ready for anything.
In a world where pickup trucks are a dime a dozen, it takes a special kind of truck to stand out from the rest. A vehicle so powerful, so overwhelmingly versatile, that everything else pales in comparison. That truck is the Ram Rebel. In order to be the alpha, the Ram Rebel leaves no room for excuses.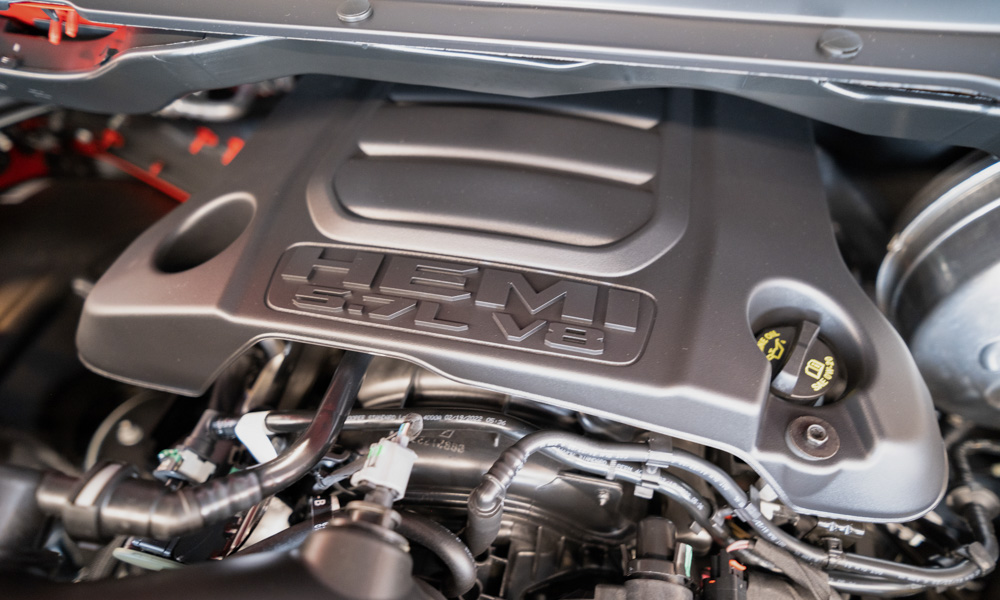 Under the hood, a proven 5.7-liter Hemi V8 engine unleashes 395hp and 558Nm. Equipped with part-time four-wheel drive and an electronic-locking rear differential, the Rebel will hardly break a sweat whether towing a trailer or climbing a steep hill with a full load.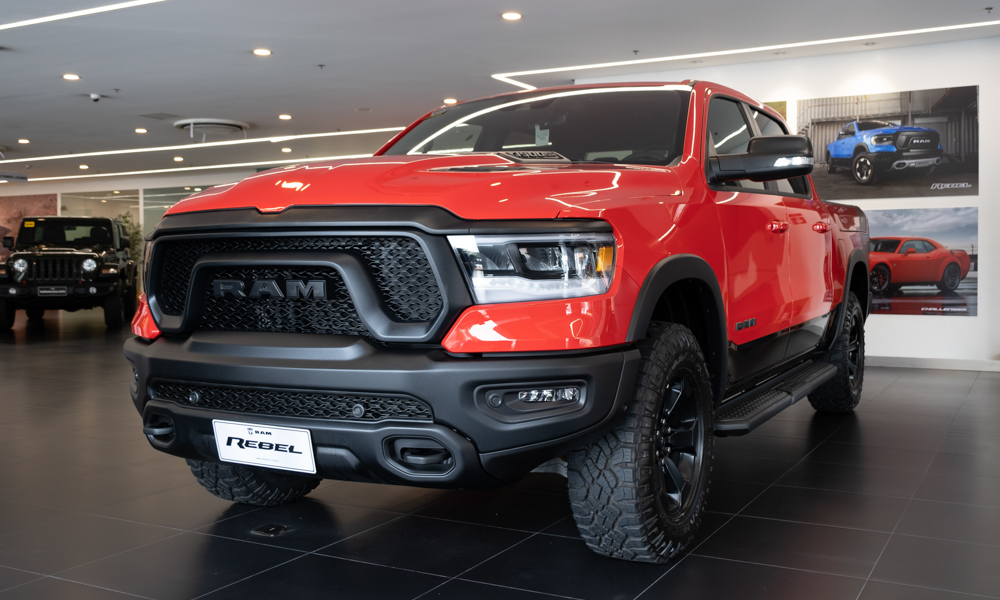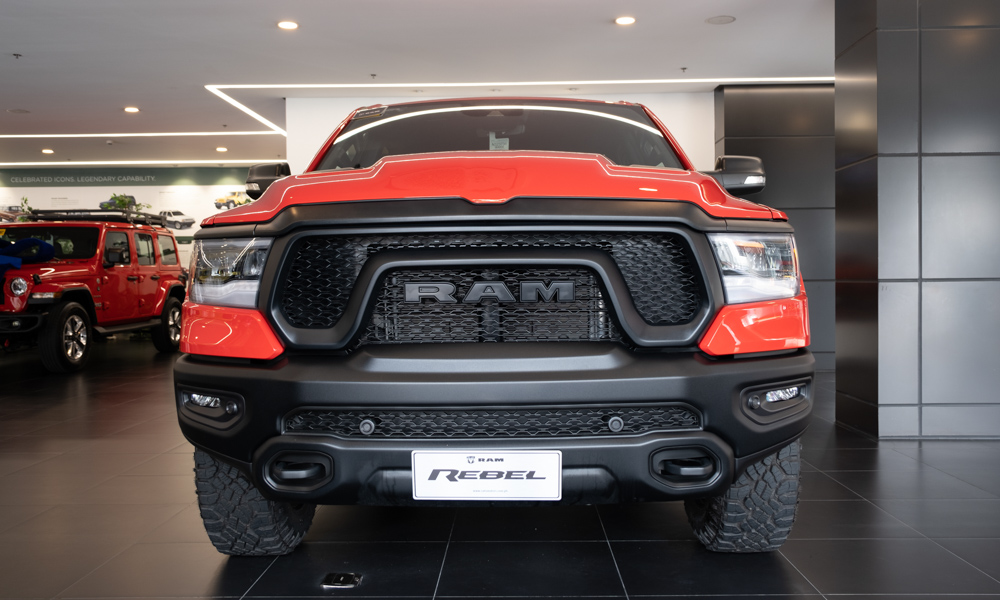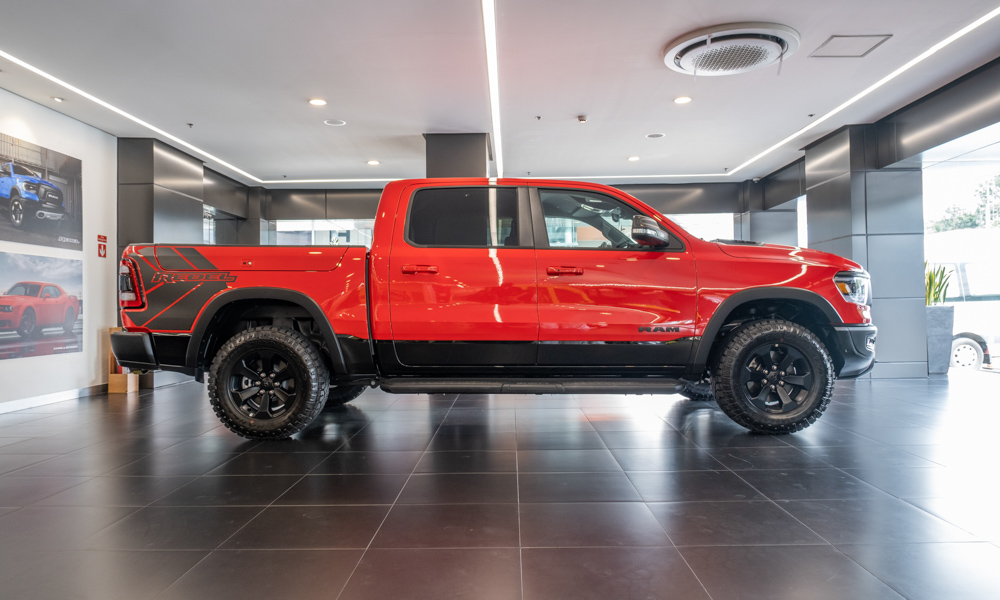 The "Night Edition" Ram Rebel gives it a menacing exterior treatment with blacked-out bumpers, wheels, and RAM logo. This might make you think that the Ram Rebel would make few concessions to passenger comfort, but nothing could be further from the truth, because Ram has made the cockpit amazingly user-friendly.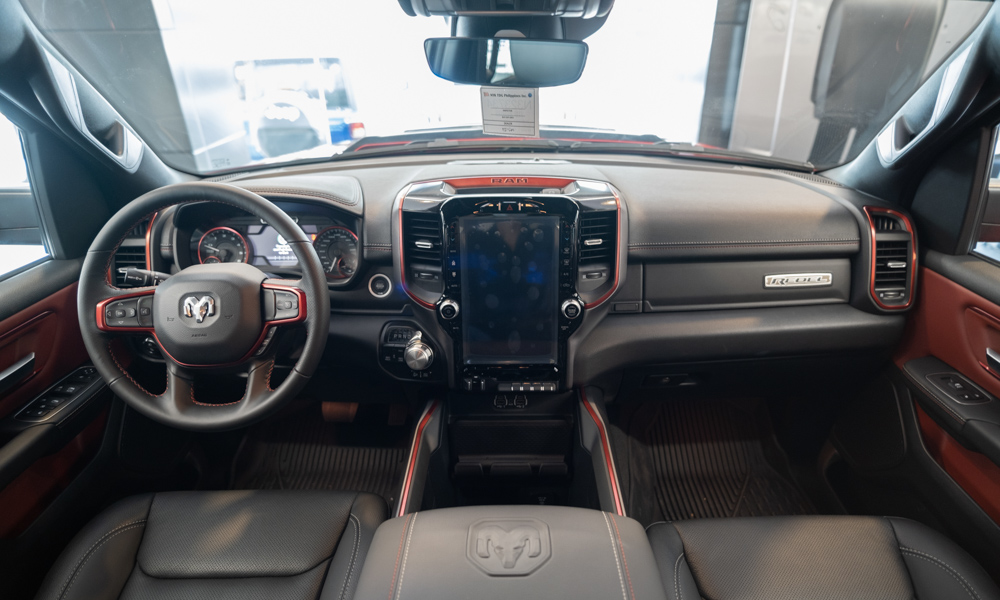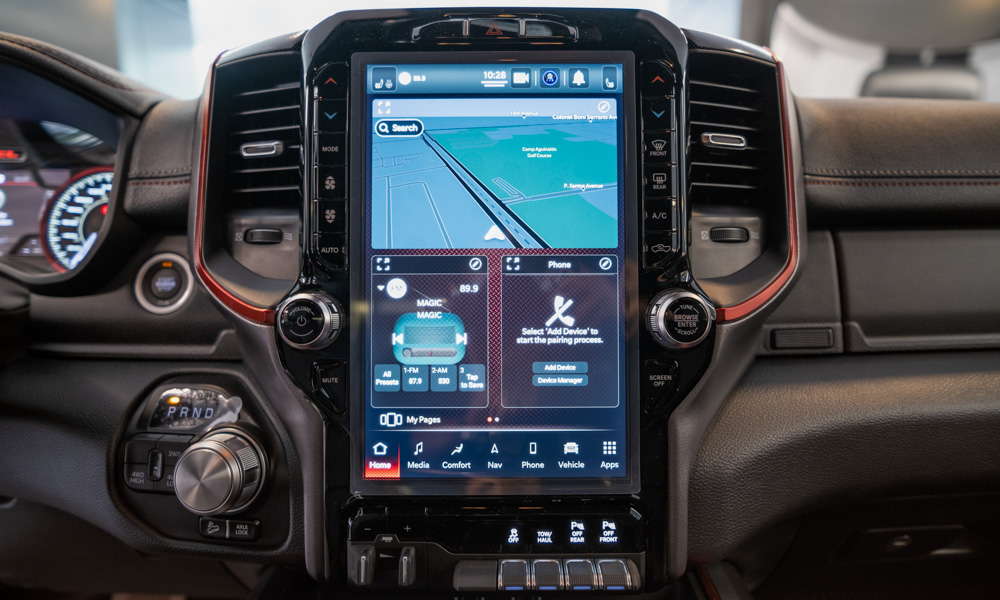 Whether you're planning to use it for a weekend in the mountains or as an everyday vehicle, it has your back with an amazing array of features. A large, 12-inch touchscreen display—the largest in the class—lets you manage the climate control, entertainment system, and navigation. Its split-screen function further adds to the fun and convenience, allowing you to see more information at a glance without sacrificing efficiency—perfect for navigating your way in the urban jungle, or finding that elusive trailhead out in the boondocks.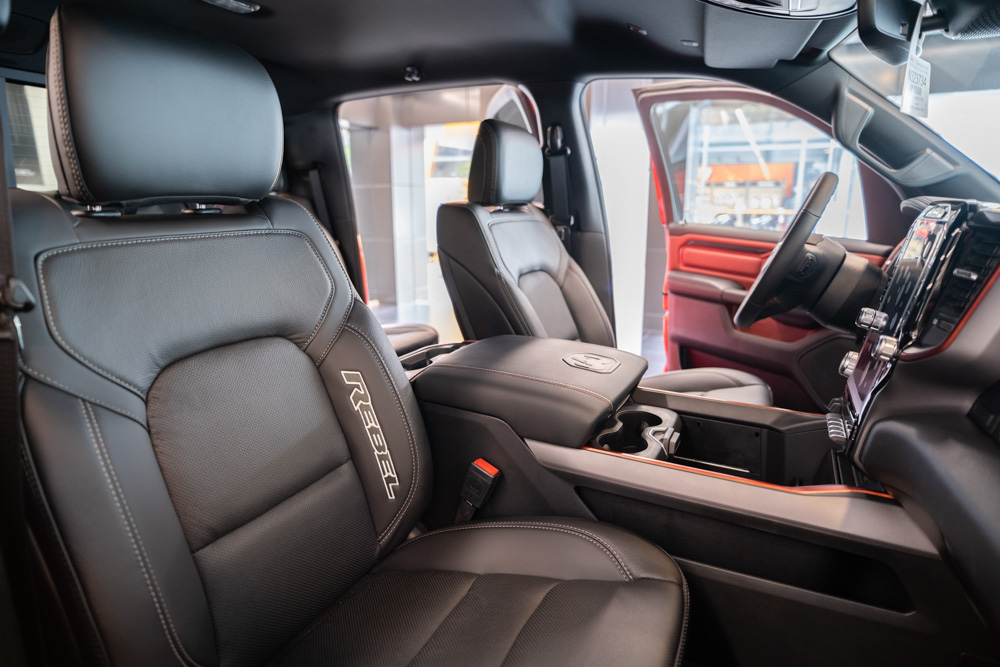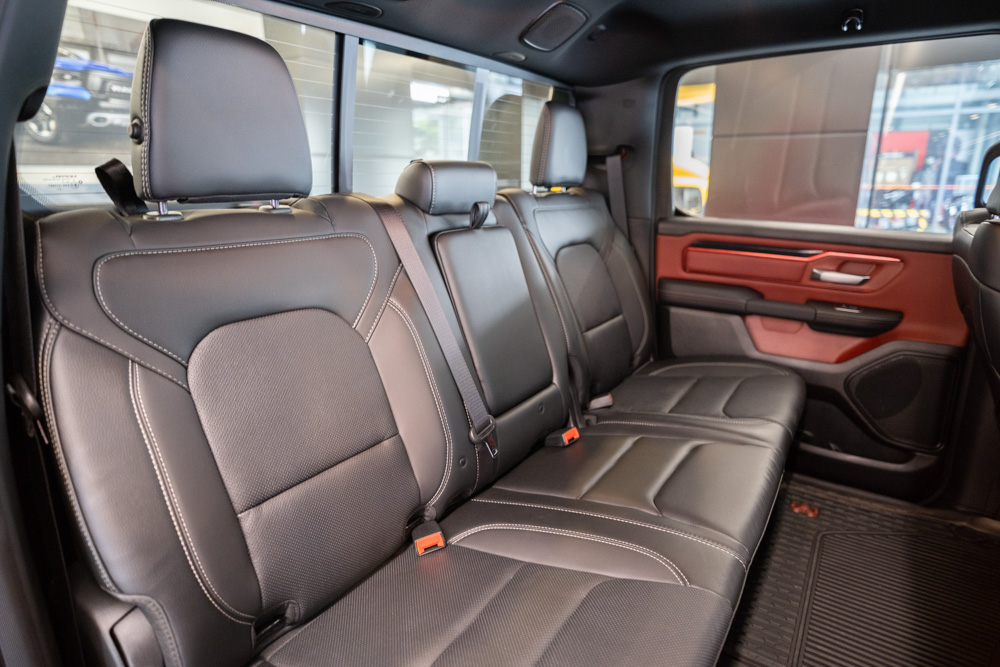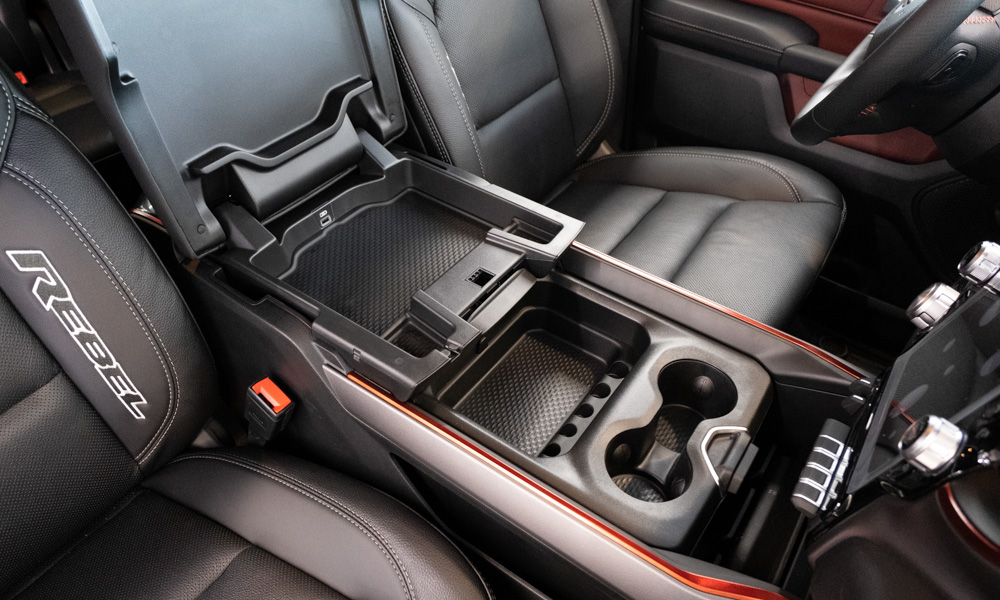 The center console can be configured for various functions, whether as a place to seat your laptop, store your file folders, hold your drinks, or even seat your dog! Plug in your smartphone, pair it with the Uconnect 5 infotainment system, and let the miles fly by while you're thoroughly entertained and supremely comfortable.
Meanwhile, your workaholic nature will love the Ram's cabin. With no fewer than four USB charging ports and three 115v outlets, you can really turn your Ram into a mobile office if your life involves a lot of field work. It also has storage solutions aplenty, from upper and lower glove compartments to in-floor storage, while it does the road-trip mission very well thanks to active damping modules to keep out ambient noise.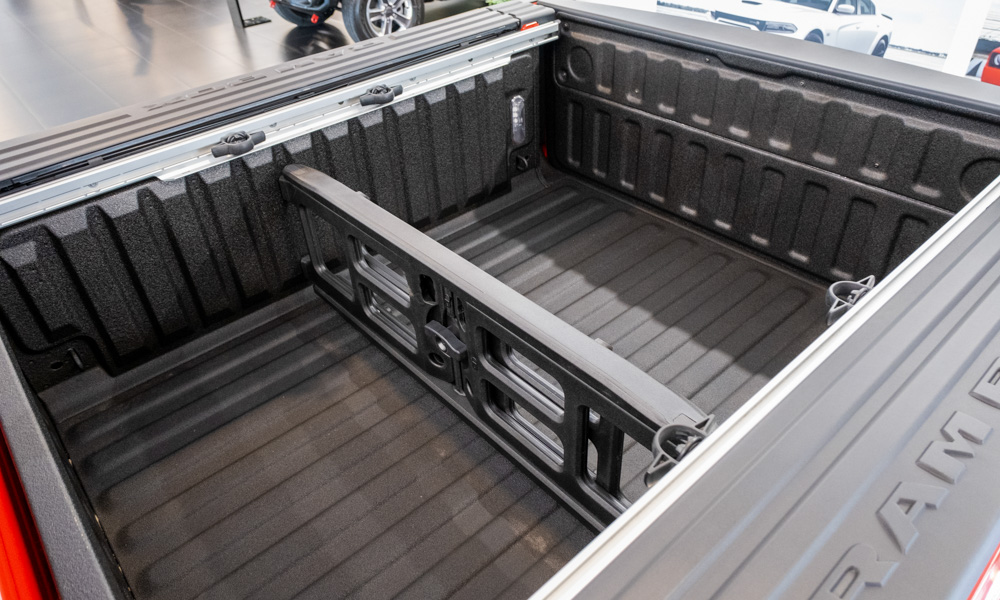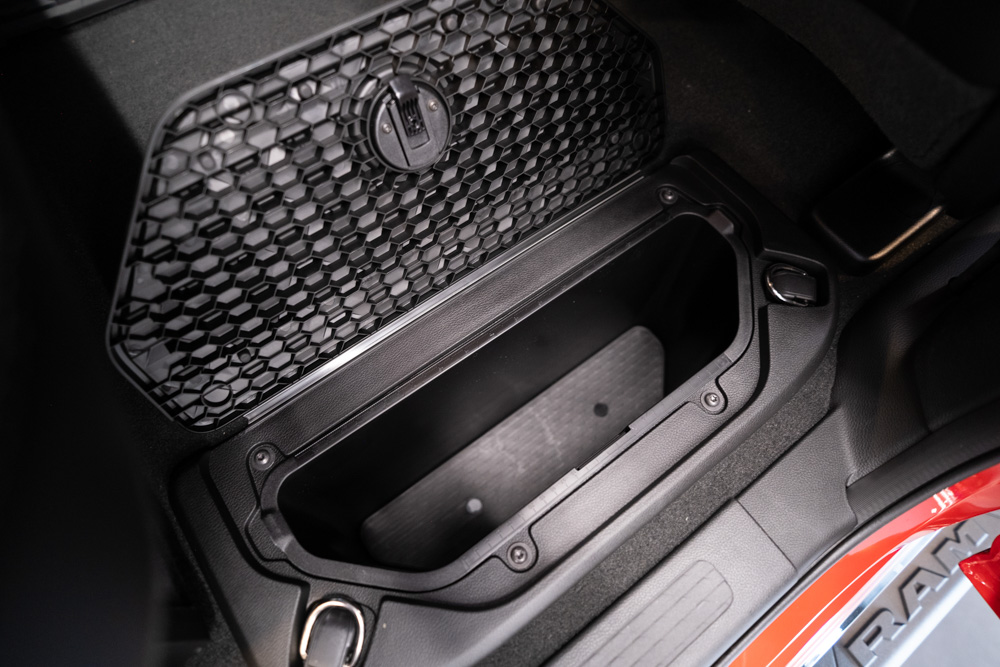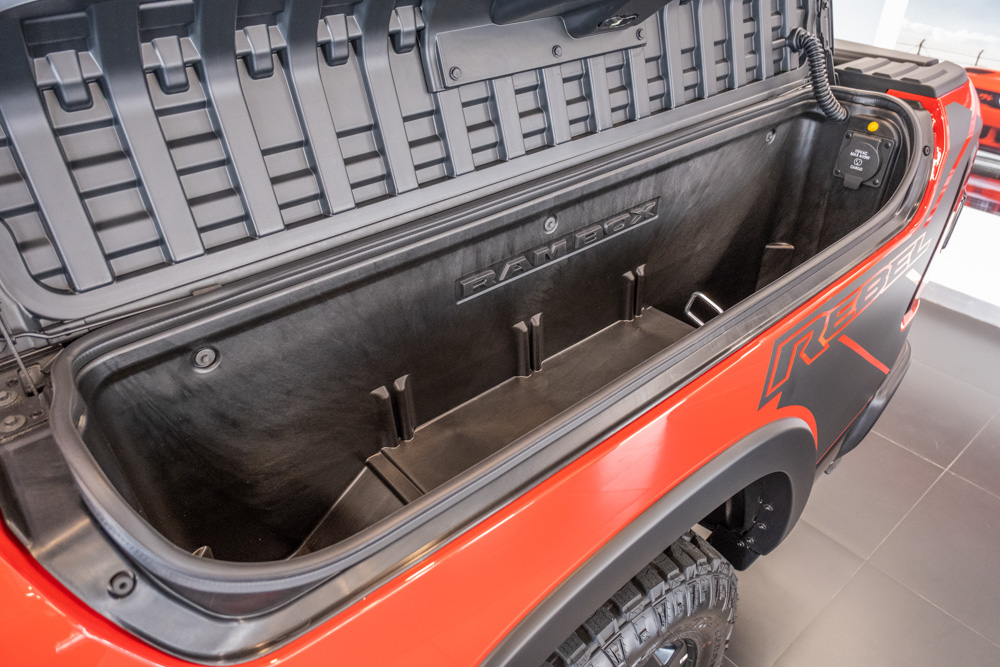 One thing that really makes the Ram worth its weight is its full-size bed. With a payload capacity of 1,043kg, it can hold up to two motorcycles. And whether you're planning to go overlanding, hosting a tailgate party, or just loading it up for your business, the available RamBox Cargo Management system lets you store everything in an organized manner—and it even functions as an ice cooler.
This neat feature is weatherproof, lockable, and drainable, letting you free up cargo space since you won't need a regular cooler anymore. The bed also has a 115V power outlet, as well as a power-assisted tailgate to make all the heavy lifting even easier.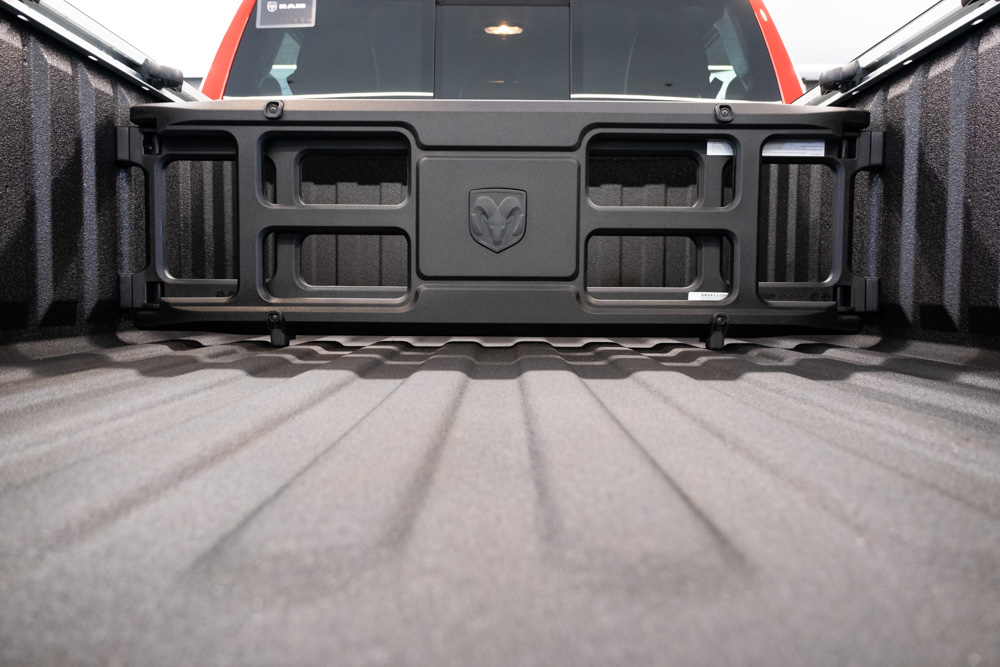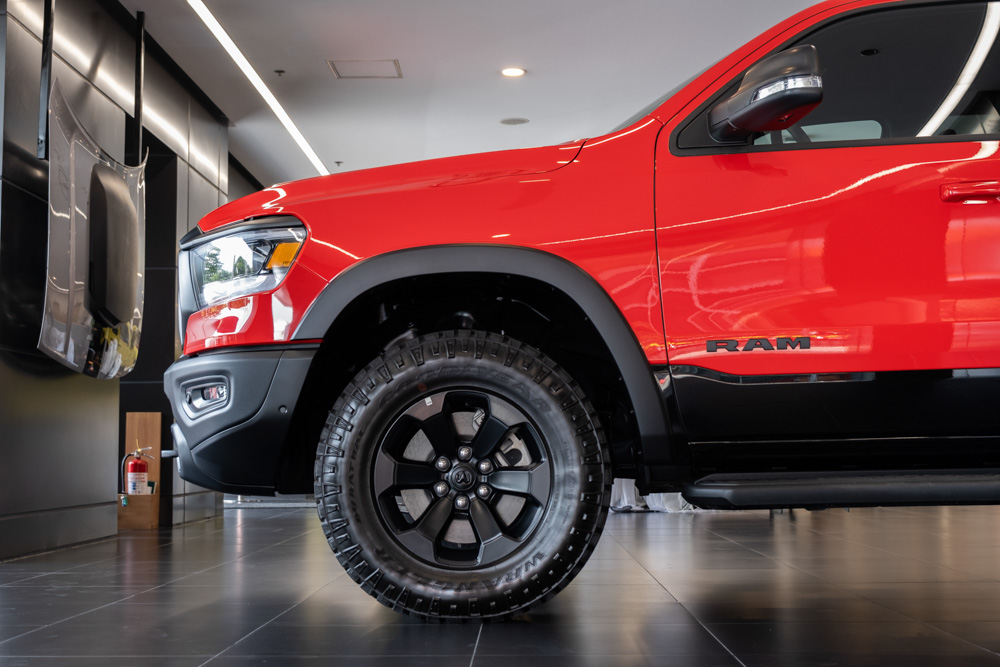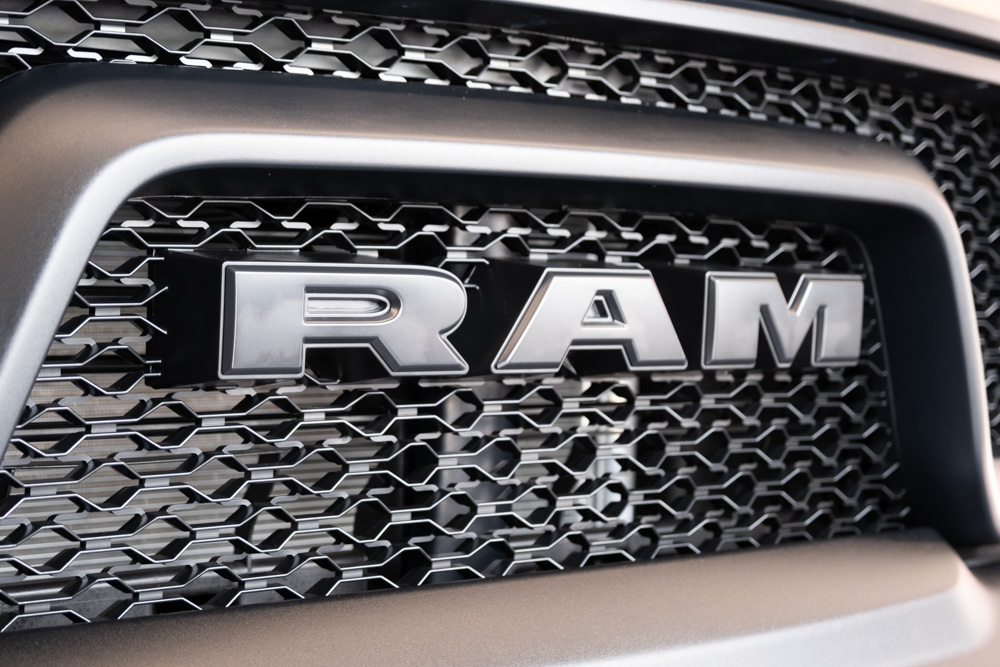 With a seriously capable drivetrain, an executive-level cabin, and much more versatility than your standard pickup truck, the Ram is all about being able to do everything that you want in just one vehicle. Whether you'll be using it as a daily driver, road tripper, or weekend adventure warrior, it's all up to you, because this Rebel can do it all.
From its all-terrain tires to its 4WD system and solid front and rear axles, there's not much that can get in your way with the Ram Rebel. But since it's also equipped to let you enjoy the simple pleasure of driving even if you're just venturing in the city, we wouldn't be surprised if you used it as your daily driver, too.
There are many trucks that can do the job of hauling and trail-busting, but none do it as commandingly as the Ram Rebel. And only the Rebel gives you a cabin that's more comfortable than the average SUV. In the automotive world, there are certain limitations on what a truck can and cannot do. The Ram Rebel proves you don't have to be held back by these rules, because that's what being a rebel is all about.
Visit your Ram dealership now to start pushing your limits with the Ram Rebel.
CHRYSLER, DODGE, JEEP AND RAM ALABANG

301 Westgate Center, Commerce Avenue, Filinvest Corporate City, Alabang
+632 8461-6281 and +632 8334-1487

CHRYSLER, DODGE, JEEP AND RAM CEBU

Cebu Veterans Drive, Nivel Hills, Cebu City
+6332 260-3333 and +63 (977) 825-5337

CHRYSLER, DODGE, JEEP AND RAM CLARK

Clark Auto Zone, M.A. Roxas Highway, Pampanga
+634 5499-5562

CHRYSLER, DODGE, JEEP AND RAM GREENHILLS

1008 EDSA Greenhills, San Juan City
+632 8784-5002 and +63 (920) 904-0716

CHRYSLER, DODGE, JEEP AND RAM PAMPANGA

Laus Group Corporate Center, Jasa, San Fernando, Pampanga
+63 (999) 223-0295
This branded article was made in partnership with Ram Philippines.