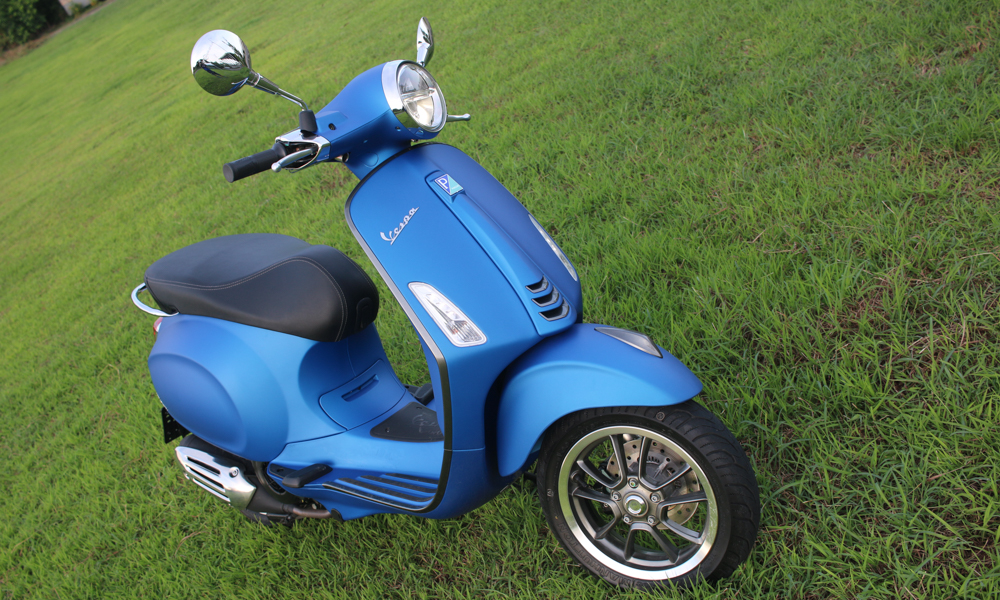 Vespa has done an enviable job of creating a strong brand. While other manufacturers churn out scooters by the hundreds of thousands (with new models every few years), only Vespa commands a customer loyalty that prizes each unit as a veritable keepsake. Peruse the used bike market and you will see very few of these Italian two-wheelers being sold. The few that are available still command an asking price that could get you a brand-new Japanese scooter.
Just recently, the brand launched the Sean Wotherspoon series; a bright and colorful edition that draws "oohs" and "aahs" like a piece of rolling artwork. They also have the Racing Sixties version with pinstripes, retro racing cues, and a five-figure premium on top of the base price. Both look so nice that I was a tad disappointed in my Primavera S test unit's regular blue color when I came to collect it at the Vespa Ortigas showroom. It is a nice shade of blue, but one look at the special editions and you will wish you had deeper pockets to bring one of those back home.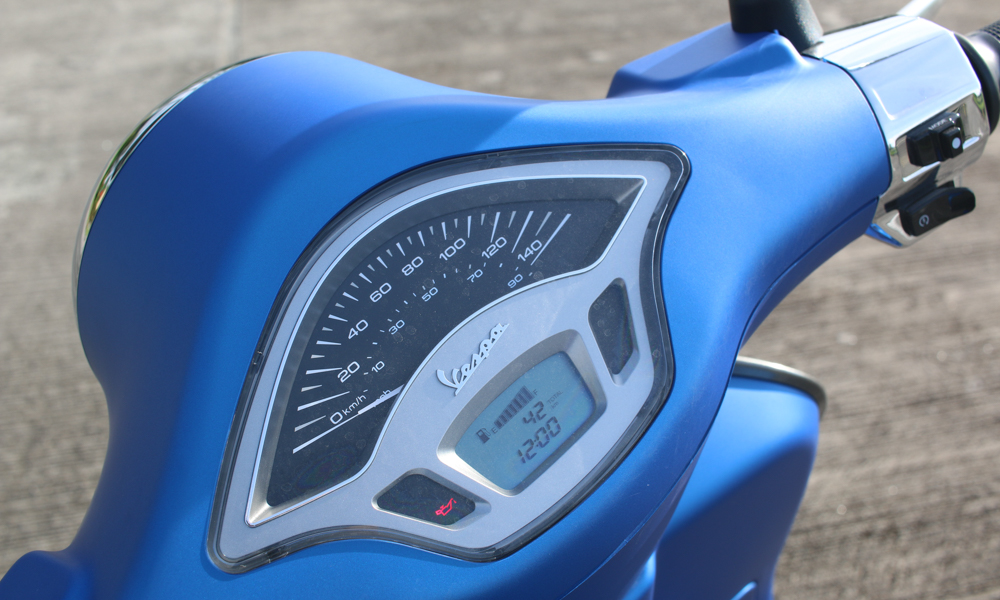 As far as scooters go, the Primavera S is one step up from the base S125 but slightly cheaper than the Sprint — if you can stomach the P195,000 price tag. It is pointless to do a spec comparison with a Honda PCX/ADV150 or Yamaha NMax because on paper, the Japanese have more features like keyless ignition, "answer back" chirping, and more. Vespas are all about timeless style and cachet, of which the Primavera has lots.
The distinctive shape needs no introduction with its sensual leg shield, round headlamp, and bulbous "wasp" rear end. It looks classic, stands out in a sea of lookalike scooters, and has just enough little details for Vespa enthusiasts to point out the evolution from earlier models like the ET- and LX-series. Standard features are few but appreciated: generous underseat storage, pull-out seat hook for bags, lockable glove box with USB charger, antilock brakes, LED headlamp and taillamp. This being the S variant, it has a sporty touch with 12-inch five-spoke wheels in a gunmetal finish, chrome exhaust cover and grab rail, headlamp bezel, handlebar switch trim, and mirrors. I was not immediately taken with the mushroom-shaped instrument panel since I prefer the more classical style of the LX dash, but it does look more organic to the overall shape of the cockpit.
With peerless fit and finish on the solid steel chassis, it goes a long way to justifying Vespa's premium pricing. It looks expensive, and it feels like it, too. On bumpy roads and over speed bumps that tend to betray flex in plastic-covered bikes, the Vespa is rock solid.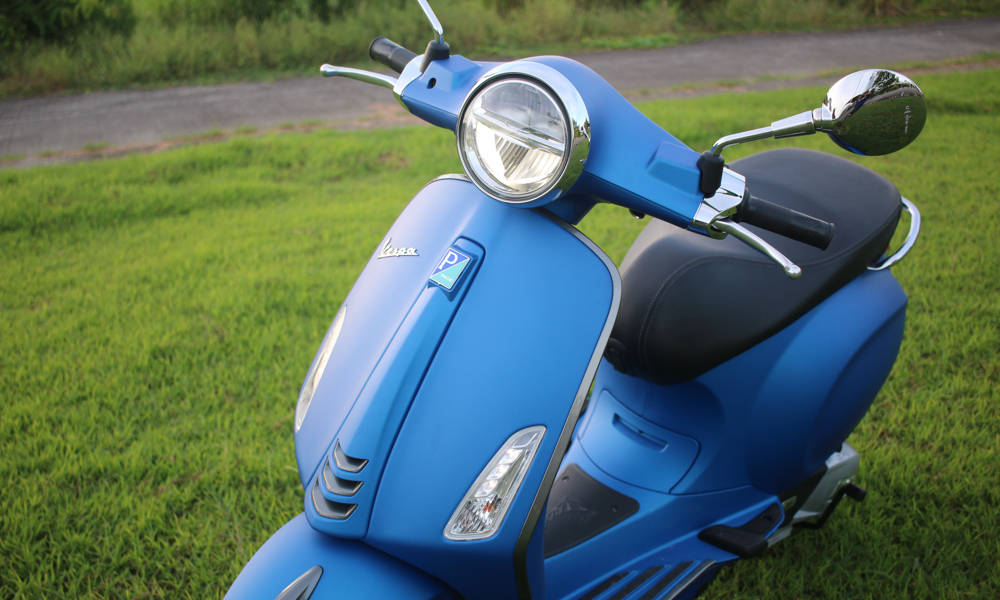 The Primavera S gets by with a 155cc single-cylinder three-valve motor rated at 11hp at 7,700rpm. Mated to a smooth CVT, performance is brisk for typical, urban-errand hopping. Go past 60km/h, however, and it gradually loses steam all the way to 90km/h. More important is how smooth and quiet the motor is. At idle, there is just a very faint thrum and as you twist the throttle, the vibration and exhaust note are very soft. It is quite relaxing. Coupled with the chair-like position on the padded seat, weaving through traffic and just going about your business feels like you are on a very well-composed e-scooter. Like all scooters, changing lanes is a breeze with just a little lean. Tighter turns are easily done with the handlebar's generous range of motion. A side stand and center stand add to parking convenience.
Over the course of the test period, I used the Prima for fairly short, hour-long rides in and around the city and had more fun than I expected out of a scooter. The ride is quite plush for such a small machine, and the strong brakes and peppy engine gave me enough confidence to brave EDSA.  The plush seat helps as you get ample support along the whole length to scoot rearward and stretch, while the raised forward area stops you from lunging forward in a sudden stop.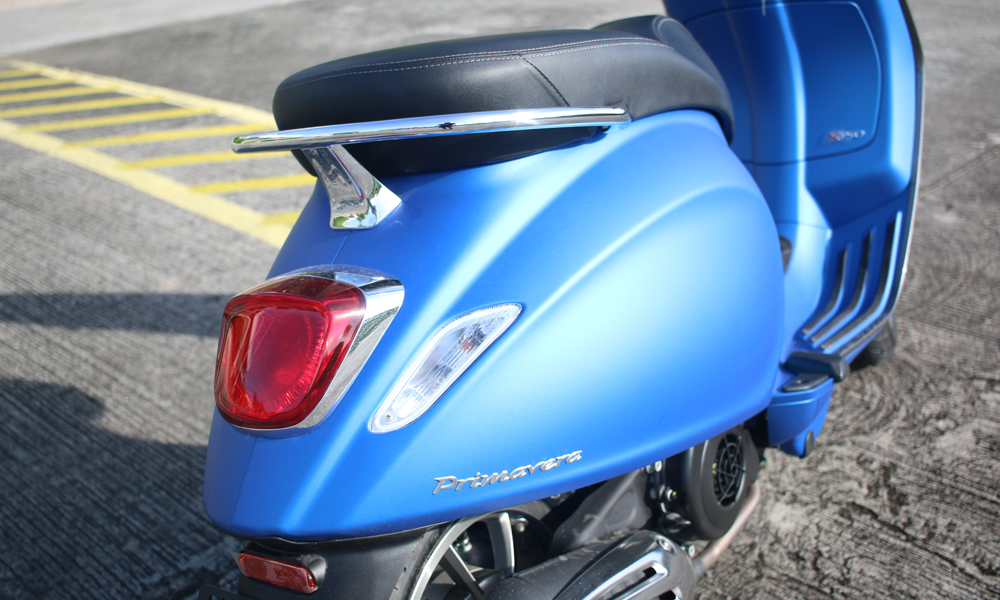 While not exactly suited for longer rides, it can be done, and many Vespa owners regularly do weekend day trips to the countryside. Just add accessories like a flyscreen, and front and rear racks, and you have a cute little runabout. Sipping fuel at a rate of 40km/L from a 7L tank, the Primavera has the legs for some decent road trips.
And it must be said: It generates scooter envy. When I brought it home, riders in the area walked over to gawk, asked to sit on it, press the buttons, and try to figure out how to open the glove box (you press the keylock in). Admiring glances from other riders at stoplights as they checked out the Primavera were a guilty pleasure, although this is the type of scoot that you need to dress up a bit instead of going out in ratty clothes and flip-flops.
With scooters being an ideal choice for people who need to get around quickly and cheaply, a Vespa will cost you a fair bit more than the average scooter.  However, the enjoyment that you get out of it, and the pride of ownership and the lifestyle that you buy into, may well be priceless.