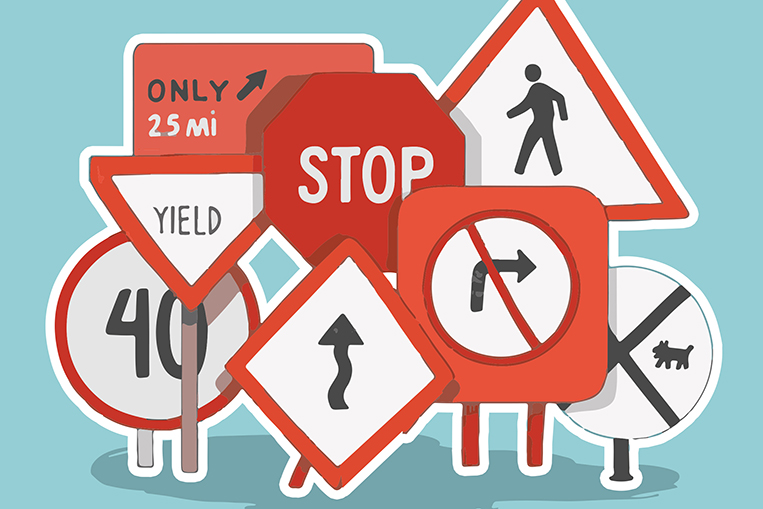 Anyone who has ever acquired a driver's license in the Philippines knows what a joke the whole process is. As soon as you enter the Land Transportation Office compound, questionable characters approach you offering "assistance." Inside, there are signs that say: "DO NOT DEAL WITH FIXERS." Translation: "We just put these warnings here so it looks like we frown upon fixers, but we really allow them on our premises and take a cut from their earnings."
If you agree to pay a fixer, you go straight to the written exam room, where you receive an answer key and basically an automatic passing score. Everything is just a formality.
If you refuse to avail the "services" of a fixer, you stand (or sit) in line just like everyone else, wait for your turn, and then take the exam sans the answer sheet. But the test itself is a farce, more like a set of trivia questions than an actual assessment tool for determining whether a person really knows how to operate a motor vehicle.
And in both cases—whether you pay a fixer or not—there is usually no practical exam involved. I know, because I took the written exam (without coughing up grease money) when I was applying for a license back in the '90s, but I wasn't given a driving test. For some reason, they all thought I was capable of driving just because I had aced some multiple-choice quiz.
That's basically the story for every Filipino driver—a license so cheap and so easy to get that even a blind applicant was once able to obtain one as documented on the TV show Hoy Gising! The result is a motoring environment in which nobody understands road signs or knows even something as basic as right-of-way.
Thankfully, all of this is soon coming to an end, as the LTO is currently conducting consultation sessions with the country's accredited driving schools in response to the mandate of Republic Act 10930 ("An Act Rationalizing and Strengthening the Policy Regarding Driver's License")—the same decree that officially extended the validity of driver's licenses in the Philippines to five years.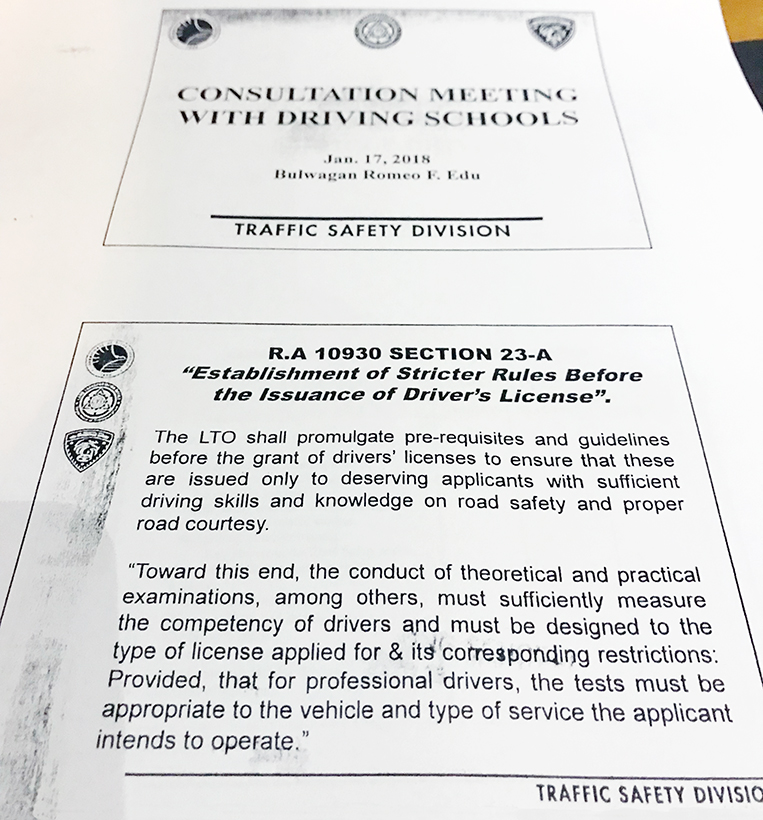 A source told VISOR that the LTO's Traffic Safety Division had kicked off a series of regular meetings with various driving schools, starting last January 17, with a view to passing on the responsibility of screening license applicants to said schools. Yes, the agency is looking to relinquish its notorious licensure examination and entrust this in the qualified hands of those who really know how to train drivers and evaluate whether they are ready to take on EDSA traffic.
The LTO has submitted to the driving schools its proposed modules for basic driving, motorcycle driving, light vehicle driving and heavy vehicle driving. The schools are now reviewing these and will give their feedback to the agency on how to improve said modules and make them more effective.
For now, the idea is to require all license applicants to undergo 15 hours of lecture with 15 hours of practical training. The applicants will be given the freedom to choose from a list of LTO-accredited schools. Speaking of accredited driving schools, LTO is inviting all existing schools in the country to apply for accreditation if they want to be included in the program.
Once chosen, a driving school has the responsibility to educate, train and assess the competence of the license applicant. Part of the LTO agreement is the installation of CCTV cameras in the training facility, which will record all the sessions being conducted so there's proof that the applicant did take the course.
Here's the catch: A fee will of course be paid to the driving school of one's choice. This fee is now being determined by the participating schools, and will be uniform across the country. One suggestion is to charge P500 per hour of training, which would amount to P7,500 for the whole course. Nothing is final yet, and everything is still subject to careful deliberation.
According to our source, however, the LTO wants the driver training program to be finalized in the soonest possible time, so don't be surprised if this is officially rolled out in the coming months.
If implemented, expect objections to the driving school fee whatever the amount may be. As for us, we welcome and applaud this development. It's time we upgraded our licensing procedure so that only the truly competent applicants would be granted the privilege of driving a vehicle. And it's time we made our driver's license expensive so that we would all value that little plastic card we now take for granted.