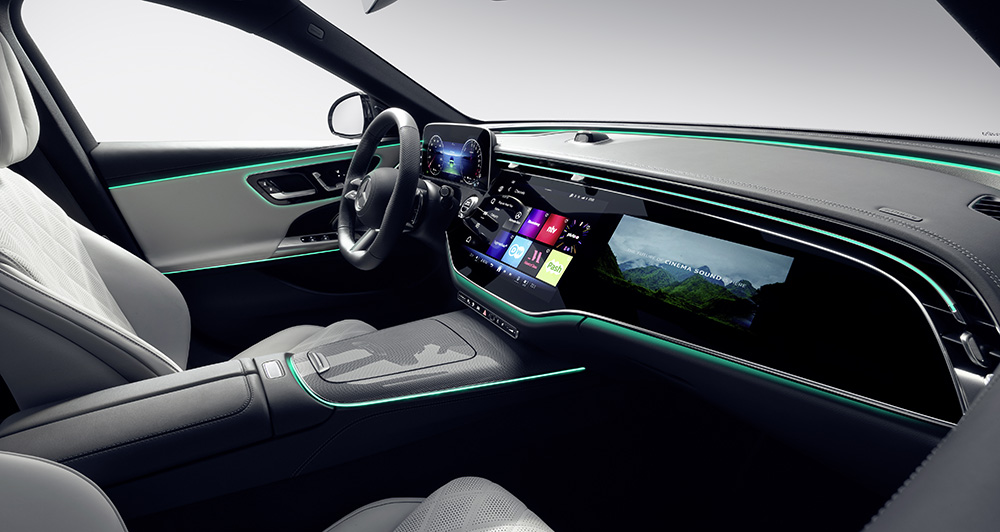 If you've been following our website for a while, you know that Mercedes-Benz loves to tease its new cars by showing off a preview of the interior. Now, it's teasing the next-generation W214 E-Class in the same manner.
Slick, futuristic ambient lighting that syncs with the music for a visualizer, luxurious leather upholstery on the dash with white quilted leather seats, and an all-glass dashboard that's called the Superscreen (because the digital driver's display is separated from the rest of the dash, unlike the Hyperscreen).
Now, we could bore you with technical details like a built-in 5G eSIM or the new electronics architecture that will improve the performance of the MBUX operating system, but what caught our eye is the ability to use third-party apps in the infotainment system. At launch, you will have access to apps like TikTok and the Zync streaming service, the game Angry Birds, and office collaboration apps such as Webex, Zoom, and the Vivaldi web browser.
Mercedes expects you to use these apps with the built-in camera on the top of the dashboard while the car is stationary, so you can join video conferences, take photos and videos, and brag about your brand-new E-Class to your TikTok audience.
Of course, there is a big elephant in the room in the form of distractions for the driver, which is why it will use the camera as a "visual shield" to dim the displays so the driver won't get distracted while driving. The launch of the vehicle will take place in the fourth quarter of this year, so you won't have to wait long to do silly dances in your Chedeng while you're stuck in traffic.