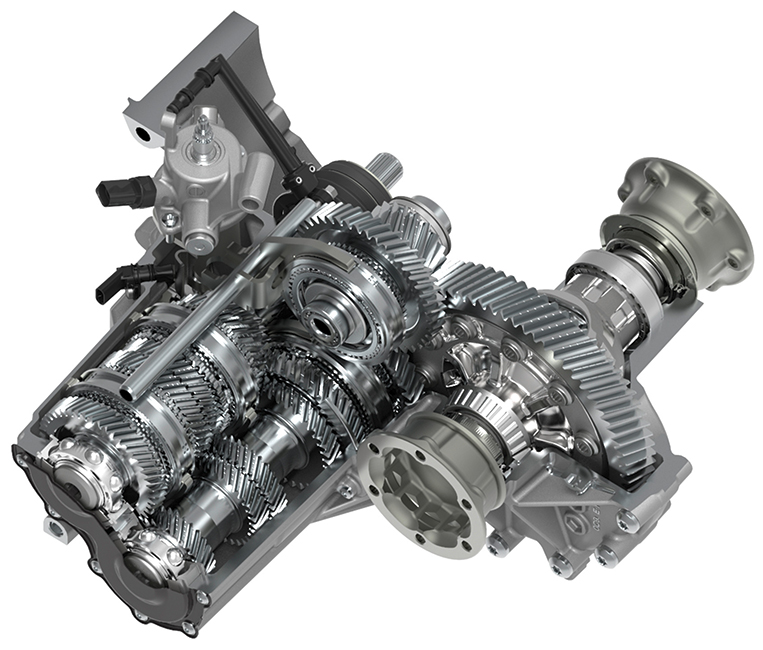 The good old manual transmission seems to be dying a slow but sure death, at least based on prevailing industry trends. These days, most brand-new vehicles that roll out factories worldwide are equipped with automatic shifters—to the utter consternation of many driving enthusiasts.
Thankfully, Helmut Göbbels, Volkswagen's head of manual gearbox and four-wheel drive development, isn't ready to completely ditch the stick shift. He believes that there are still certain applications that manual transmissions can serve better, like SUVs with large-diameter wheels. And so, his department gave the manual transmission that much-needed shot in the arm and keep it relevant by making it even more economical.
In a press statement, Göbbels claims that they have "developed a highly efficient manual gearbox that reliably meets these demands." Volkswagen has done this by basing its new MQ281 gearbox on a 2.5 shaft concept, in effect giving it a maximum high gear spread of 7.89. Friction-reducing bearings and low-contact seals enabled the German automaker to utilize completely new oil-conduction measures. These allow the gearbox to achieve uniform and optimum lubrication of the gear wheels and bearings. Material use and distribution for the gearbox housing was also optimized, while a virtual development tool strengthened the overall design of the structure. The new housing can suppress noise, improving the overall driving experience.
Depending on the engine-gearbox combo, the MQ281 can save up to 5g of carbon-dioxide emissions per kilometer
Offering a torque spectrum of 200Nm to 340Nm, the new transmission is said to provide good driving-off performance while allowing you to cruise in high gears with low engine speed. Furthermore, it only has a 1.5L maintenance oil requirement. Depending on the engine-gearbox combo, the MQ281 can save up to 5g of carbon-dioxide emissions per kilometer.
The transmissions will be built in Volkswagen factories in Spain and Argentina. The new Passat gets first dibs on the new gearbox, while other models will follow suit. Given today's driving conditions and traffic congestion, nothing beats the convenience of having an automatic shifter. But it's nice to know that car companies like Volkswagen are still giving petrolheads the option of rowing through the gears themselves.