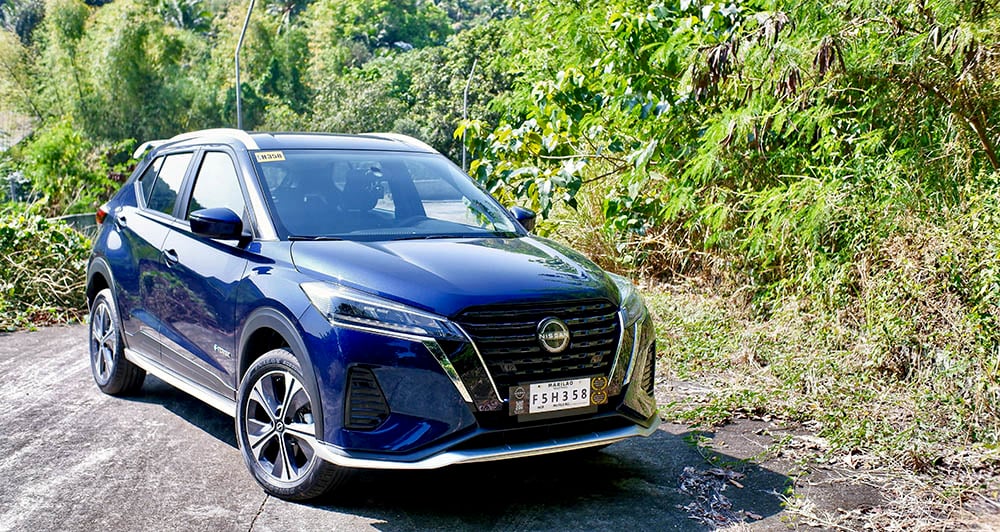 While it seems that almost every automobile manufacturer has been racing to bring its EVs to market, Nissan got a head start when it introduced the Kicks e-Power to the Philippines in August last year, just two years after it had bowed in Japan.
Since then, it has become one of the most sought-after vehicles today, and why not? It's a subcompact crossover, the body type that the market is looking for right now. It's priced very competitively, making it accessible to more new car buyers. And it's a Nissan (ergo, not another Chinese brand), so there aren't any trust issues to deal with.
Nissan handed over a midrange VE test unit to me for a week, which was more than enough time to give the car a thorough thrashing. The first few days were short errands to the bank and the supermarket—short hops that barely drank any gas because the battery had enough juice to run the car without firing up the engine.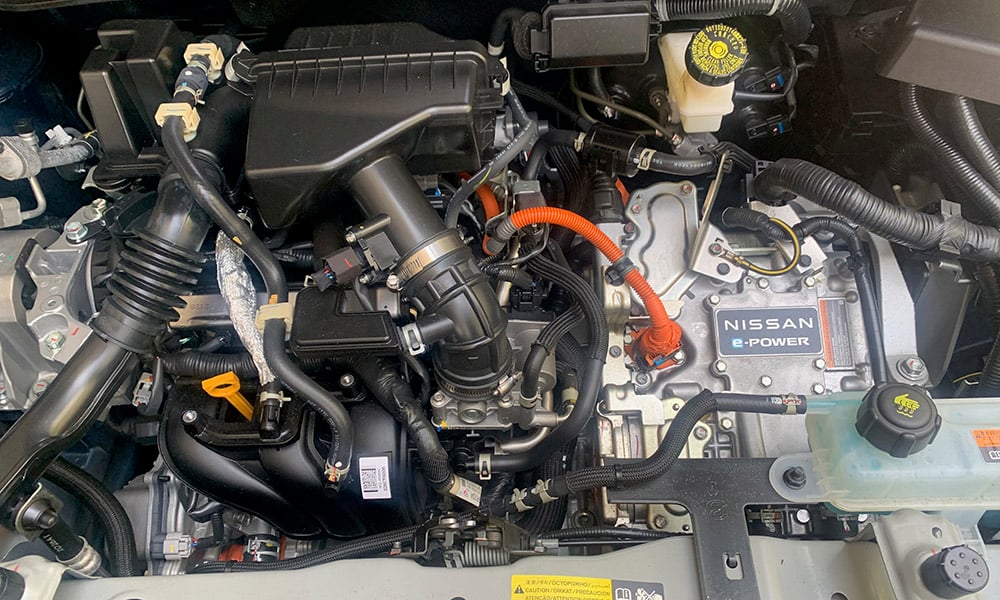 A day-long shoot at Clark with the team offered plenty of opportunities to give the e-Power system a workout. If you're not familiar yet with how it works, the short version is that it's an electric motor powered by a battery cell that is then charged by a 1.2-liter three-cylinder internal-combustion gasoline engine. The electric motor drives the front wheels, and the ICE does not.
As long as the battery has enough juice (around 80%) and the load isn't too heavy (i.e. light passenger/cargo load, light on the accelerator, maybe you're also going downhill), the ICE is switched off, and therefore, not consuming gasoline. But anytime the computer senses you're going to need 100% power, the ICE switches on so you're never in danger of draining the battery.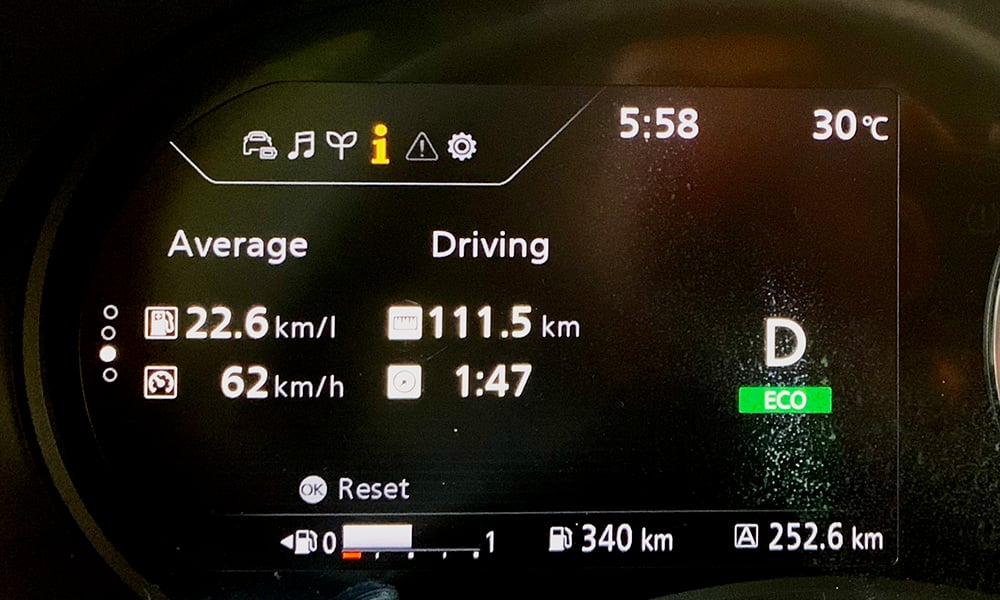 Now, since I'd easily been getting 22km/L driving like a good boy, it was time to turn on the jets and see if the Kicks was more than a one-trick pony. With Drive mode set to Sport (yippee!), I floored it and…well, it wasn't exactly breaking the sound barrier fast, but it was brisk—as in sporty crossover brisk.
Given enough road, the Kicks will hit around 150-160km/h before you're pretty much maxing out the power and that single-speed gear. Not that you'll frequently hit that speed, but it's nice to know that a hybrid can still have a pulse these days.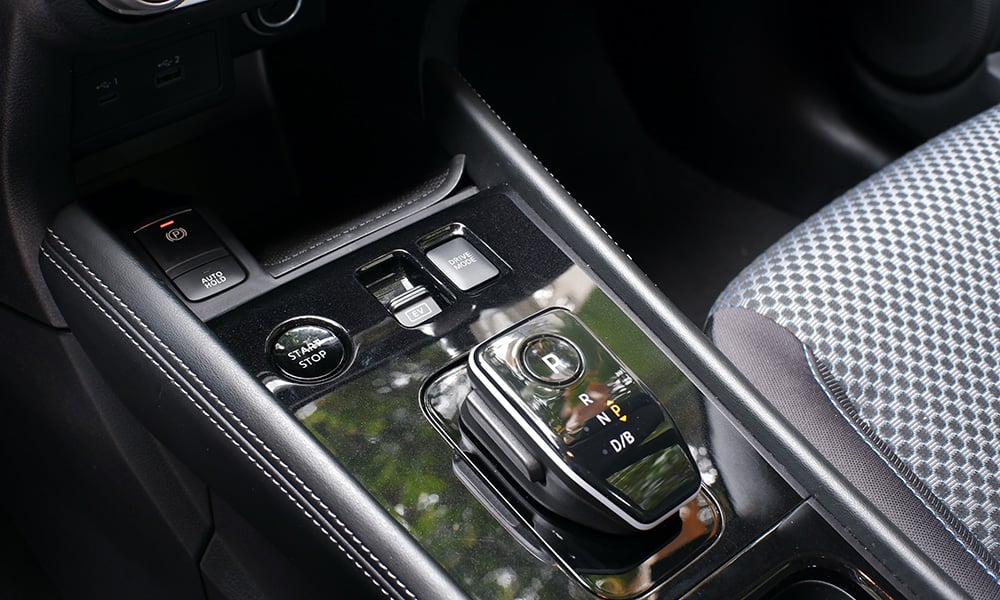 In full EV mode, the Kicks is very quiet except for a low whine you'd have to be really listening for to make out from the background noise. At wide open throttle, you'll hear the ICE engine revving hard, but there's no vibration through the cabin. The 55-series, 17-inch Dunlop Enasave tires also help to create an ethereal calm even at high speed; stick to these tires when they wear out.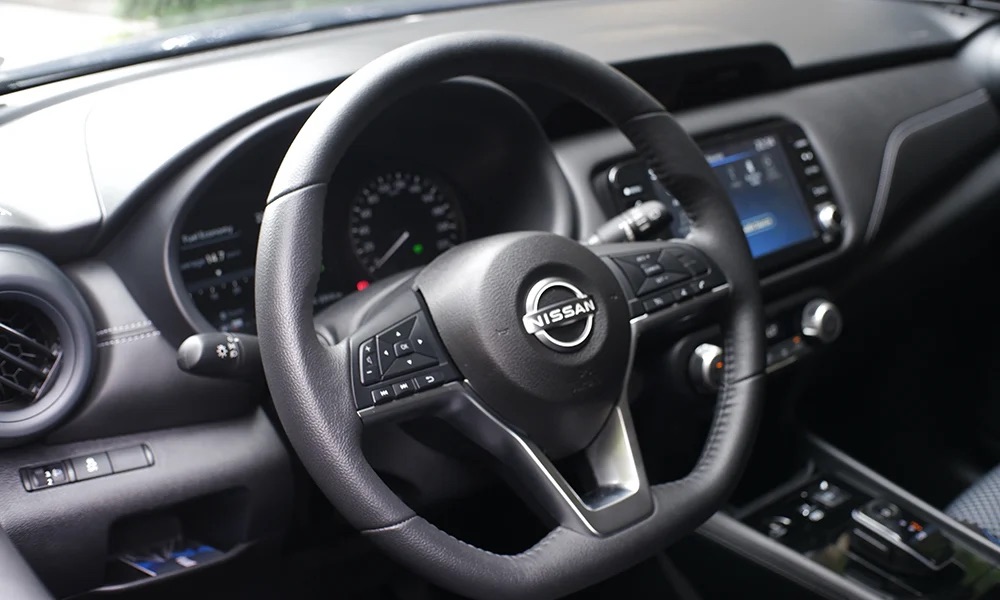 This brings me to the other thing I like about this car: the handling.
In typical Nissan fashion, the suspension is soft. It's plush, it's quiet, and yet it has excellent rebound control. Even when you're feeling frisky, you're not wallowing around like a boat, and you also get precise steering feel to make up for yet another anesthetized, electric power-assisted unit.
If you enjoy curves more than straightaways, you'll love how the Kicks handles. Coupled with the responsive drivetrain, which is free of any friction losses or laggy acceleration due to shifting gears, it's responsive and athletic. A really fun way to get around while on the hybrid/EV bandwagon.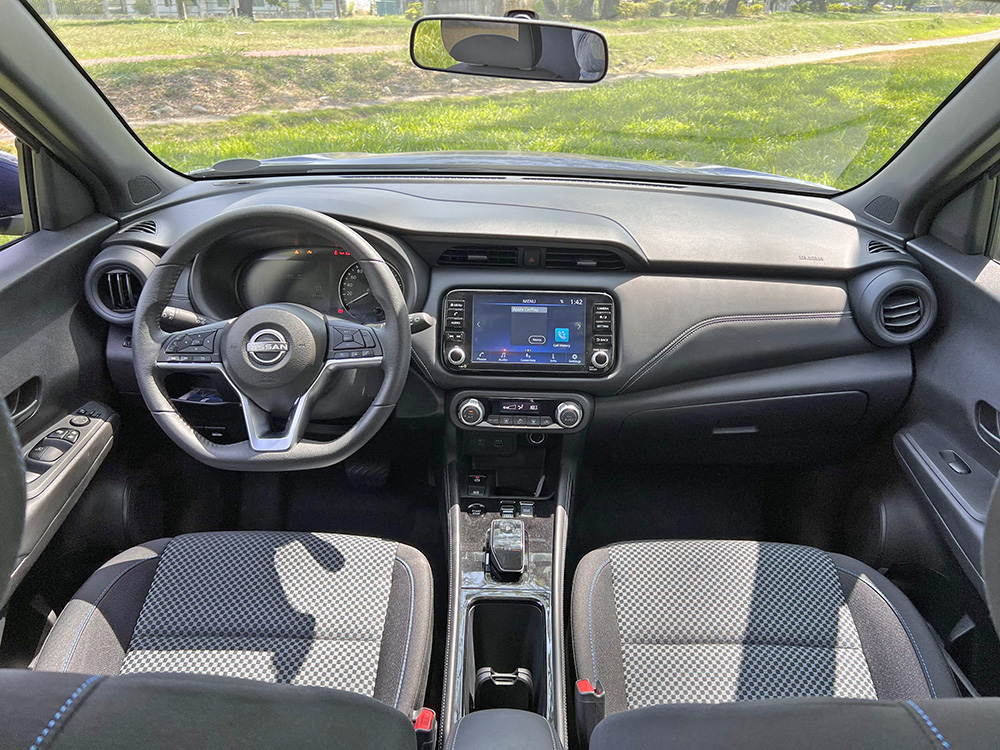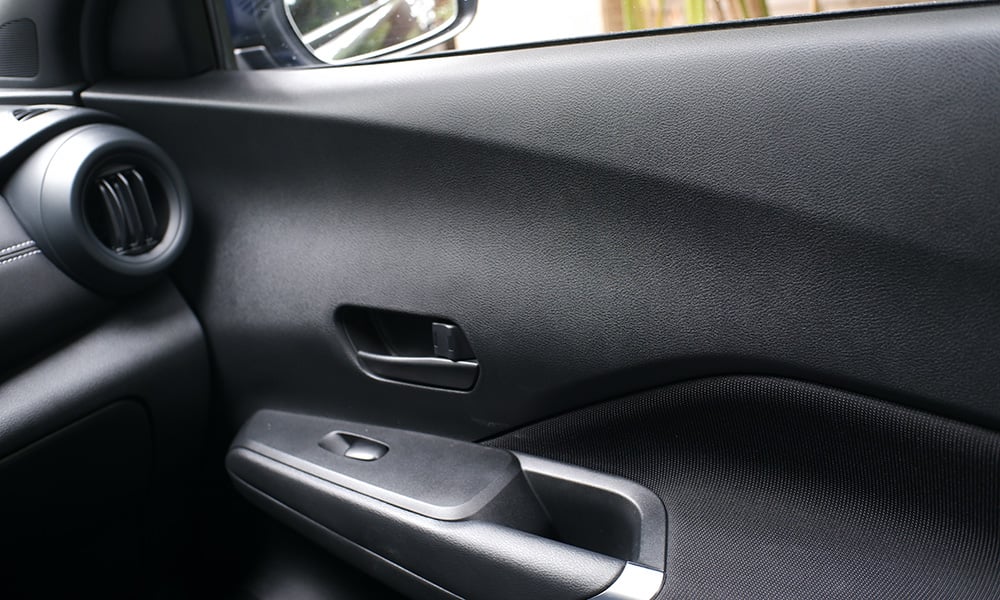 By today's crossover standards, the cabin is basic and not particularly innovative. Especially when the Chinese have been smashing it lately with ginormous infotainment screens and swoopy dashboards. There's a lot of hard plastic in the cabin, spruced up occasionally with some leatherette on the dashboard and the center console.
Ergonomically, the Kicks is faultless with very comfortable, fabric-covered Zero Gravity seats, a fat steering wheel, and good sight lines all around. There's nothing wrong with the cockpit, but after you've seen the swoopy/Star Trekky designs of the competition these days, the Nissan feels just a bit old-school.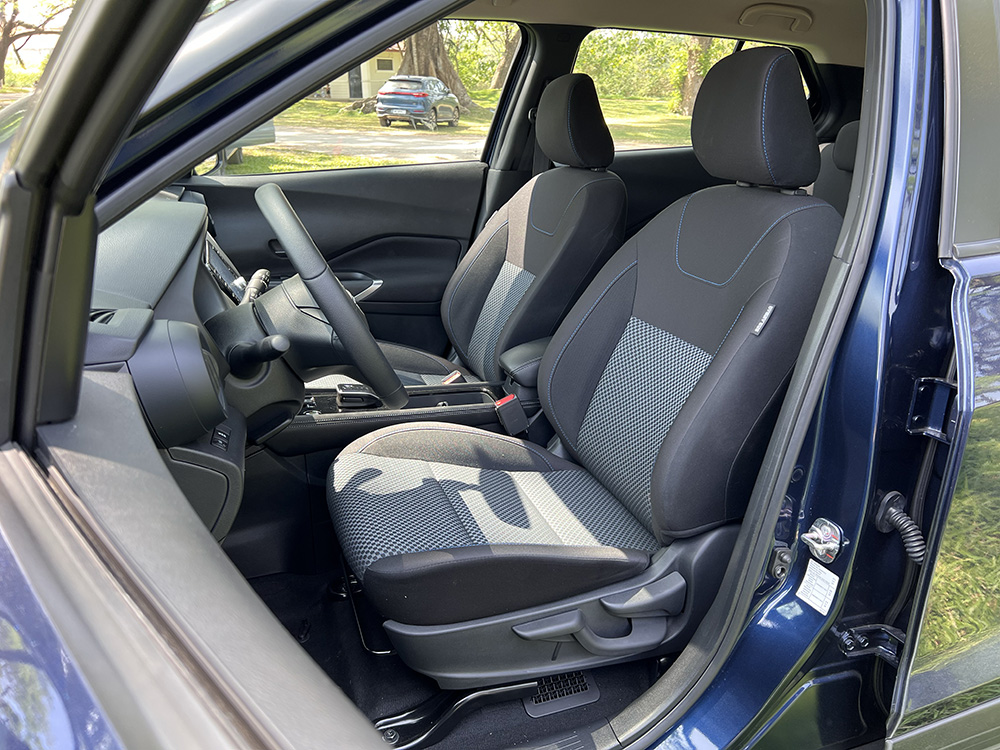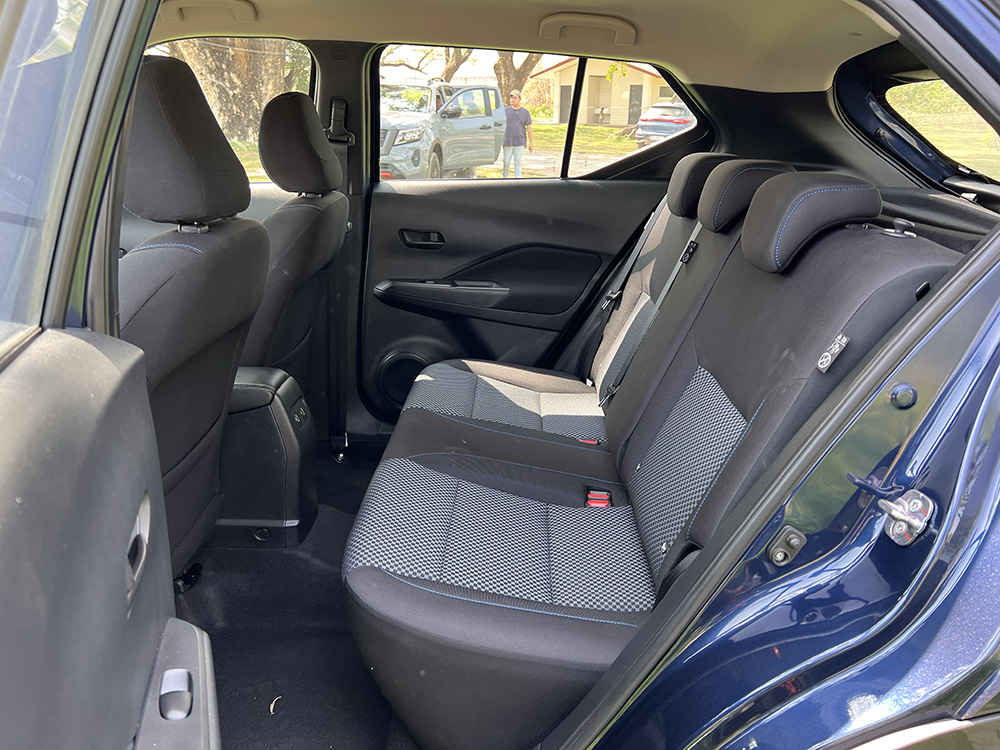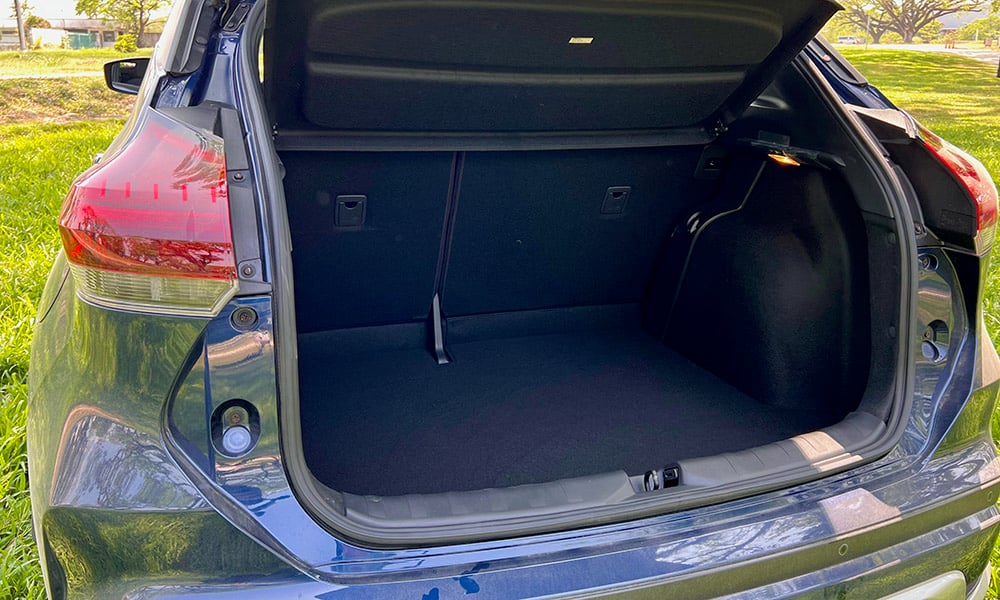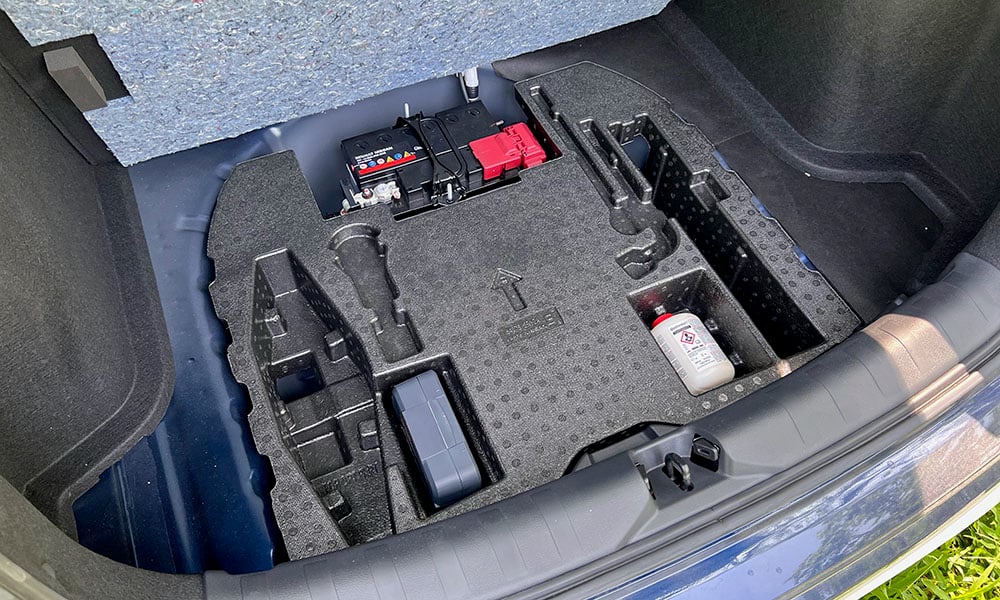 A traditional binnacle houses the instrumentation, with buttons on the wheel for flipping through the various menus. A tidily sized infotainment screen is both Apple CarPlay- and Android Auto-compatible. As a subcompact crossover, the Kicks makes the most of its size by providing a high roofline to give taller folks decent headroom at the back. The rear seat backs fold but don't tumble forward.
Interestingly, there isn't even a space-saver tire under the floor. Instead, you get a flat tire repair kit, which you'd do well to familiarize yourself with before a long road trip. We used the Kicks for several more trips in and around the city, and liked its low-key styling and general comfort.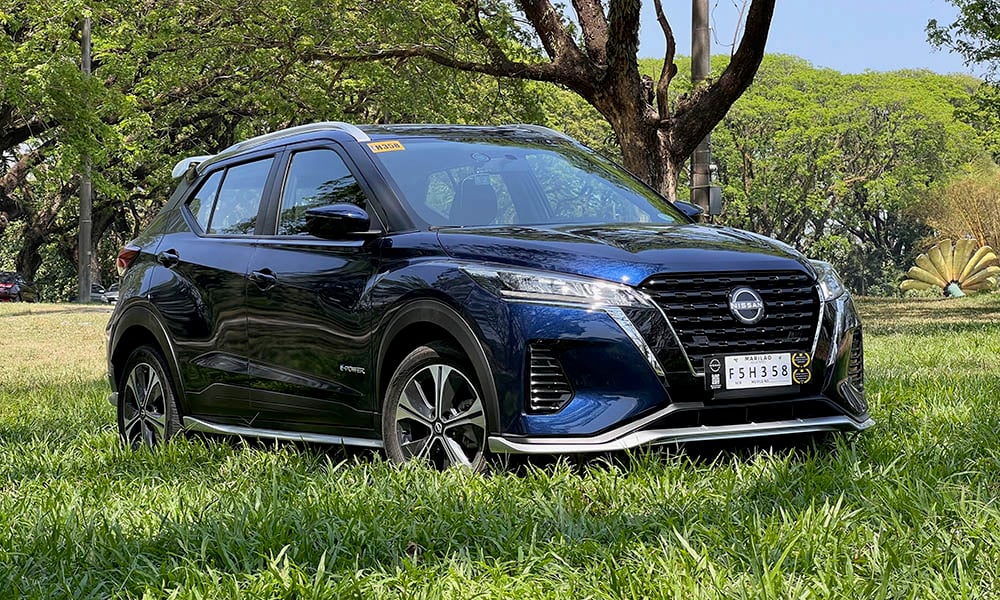 This being the midrange VE model but with an optional appearance package kit of spoilers and skirts, it's somewhat odd to miss out on even a basic reverse camera (but you do get parking sensors). You'll have to splurge on the top-end VL to get the 360° camera set. Automatic headlights and fog lamps are also reserved for the VL, though the VE and the base EL still get LED headlamps and tail lamps.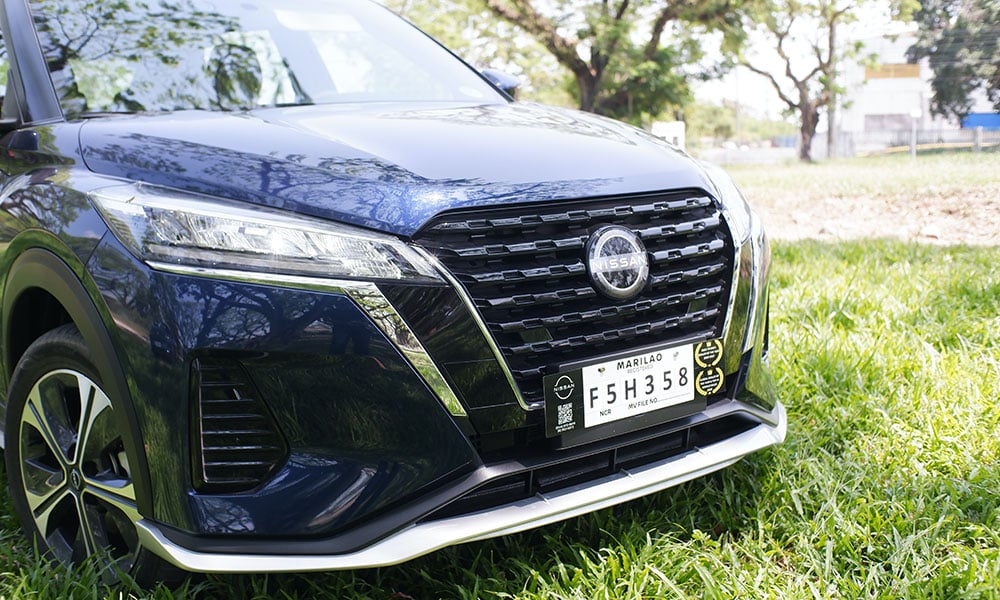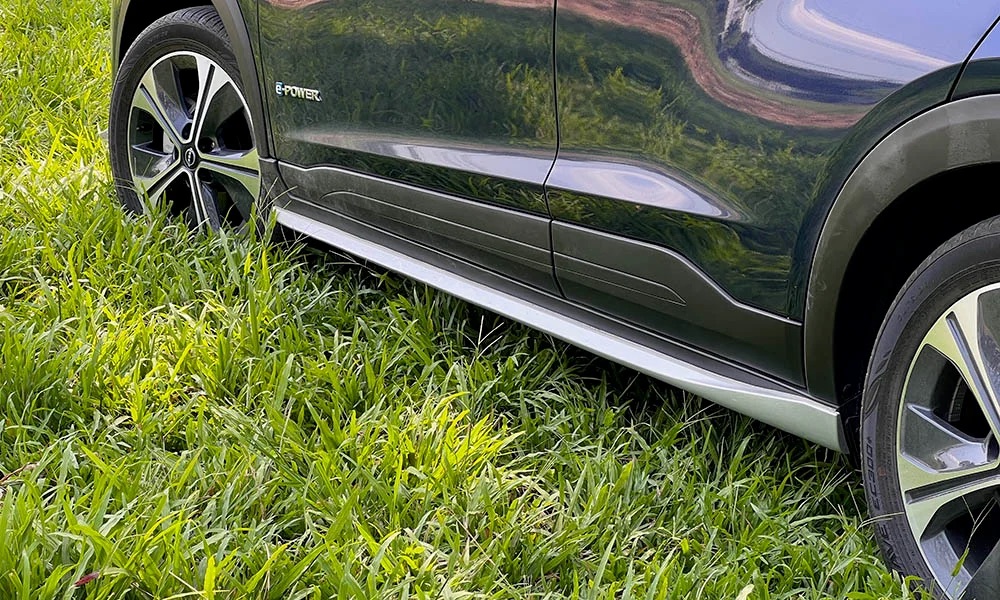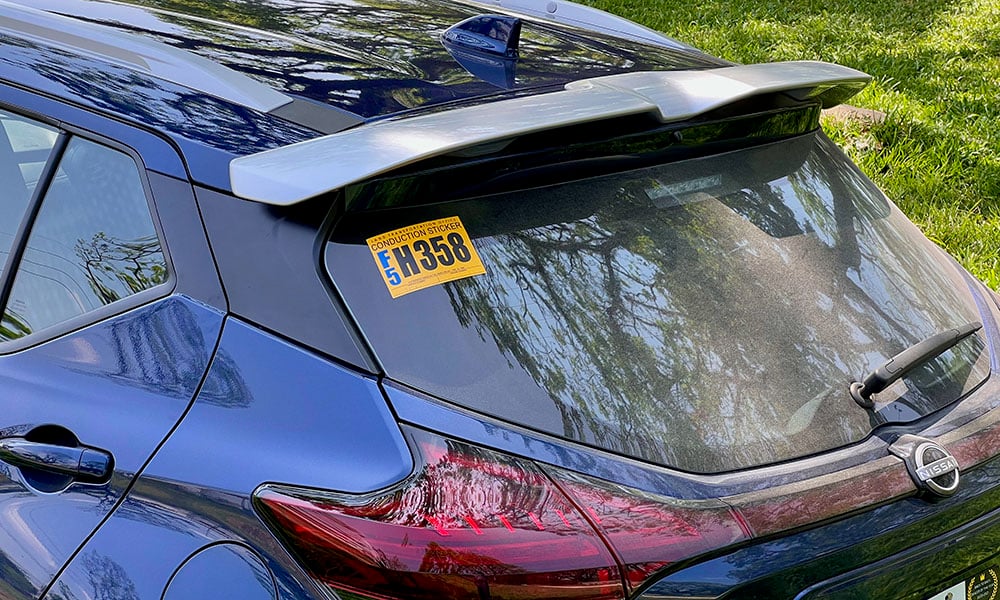 Electronic safety nannies like forward collision warning, emergency braking, driver attention alert, and hill-start assist are specced on the VE and the VL, but not on the EL. Of course, if you're a purist like me and can do without these things without feeling like you'll die the moment you hit the road, then the EL will be perfectly fine.
Starting at P1.239 million for the EL, another hundred grand for this VE (P1.339 million), and still another two hundred grand for the VL (P1.539 million), the Kicks is priced very competitively with other crossovers, hybrid or otherwise.
It has got a smooth electric drivetrain that works beautifully. You only still need to fill up with cheaper 91-octane gas, and you can get impressive range if you ever need to go far without having to look for a charging station. If you're not sold on this hybrid/EV future just yet, the Kicks may just turn you into a believer.
NISSAN KICKS E-POWER VE
| | |
| --- | --- |
| Engine | Electric motor with 1.2-liter three-cylinder gasoline |
| Transmission | Single-speed reduction gearbox |
| Power | 134hp |
| Torque | 280Nm |
| Dimensions | 4,300mm x 1,960mm x 1,615mm |
| Drive layout | FWD |
| Seating | 5 |
| Price | P1,339,000 |
| Upside | Smooth, seamless power delivery. High fuel efficiency. Confident handling dynamics. Decent level of kit. |
| Downside | Plasticky cabin. |