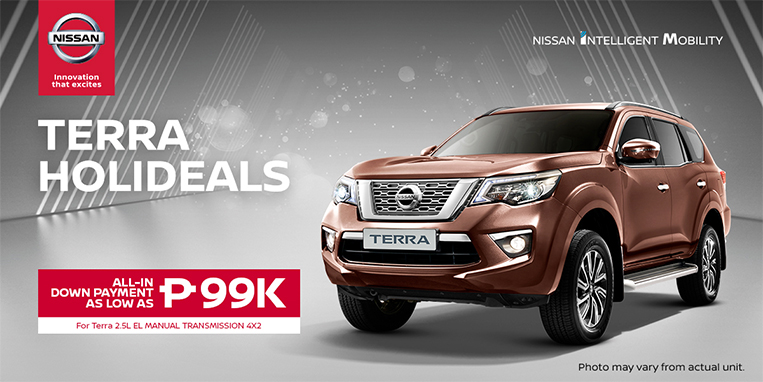 If you've been wanting to own the Nissan Terra SUV ever since it arrived on our market earlier this year, Nissan Philippines wants to make the process easier and admittedly more tempting for you. With the ongoing "Terra Holideals" sales promo—which runs until December 31, 2018—buyers may avail of substantial savings or discounts on four Terra 4×2 variants if they purchase one either through financing or via straight cash. These variants are the following:
Terra 2.5 EL MT 4×2
Terra 2.5 EL AT 4×2
Terra 2.5 VE AT 4×2
Terra 2.5 VL AT 4×2
This means all Terra variants are currently being offered with either a low down payment or a cash discount—with the exception of the range-topping 4×4 AT variant.
Now, what exactly is this sales promo about? There are two offers being extended by Nissan, one for financing customers and one for cash buyers.
Financing promo

The financing promo is in collaboration with EastWest Bank. If you get any of the above-mentioned Terra 4×2 variants through a financing deal with EastWest Bank within the promo period, you get to avail of the savings indicated in the table.
In order to be approved for this financing promo, the buyer needs to first secure a 60-month financing agreement with EastWest Bank, which will be for the remaining balance of the vehicle's price (or 85% of the suggested retail price). If you get approved by the bank, you get to avail of the low-down-payment offer—which, as you can see, is as low as P99,000 for the Terra 2.5 EL MT 4×2. This promo also already includes free LTO registration for three years, one-year comprehensive insurance, and free chattel mortgage fee.
The balance figures in the rightmost column of the table are the amounts buyers will have to settle with the bank, plus interest.
Cash promo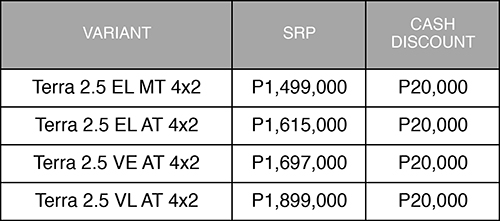 The cash promo, meanwhile, is as straightforward as a cash discount of P20,000. Purchase any of the four Terra 4×2 variants in cash and P20,000 is slashed from the price. It's that simple.
Needless to say, this cash discount cannot be availed in tandem with any other discount offer, like one extended to fleet customers or via Nissan Philippines' employee program or business partner program.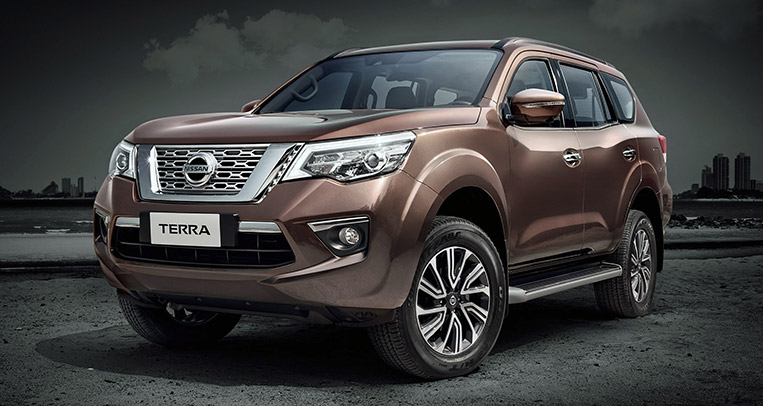 For a more detailed look at the mechanics of the promo—as well as a list of participating Nissan dealerships—visit the promo web page here.
If you're interested, you need to move now as you only have until the end of the month to take advantage of these offers. Hopefully, you'll get to park a brand-new Nissan Terra in your garage just in time for the New Year.
This branded article was produced in partnership with Nissan Philippines.