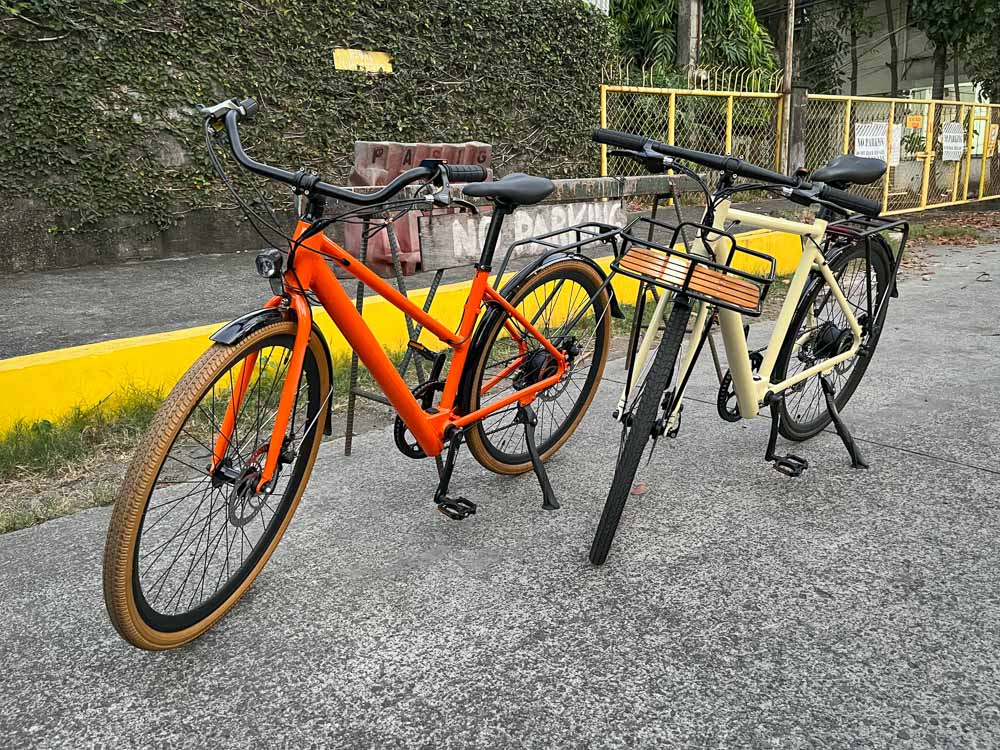 One day when I was hanging out at 1C Coffee in Kapitolyo, I noticed a pair of good-looking bikes outside the café. I was curious to know what they were, but I couldn't find any branding on them. After asking the users and taking a good look, it turns out they were electric bikes!
From then, I knew I had to try out one of these e-bikes by Volt Bikes PH. The new company currently has two models: the Cruiser and the Flat Bar. The former is a mamachari-style electric bike with a step-through frame and swept-back handlebars, while the latter is an electric hybrid bike. I was given the opportunity to test the sportier Flat Bar.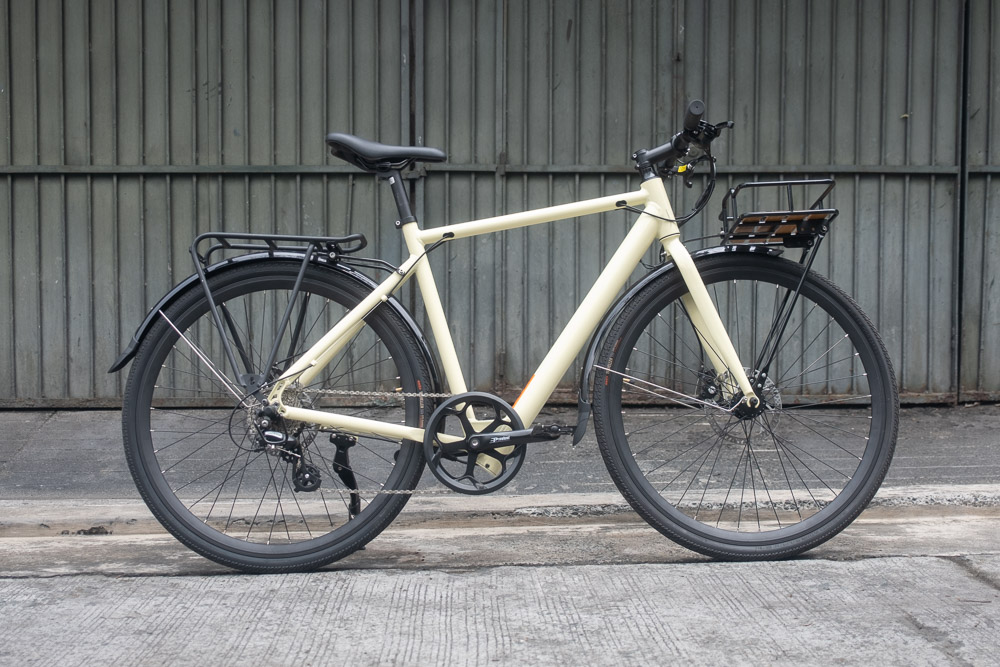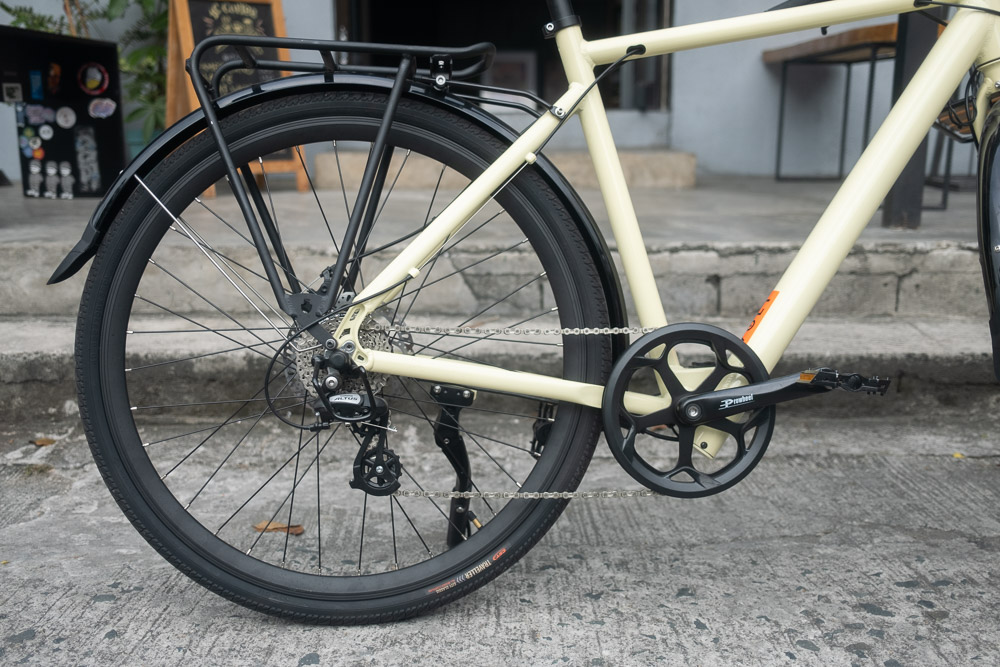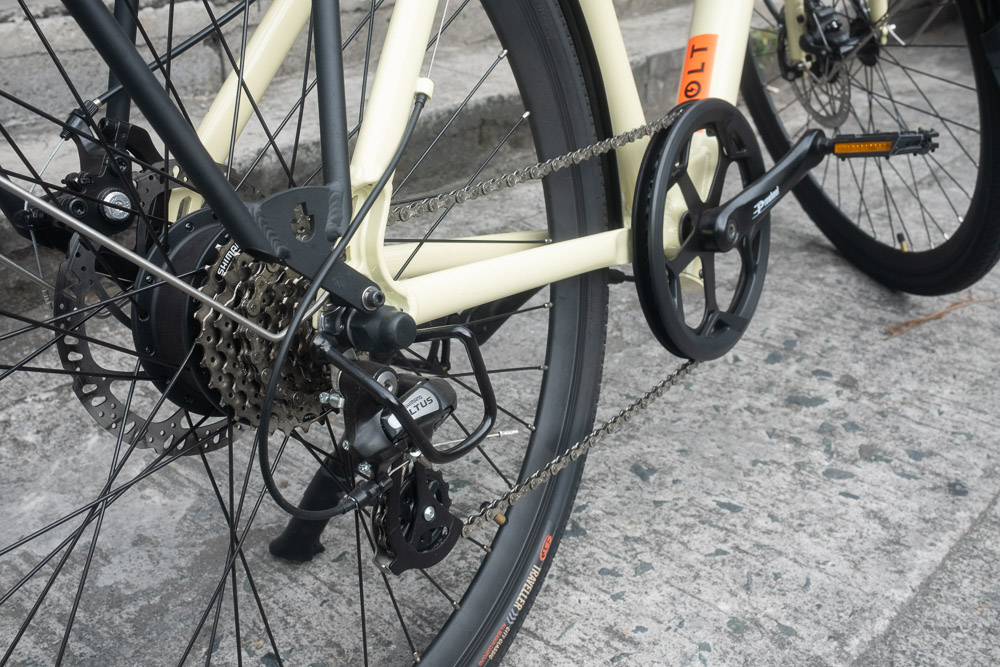 The first thing that pops out is the e-bike's aesthetics. With the cylindrical tubing and the clean design, you'd be forgiven if you mistook this for a classic steel bicycle. Look around the aluminum frame and you'll be hard-pressed to find the 36V, 10Ah battery. That's because it's hidden inside the down-tube.
Explore the rest of the bike and you'll find unusually specced components. Instead of a Shimano Tourney, there's an eight-speed Shimano Altus. The tires are thick at 700c x 38mm, and that's already with fenders. Take those out and you'll get more clearance for chunkier rubber. Tektro mechanical disc brakes aren't uncommon, but the large 180mm rotors are. However, you'll need the extra stopping power once you experience how fast the Volt can go.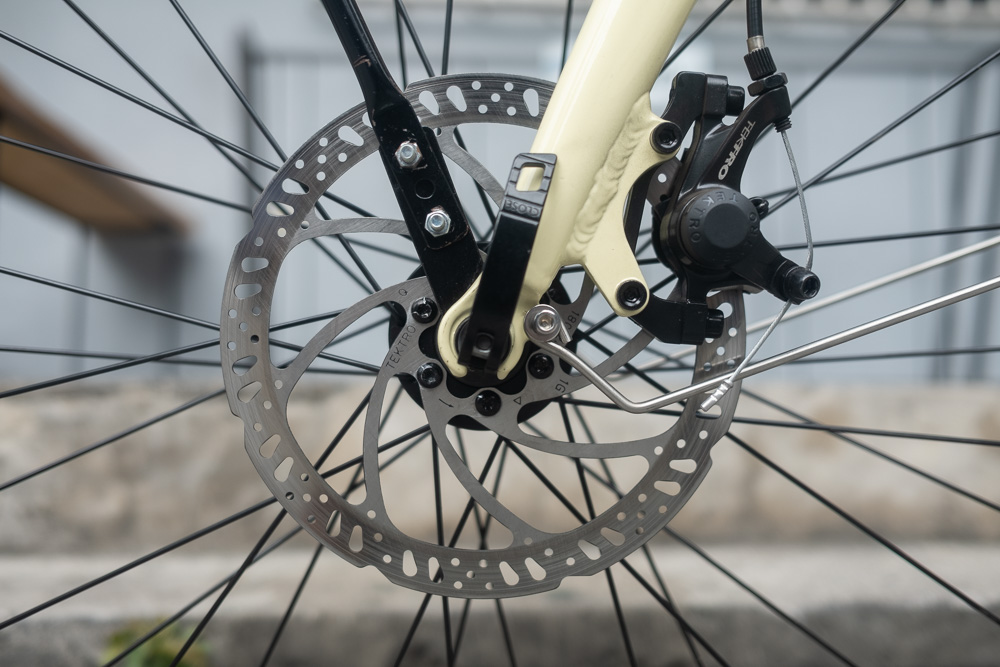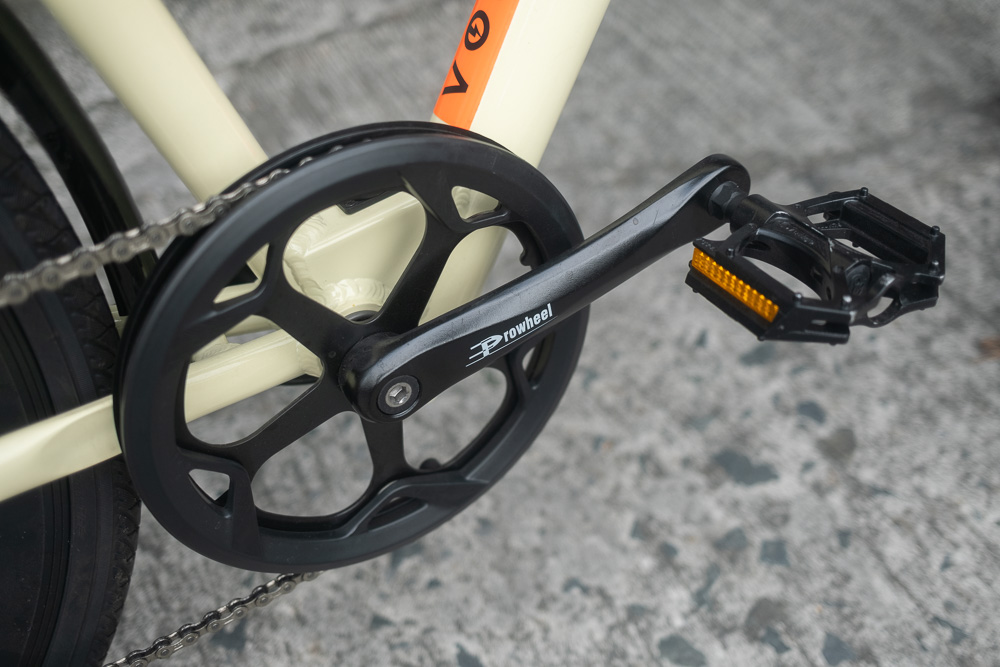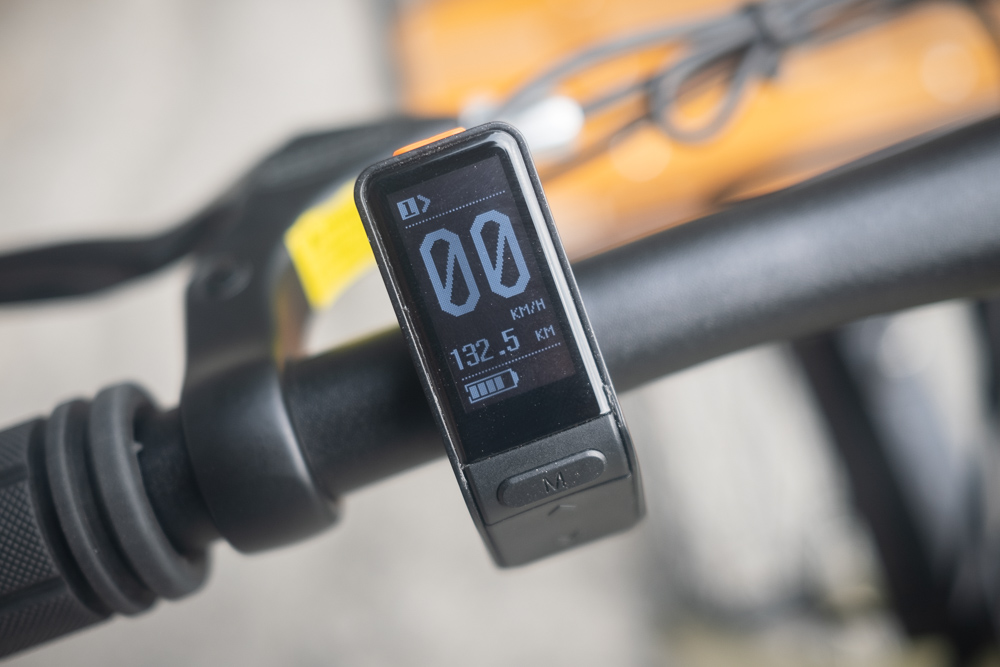 It's not as apparent with the large wheels and rotors, but there is a 350W rear-hub motor that propels the e-bike. The pedal-assist system consists of five levels, each with its own use. Levels 1 and 2 provide a gentle push similar to a tailwind.
Things get more serious with Level 3 as you begin to feel the pedal assistance when climbing. This was also my default setting on flats as it topped out at 18km/h—my leisurely pace. Beyond this, you're essentially a passenger as the motor does most of the work.
At maximum pedal assist, the e-bike can reach a speed of up to 35km/h. You wouldn't want to be running that fast because the ride can get harsh. But it's best suited for vehicular cycling—when you need to keep up with fast-moving traffic on roads like EDSA. At that speed, you shouldn't be in the bike lane, so be extra careful.
In spite of the cadence sensor, the electric power doesn't kick in abruptly as it has a gradual acceleration curve. So even if you could reach 35km/h, it would take a while to get there. The problem is that the pedal assist is laggy. Couple that with a heavy 52T chainring at the front, and taking off—especially at intersections—is sluggish. This can be mitigated by downshifting to lighter gears before stopping. But I usually find myself on the opposite end because of the Volt's speed.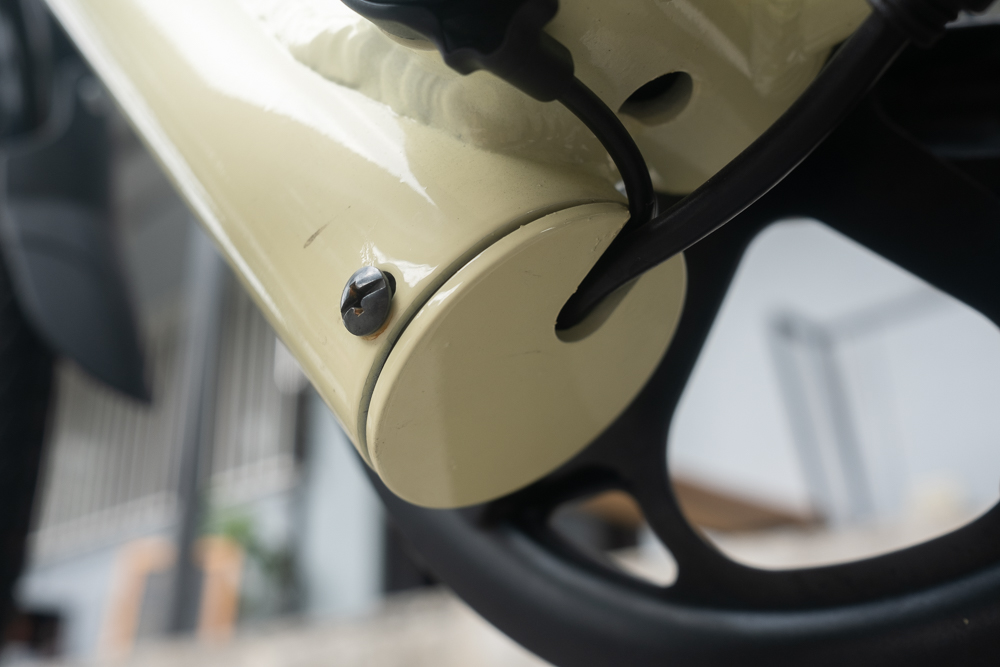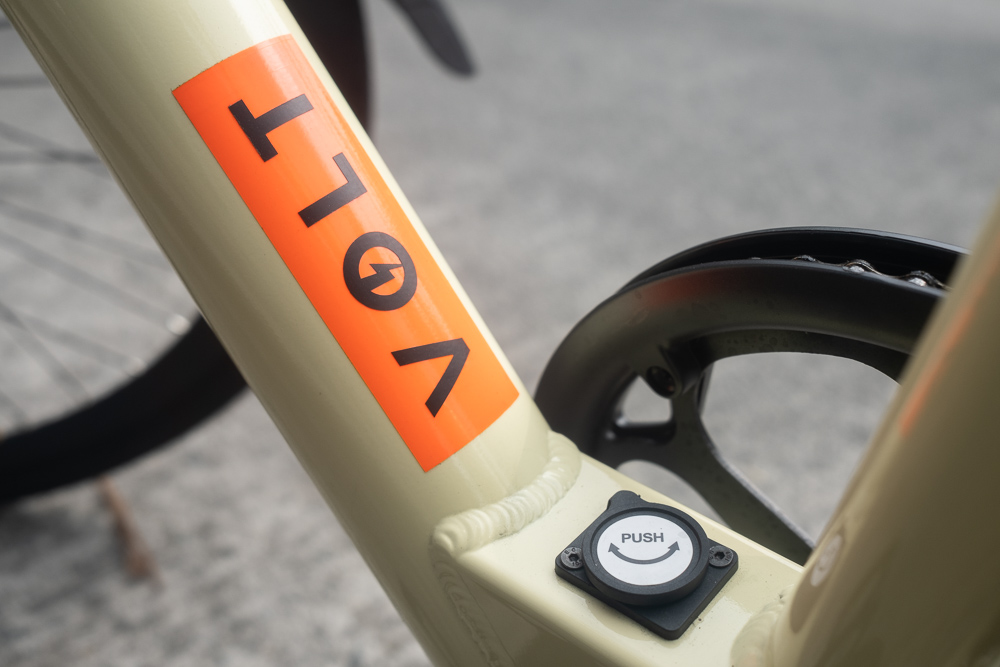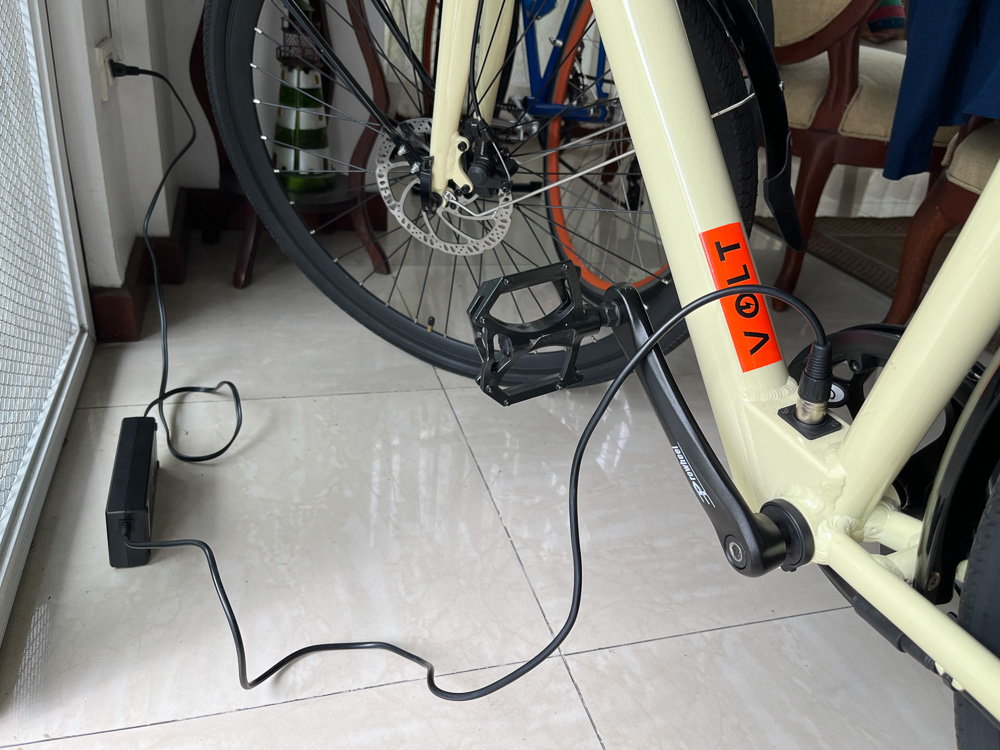 The point of an e-bike is to make cycling more convenient and accessible. That's why when evaluating one, we need to look beyond the electronics and see how easy it is to live with the overall package.
At 18kg, the Volt Flat Bar is heavy for a bicycle, but light for an e-bike. Whether that is acceptable depends on you. Whenever I go outside of my house, I have to go down a few steps so weight is a big factor when deciding which bicycle to bring from my stable. More importantly, the inherent weight means you wouldn't want to be pedaling this without the motor.
Thankfully, the e-bike comes stock with a kickstand, fenders, a front light, and a rear rack. These make it better equipped for commuting straight out of the box. But for this test unit, it didn't have the integrated light as there was a front rack attached.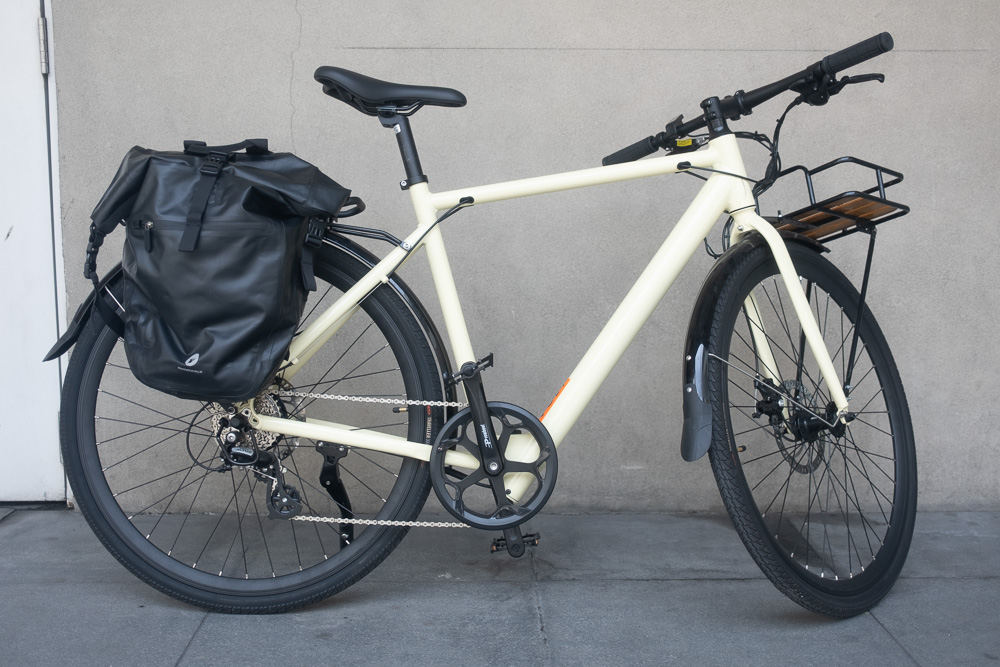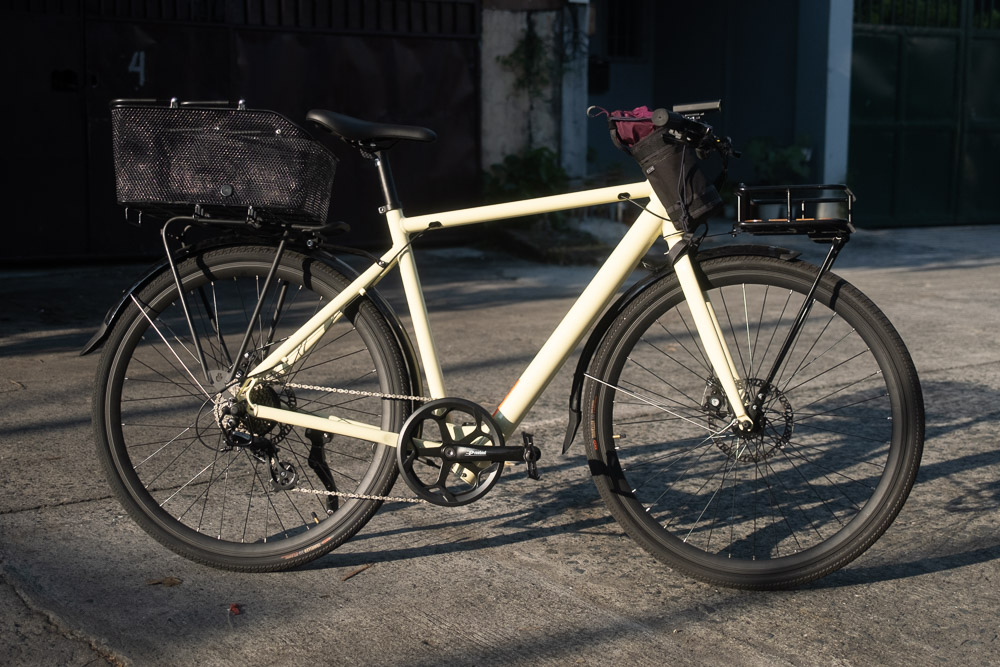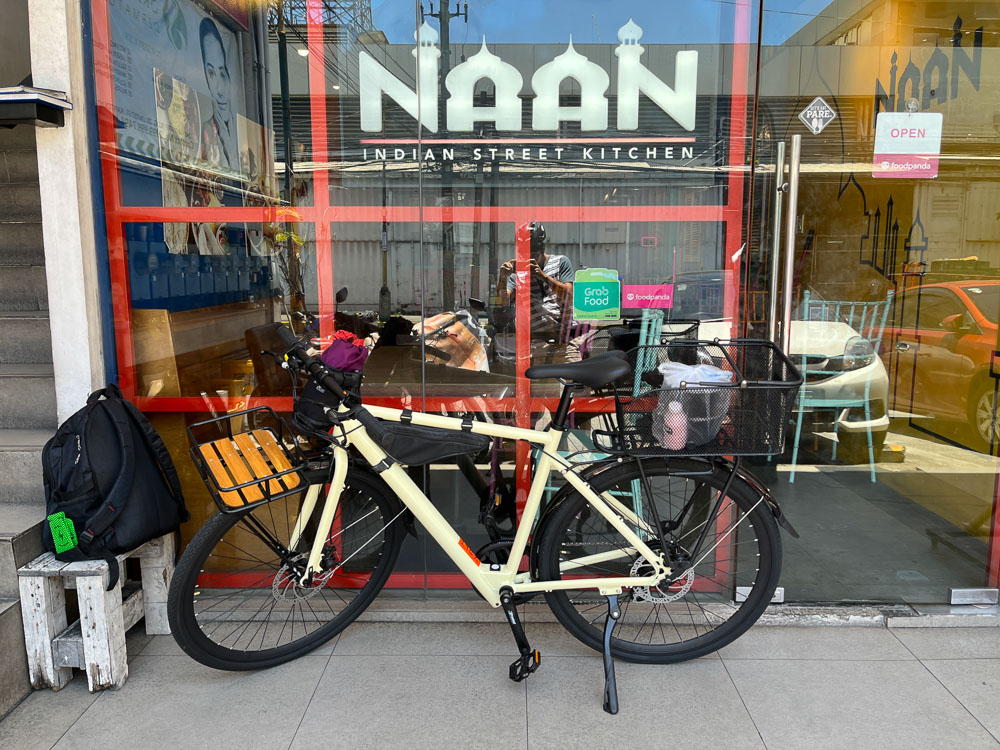 Going back to the integrated battery, it happens to be a double-edged sword. It keeps the silhouette clean, but also makes charging difficult. If ever the cable can't reach the bike, you'll need an extension cord as the battery should only be removed for service or maintenance. Charging time is rated at four hours, so don't expect to be fast-charging it like with a smartphone.
One thing you'll have to be aware of, though, is the range. Volt claims a maximum distance of up to 70km, but real-world results will significantly differ. I went on a 35km ride between Kapitolyo (Pasig) and UP Diliman (Quezon City). Loaded at the rear rack were panniers filled with spare clothes and bike locks. And I went home with a brand-new helmet.
As much as possible, I stayed at Level 3 when traffic was minimal or slow-moving. But once I reached EDSA, I was sprinting at around 30km/h on the straightaways, overtaking parked cars on the bike lane as well as jeepneys and taxis stopping to load/unload passengers. By the end of the trip, the battery was almost dead.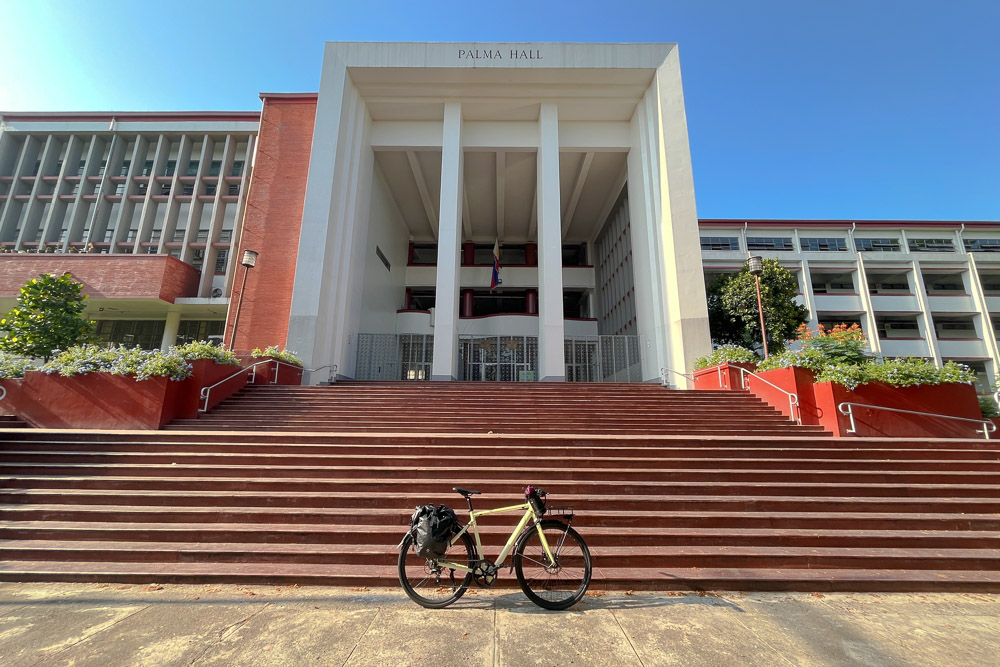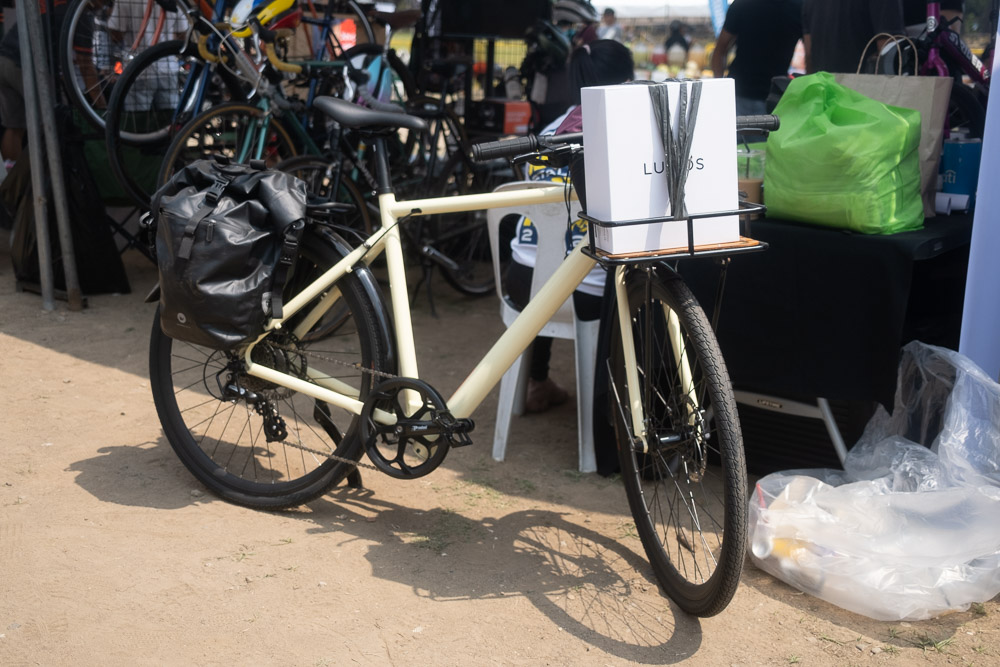 The Volt Flat Bar is pretty decent, but what's even more surprising is its price of P65,000. To put things in perspective, a mid-level electric folding bike ranges from P40,000 to P50,000. The BESV JF1, another electric hybrid bike that is much more premium, costs P135,000. Meanwhile, an affordable gravel bike like the Traction Atlas is priced at P37,550.
What does this mean? The Volt is expensive, but if you have the budget and the willingness to spend more on a bicycle—especially an electric one—it has the value for money, provided you actually need the pedal assist.
However, the Flat Bar is currently limited to one size. At 53cm, it's just right for me, who is 5'7". But other riders might not find it comfortable, depending on their body proportions.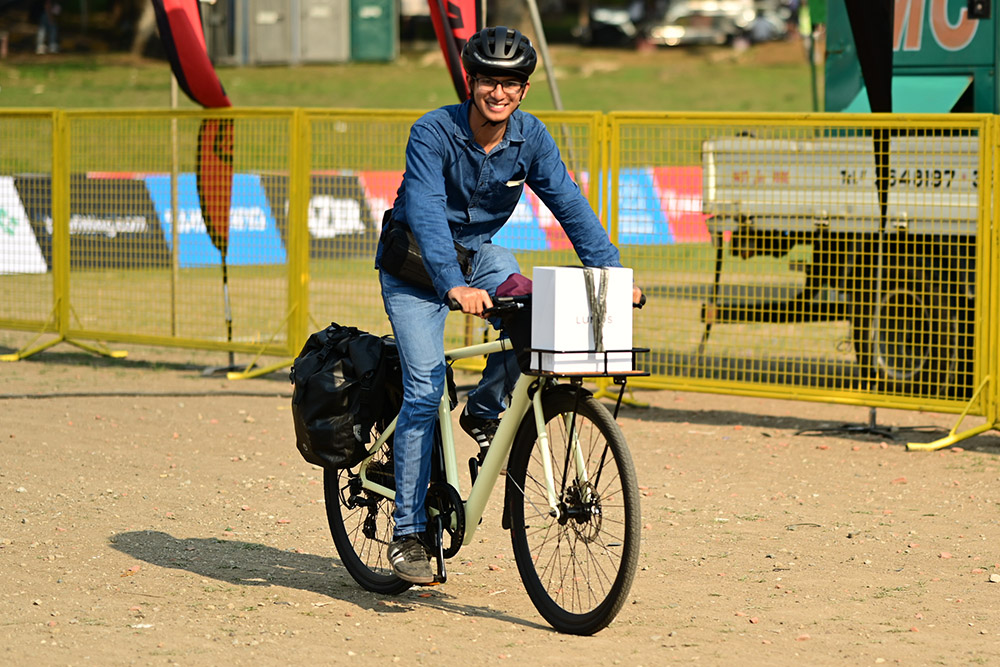 The Flat Bar is a good start, but I think there are a couple of improvements that could be made. If possible, I'd swap the 52T chainring to a smaller one for lighter gearing. There's no need for something like a Brooks, but the stock saddle is too large, stiff and abrasive for me.
I'd appreciate it if there were mounting points on the frame and the fork for accessories such as bottle cages or a light holder. If you're willing to spend for customization, the CST tires could be upgraded to gravel tires better suited for Metro Manila's roads. Finally, perhaps leather shoulder padding could be attached to the frame so carrying the bike would be more bearable.
The Volt Flat Bar is far from perfect. But it sure is an electrifying e-bike with its classic looks, decent specs, and competitive price. If you'd like to contact Volt Bikes PH for inquiries, you can reach it via Facebook or Instagram.