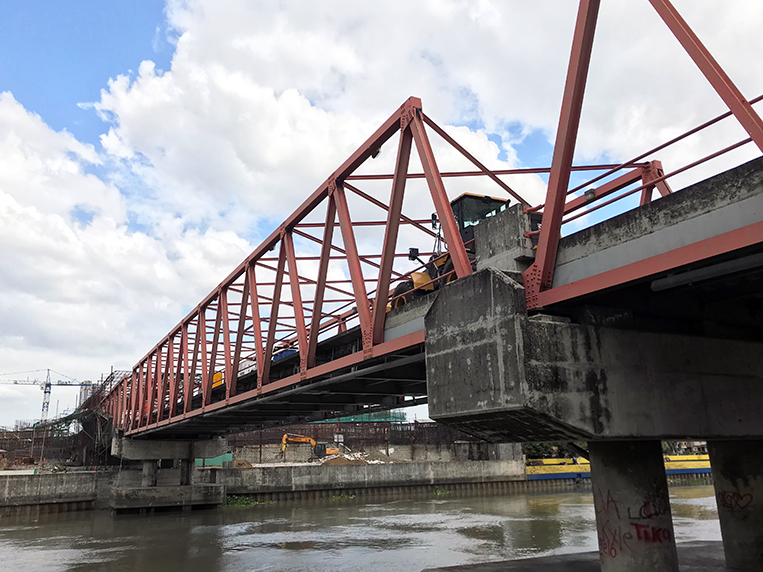 This time, they mean it. Following the failed attempt to close and demolish the Estrella-Pantaleon Bridge last September, the authorities now seem determined to push through with the project, come what may. Mere hours after the crucial river crossing was closed to the public, heavy machinery moved in and can now be seen chipping away at the structure. A digger is already busy ripping up the on-ramp on the Rockwell side, eliminating any hopes that the controversial project may still be stopped and the bridge reopened.
Despite many open questions still needing to be answered, work is pressing ahead—with employees of the Chinese firm in charge of the project visible all over the construction site. An area next to the bridge on the Rockwell side has been fenced off for vehicle storage and to allow for the wider new bridge to be erected, while a section below the structure has been dug up as part of the work. This area will be of particular concern for pedestrians passing under the bridge, as it appeared unsecured when we visited the site. If left as is, it poses a real hazard for anyone walking there.
There hasn't been any official word about some of the concerns raised about this project, such as the fact that China Communications Construction Company (CCCC), the firm carrying out the works, was previously blacklisted by the World Bank. All we know is that traffic in the area is about to get a whole lot worse and won't ease up again until the new bridge is completed in 30 months (or sometime in 2021).
Motorists have been advised to use either the Makati-Mandaluyong Bridge or EDSA and the Guadalupe Bridge as alternative routes across the river. Travel warnings have also already been issued, with commuters having to expect significantly longer journeys because of the work you see depicted here. Will this project really solve traffic issues in the area once finished? Only time will tell.