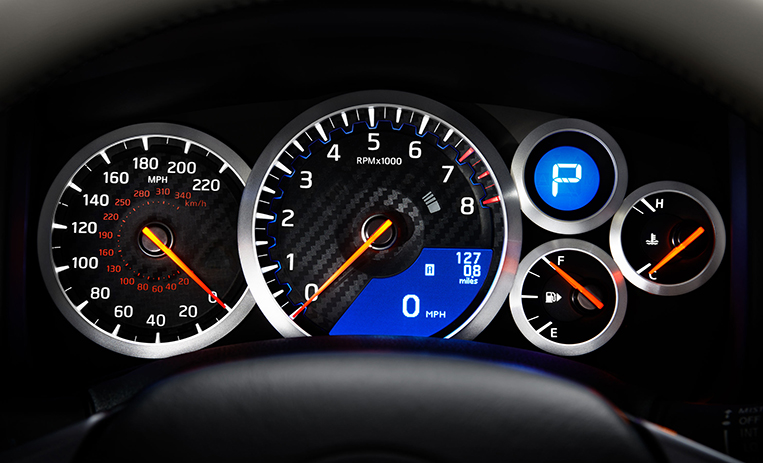 It seems land-transport issues are the favorite topics of concerned citizens these days. From child seats to face masks, recent conversations on social media have focused on motoring regulations. But perhaps nothing gets everyone's attention more than the new Motor Vehicle Inspection System, which now requires vehicles to be registered to undergo "a stringent 73-point inspection system to be conducted in three stages with the use of state-of-the-art equipment that sends, automatically and in real time, the results to the Land Transportation Office's IT system."
The goal, apparently, is to ascertain the roadworthiness of each and every car that will use the road. The Department of Transportation has just released a press statement containing this quote coming from Transport Secretary Arthur Tugade: "We want to prevent the unnecessary loss of lives and property along our roads, dahil ang road crash, hindi namimili ng panahon—may pandemya man o wala. Hindi ito namimili ng biktima—mayaman man o mahirap. We can all fall victim to this epidemic on wheels. Kaya ho dapat lamang na i-address na natin ito. Ito na ang panahon upang magkaroon tayo ng mas maayos at de kalidad na sistema. We have to recover and thrive amid the pandemic, and in the face of this epidemic called road crash."
Such a statement is expected from the agency after an avalanche of complaints against the costs and even the ineffectiveness of the system—especially when most motorists do not trust the competence of those tasked to carry out the inspection.
Which presumably prompted DOTr to discuss the logic behind the fees:
In the old LTO system, the roadworthiness test was done through visual and manual inspection since the equipment were already worn-out and obsolete. While the old motor vehicle inspection centers relied on manual visual inspection, vehicles to be registered now with the LTO will be tested using minimal human intervention since these are already automated.
In the first stage, the vehicle will be inspected via 66 points (inside, outside and on top of the vehicle are inspected). Tests using automated equipment are six points. The vehicle will also be tested for smoke emission using a state-of-the-art equipment. Prior to the operation of the new MVICs, vehicles to be registered with the LTO needed only to pass a smoke-emission test given by a Private Emission Testing Center.
In the second stage of the automated system, the vehicle will be tested for tire alignment, suspension, and brakes. The reaction of the speedometer will also be inspected.
In the third stage, the vehicle's sound level and headlights will be tested.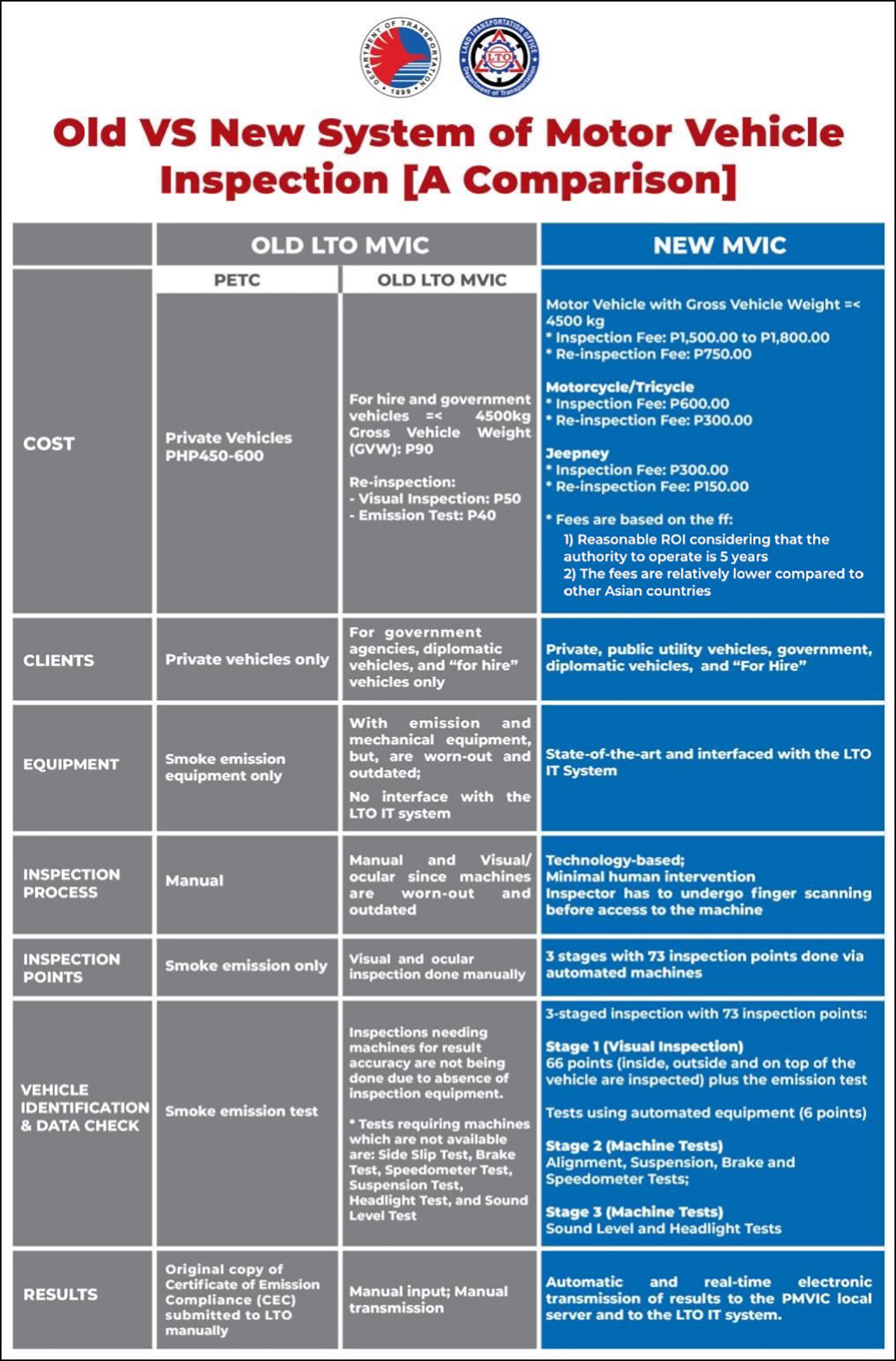 Hence, the controversial fees for the inspection. According to DOTr, a motor vehicle with a gross vehicle weight of 4,500kg has an inspection fee of P1,500 to P1,800. If it fails the initial inspection, a reinspection fee is set at P750. Motorcycles and tricycles have an inspection fee of P600 each, with the reinspection fee set at P300. Jeepneys, meanwhile, have an inspection fee of P300, with the reinspection fee set at P150.
Explaining the fees, DOTr says: "The inspection fees for the new MVIC are based on the reasonable return of investment considering that the authority to operate is five years, and the fees are relatively lower compared to other Asian countries."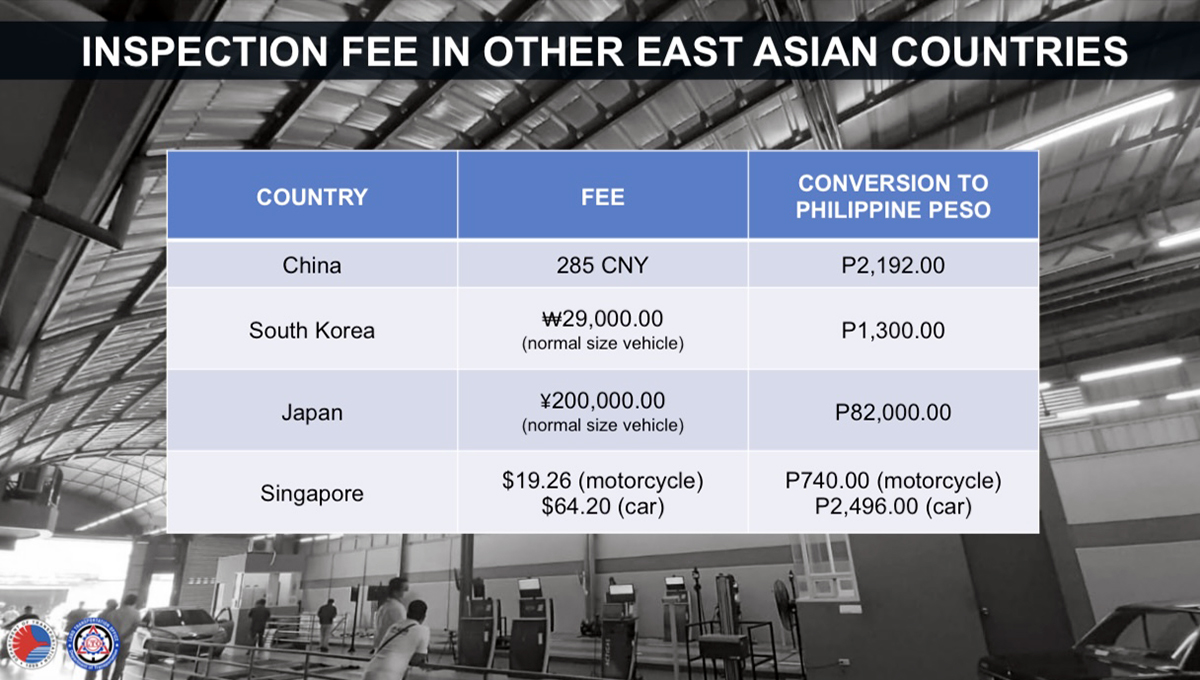 The press statement ends with this quote from Tugade: "Tandaan ninyo—ang pagmamay-ari ng sasakyan ay may kasamang responsibilidad. Kasama dyan ang pagsiguro na ligtas ang inyong minamaneho. At siguro ho ang mas magandang tanong ay, 'May katumbas bang presyo ang buhay mo at ng mga anak mo?'"
We'll give you the floor.