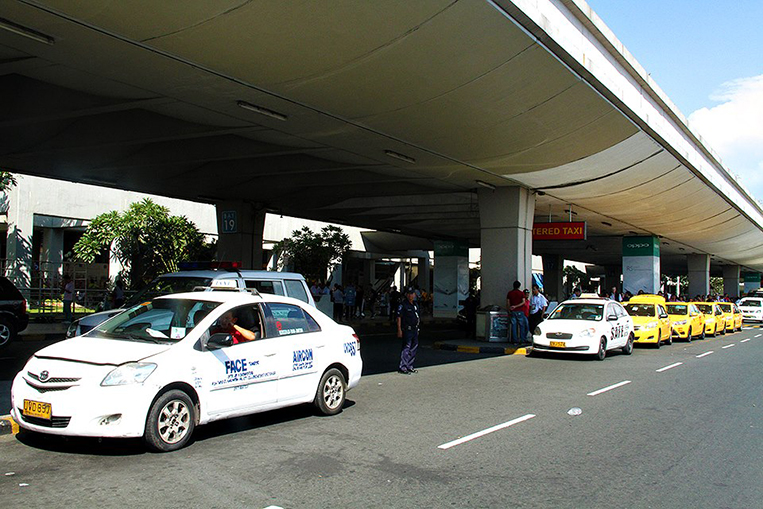 There was a time when reading about passengers being ripped off by unscrupulous airport taxicabs was an almost daily occurrence. Then Uber and Grab came along, and seemingly things got better as travelers were now able to bypass scammers and book a ride straight from their phones. It seems, however, as if the local rip-off merchants are not quite done yet with their little racket—at least if a recent Facebook post by the Manila International Airport Authority is anything to go by. In said post, the MIAA warns the public against fake "rate cards" apparently being used by some transport providers. These cards indicate vastly inflated prices that would leave a sizable hole in the wallet of whoever is unfortunate enough to get victimized by these criminals on wheels. The question we must ask now is this: Why is this still happening?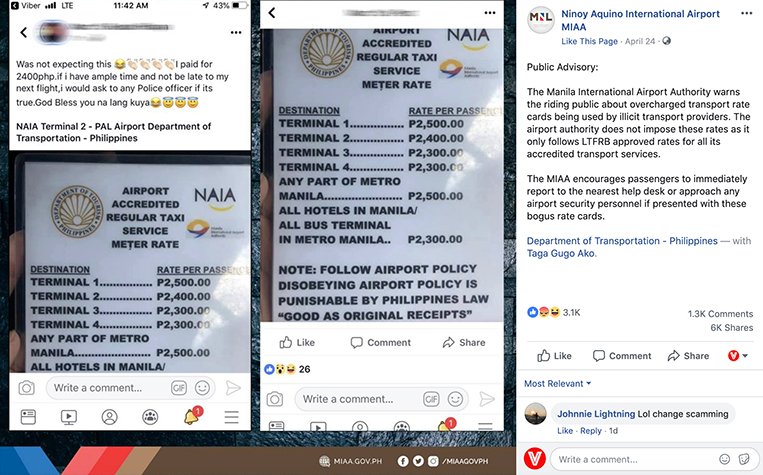 The fact that after so many years, countless news articles, TV pieces and online stories, passengers are still being duped by unprincipled cab drivers and other scammers at the terminals of the Ninoy Aquino International Airport is as disappointing as it is infuriating. This simply should not be happening anymore in 2019, period. Yet here we are, writing and reading about it again. That this is still going on only shows that either someone in charge of preventing this has not been doing his (or her) job properly, or that scammers have been changing their methods and there is a need on the side of the authorities to catch up with the latest modus operandi.
For starters, what I would expect the airport to finally do is to better inform the public about what a taxi ride into town should really cost. While MIAA does publish some information about this on its very antiquated-looking website, the data is hard to find and is even displayed in PDF format, which is totally inappropriate where the end user is concerned. How hard is it to add an interface that lets users enter their destination and give them a fare estimate? Please, MIAA, go get yourself a new web developer and bring your website into the 21st century. You're representing the airports of one of the world's biggest megacities, not a provincial airfield in Capiz.
The people who get conned by these criminals are mostly foreigners who have never been here, so giving them easy access to information should be a priority
The information doesn't even have to be communicated digitally. What would probably instantly help are big signs in the arrival area outlining how much a ride should cost. The people who get conned by these criminals are mostly foreigners who have never been here, so giving them easy access to this type of information should be a priority. And sometimes the low-key approach—with billboards and signs in the pick-up area—might be sufficient. That way, tired passengers who may not yet have Wi-Fi or mobile data on their phone still have a chance to catch their bearings and not get fleeced.
I suggest to simply create one big taxi stand at every terminal where passengers can catch a monitored (or logged) ride, and where signs clearly state how much said ride should cost. That should kill off the fraudsters and the taxi cartels behind them rather quickly.
That or we stay content ranting on social media.
EDITOR'S NOTE: Anjo Perez, who currently serves as the social media manager of MIAA, says that it's not really the fault of airport authorities that these shenanigans are still taking place. "A lot of the victims are the ones who think they can save fare by taking the white or regular cabs instead of the authorized transport providers," he explains. "And these white taxis are the ones that prey on the poor travelers. Problem is, the crime happens outside the airport complex. Hence, the airport authorities can no longer arrest the bastards. That's why they just rely on reports from the victims through the tracking forms that the airport security guards give the passengers when the latter board the white cabs. Then again, not all passengers board at the designated boarding areas. A lot of them wait for an empty cab and flag it down before the boarding area, thinking that they can get it for cheap. They even get mad when the guards tell them to board at the designated spots."
UPDATE: The first version of this article mistakenly stated that the airport taxicabs needed to be deregulated once and for all. Airport taxis, in fact, have already been deregulated for a few years now. Our apologies for this error.