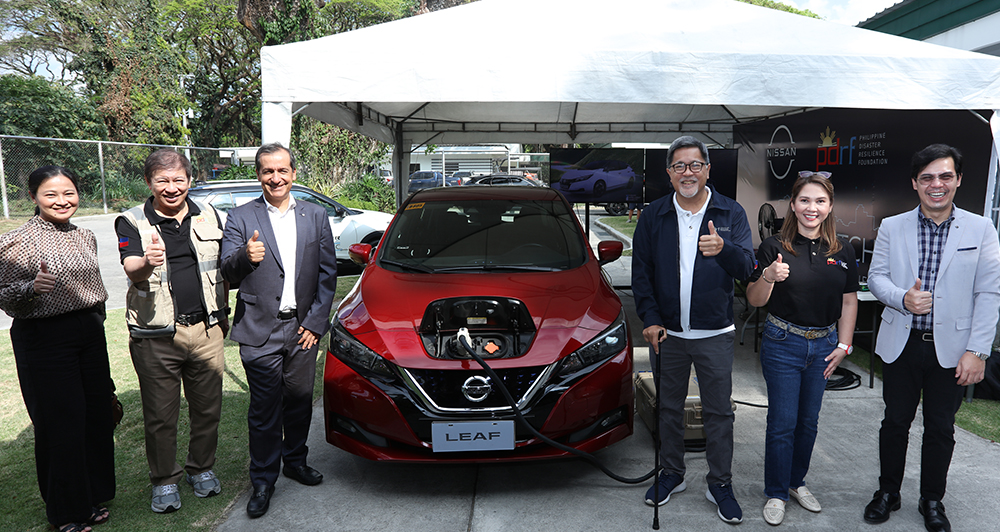 Nissan has been harping on the bidirectional charging capabilities of its Leaf electric vehicle for some time now. This, for the automaker, would show that the EV is more than just an environment-friendly tool for commuting—that it is also a reliable power source during emergencies. We and various members of the motoring media have been witnesses to this amazing feat.
And while most carmakers are just launching new electric vehicles, Nissan Philippines is taking its EV game one notch higher. The Japanese car brand has just partnered with the Philippine Disaster Resilience Foundation to use its Leaf EV for a higher, more noble cause.
The PDRF is one of the major coordinators for disaster management in the country. It is comprised of various private businesses that have joined hands to lead the way in responding to disasters hitting our country. Under the partnership, Nissan Philippines will lend the PDRF Leaf units to be used as emergency response vehicles. Furthermore, through the car's V2X (Vehicle-to-Everything) bidirectional charging capability, the vehicle will also provide power to isolated communities.
For Nissan, this altruistic venture can also help it showcase the unique power solutions the Leaf offers while extending help to disaster-struck areas. As for the PDRF, the support would enable them to better assist affected communities. It may be hard to reverse the ill effects of carbon emissions, but it is comforting to know that a vehicle like the Leaf doesn't only help lessen the environmental impact of our daily commute, but also provide better, more sustainable disaster response.