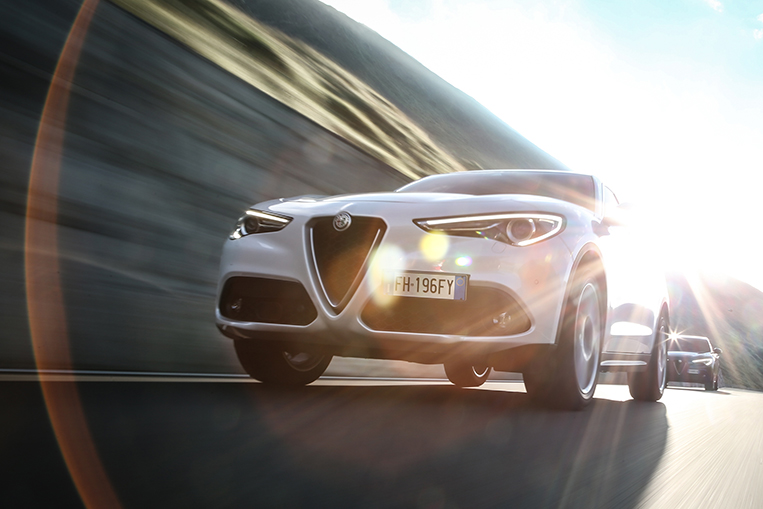 So, remember our story the other day about a Pampanga-based businessman wanting (and working hard) to bring Abarth and Alfa Romeo to the Philippine market? Well, it just took an interesting turn.
Yesterday, I received a call from Fiat Chrysler Automobiles Asia-Pacific managing director Mike Tsesmelis. He happened to be in Manila and he was patched through to me by a local dealer that imports and sells FCA-owned American brands (Chrysler, Dodge and Jeep).
FCA APAC, I believe, is based in Shanghai, China, and is in charge of the automotive company's portfolio in the region, including the Philippines.
Tsesmelis told me he had read the article and he seemed pleased that I had indicated a "healthy dose of skepticism" toward the subject, Allen Ong, the Filipino entrepreneur aiming to open an Abarth/Alfa Romeo showroom in the Ortigas area within the year. While Tsesmelis acknowledged that it is true FCA isn't considering officially bringing Alfa Romeo to our market right now as mentioned in the article, he took issue with one particular part—the part where Ong said he'd be supported by Abarth and Alfa Romeo with parts supply and warranty.
"No, we don't have a formal agreement with him regarding this," Tsesmelis said.
For good measure, FCA APAC sent me a very short statement this morning:
Fiat Chrysler Automobiles has not established a formal distribution partner for the Alfa Romeo, Fiat and Abarth brands in the Philippines.
So I got back to Ong and relayed to him FCA APAC's firm disavowal.
"We are connected to Europe, and they are kind enough to help me push through with it," he replied.
Any name I can mention to Mr. Tsesmelis so he knows?
"Nope, sorry. As long as I support the cars here with original parts and service, it's all good."
But is it really FCA or Alfa Romeo that is giving you this support, which is what you said?
"Not Shanghai. Is Mike from FCA Shanghai? Ask him if it's okay for me to meet with him. We can talk over coffee. If I can talk to him personally, that would be great. I gave a market study to his counterpart in Europe back in 2016, I think. They wanted me to study the market and see if I was interested. If I had no connections in Europe, we wouldn't get unit number one of the Abarth 695 Tributo Ferrari, which I sold for just P4.3 million. A gray-market importer had once sold the same car for P4.8 million. I think it's better for the Philippines, 'di ba? As long as we sell original Abarth and original Alfa Romeo parts and we pay the right amount of taxes, we are doing legal business."
The bone of contention is that you stated that FCA would be supporting you with parts supply and warranty, and they're denying it now.
"Shanghai is the one that should handle us, but they're too slow to react. So I guess it's a blessing in disguise, because now all the good stuff from Italy will be supplied to us directly. And that's really awesome. We have a lot of freedom in getting the best models. We're not tied to Shanghai."
But wouldn't that mean really expensive prices?
"Our prices are not at all expensive. They're reasonable. Let's wait and see when the Alfa Romeo units arrive."
So that part where you said that you needed approval for your showroom design, who were you referring to exactly?
"Alfa Romeo."
Main office? Or just a dealer?
"I don't want to divulge that info."
It sounds like you're not dealing with an official channel—that you're merely talking to a dealer. If that's the case, let's be clear on this and not mislead our readers.
"I don't want to confirm or deny it. All I can say is that you can't get the Abarth 695 Tributo Ferrari unit number one if you don't have a really strong connection to Italy. The difference between me and a gray-market importer is that the gray market can't support cars with parts and warranty because it's difficult to get them. I wouldn't be pushing through with this if I knew I couldn't get parts and warranty, because I don't want to get embarrassed. And it would ruin the brand again, which is what they [Alfa Romeo] are afraid of."
Ong then reiterated that "there are parts and there is warranty. Everything is good."
The difference between me and a gray-market importer is that the gray market can't support cars with parts and warranty because it's difficult to get them
We ended our correspondence with him saying he wasn't sure whether it was okay for him to be sharing these things as he had signed "a nondisclosure agreement with FCA."
Mmm…I think I already know what's going on here:
1. An overzealous Filipino businessman approaches Alfa Romeo for distributorship rights in the Philippines.
2. Alfa Romeo somewhat likes the idea because a few more sold units surely won't hurt its business, so it accommodates Ong.
3. But then Alfa Romeo remembers that a previous Philippine dealer (Auto Prominence) in the '90s seriously damaged its brand by not providing proper after-sales support to customers.
4. Alfa Romeo decides to give Ong access to its products and parts bin—on the condition that the automaker will not be officially associated with Ong's company, Petromax Enterprise. This is so that in case Ong turns out to be a lousy dealer, Alfa Romeo and FCA can feign shock and claim non-involvement.
5. The deal is so clandestine even FCA's regional office in Asia isn't aware of it. And that's where all the confusion is coming from.
There, I think I've figured it out.
I really hope Allen Ong and his team do extremely well with their Abarth/Alfa Romeo venture. It would be a feel-good ending for a car-struck guy who just wants to sell nice automobiles.
"One thing is for sure," Ong promised me, "I will handle the brand as best as I can."