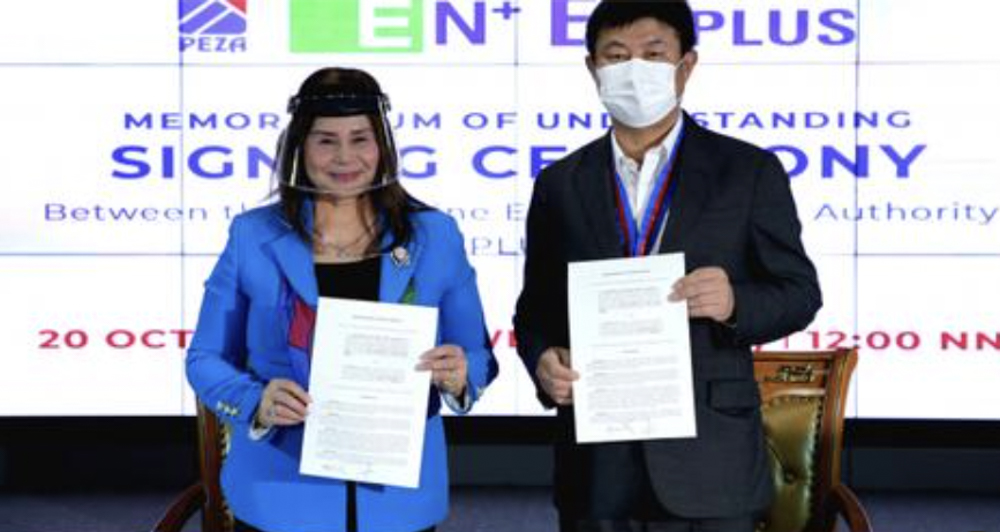 Established industry titans are getting caught with their pants down with the rise of new electric-vehicle makers. More charging stations are steadily being put up, and manufacturing facilities are being constructed or retooled for EVs.
Only a few automakers produce cars in the Philippines—Toyota, Mitsubishi and Foton. But what if we told you that a new player will enter the automotive manufacturing scene here, and it will eventually start making EVs?
Enter South Korean firm ENPlus Co. Ltd. It's investing a whopping P5 billion to set up a factory with a memorandum of understanding just signed last October 20 between CEO Young Yong Ahn and Philippine Economic Zone Authority (PEZA) director general Charito Plaza.
"ENPlus, a Korean company, is (now) our partner in investing in the countryside and believing in the Philippines as an investment haven in Asia. We appreciate ENPlus in their commitment and alliance with us toward making the Philippines a clean, sustainable, and environment-friendly country," says Plaza.
ENPlus makes fire trucks and other specialist firefighting equipment, and wants to expand its business to EVs. The factory, which will be located in a 30-hectare plot of land in Negros Occidental (provided by PEZA), will manufacture electric cars and jeepneys once completed. One of the biggest issues with EVs in the Philippines (aside from the lack of charging infrastructure) is the inherent cost of these vehicles, putting them out of reach for many consumers.
"We'd like to make a better world and provide more fire trucks and electric vehicles to the Philippines. With this, we would like to expand our business in your country to manufacture environment and energy-friendly vehicles starting with your jeepneys since they are the most popular mode of transportation in your country," says Young.
Aside from the economic benefits gained from creating new jobs and exporting the vehicles to other countries, this will also make EVs cheaper and more accessible to the average Filipino. This, in turn, will boost EV adoption rates and give the government and private companies a much-needed nudge to finalize the legislation needed to support these vehicles.
If anything, this may be the needed catalyst for the Philippines's shift toward EV adoption. We're optimistic. Are you?