While many beautifully designed supercars could already be called art when they leave the factory, there are some people who take things to the next level and turn vehicles into rolling (or sometimes static) displays of creativity that are bound to grab your attention. Here are nine of the most famous examples of cars being turned into art.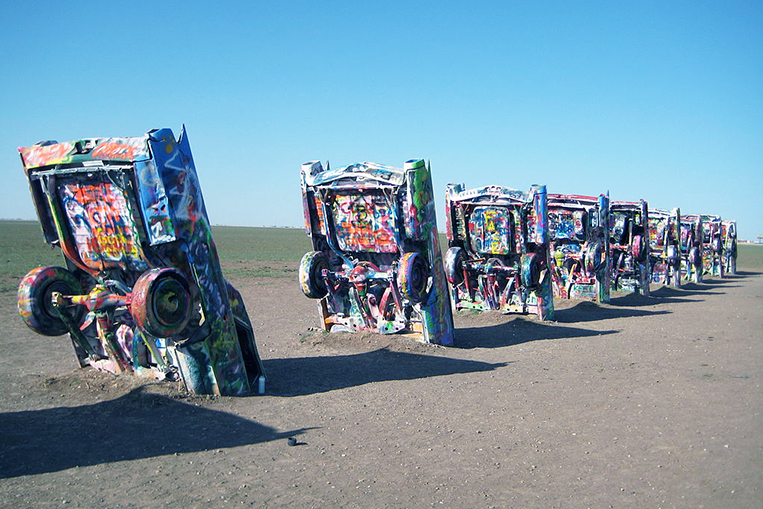 1. Cadillac Ranch. Arguably one of the most famous car-based art installations in the world, this masterpiece was created by Chip Lord, Hudson Marquez and Doug Michels in 1974. It consists of 10 different Cadillacs from the model years 1949 to 1963 that are half-buried in a field, with their noses beneath the dusty soil and only their distinctive tails sticking out into the air. The installation is located in Amarillo, Texas, and unlike with most other artworks, visitors are encouraged to use spray paint and other means to decorate the cars.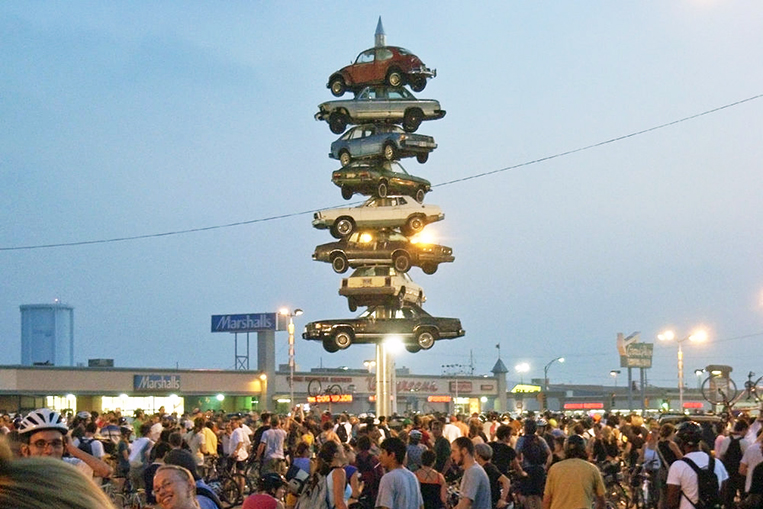 2. Spindle. An artwork that is sadly no longer standing, this sculpture consisted of eight cars impaled on a 15m-high spike. Created by the late American pop art sculptor Dustin Shuler, it stood in a car park in Berwyn, Illinois, from its installation in 1989 until its demolition in 2008. Famously featured in the 1992 comedy film Wayne's World, the automotive skewer included—from top to bottom—a Volkswagen Beetle, a BMW New Class, a Ford Escort, a Mercury Capri, a Ford Mustang, a Pontiac Grand Prix, a Ford LTD and a Mercury Grand Marquis. The top two cars were preserved during demolition and are currently in storage.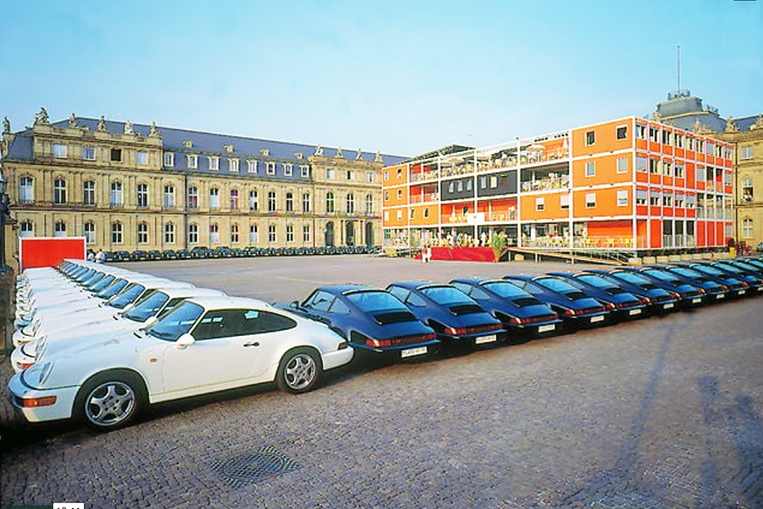 3. Champion Piece. Being an 'artistic advisor' to Porsche must count among the best jobs in the world, and the lucky man who held this title in the past was Austrian-born Wolfgang Flatz. Now living and working in Munich, Flatz is most famous for his performance art pieces, but it's the use of cars from Zuffenhausen that will be of most interest to petrolheads. In 1993, then-CEO of Porsche Wendelin Wiedeking commissioned Flatz to come up with an artwork for the Athletics World Championships in Stuttgart, the hometown of the company. The resulting large-scale installation was called Champion Piece and consisted of numerous stacked containers that created a facility for visitors to meet and walk around in, surrounded by 90 units of the Porsche 964 Carrera 2. The 60 black and 30 white cars represented black and white horses, and were specially built for the installation in the nearby Porsche factory, before being driven to the site in a convoy.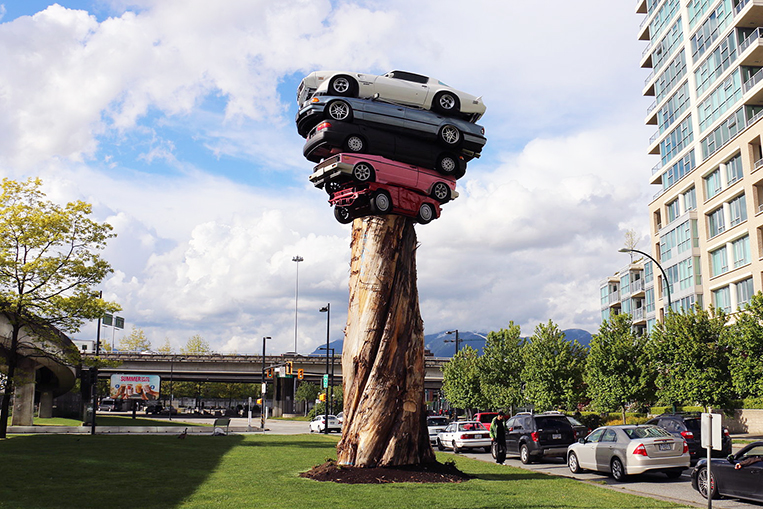 4. Trans Am Totem. A relatively new piece of automobile art, this was unveiled during the Vancouver Biennale in 2015 and is similar in its appearance to the Spindle. The creation by sculptor Marcus Bowcott is made up of a large tree trunk upon which five cars are stacked, including a Pontiac Trans Am, a BMW 7-Series, a Honda Civic and a Volkswagen Golf MkI Cabriolet. It looks like the vehicles are balanced precariously, but there is actually a steel column in the middle of it that holds the whole 10m-high art piece together.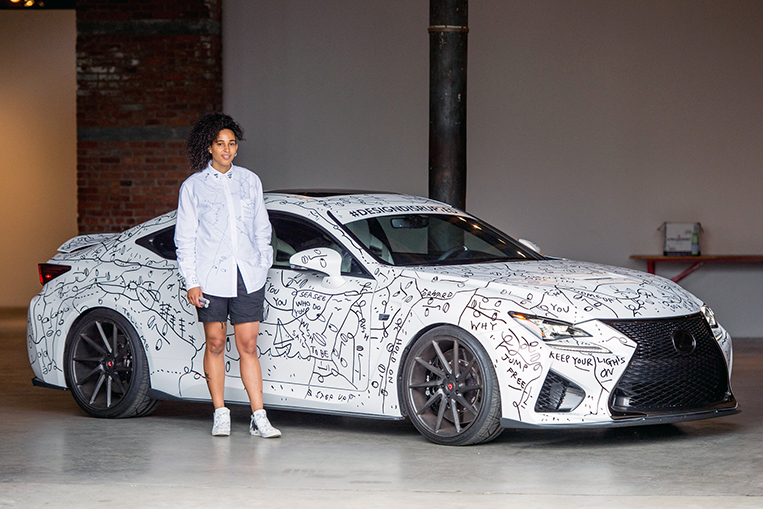 5. Shantell Martin Lexus RC F. In 2015, Lexus teamed up with the British-born visual artist to create a car as part of the brand's sponsorship of the New York Fashion Week. Martin is best known for her stream-of-consciousness drawings, which basically look like large-scale Sharpie scrawls. Instead of drawing on a wall as she usually does, she was given by Lexus a brand-new RC F to go wild on.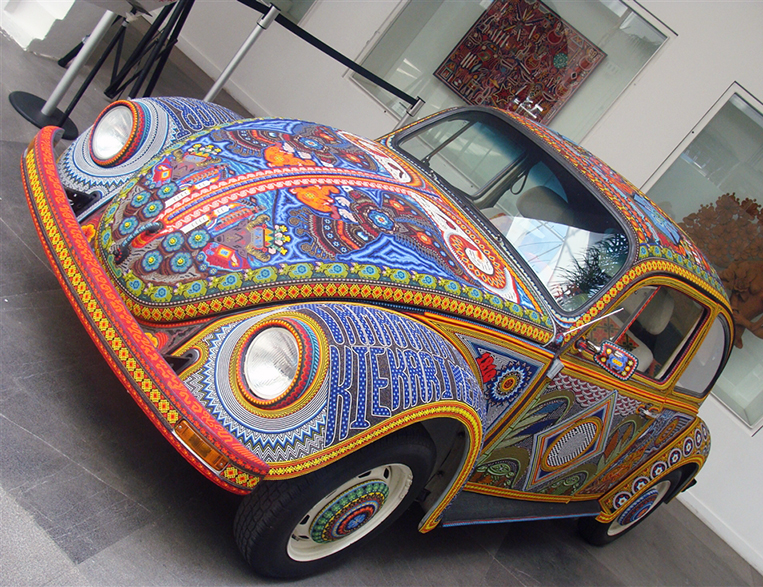 6. Vochol. Volkswagens were often used as art cars, either by hippies who wanted something different-looking and applied the paintbrush onto their own vehicles in the 1970s, or by professional artists. But the Vochol is one of the most beautiful and special Volkswagen art cars out there. Created in Mexico in 2010, the name is a combination of "Vocho," a local nickname for the Beetle, and "Huichol," the name of a group of Native Americans from the Sierra Madre mountain range. What makes this car so unique is its paint job, or should we say glue job. What looks like paint is actually a collection of 2,277,000 beads that were applied by hand, and it took eight Huichol artists 4,760 hours and 16kg of glue to finish the stunning exterior that shows motives surrounding local deities and culture.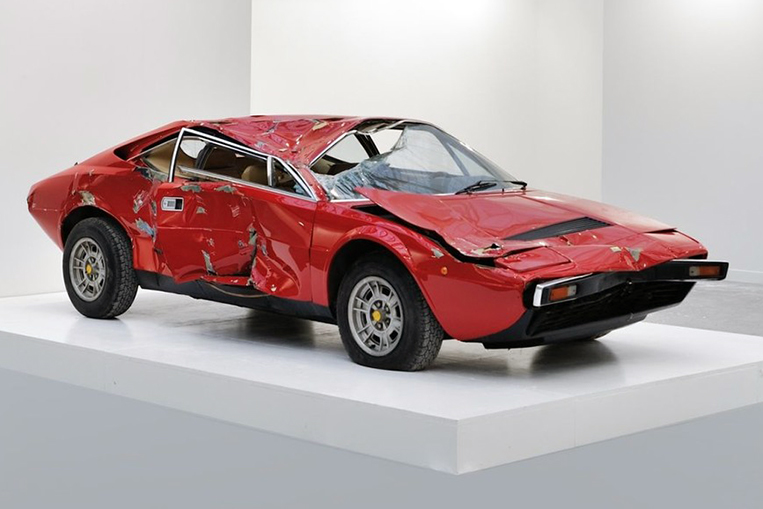 7. Bertrand Lavier Dino. Lavier is a French contemporary artist who works in a number of mediums. One of them is sculpting, or at least his idea thereof. The wrecked Ferrari GT4 "Dino" you see here wasn't a write-off when Lavier bought it. Instead, the artist took the undamaged car and smashed it up, creating a crumbled metal sculpture in the process. He reportedly bought the car for $48,600 and sold it for $250,000 after adding his, er, artistic touch. Go figure.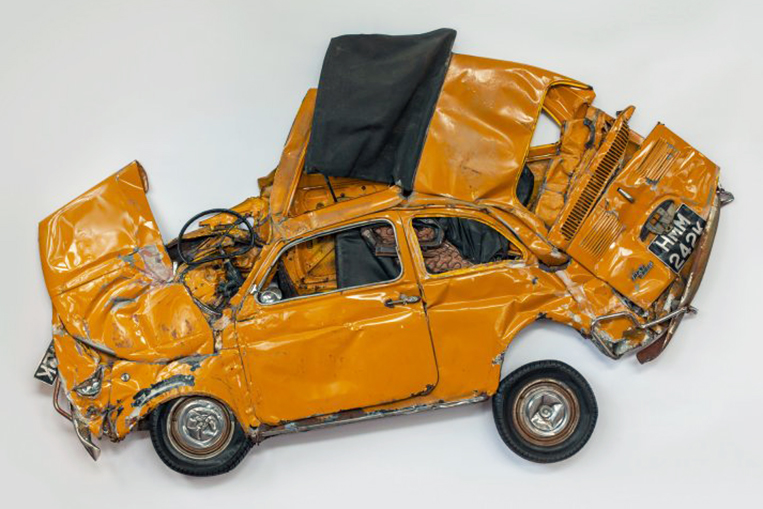 8. Pressed Flowers. Ron Arad is an Israeli architect and designer who one day decided to buy six original Fiat 500s and flatten them in the name of art. You might think he hates the little Italian runabouts, but according to him, the opposite is the case: He sees this as a way to preserve them forever. Much like flowers flattened between the pages of a book, hence the name of the artwork.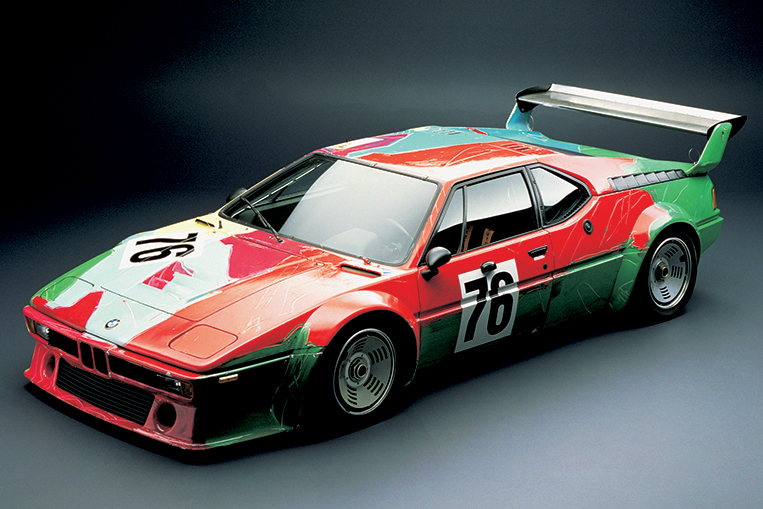 9. Andy Warhol BMW M1 Art Car. There are a number of BMW Art Cars, but we've picked what is probably the most valuable one of them all. The man famous for his iconic pop art works took only 24 minutes to paint the car by hand at a garage near Munich. The car might be in a museum today, but back then it was actually raced at Le Mans in 1979. Warhol even painted a few spare body panels in case the car got damaged.