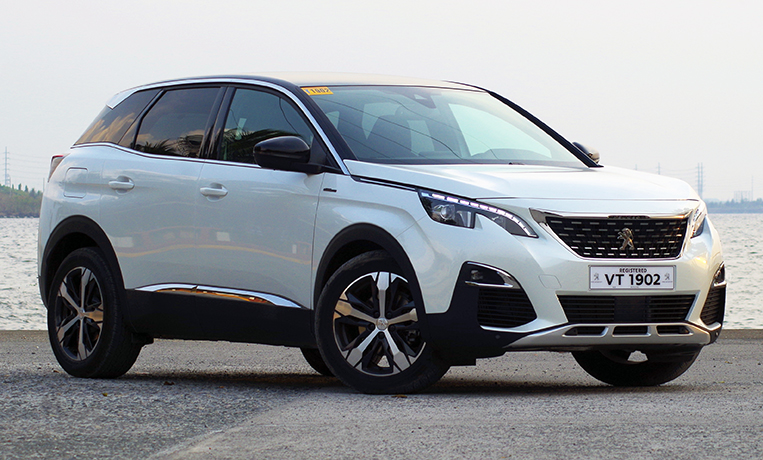 Having been born and raised in Germany, writing a review for a French car presents a bit of a challenge. You see, from an early age, car-loving citizens of Deutschland are told: "German cars good, French cars bad." As a child, it's your patriotic duty to throw the mother of all tantrums if your parents are trying to enter the showroom of a French manufacturer, as the pure thought of being dropped off at school in anything else than a family vehicle made in Germany is enough to send shivers down the brand-conscious spine of any self-respecting teenager.
Only a little later in life do you learn the real reasons behind this patriotic protectionism. French cars are simply different, more interesting and a little bolder in many respects. Where German carmakers like to play it safe and only slightly revise models from one generation to the next, French engineers and designers are often given more freedom, with space to try out new shapes, ideas and concepts. In a way, Germans envy them and are probably a little bit afraid that people find out just how good French cars can really be. Case in point: the Peugeot 3008.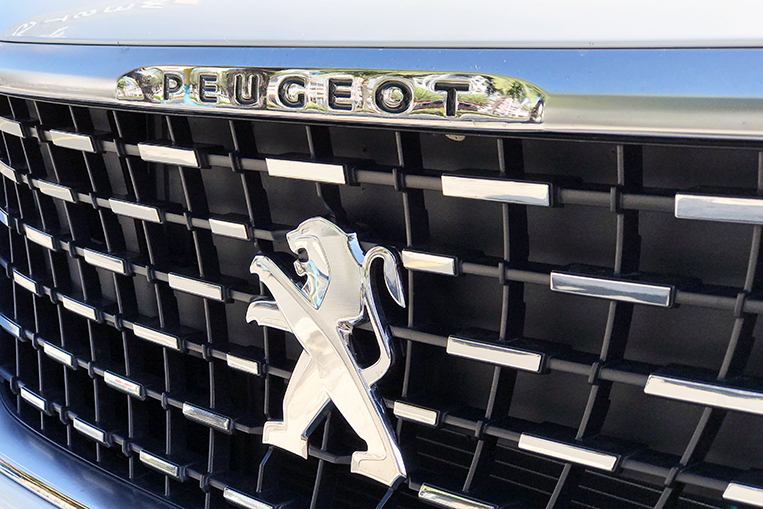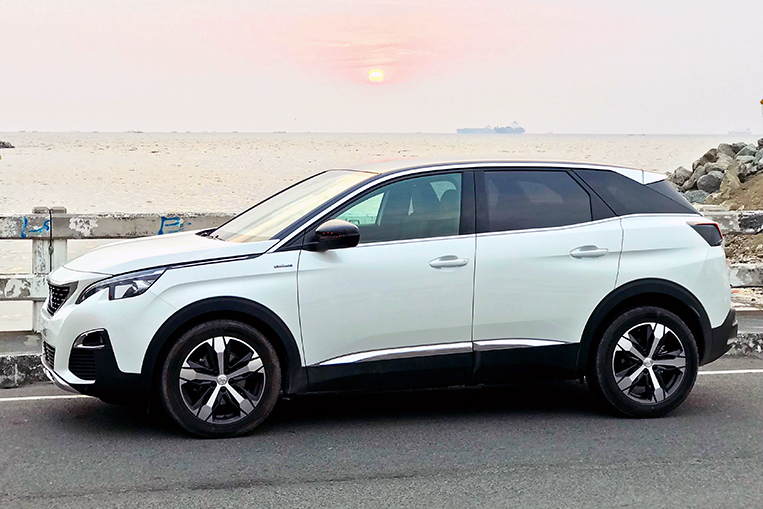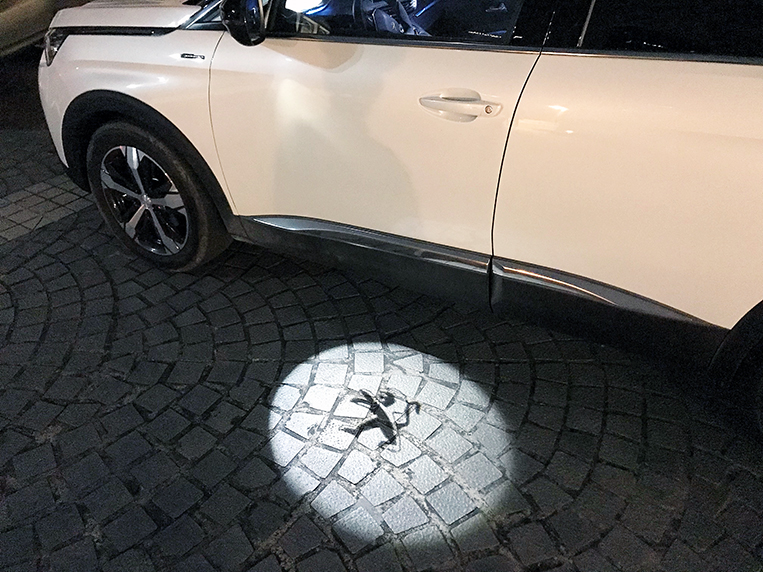 The first thing you'll notice when you hop behind the wheel is how small said wheel is. Peugeot's so-called i-Cockpit makes use of a configurable 12.3-inch digital instrument panel that sits above a sports-car-like tiller with a chopped top and bottom. This may sound a bit unusual but it takes next to no time to get used to, and actually presents a very neat solution that keeps the panel in your field of view at all times. The main buttons for most other functions—such as the air-conditioning and the entertainment system—are aligned along a sculpted panel in the middle, and trigger corresponding menu points on the driver-centric eight-inch capacitive touchscreen above it, with vehicle operation being easy and intuitive in general. Nothing confuses and everything is easy to find and operate, even if it doesn't look like that at first glance. The huge storage compartment in the center console that is connected to the air-conditioner is a welcome bonus.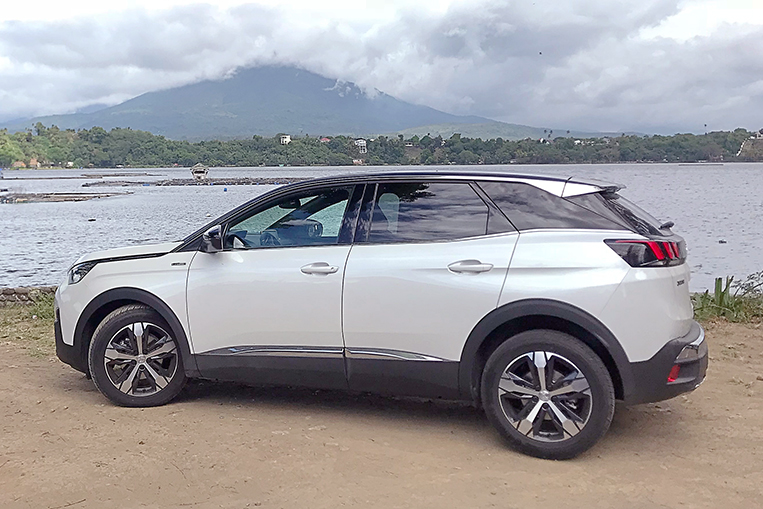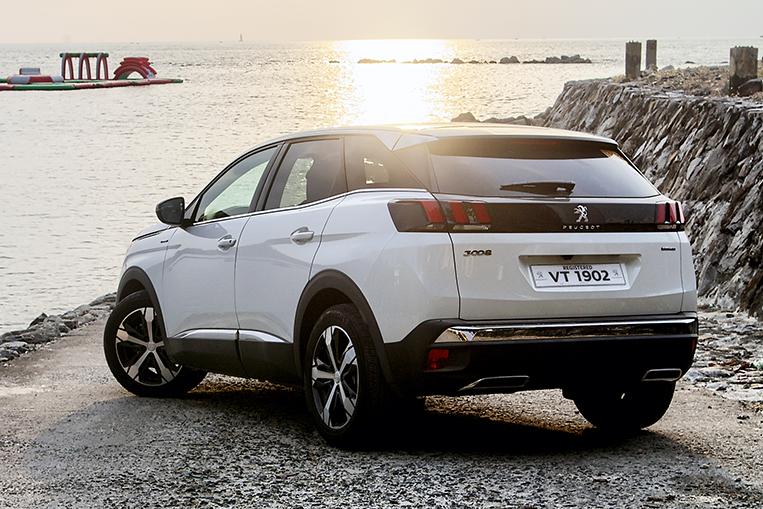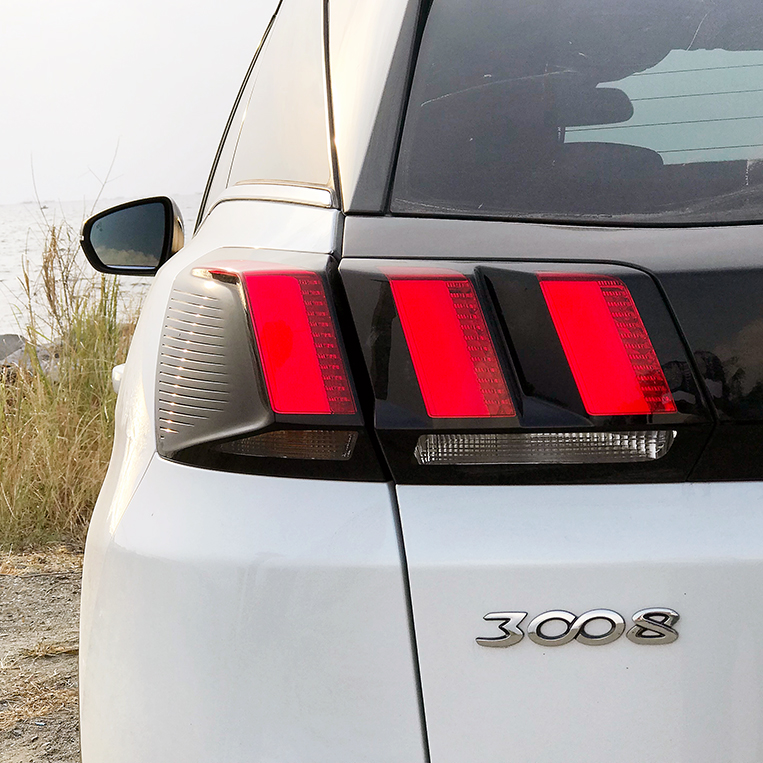 At 4.44m in length and 1.62m in height, this 2017 European Car of the Year is classified as a compact crossover, but you'll never feel pressed for space on the inside, with even my 185cm, 100kg frame sitting comfortably in the front and the back. Good visibility from the elevated driving position, aided by a multi-angle rearview camera, means maneuvering through tight streets or parking the little French runabout is a cinch. Boot space is plentiful as well, at 591L with the seats up and 1,670L when you pull a lever in the trunk that automatically folds the split rear seats down.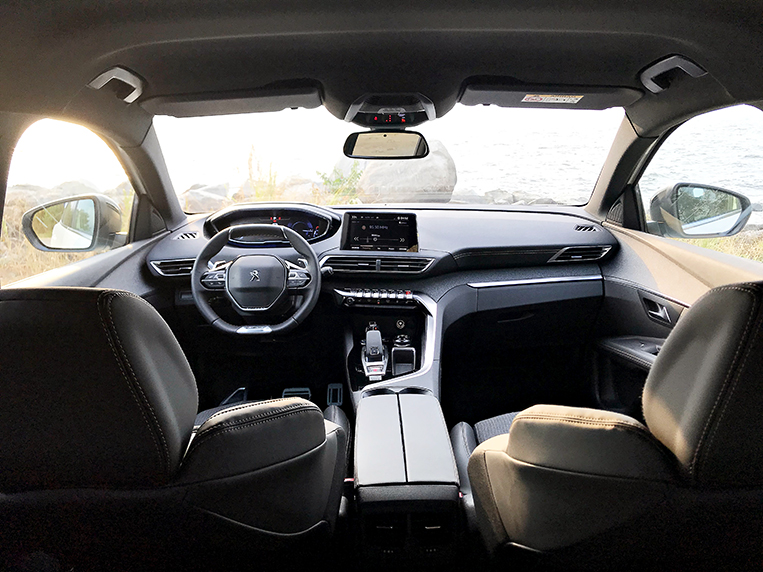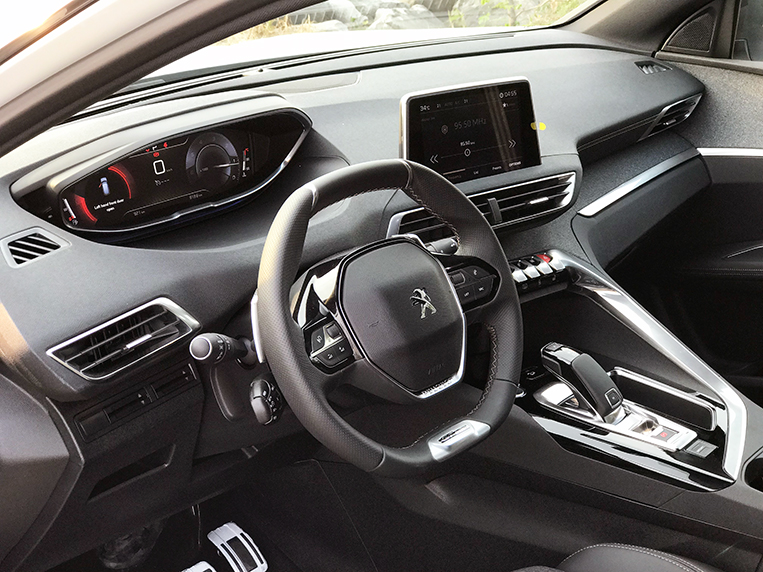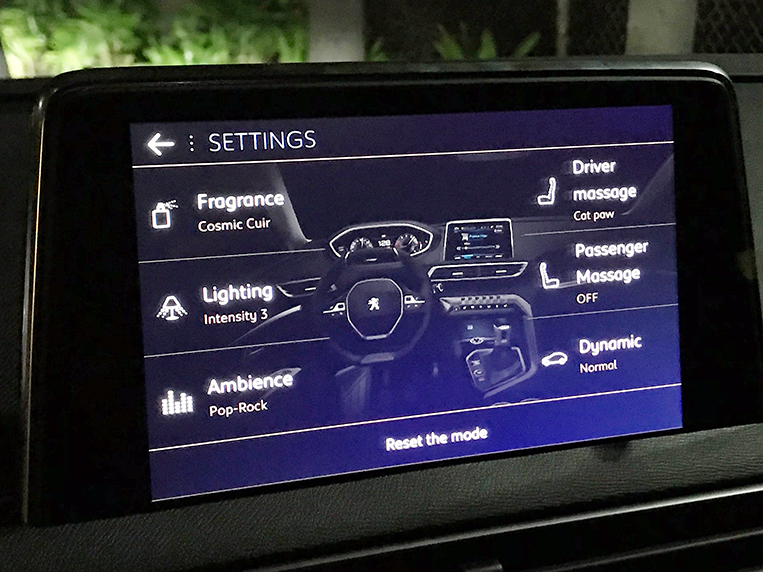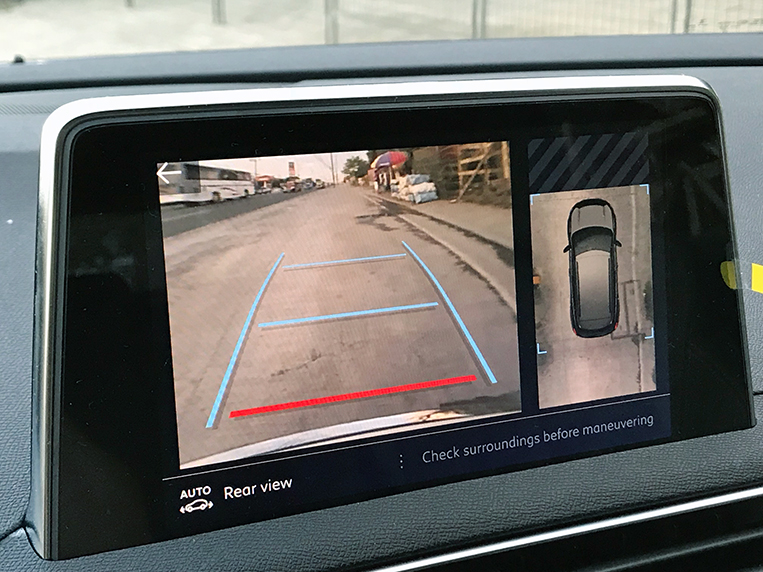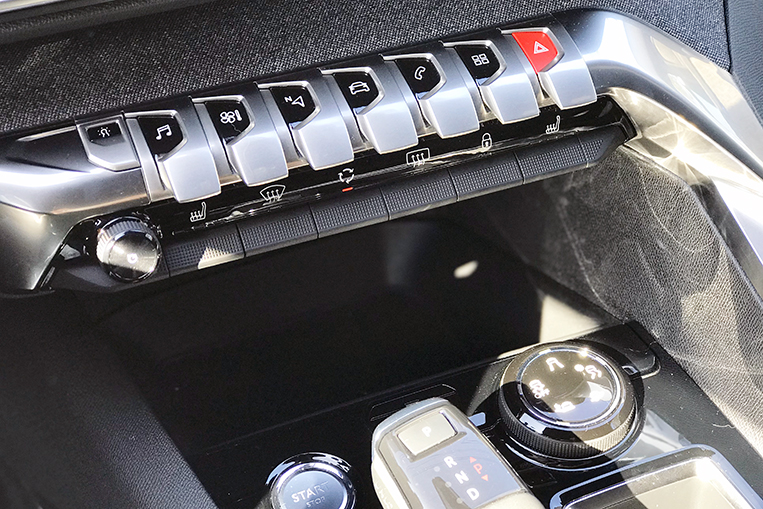 French cars generally have a reputation for being very comfortable so that the occupants' joie de vivre isn't disturbed by an uncomfortable ride, and the Peugeot delivers perfectly in this regard. Not only does it make easy work of bumpy roads, but it also goes a whole step further by letting you choose different moods for the interior. Called "Relax and Boost," this feature changes the lights on the instruments, lets you select one of three different scents to fill the cabin, and also activates the seat massager. These stress busters come with five different settings—including one called Cat Paw that feels exactly as it sounds—and add a whole new level of relaxation to your drive.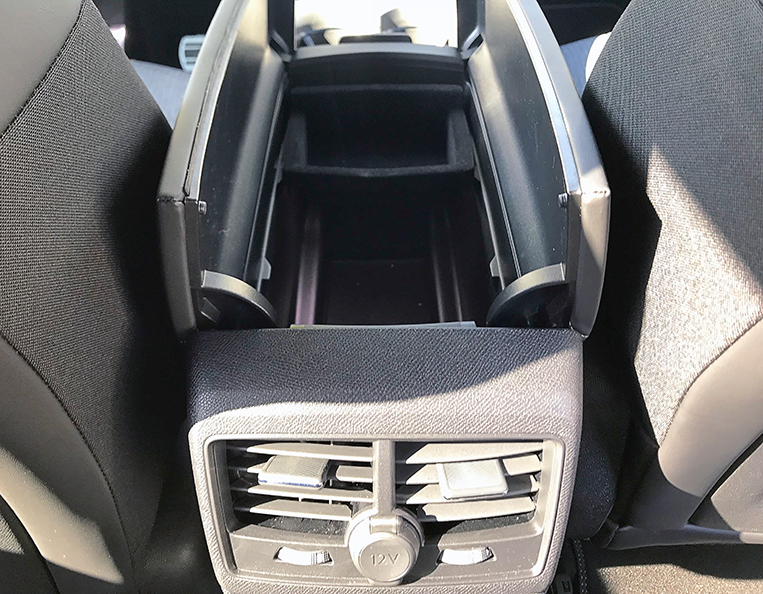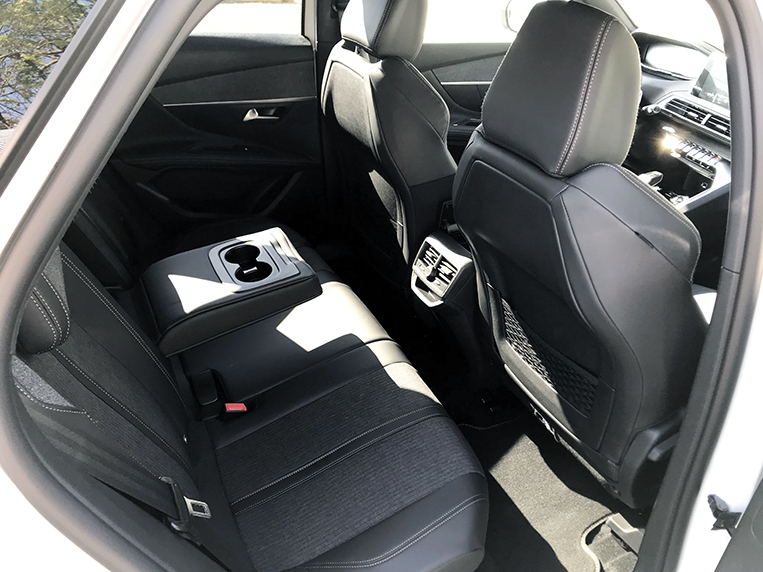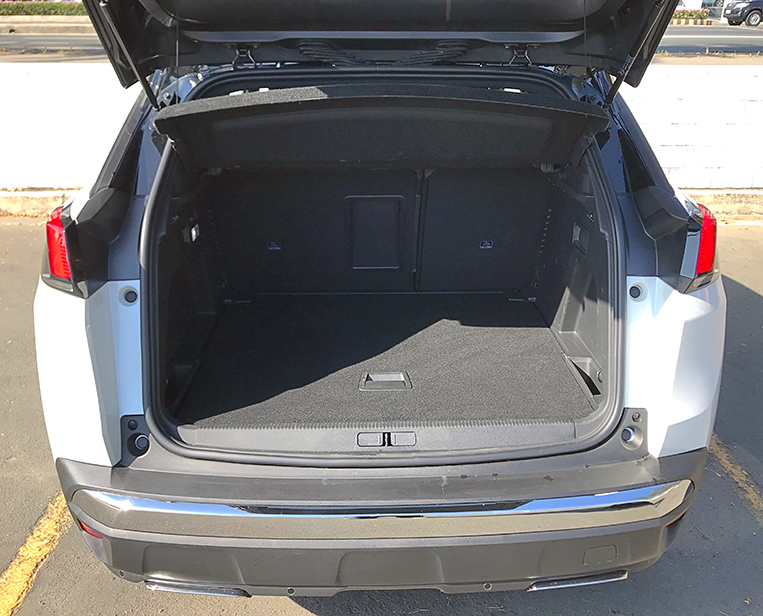 Of course, there will be times when you may wish to make haste. Pressing the Sport button on the six-speed automatic transmission instantly causes the usually tame 3008 to show its claws. The engine response is sharpened, the steering becomes sportily heavy, and the motor even sounds throatier thanks to some trickery involving engine sounds being channeled into the cabin via the speakers. The 2.0-liter Euro 4 turbodiesel engine in our test unit, with 150hp and 370Nm, always has enough reserves for the job at hand, and, together with the flappy paddles behind the steering wheel, makes overtaking fun on provincial roads.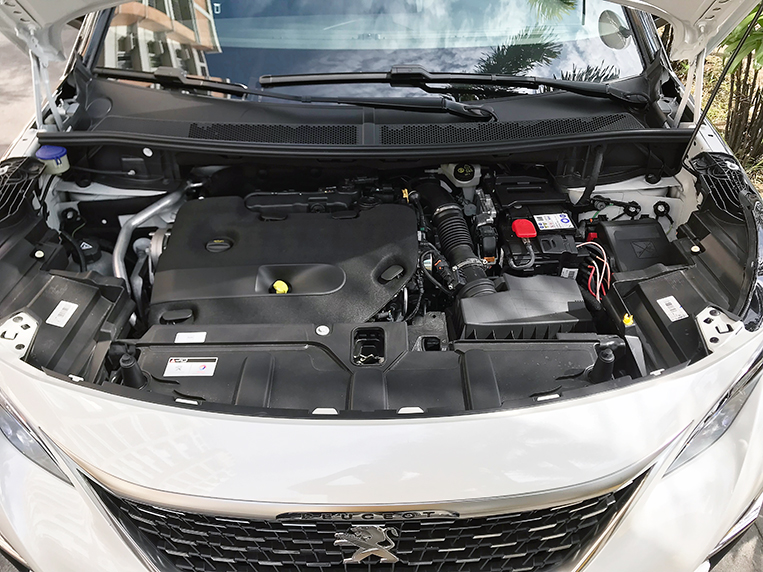 In conclusion, the 3008 manages an interesting balance. On the one hand, it's relatively understated in form and appearance. Despite an aggressively styled front and some body lines that bring to mind head-turning rivals, the car still manages to blend in well in traffic and never comes across as flashy. On the other hand, it is classy enough for hotel valets to decide that it should be parked right by the entrance, in the few spaces that are usually reserved for high-end limousines and supercars. Which was a pleasant surprise for us when we left the hotel after one dinner date, and maybe a sign that anyone in the market for a European vehicle should consider saying "Auf Wiedersehen Deutschland" and "Bonjour la France."
PEUGEOT 3008 2.0L BLUEHDI DIESEL GT LINE
| | |
| --- | --- |
| Engine | 2.0-liter in-line-4 turbo diesel |
| Transmission | 6-speed automatic |
| Power | 150hp @ 4,000rpm |
| Torque | 370Nm @ 2,000rpm |
| Dimensions | 4,447mm x 1,841mm x 1,620mm |
| Drive layout | FWD |
| Seating | 5 |
| Price | P2,790,000 |
| Upside | This is a stylish and comfortable French crossover that makes easy work of long journeys. |
| Downside | French style isn't cheap. And that's stating the obvious. |