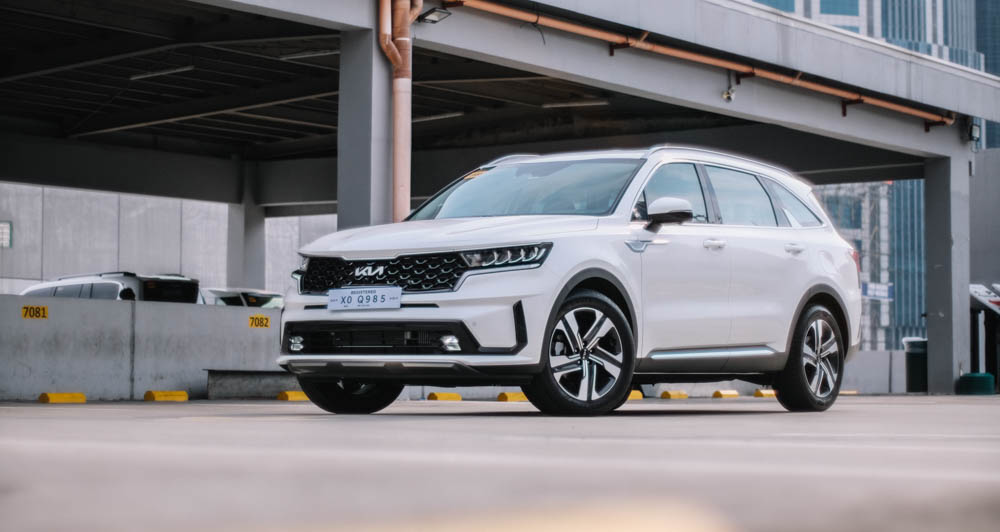 You probably wouldn't believe me if I told you that the newest Kia Sorento feels more American than Korean. It does, in a very good way.
To be fair, when your brand is doing well in the US market, it's inevitable that you'll cater some features of the car to the audience. Apart from that and its recent upmarket push, the latest midsize SUV offering from the brand is a sign that cars from Korea are no longer the "budget" pick in nearly every segment.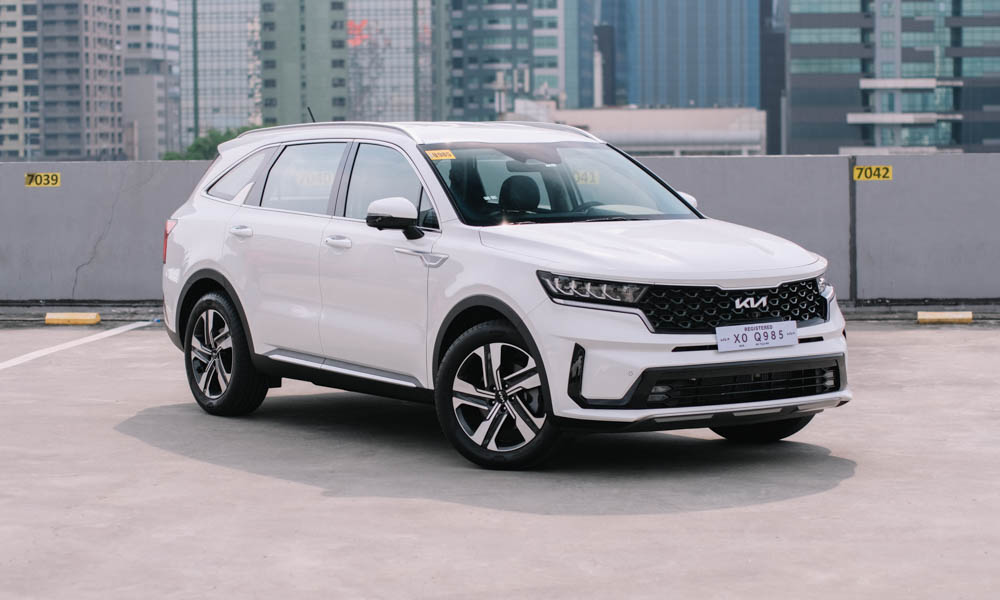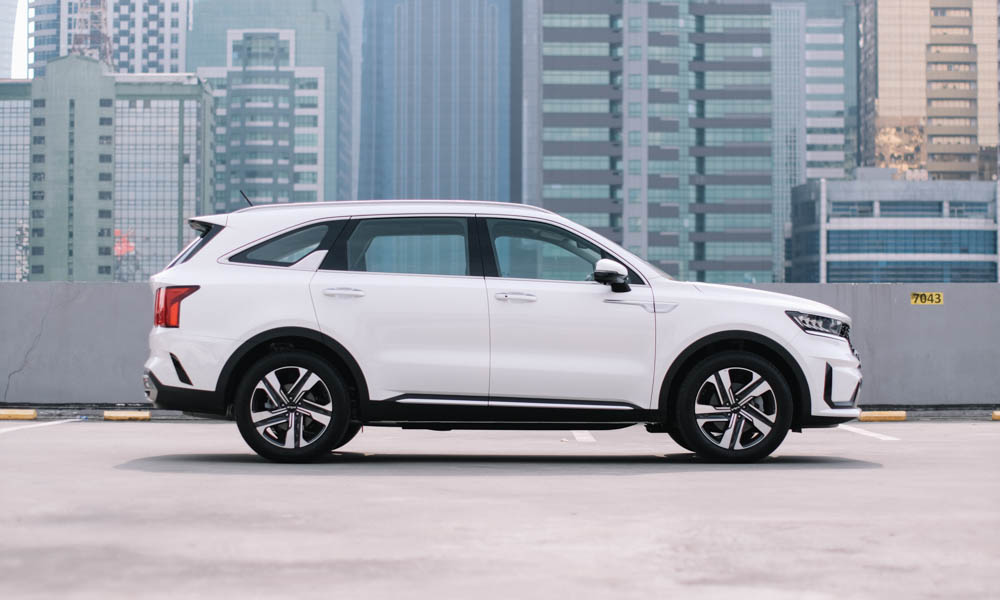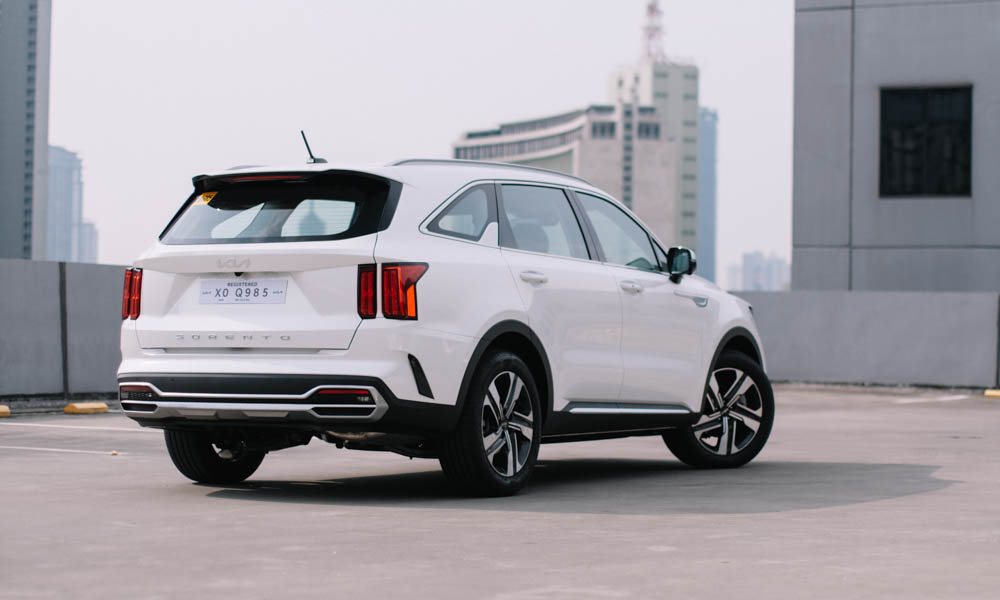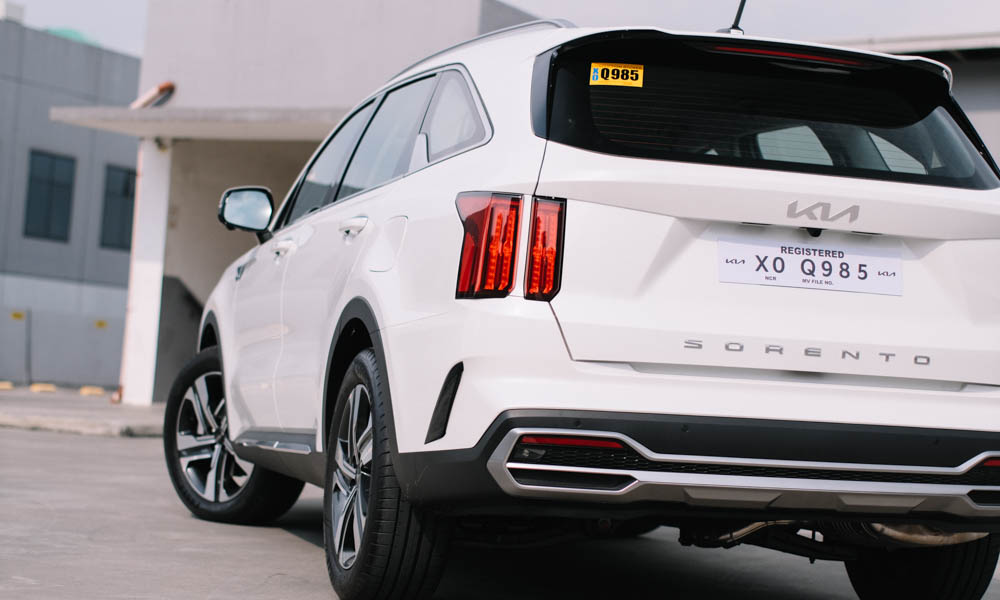 The new design language drops the soft, friendly curves of its predecessor for aggressive, chiseled edges. While it may look as big as any other midsize SUVs from the press photos, the car's girth caught me off guard, especially in Snow White Pearl. I didn't even realize that those were 19-inch wheels with how proportioned everything was.
A car this size asserts plenty of road presence, and amusingly elicits the same response I would get in more premium cars from condominium and village security guards.
While the tiger-nose grille is not as elegant as its Carnival sibling, it still manages to integrate the headlights (which are LED reflectors in our market, not projectors) quite well for a one-piece look reminiscent of American pony cars. Do take note that the temporary plate is just taped on (in a rather awkward spot), and that the actual location of the plate will be much lower.
The rear end may look a little too mecha for other people's tastes, but it is my favorite angle. It bucks the current trend of light strips in favor of vertical lamps (it's just one more pair of taillights away from a Mustang), and the rear wiper is neatly tucked away in the roof spoiler for a clean, seamless look. Just know that the hatch popper is in the lip under the Sorento badge, which can get dirty with the road grime that gets kicked up.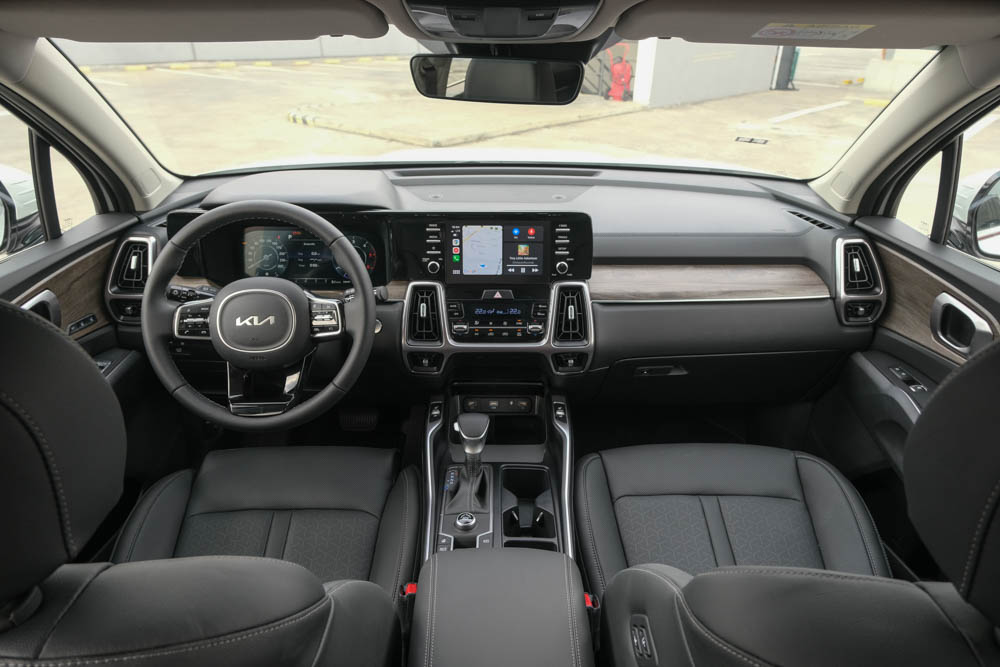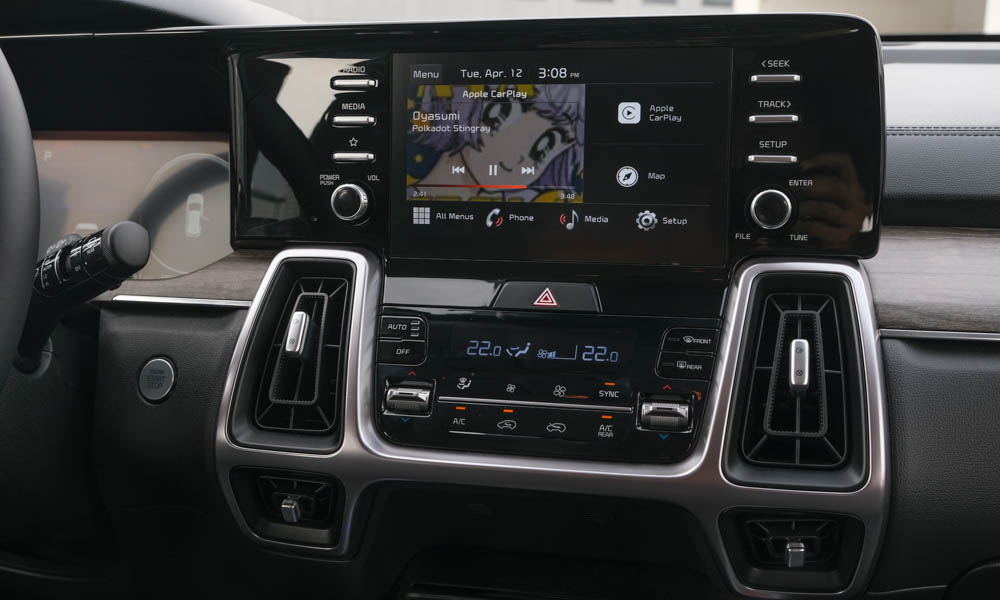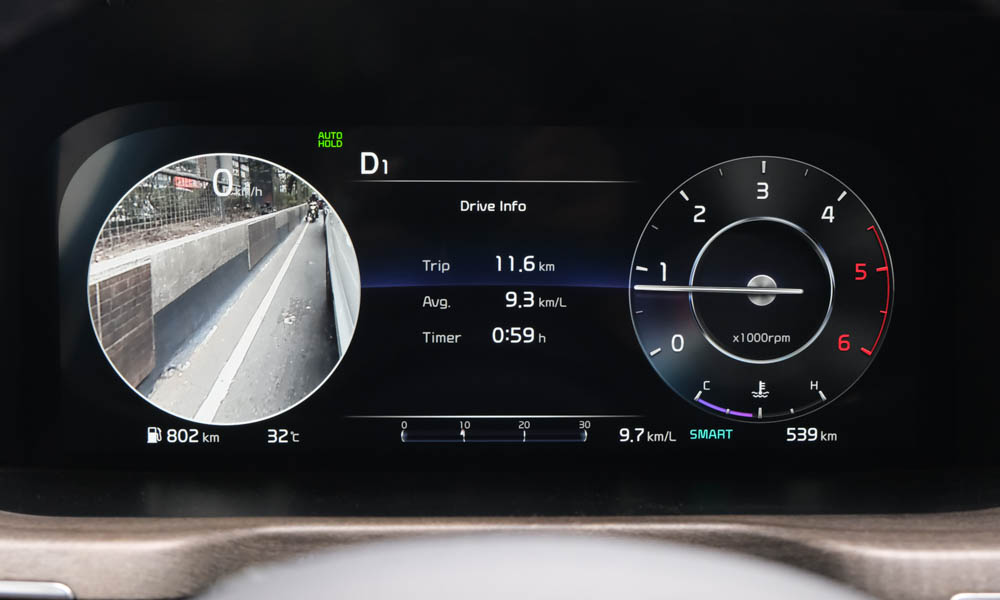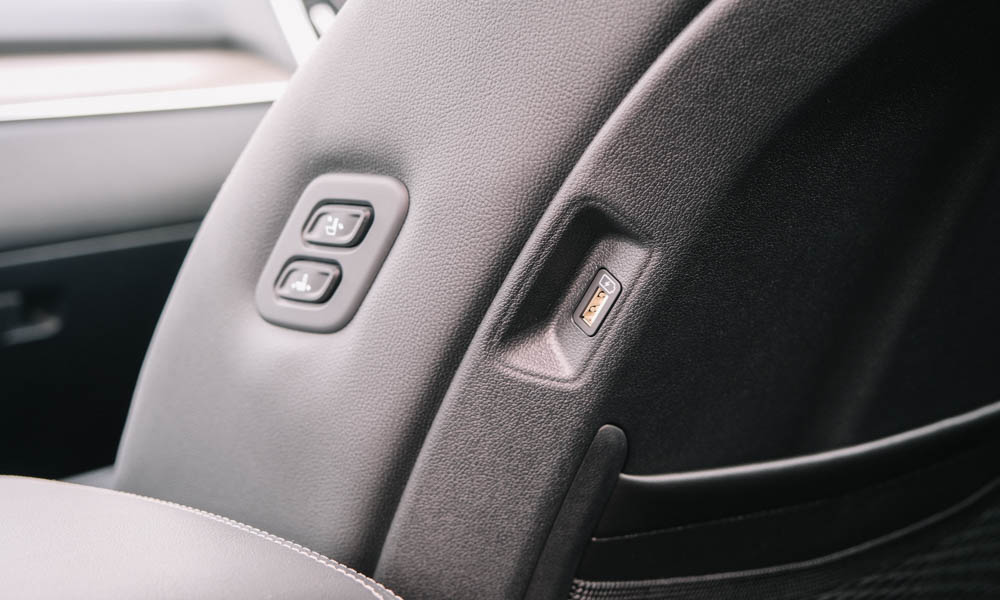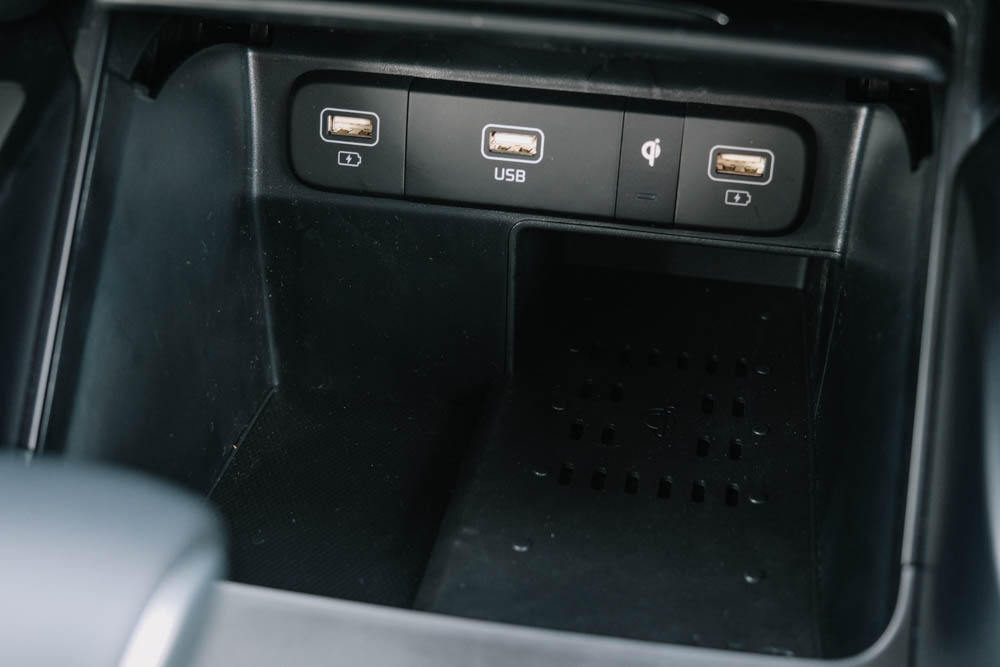 The cabin surrounds you with soft-touch materials and wood trim on the dashboard, which no longer looks like it was taken straight from the 2000s.
I find it amusing that there are extra vents underneath the main vents (unofficially dubbed "ball chillers" by my colleague), but I don't like how most of the climate controls are touch-sensitive (which are easy to accidentally press and get dirty really fast). At least the physical controls are tactile and easy to find within the cabin.
It also has the same monolith-style infotainment "slab" as the Carnival (in piano-black), but this gets the gorgeous 12.3-inch digital instrument binnacle with sharp graphics and smooth animations. It even turns the "gauges" into blind-spot monitors by showing a camera feed of what's in your blind spot.
Aside from that, it has an eight-inch infotainment with wireless Apple CarPlay and (wired) Android Auto, six decent-sounding speakers, and a wireless charging pad to keep your phone juiced up. There's plenty of storage within the cabin (eight cupholders!) and a lot of USB ports (with two on the front seat backs) for the entire family.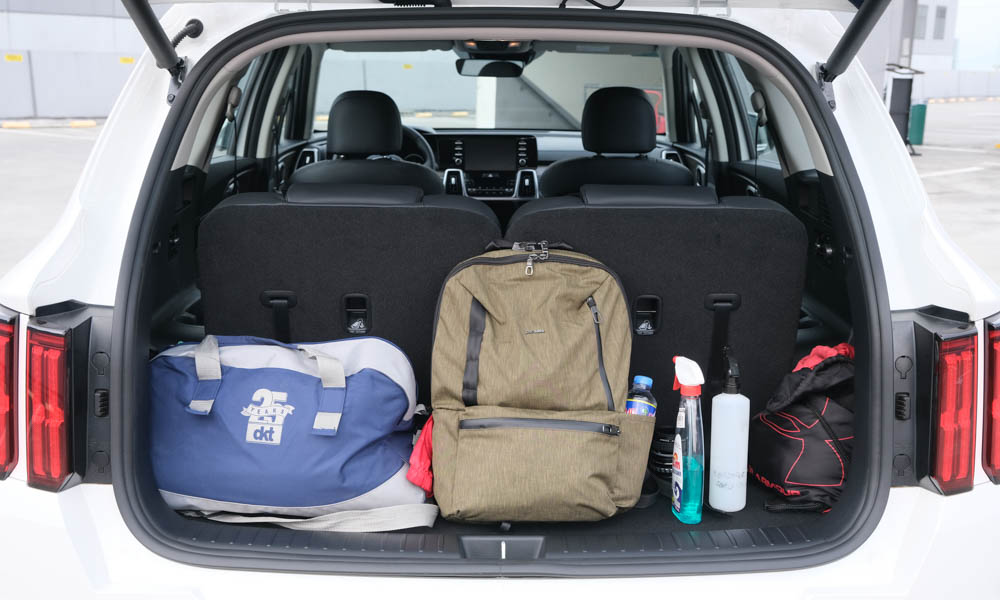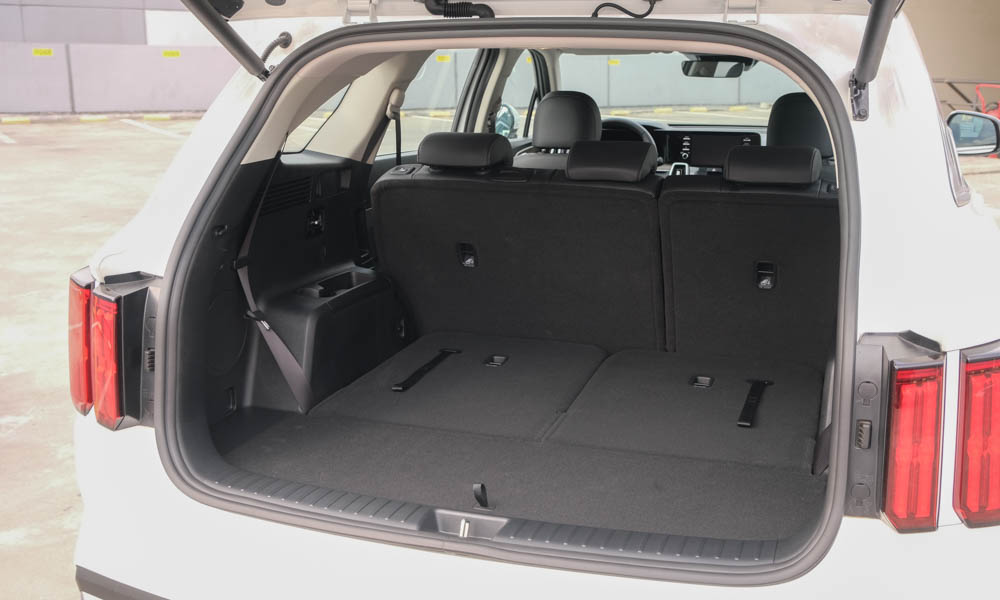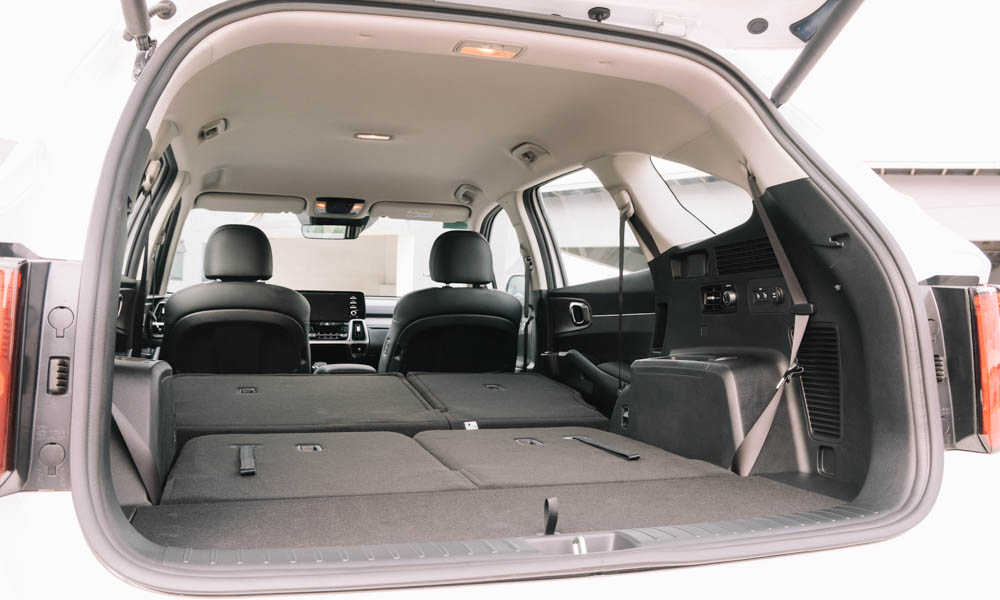 But tech aside, it's a cavernous cabin, even for cargo. With the third row up, you have 187L and a small compartment under the false floor (with your tools on the side). Drop the third row, and there's 617L of space to carry things around. Much more if you drop the second row for even longer items of up to 2,056L.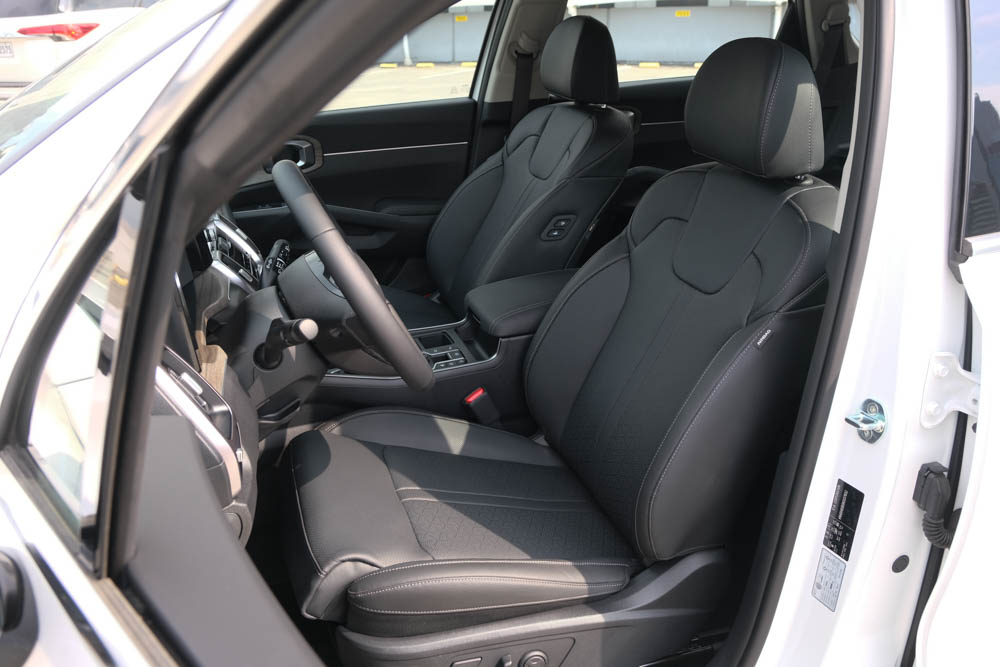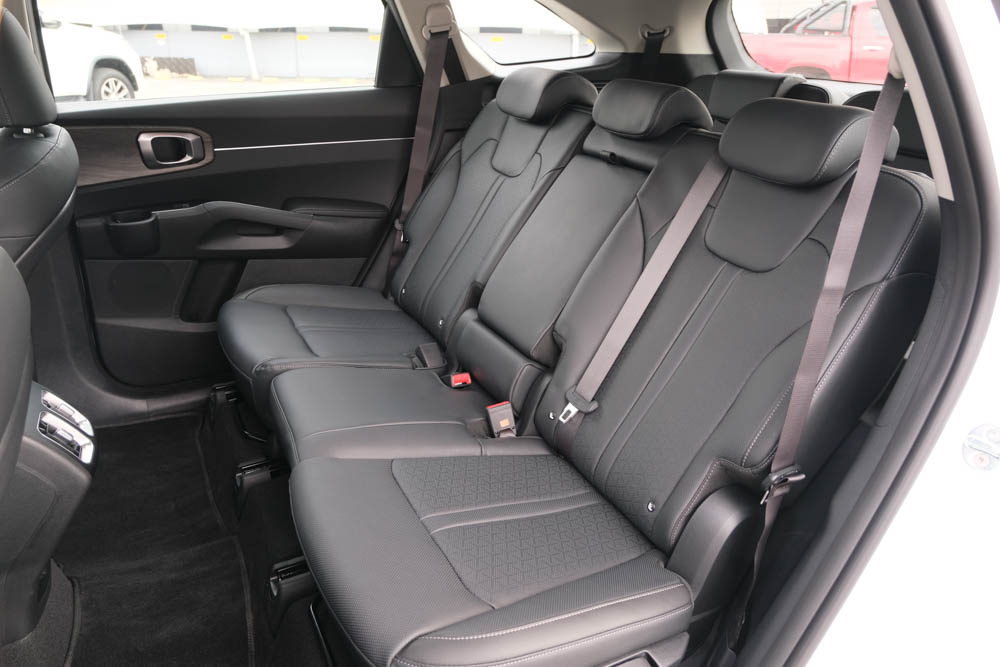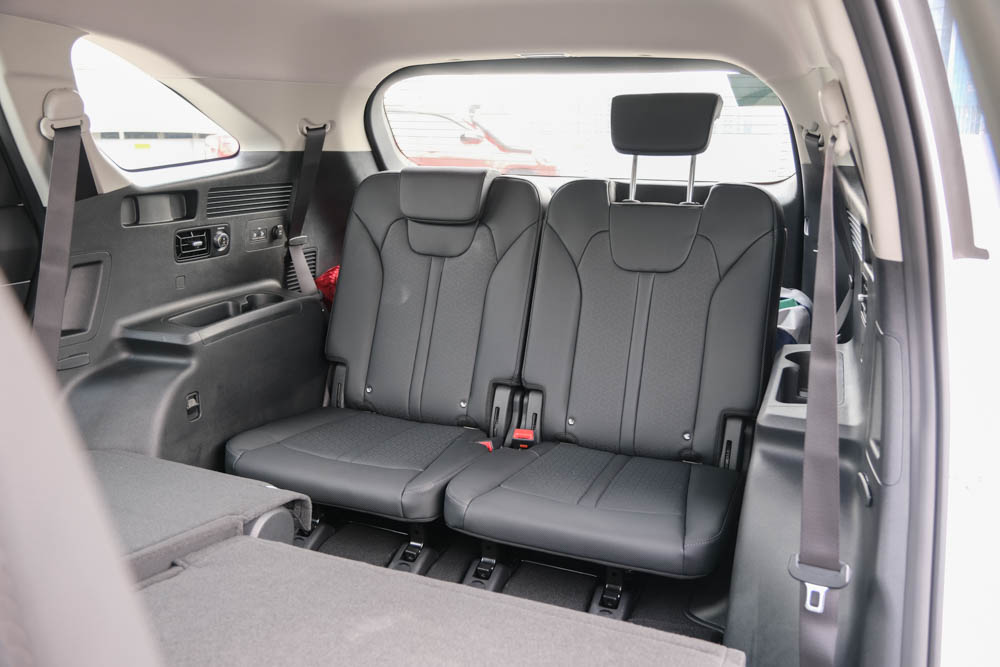 In fact, this is the first time I've sat in a driver's seat and had plenty of wiggle room. The driving position feels like a middle ground between a PPV and a small crossover, offering a commanding view of the road (and a bit of your hood), and excellent visibility all around.
The leather front seats are both heated and ventilated. The driver's seat features plenty of electronic adjustments (even thigh extension), so it's very easy to find the ideal sitting position regardless of your body size. The second row can fit three adults abreast comfortably and can also be reclined. Of course, headroom is no issue for even the tallest of passengers (which is why I'm fine with not having a sunroof in this car).
Getting into the third row is extremely convenient. Press one button and the second row tilts and slides forward automatically (with haste). You'll have to push the seat back yourself. If you find yourself back there, it's quite feature-rich (unlike other third rows in the segment).
It has cupholders and storage bins, rear vents (with fan speed controls), and a 12V socket. According to my (tall) colleague, it's reminiscent of economy-class seating in airplanes, which is a big advantage over those that usually can only fit children.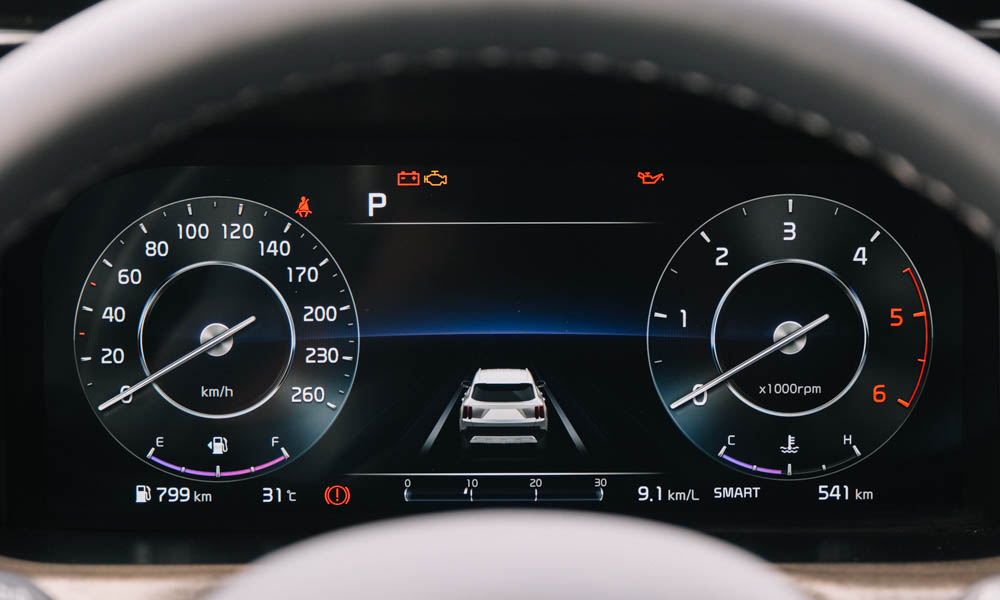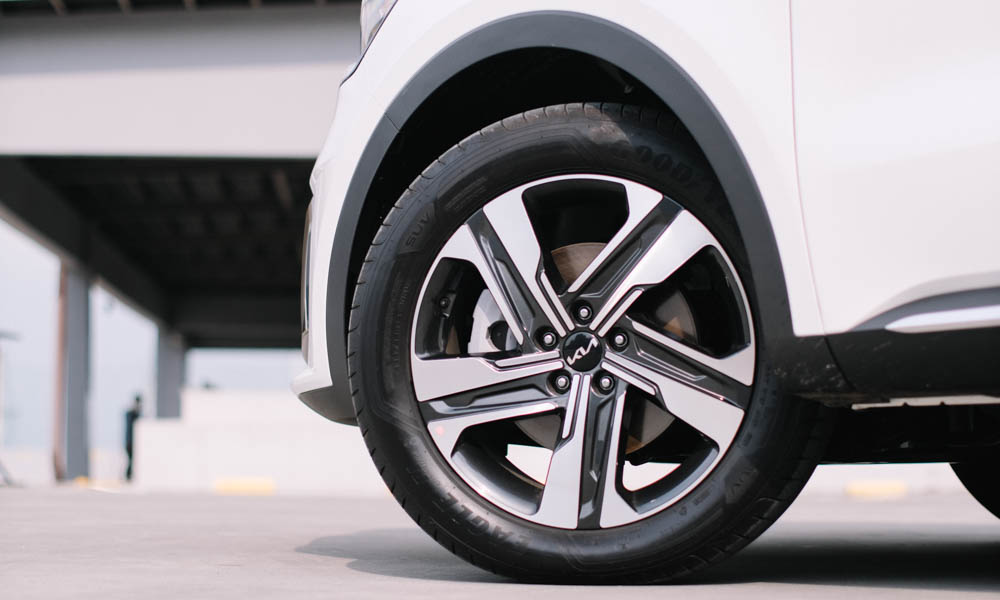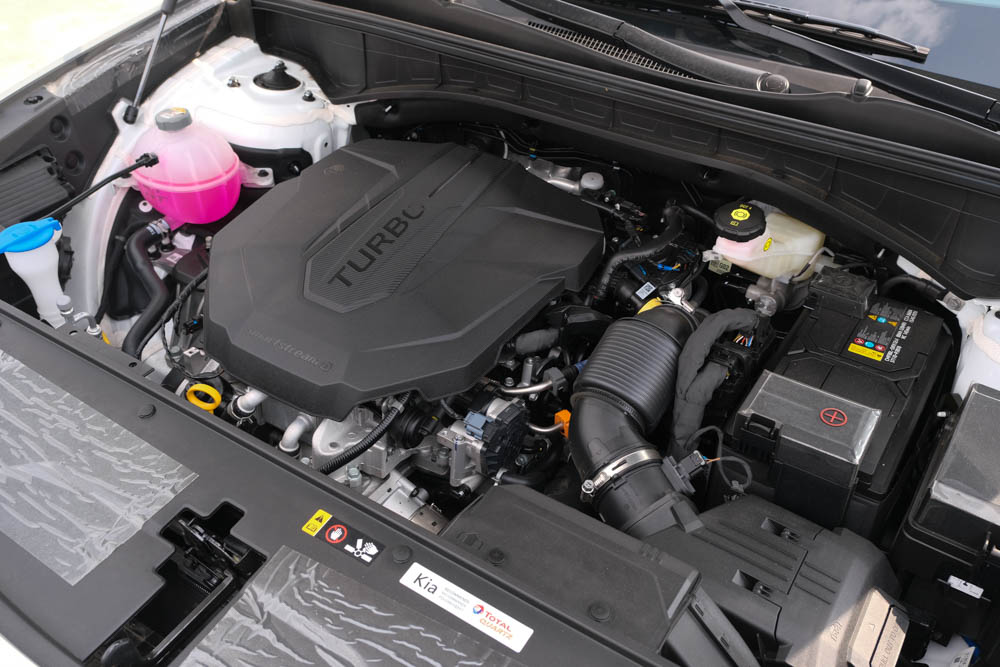 The 2.2-liter Smartstream turbodiesel has gobs of low-end torque to effortlessly coast from a dead stop with minimal effort, especially with how smooth the eight-speed dual-clutch transmission is. It also can (frequently) induce wheelspin if you're a little careless with the throttle. All the 199hp and 441Nm going to the front wheels is nothing to sneeze at. But there's no all-wheel-drive variant for this generation, sadly.
It's an economical engine, too, with average fuel consumption in the city being 9.2km/L, highway driving seeing as high as 21.3km/L, and mixed driving netting around 11.2km/L.
You sacrifice a little serenity in the cabin as the characteristic diesel clatter and vibrations can be heard at lower speeds, but they disappear at highway speeds. Otherwise, it's a very soft and insulated experience inside the cabin.
The suspension is floaty within the city, where speed bumps and ruts are reduced to a minor inconvenience. Though the steering and the brakes feel a little too over-assisted at times, it's useful in low-speed maneuvers in the city. Just hope the streets are wide enough for you to actually attempt them.
Once you get on the highway, the car's wide track and long wheelbase turn the car into a very confident cruiser. This is perfect for eating up the miles on the freeways, which I assume is what it will be doing most of the time in the US.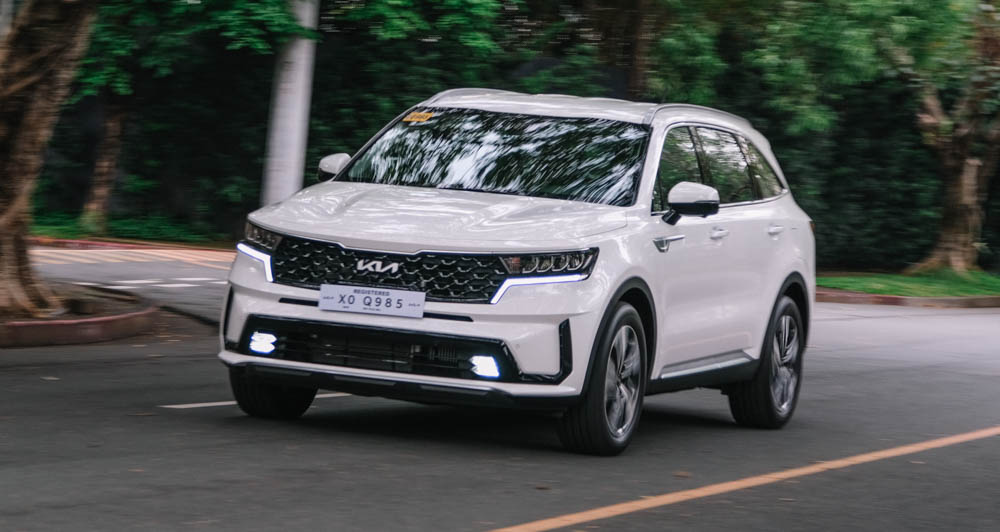 You also have an electronic parking brake with auto hold, keyless entry with a remote starter, an auto-dimming rearview mirror, a 360° camera, and auto-tilting side mirrors.
Driver assists include (standard) cruise control, a blind-spot monitor with rear cross-traffic alert, (a rather aggressive) lane-keeping assist, forward collision avoidance, and forward departure warning. I do think that, at this price, it should also come with adaptive cruise control.
And speaking of price, P2,588,000 (with an extra P10,000 for Pearl finishes) puts it squarely against well-established and popular premium three-row crossovers. Heck, it lacks the option for all-wheel drive (for the price). But, to be fair, when was the last time you saw someone taking a three-row crossover off-road?
Either way, if you'll be looking at buying one yourself, know that you're getting a very well-executed and feature-packed crossover. Recent Kias lack that chintzy feel you'd get from the older cars, so you'll be quite surprised to see just how far the brand has come when you try one out.
KIA SORENTO 2.2 SX 4x2
| | |
| --- | --- |
| Engine | 2.2-liter four-cylinder turbodiesel |
| Transmission | 8-speed dual-clutch automatic |
| Power | 199hp @ 3,800rpm |
| Torque | 441Nm @ 1,750-2,750rpm |
| Dimensions | 4,810mm x 1,900mm x 1,700mm |
| Drive layout | FWD |
| Seating | 7 |
| Price | P2,588,000 (P2,598,000 for Pearl color) |
| Upside | It feels like a massive leap over its predecessor in almost every aspect, and has a very peppy and economical diesel engine. |
| Downside | It's a very wide SUV, so parking and tight city roads may pose a challenge even with the driver aids. |