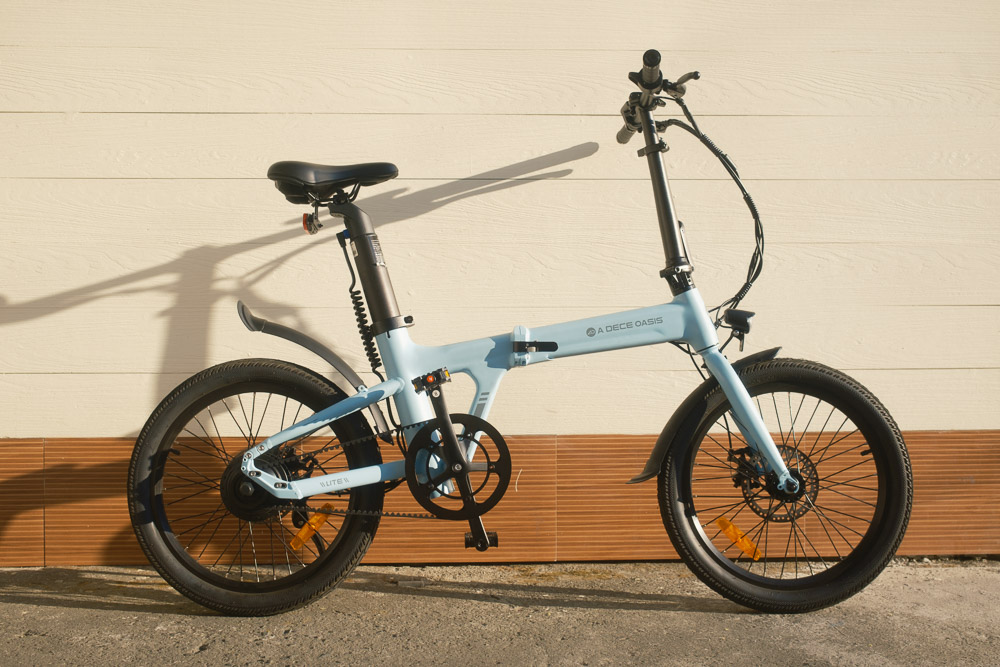 By now, there's pretty much a formula to the many electric folding bikes currently available: 20-inch wheels, a Shimano Tourney, and a 250W rear-hub motor mated to a cadence sensor. With similar specs among these models, the factors that differentiate them tend to boil down to weight, price, and ease of use.
The A Dece Oasis Smart A20 Lite (or ADO A20 Lite for short) is different, though. In lieu of a metal chain, this electric folding bicycle has a carbon belt transmitting power from the crank to the rear wheel. This doesn't make it any easier to pedal, but it does have unique benefits as well as some drawbacks.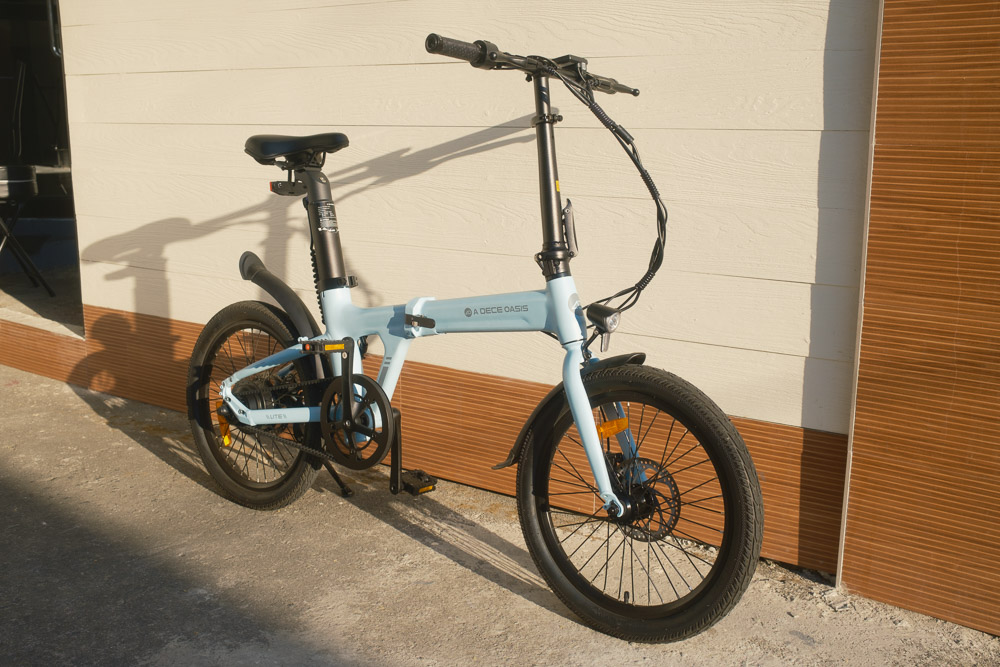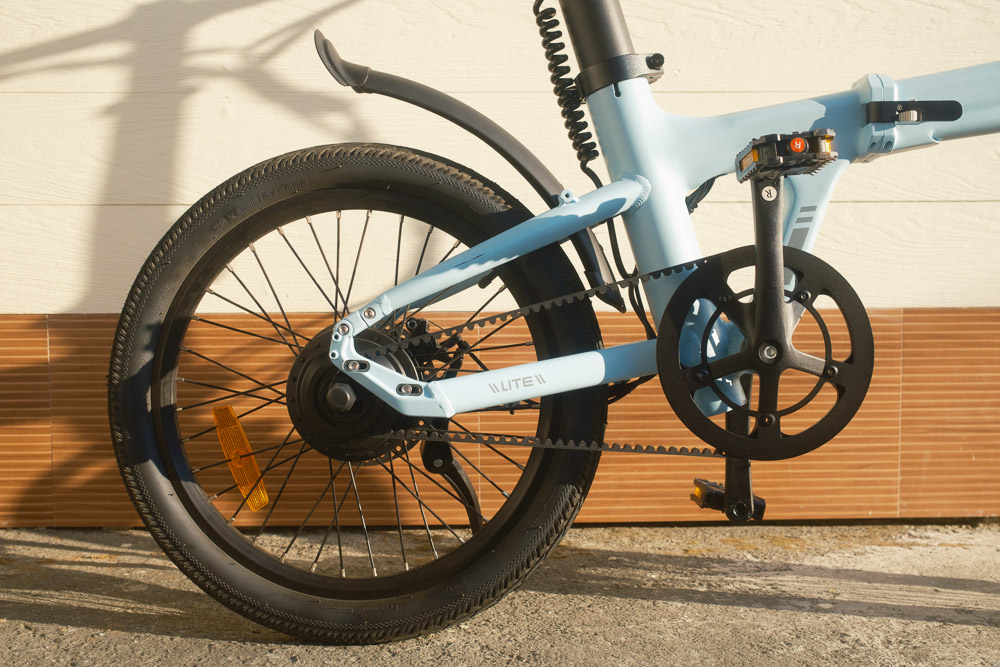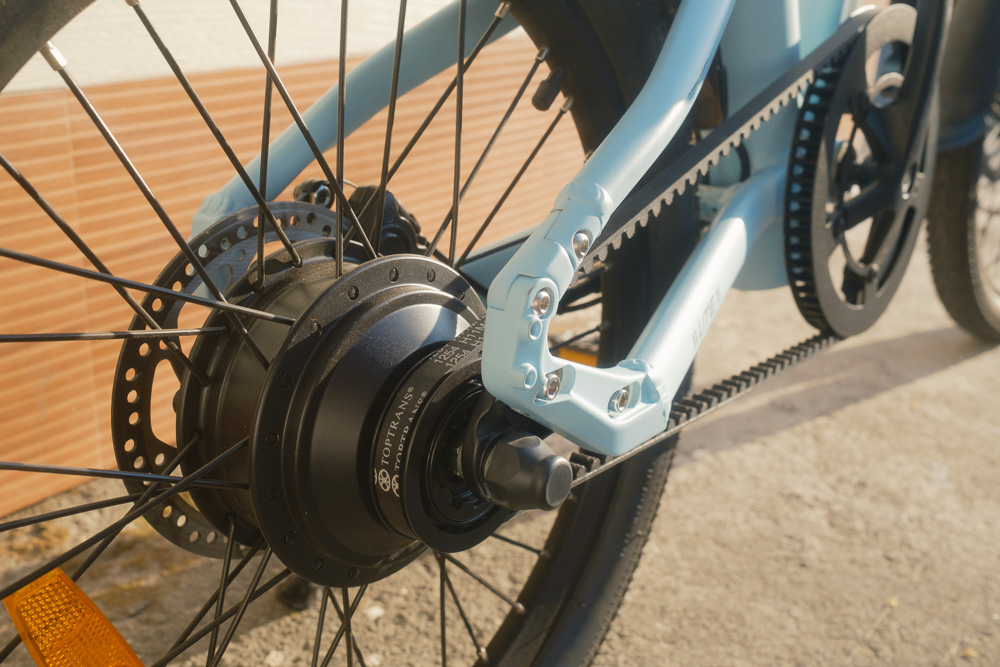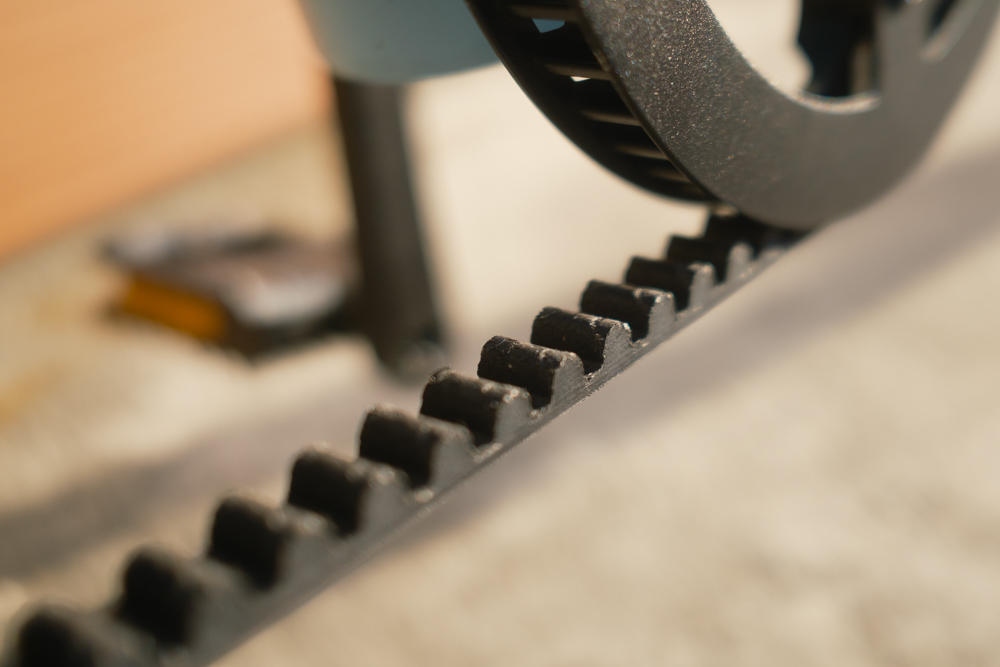 The main advantages of a belt-drive system are that it is quiet, clean, and durable. There's no noise since there's no chain to rattle around; you don't have to worry about dirtying your clothes because there is no lubrication; and you don't have to worry about the belt breaking apart as there is no weak link like with a chain.
While these may sound game-changing, there are serious trade-offs, too. Since the belt is a single solid piece, the frame needs to be able to come apart to attach it to the drivetrain. Belt-drive systems may be more durable, but they are much less serviceable because they aren't common. So, if you run into any problems, good luck finding a bike shop that can fix it. Finally, you can't shift gears as the belt is incompatible with derailleurs.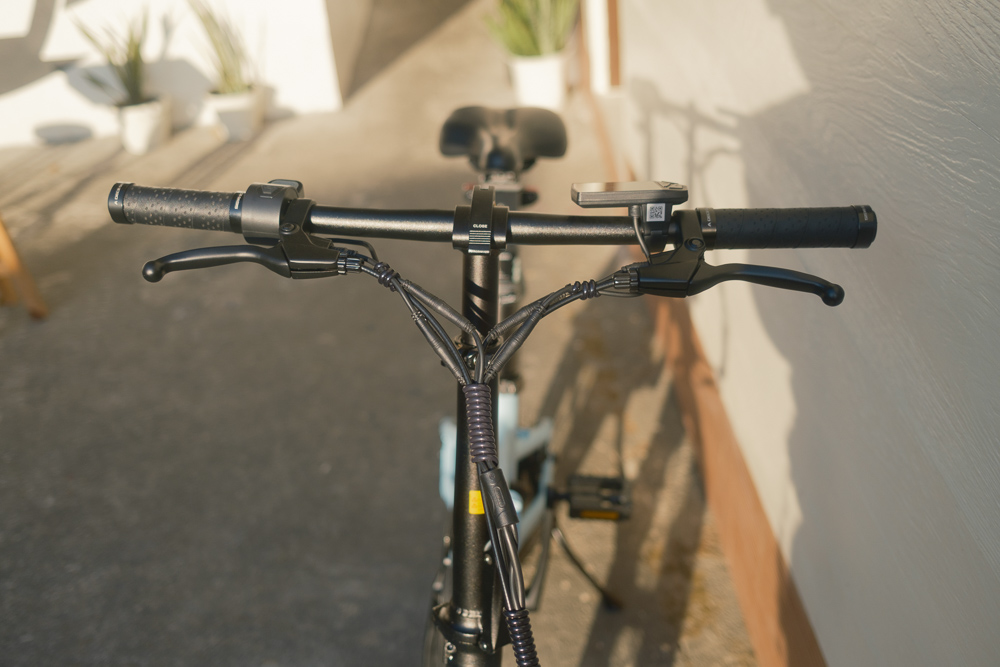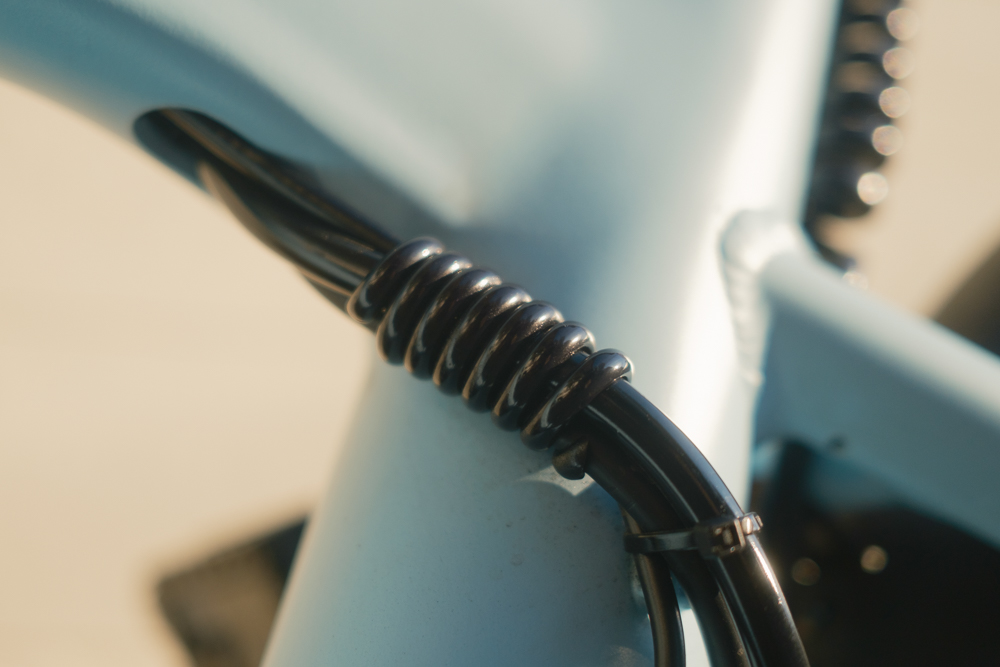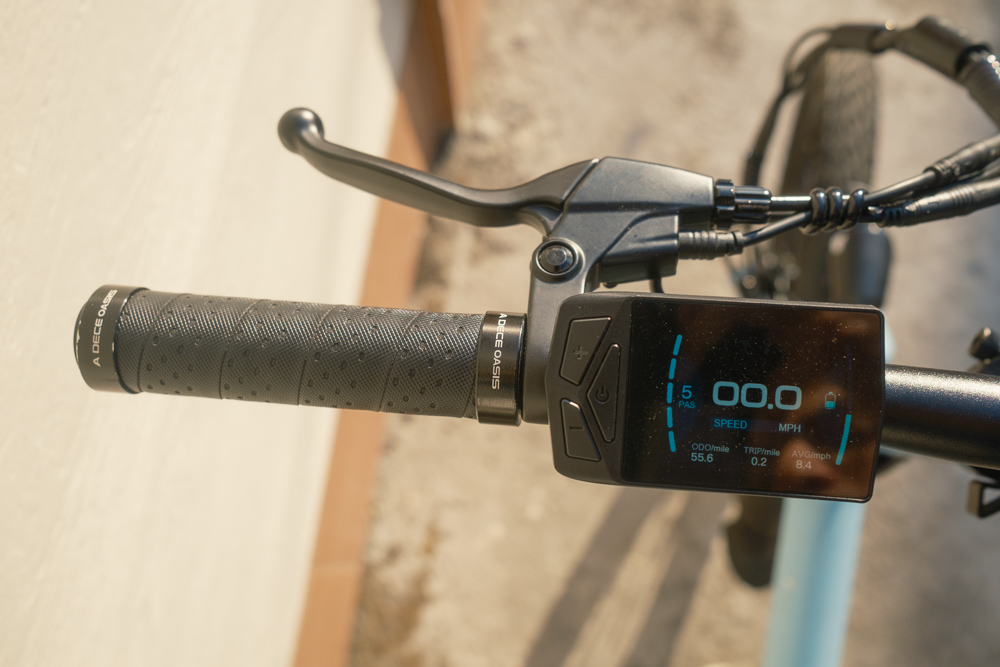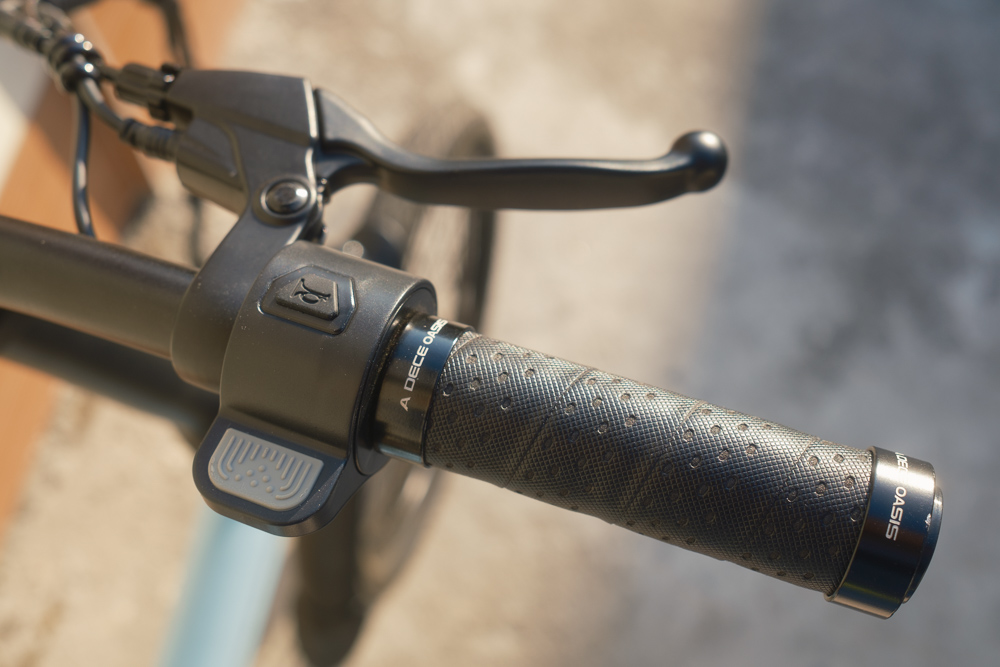 The A20 Lite doesn't have internal gearing, so it's left with a single-speed drivetrain. You won't need to think about shifting, but it also means you'll be in the wrong gear most of the time. However, that's where the 350W rear-hub motor comes into play.
The pedal-assist system consists of five levels, while a cadence sensor turns on the motor after you start pedaling—independent of the effort you put in. There's also a thumb throttle, which I would use during takeoff because of the heavy gearing.
And once I gained some momentum, I would start pedaling. But since the motor only goes up to 20km/h on pedal assist, I'd need the throttle to bring the e-bike to its max speed of 25km/h.
This is fine in a safe and controlled environment. But when out in the streets with traffic, shifting between the thumb throttle and the pedal assist can be challenging. But I can't fault the e-bike for this since cycling shouldn't be that risky. Also, the throttle is fine for short bursts, but it is a pain to press down for a prolonged period.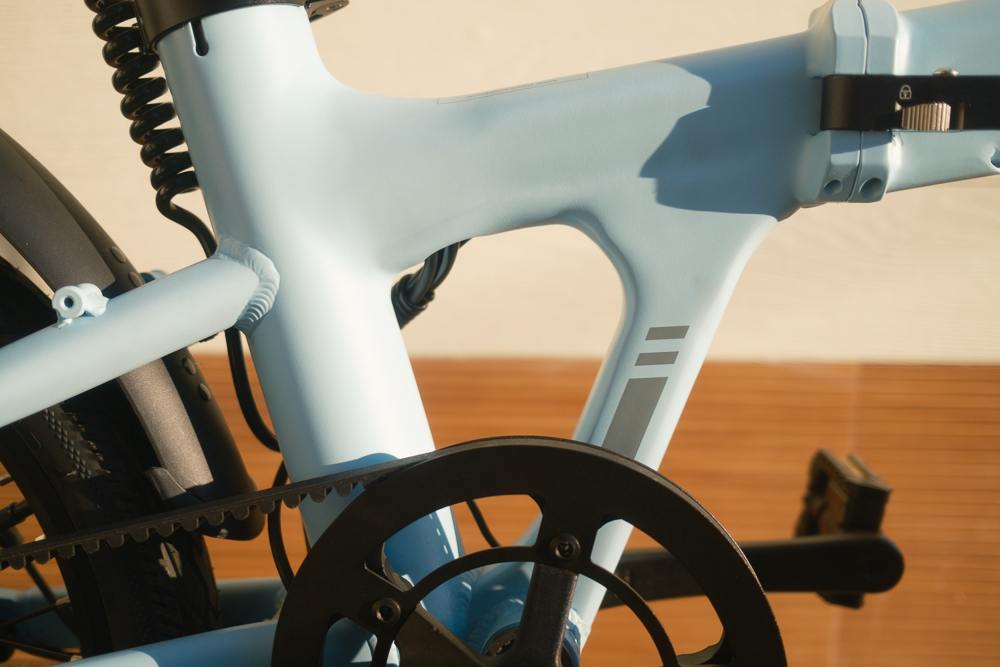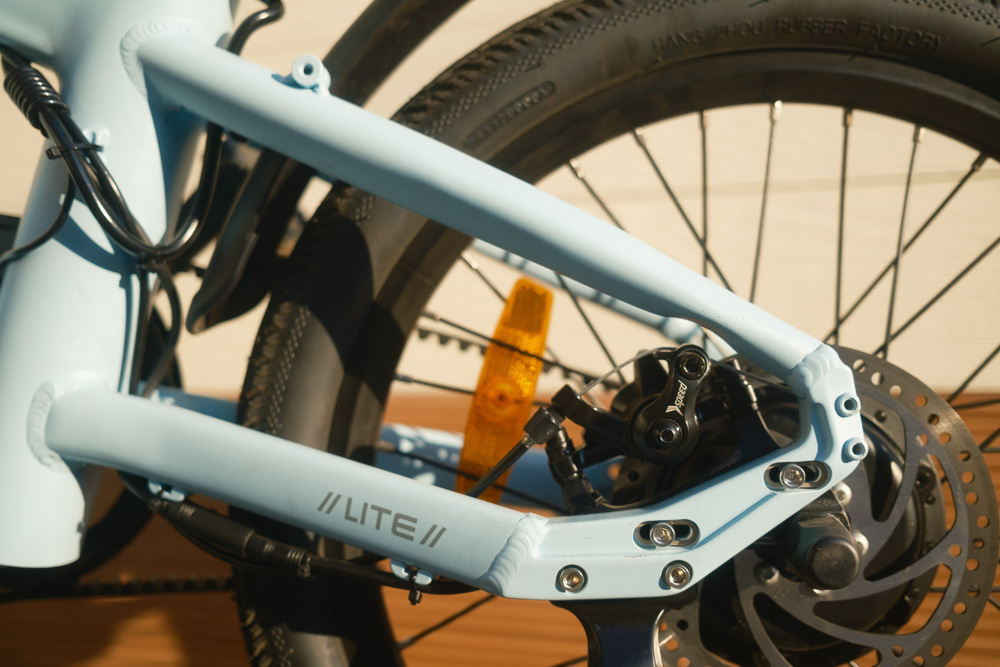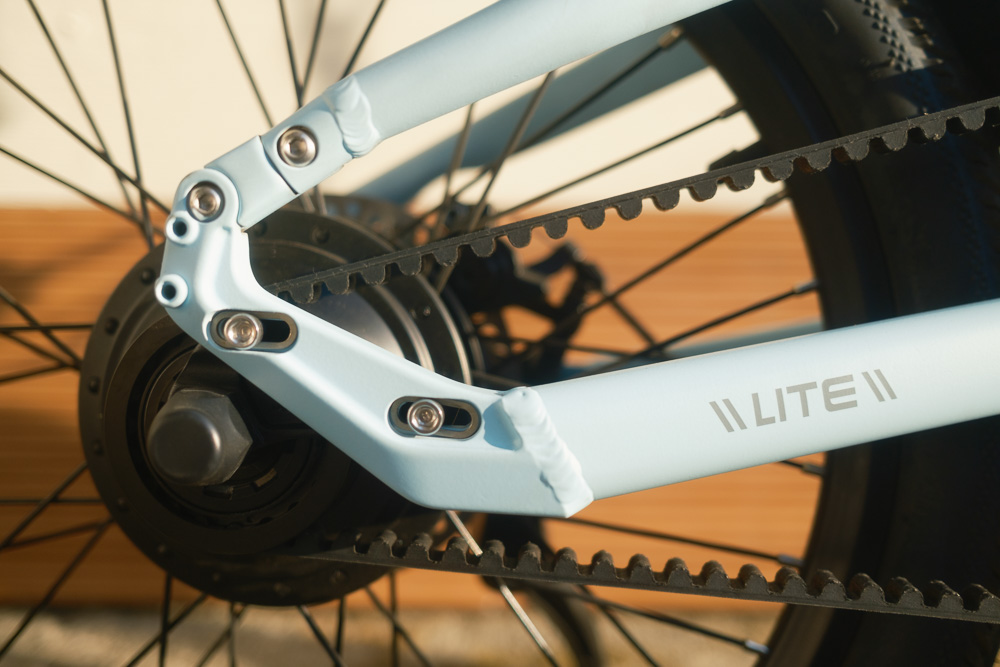 The e-bike rolls on a pair of 20-inch by 1.95-inch tires, which are comfortable enough for our roads. It's good that it has mechanical disc brakes, but I wish they were stronger and smoother. It's weird that they modulate on their own as if there was ABS (antilock braking system), which shouldn't be the case.
With an aluminum frame, the overall package weighs 18kg making it light for an e-bike. At this weight, it's not something I'd comfortably lift. But I appreciate the space below the top tube, as it lets me get a good grip on the bike—unlike the Fiido D21.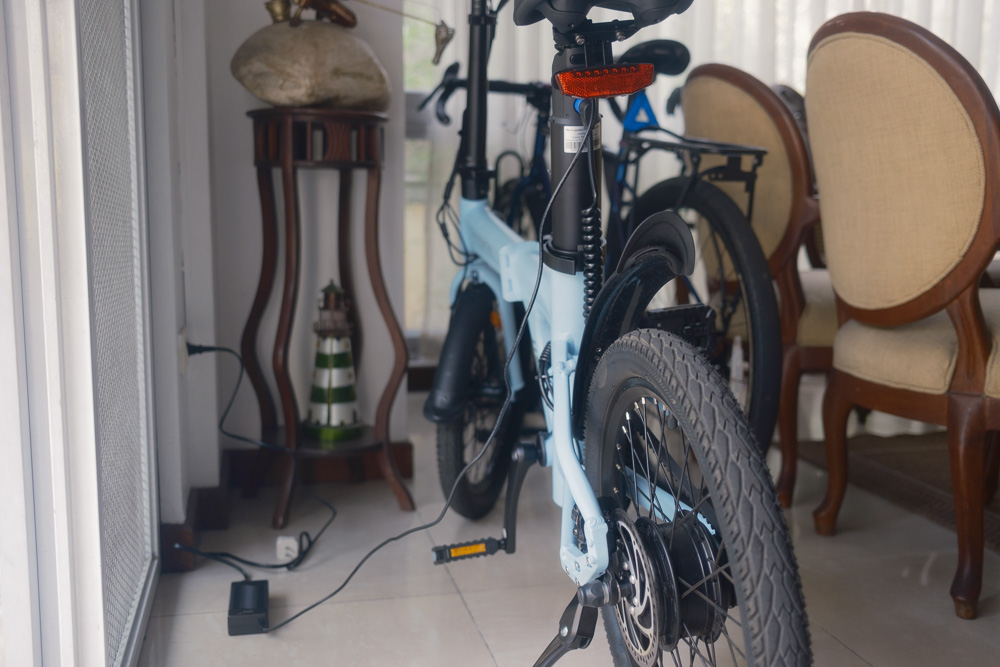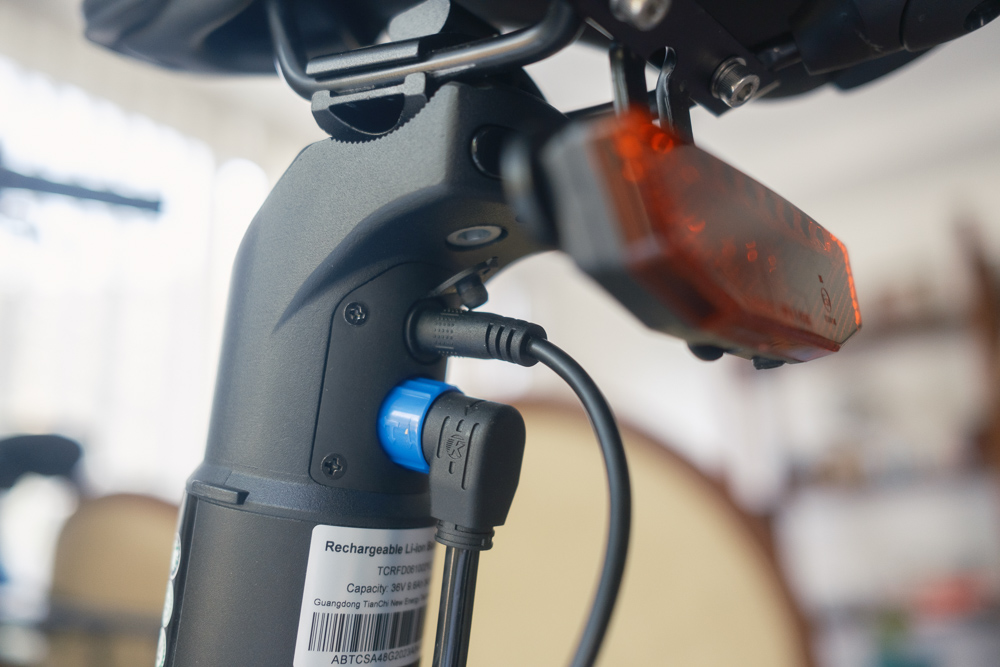 You won't notice the 36V, 9.6Ah battery easily as it's integrated into the seat post. It keeps the silhouette clean, but you may have to remove the whole thing if the cable is unable to reach it. The charging time is rated from four to six hours, so make sure to plug it in long before riding out.
The A20 Lite comes with lights at the front and at the rear. The former is powered by the e-bike itself, while the latter has its own battery.
The official site claims a range of up to 100km. But realistically, it will significantly vary with rider weight, speed, and road conditions. In my case, a 14km round trip between Kapitolyo (Pasig) and Ayala Triangle (Makati)—at mostly full throttle—depleted around half of the battery life.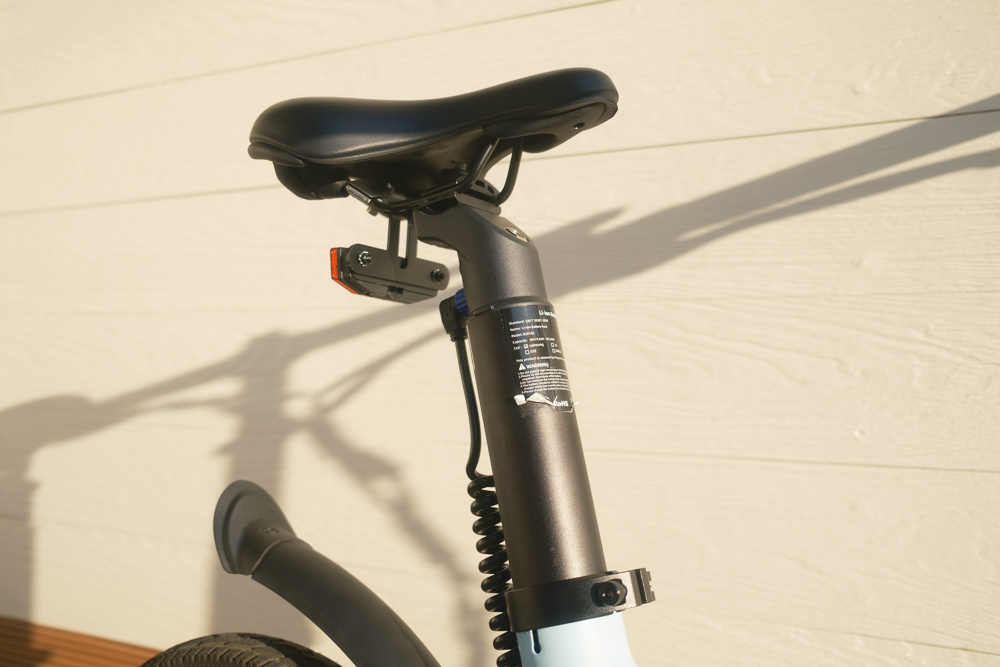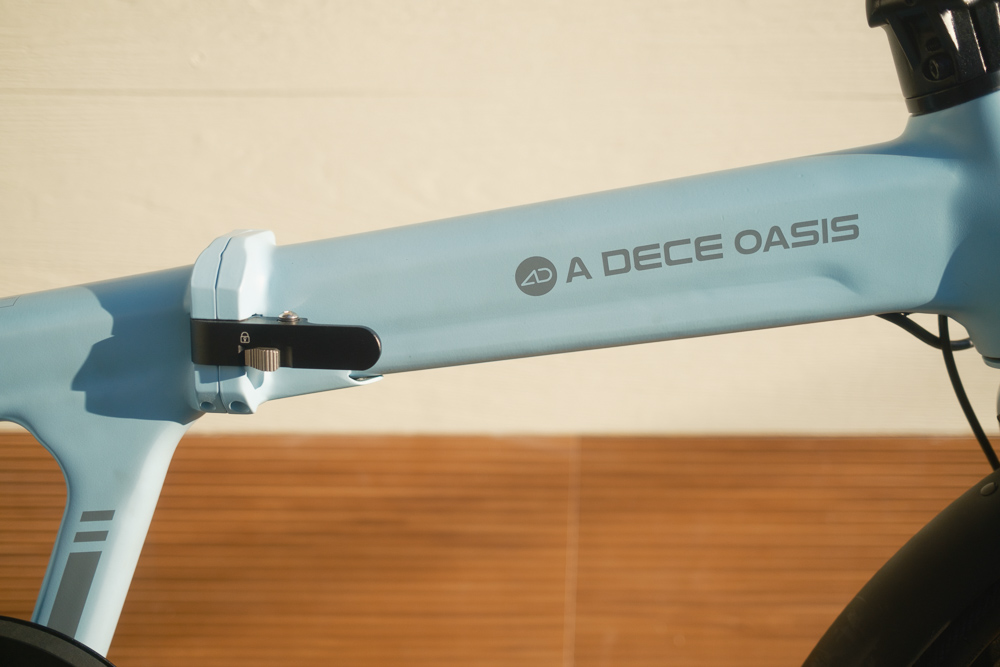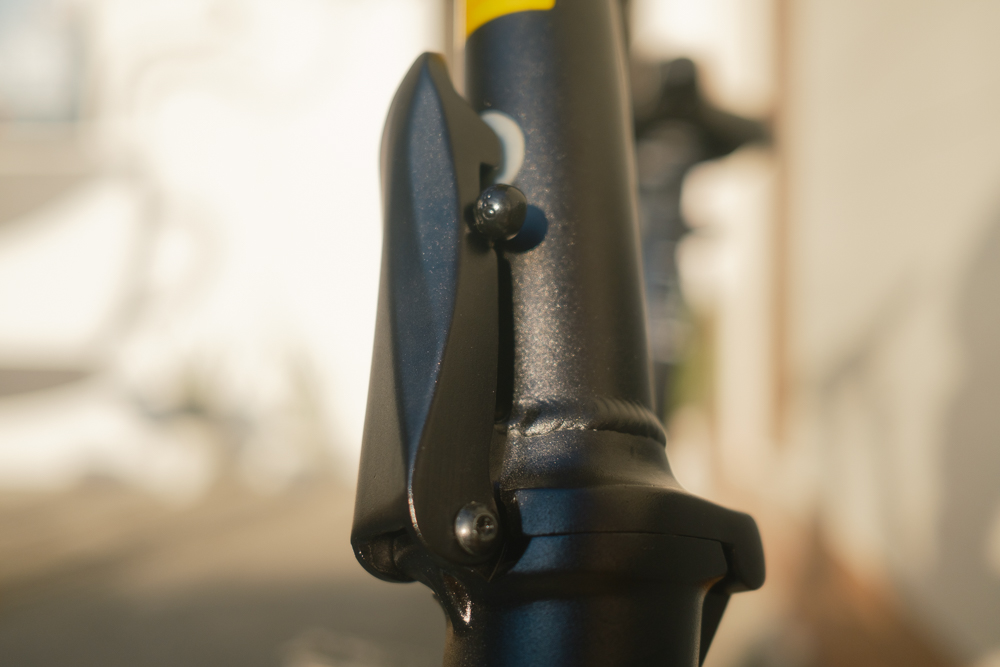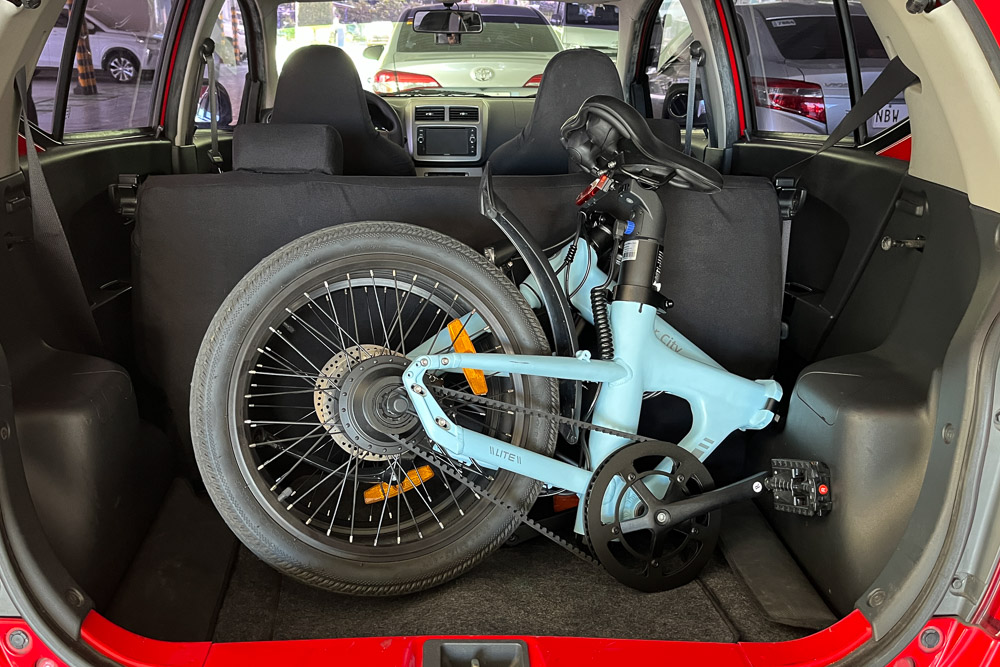 If you're wondering why there's "Lite" in the model name, that's because there's also a more premium ADO Smart A20 Air with a torque sensor and hydraulic disc brakes. In theory, those two features should address my biggest gripes with the A20 Lite, but I have yet to try it out.
ADO has a mobile app that's supposed to work with the on-bike display. However, I couldn't get the e-bike to connect with my phone. In case the same happens to you, there are apps such as Google Maps and Strava for navigation and ride-tracking, respectively.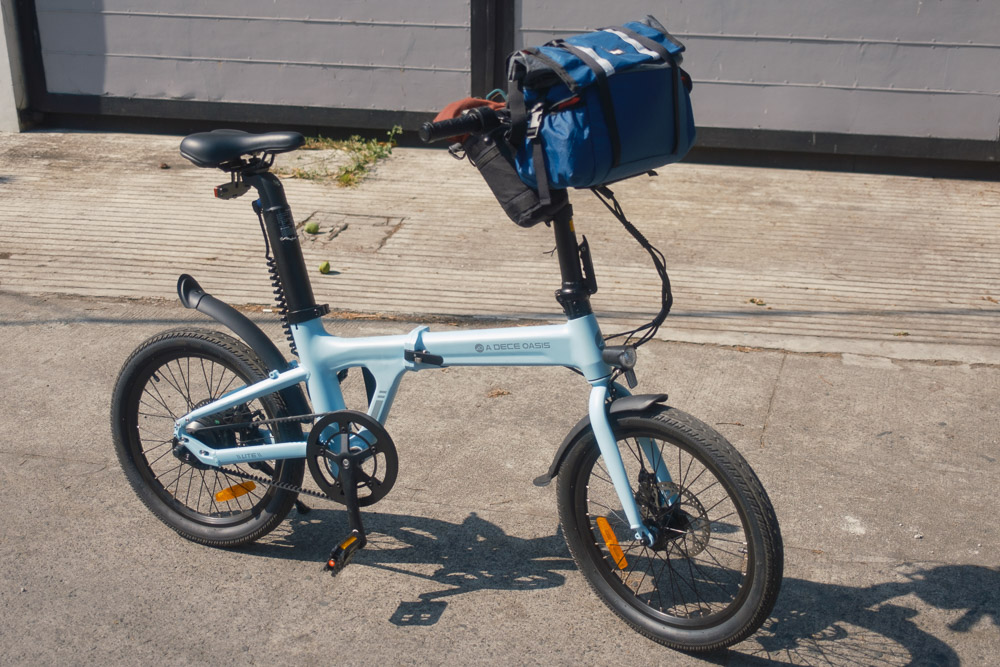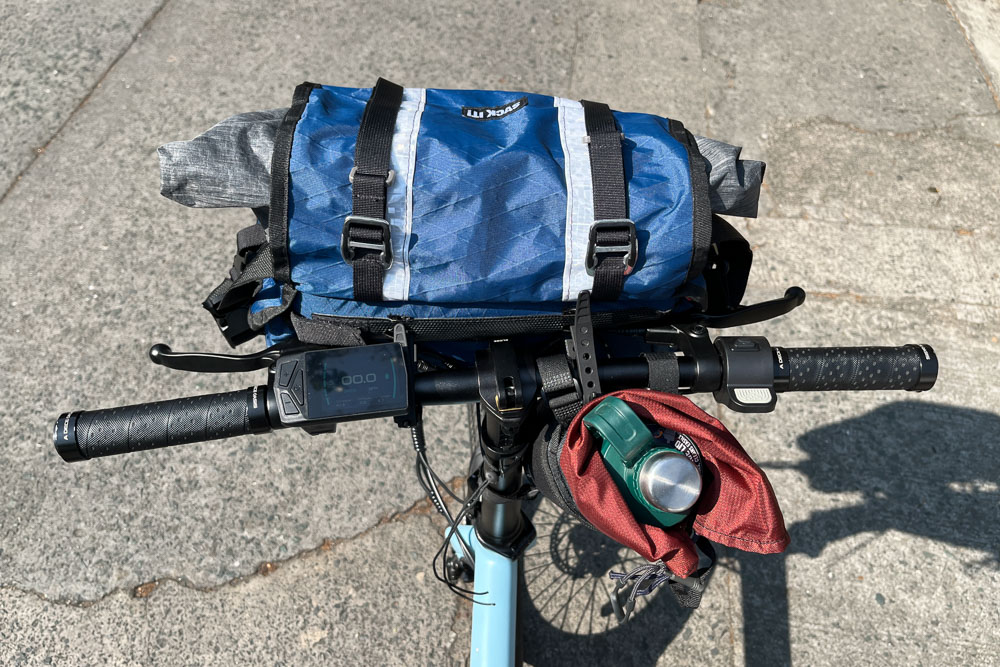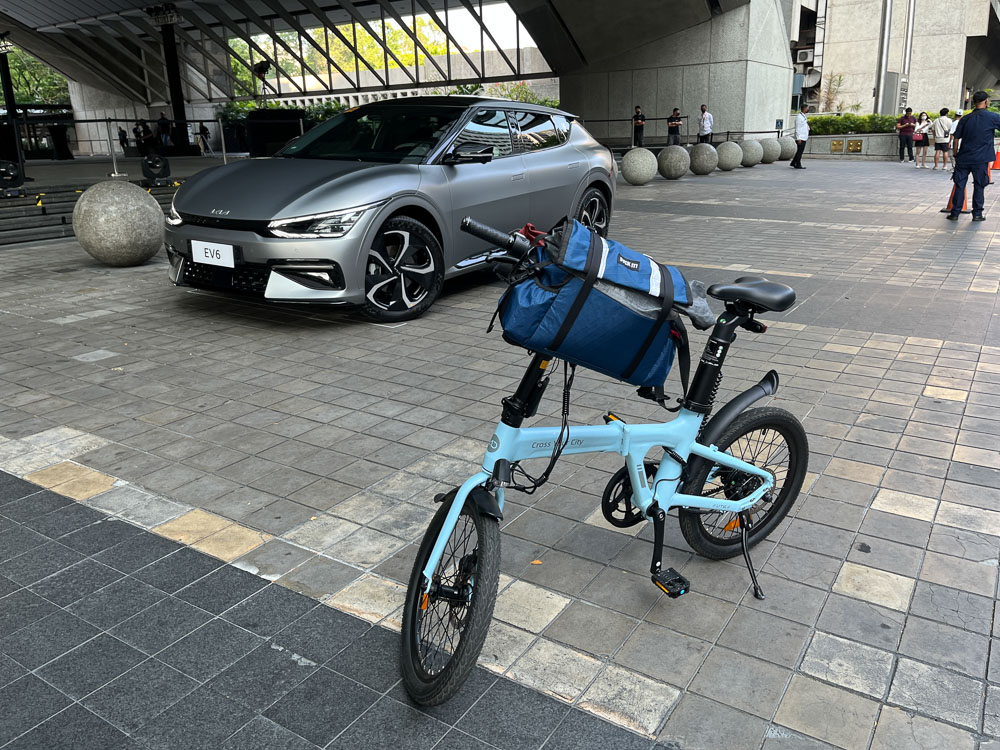 The ADO Smart A20 Lite is available for P46,990 at Electric Cyclery. This puts it in line with other mid-level models such as the Nakto Flex and the Himo Z20.
When considering it, you'll have to judge whether or not the benefits of the belt-drive system outweigh the limitations of the single-speed drivetrain. The belt drive is unique, but without the electric power, it's as if you're stuck on the heaviest gear of a weighty folding bike.
It would be nice if the e-bike had something like an internal-gear hub, but that would make it much more expensive and complicated. In spite of this, it is still capable of city-commuting. Just be mindful of the battery level for longer trips.